Ryder Skye Biography
Twitter : @ryderskyexxx Just VR : Ryder Skye's VR Scenes MILF VR : Ryder's Zen Garden VR Experience Brazzers : Ryder Skye Sex Scenes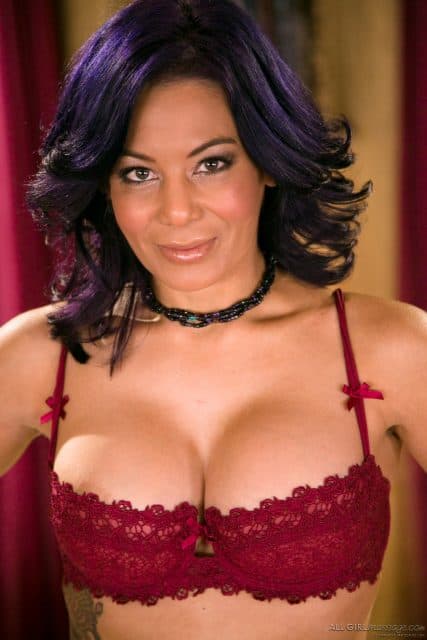 Ryder Skye – All-Girl Massage – Fantasy Massage Galleries
Ryder Skye – Personal Info
Name : Ryder Skye
Date of Birth : October 13th
Measurements : 32DDD – 25 – 33
Hometown : Los Angeles, California (US)
Height : 5'2 (1.57m)
Hair Colour : Brunette/Red
Eye Colour : Brown
Tattoos : Japanese characters (meaning 'Purity') in the centre of her lower abdomen, a large floral design across her left side and the left side of her upper back, and a design on the inside of her left ankle and a large design across her lower back incorporating various characters, tribal designs, flowers and a Celtic knot triangle
Piercings : Navel and left nostril
Shoe Size : Women's 6 (US)
Years Active : 2007 – present
Number of Scenes : 100+
Ryder Skye is a popular porn star and mainstream actress who has been thrilling fans since 2007. Famous for her Hustler Video parodies and sizzling Brazzers scenes, Ryder continues to receive many "Crossover Star of the Year", "Best Cumback" and "Hottest MILF (Fan Award)" nominations at the AVN, XBIZ and XRCO Awards.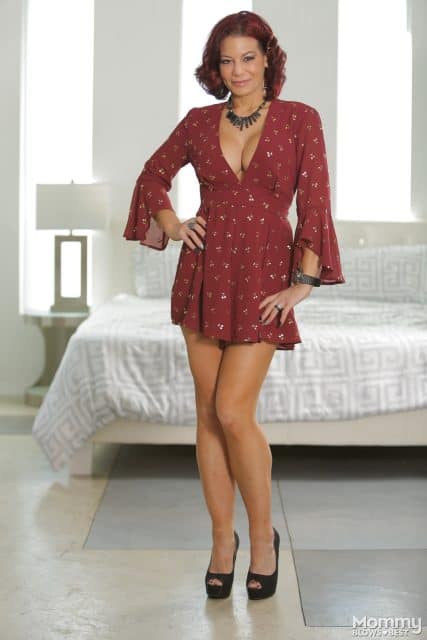 Ryder Skye at MommyBlowsBest.com
So where did it all begin? Born and raised in Los Angeles, California, Ryder has mixed Japanese and European/Scandinavian heritage. Talking about her 'Valley Girl' upbringing during her June 2014 Adult DVD Talk interview, Ryder explained how;
"I'm actually from LA, I grew up in the Valley, one of the last of them. There's not too many people out here who are literally Valley Girls. I think I had a typical childhood. I traveled a lot. My dad owned a company that made mechanical dinosaurs. I ended up working there and I got to go on dinosaur digs and stuff like that. I was shy but I'm not. I'm pretty outgoing but I have to know you first. If I'm around people I don't really know, I'm fairly quiet. But if someone approaches me then I'm super friendly and I become friends with everybody in the room. I was very different. I didn't follow how people were like in school. I didn't follow trends, I was my own person. (laughs) Then I went to San Diego State for college…
I wasn't really aware of how people perceived me. I used to get made fun of a lot because I was Japanese. Kids thought I was really smart because I was Asian! But I wasn't! (laughs) It's really funny when people started copying off my test papers. I was like, 'Go ahead!' (laughs)… I wasn't really aware of anybody liking me. It wasn't until my senior yearbook when people wrote in it and some guys said they had a crush on me. I had no idea! (laughs) I'm Asian, so I didn't get boobs and I didn't get an ass. (laughs)".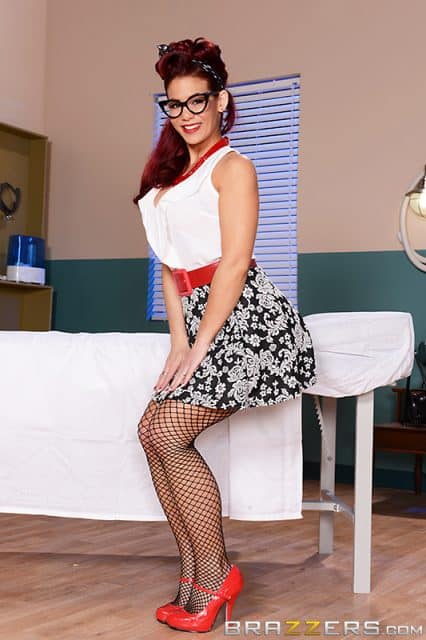 Ryder Skye in Masters Of Fuck – Brazzers
A natural born performer, Ryder was a Theatre major in college, she has over 15 years of screen acting training and she first started working in the adult industry as a co-host of Tony Batman's A! Entertainment show in 2001. Over the years Ryder has held a wide range of jobs including account analyst, annuities rep, marketing and design assistant for a large mainstream production company. She even constructed life-scale mechanical dinosaurs for her parent's company! As Ryder divulged during her June 2014 Adult DVD Talk interview;
"I've done everything. You name it, I did it. I worked at Arts and Entertainment as a junior analyst. I was promoted three times. I worked at the second largest toy company in the nation. I started as a Design Assistant then I moved over to marketing. I did another marketing job which was Point of Purchase. It was boring as hell. I hated that company. I've done retail, obviously. I waited tables. So I've done quite a bit!".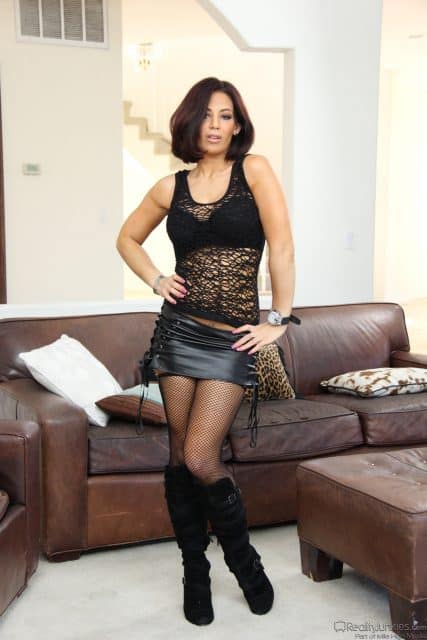 Ryder Skye in Mom's Cuckold #18 – Reality Junkies – Mile High Media Galleries
Unfulfilled with these 9-to-5 jobs, Ryder started to perform as an exotic dancer as well as modelling on the weekends. Performing on stage and posing for these modelling shoots gave Ryder a significant confidence boost so she started contacting agencies and filmed her first ever solo scene in 2007. And she hasn't looked back since! Talking about this landmark moment in her life during her June 2014 Adult DVD Talk interview, Ryder recounted how;
"I was working at the toy company and I was so miserable. And I feel like because of the experience I had, I was doomed to sit at a desk for the rest of my life. I started to get really depressed and I wasn't happy. I didn't think I could move away from that because that's where all my experience was at. I don't know if this is true or not, but I had a Hypno-Therapy moment. (laughs) I'm convinced that it was the Hypno-Therapy that gave me the balls to do this. What I started to do, just to keep myself amused, was that I started dancing at night. It was a dare. My ex-husband and I ended up at a strip club and he asked if I thought I could do that. I said I don't think so and he agreed with me so then I said, 'Well, maybe I can!' So I ended up trying it and I liked it, especially when you have a day job that's so boring. I got introduced to some modeling companies and then I started modeling on the weekends…
So, I stripped at night, modeled on the weekends and I still had my day job. Then I started thinking that I really wanted to go back to school. So as I started doing more and more pictures, I found that I was really comfortable in taking my top off. Then I started taking everything off, doing nude photography and getting paid for it. I ended up at one of the agencies and said I wanted to do pictures and they said they don't just do pictures anymore, it was pictures and video. So I went back to my ex-husband and he asked if I wanted to try it. I started out doing girl/girl and my first scene was on Easter Sunday. (laughs) That was my first shoot ever and it was a solo and it was so much fun. I loved it and then I realized that I could quit my job and go back to school and so I did!".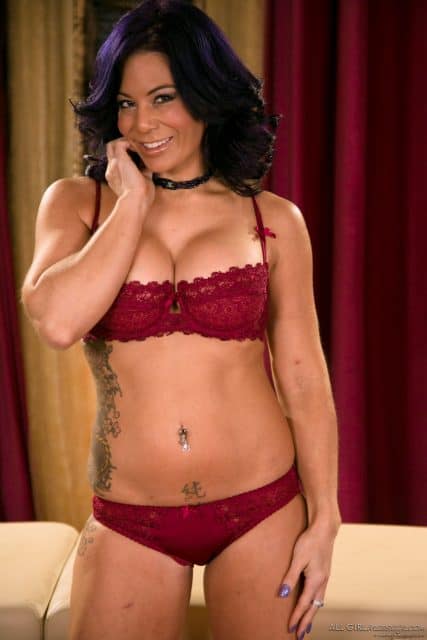 Ryder Skye – All-Girl Massage – Fantasy Massage Galleries
Ryder Skye : Adult Film Career
Ryder filmed her first ever sex scenes on Easter Sunday in 2007. As Ryder revealed during her February 2012 Barelist interview;
"My first job was actually on Easter 2007. What a day to start porn huh… lol. I had plans later in the day to meet my family on my mom's old boat. It was funny when I showed up with all this porn makeup on. I had been modeling at the time so they didn't think that much into it…They found out later and I was the one who told my mom. They all ended up being cool with it. They didn't necessarily agree with it but ultimately, they just wanted me to be happy. Now I tell them everything and it doesn't bother them".
From this point onward Ryder starred in a wide range of popular porn productions including MILFs and their Toys (2007) for New Sensations, Big Tits At Work #3 (2007) for Brazzers, POV Jugg Fuckers (2008) for Evil Angel and Babes Illustrated #17 (2008) for Metro/Cal Vista which earned Ryder a "Best All-Girl Three-Way Sex Scene" nomination at the 2009 AVN Awards due to her steamy scene with Eva Angelina & Sammie Rhodes.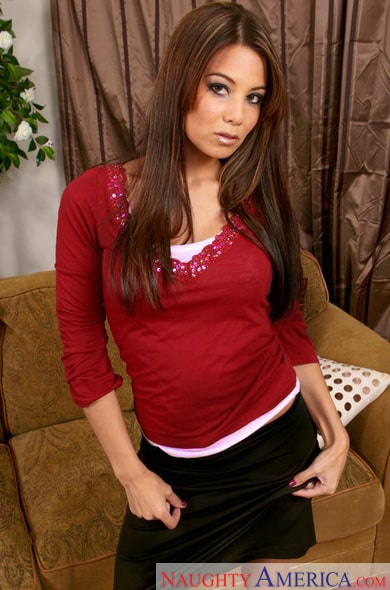 Ryder Skye in Housewife 1 On 1 – Naughty America
We also recommend checking out Ryder's sultry scene with Tori Black in Girls Will Be Girls #3 (2008) for Diabolic Video, her sizzling shoot with Daisy Marie in Penthouse Forum: Housewives Hunting Housewives (2008) and her thrilling three-way with Julia Ann and Dyanna Lauren in the Penthouse production Identity (2008). Ryder has enjoyed shooting these saucy sex scenes and highlighted in her June 2014 Adult DVD Talk interview how performing in porn has significantly boosted her confidence in her own body and sexuality. As Ryder puts it in her own words;
"I learned that I'm into light BDSM play that was right before I started. That was when I was dancing, I learned I like to be spanked a lot. As far as porn goes, I think I became really, really comfortable with my body and really comfortable being open sexually. I was really shy about my body. Things embarrassed me. That's why I didn't masturbate that much because it was embarrassing. When I started doing porn, I became so open and I think it's ridiculous to be worried about any of that stuff. Also, I'm into trying anything and experimenting. There's a lot of stuff out there and it's interesting".
Ryder Skye in Naughty Office – Naughty America
One of Ryder's fan-favorite movies filmed during this time has to be Fallen (2008) for Wicked Pictures within which Ryder shared an epic group sex scene with Gianna Lynn, Jada Fire, Jessica Drake, Lana Croft, Michelle McLaren, Barry Scott, Brad Armstrong, Derrick Pierce and Eric Masterson. Directed by Brad Armstrong and also starring Alektra Blue, Jenna Haze, Jennifer Dark and Shyla Stylez, Fallen was a critical and commercial success which won "Best DVD Menus" and "Best Packaging" at the 2009 AVN Awards, "Best Epic" at the 2009 XRCO Awards and it was named as "One of the Greatest Adult Films of All Time" in Showtime's 2015 X-Rated documentary.
During this time Ryder began to star in many best-selling porn parodies. Our top picks? They'd have to be the Muffia sci-fi spoof Star Trix: Deep Penetration (2009) and the Hustler Video movies Whores Have Eyes (2009), This Ain't Gilligan's Island XXX (2009) and This Ain't Charmed XXX (2010) which was nominated for "Best Parody: Drama" at the 2010 AVN Awards. Ryder has since starred in Not Really The Dukes Of Hazzard (2010) for Vouyer Media which was nominated for "Best Parody: Drama" at the 2010 AVN Awards, Tiger's Got Wood (2010) for Wicked Pictures and she shared a saucy Masters of Fuck scene with Johnny Sins that was featured in Brazzers Presents: The Parodies #5 (2016). Not to be missed!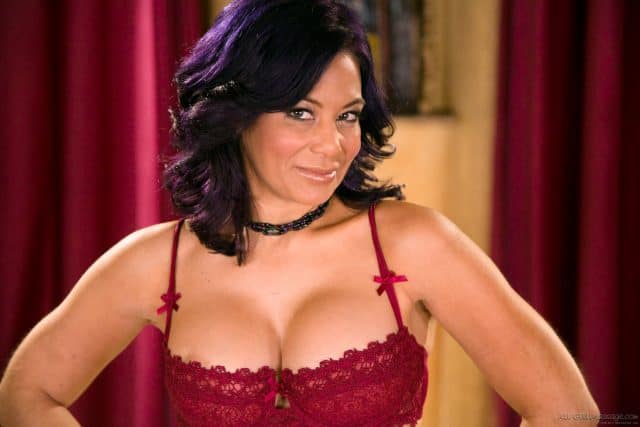 Ryder Skye in All-Girl Massage – Fantasy Massage Galleries
Without a doubt, Ryder's most popular parody movie has been Not The Jersey Boys XXX: A Porn Musical (2014). Directed by Will Ryder for X-Play, this musical spoof showcased Ryder in a sensational three-way with Zoey Monroe and Eric John. Also starring Carmen Caliente, Anya Ivy, Bailey Bae, Mila Blaze, Lucky Starr and Sunny Lane, Not The Jersey Boys XXX was an instant hit which won "First Choice Winners" at the 2014 Nightmoves Awards, "Best Soundtrack" and "Best Marketing Campaign – Individual Project" at the 2015 AVN Awards as well as "Parody Release of the Year: Comedy" and "Best Music" at the 2015 XBIZ Awards.
But what have been Ryder's favorite scenes to shoot? Well, Ryder is particularly fond of her Amazing Day At The Office shoot that was released via Bang Bros. In fact, Ryder regards this Bang Bros collaboration as one of her favorite scenes so far, mentioning in her June 2014 Adult DVD Talk interview that;
"I always recommend this BangBros scene I did called An Amazing Day At The Office. When I was webcamming, I used to ask people what their favorite scene of mine was and EVERYBODY said that one! It's a scene where we had sex in the bathroom. It's pretty funny, the whole setup is pretty hilarious".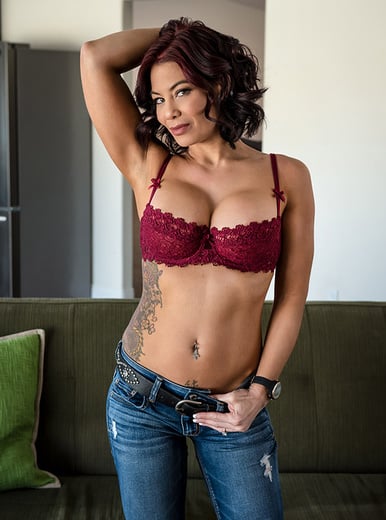 Ryder Skye in Bad News Boyfriend – Brazzers
Ryder Skye : Industry Hiatus, Comeback Career & Award Nominations
Following an 18 month hiatus from performing in porn, in November 2013 Ryder announced her triumphant return to the adult industry. When Ryder was asked about the reasons behind her industry hiatus during her June 2014 Adult DVD Talk interview, she revealed that;
"Actually, I've had two and neither of them was something I was planning on. The first was around 2009. I got throat cancer and had to have surgery. What happened was, I had surgery and I was planning on coming back but that's when the industry started slowing down. So I kind of faded away with it. I was going through a divorce and I just let it happen. I never considered myself to be gone. So I came back which wasn't really a comeback, I just sort of trickled back in. (laughs)".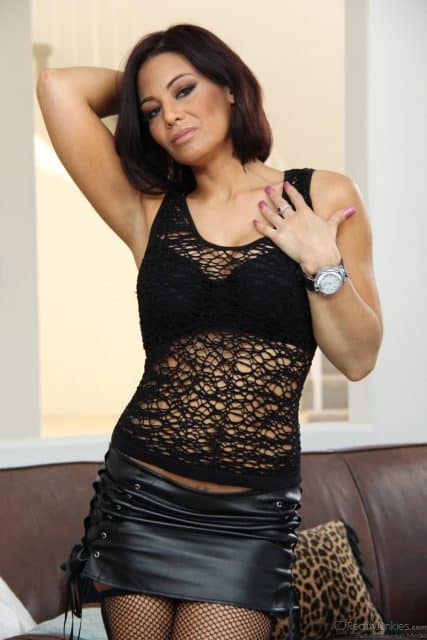 Ryder Skye in Mom's Cuckold #18 – Reality Junkies – Mile High Media Galleries
Ryder marked her industry return in fantastic fashion by shooting a sizzling Unexpected Hot Date scene with Michael Vegas that was unveiled via Brazzers in January 2014. Upon resuming her porn career Ryder has starred in a wealth of sensational Brazzers web clips. Fans of Ryder Skye will love viewing her Masters Of Fuck shoot with Johnny Sins, her raunchy Cumming At Customs three-way with Cherie Deville and Justin Hunt in February 2018 and her titillating Bad News Boyfriend shoot with Xander Corvus that was promoted via Brazzers in April 2018.
A landmark moment in Ryder's career occurred in August 2014 when she filmed her anal debut with Keiran Lee for Brazzers. Titled Dare For A Big Dick, Ryder enjoyed shooting her first ever anal scene and stated in her June 2014 Adult DVD Talk interview that;
"I just felt it was time to do something big, no pun intended. (laughs) I thought it had been awhile so I might as well do it. Just do it. He's a super, super nice guy and he told me he'd be gentle. I asked him if there was a way to be super gentle but make it look really, really good? (laughs) Make it look hardcore but don't break me with your 10" cock! I wanted to do a poll on Twitter asking which was more tighter, my pussy or my ass. I think it's my pussy…
I was freaking out and totally distracted basically the entire time we were shooting the dialogue, etc. Normally, I am more on cue considering my acting background. I couldn't even remember my lines a second after I read it on the script. But I have to say that Kieran is fucking amazing and he did a great job making it an easier experience for me. So much so that before I knew it he was actually pounding my ass. In fact, I was able to take more anally that when we did vag. Crazy. But all in all I had a blast".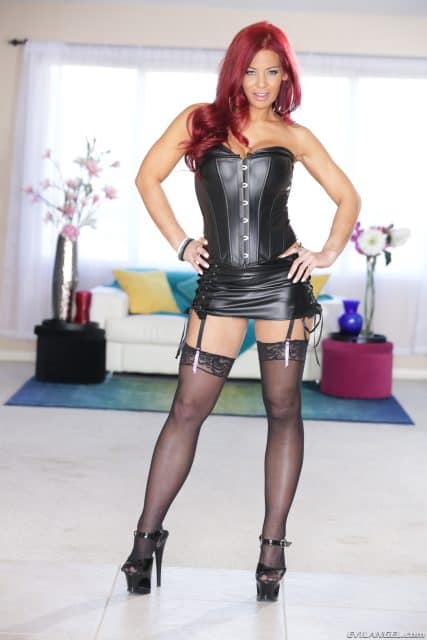 Ryder Skye in Lex Is A Motherfucker #4 – Evil Angel
Since resuming her adult film career Ryder has starred in many best-selling MILF movies such as Mom's Cuckold #8 (2015) for Reality Junkies that was nominated for "Best Polyamory Movie" at the 2016 AVN Awards, It's A Mommy Thing #7: Anal Edition (2015) for Elegant Angel, Lex is a Motherfucker #4 (2015) for Evil Angel that was nominated for "Best MILF Movie" at the 2016 AVN Awards and Couples Seeking Teens #17 (2015) for Reality Junkies which was nominated for "Best Older Woman/Younger Girl Release" at the 2016 AVN Awards.
Ryder is also a fan-favorite girl/girl performer who has shared a steamy scene with Pepper Xo in the Sweetheart Video DVD Mother Lovers Society #16 (2016), a saucy shoot with Ziggy Star in But You're My Mother's Age (2017) for Filly Films and a raunchy Daughter Swap role-play with Rosalyn Sphinx in April 2018.
Ever eager to explore new porn genres, Ryder has treated her fans to some incredibly immersive virtual reality sex scenes. Always wanted to share some one-on-one time with Ryder Skye? Then you'll love experiencing her Ryder's Zen Garden virtual reality sex session for MILF VR in December 2017 as well as her intensely alluring Ryder's Striptease VR shoot for JustVR in September 2018. It's like she's in the room with you!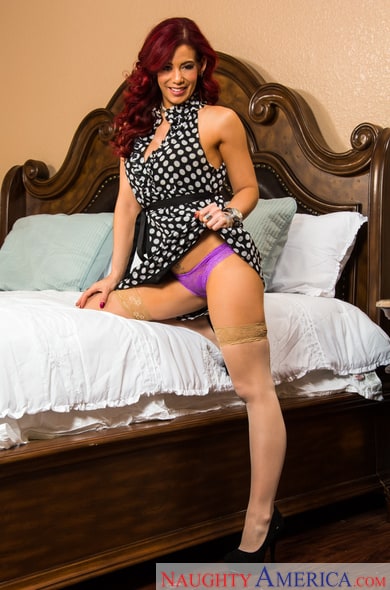 Ryder Skye in My Wife's Hot Friend – Naughty America
Want to know the most impressive part? Starring in this wide range of solo, girl/girl and hardcore productions has earned Ryder many notable awards nominations including;
2008: Nightmoves Awards nominee "Best New Starlet"
2009: AVN Awards nominee "Best All-Girl Three-Way Sex Scene" Babes Illustrated #17 (with Eva Angelina & Sammie Rhodes)
2009: AVN Awards nominee "Best New Starlet"
2009: AVN Awards nominee "Crossover Star Of The Year"
2009: XBIZ Awards nominee "New Starlet of the Year"
2009: F.A.M.E. Awards nominee "Favorite Female Rookie"
2015: XRCO Awards nominee "Best Cumback"
2016: AVN Awards nominee "Hottest MILF (Fan Award)"
Ryder has been thrilled to receive these coveted industry accolades and sincerely stated in an April 2009 AVN press release that;
"It's a great feeling to know that my efforts and my performances are recognized by the industry and the fans. I make it a point to come to every set to do the best work in the business and I'm very happy that my passion does not go unnoticed".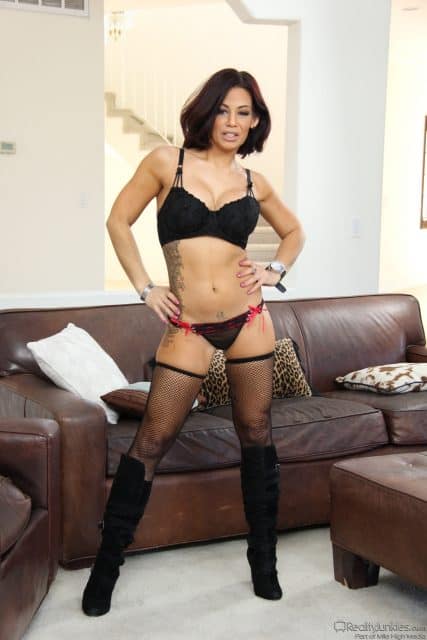 Ryder Skye in Mom's Cuckold #18 – Reality Junkies – Mile High Media Galleries
Ryder Skye : Entrepreneur, Talk Show Host & Mainstream Acting Roles
Alongside her adult industry projects Ryder is an entrepreneur who opened her own online store, Purely Skye Designs, which sold original, handcrafted jewelry and accessories. In 2013 Ryder launched a new company, Shameless Shirts, through which Ryder designed printed T-shirts with explicit sayings on them. As Ryder explained in her May 2014 Adult DVD Talk interview;
"I am always working :). Literally. But my other work includes hobby-type activities so I guess it can be interchangeable. Besides porn I also own an online store where I make and sell handcrafted and custom accessories, sterling and gemstone jewellery, and as of the beginning of the year, I started designing and making clothing. I started a 2nd company which is currently on hold, designing and screen printing "fuck you" and other verbally expressive shirts called Shameless Shirts. So I had to turn my apartment into a mini t-shirt factory".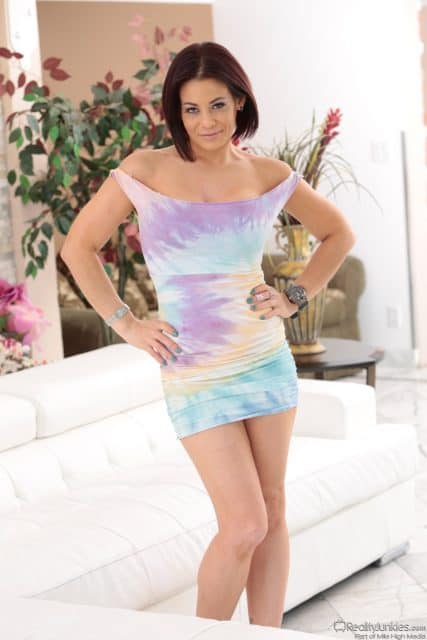 Ryder Skye in MILFs Seeking Boys #11 – Reality Junkies – Mile High Media Galleries
During this time Ryder co-hosted the Last Call and Notty Wood Show radio talk shows on Cyberstation USA, she was featured in the September 2012 issue of Hustler magazine and she made multiple appearances on Playboy Radio, Vivid Radio and on James Bartholet's Inside The Industry. Ryder has also hosted her very own Cyberstation USA radio talk show, Ryde Along w/ Ryder Skye, and in August 2018 she launched a YouTube sex toy review programme called Ryder's Red Hot Reviews. You may be interested to learn that Ryder actually collaborated with sex toy manufacturers Topco on her own Cyberskin sex toy which was molded from her body! As Ryder hotly hinted in a March 2009 AVN press release;
"Topco Sales has done such an amazing job creating my pussy and ass, and I can't wait for people to have fun with me…I think my fans will be really amazed by how this toy looks and feels exactly like me, and I love the idea of now being able to ensure everyone gets their fill of me".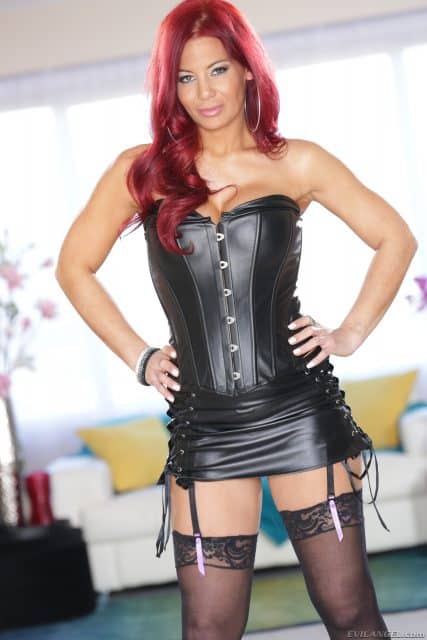 Ryder Skye in Lex Is A Motherfucker #4 – Evil Angel
But that's not all! Ryder is also a mainstream actress who was featured in the movie Sex and the City (2008) in a ménage à trois scene with actor Gilles Marini and adult film star Roxy DeVille. Ryder has also appeared as an extra on the critically acclaimed crime TV series Dexter. Ryder was excited to appear on Dexter and mentioned in an October 2008 AVN press release that;
"It's a great scene…I'm on screen checking out Michael C. Hall and — not to give anything away — I'm also one of eight college partiers who you'll see in a bloody, messy heap. I had an amazing time on the set and I hope anyone who watches will get a kick out of seeing me on 'Dexter'…I love being on camera, and I'm really pleased to be on two mainstream programs this month…I love the adult business and I always try to represent the industry in the best way possible when I'm in any mainstream movies or programs. Being able to do both is more than I could ask for!".
You can also spot Ryder in the TV series Californication featuring David Duchovny and in A. Gully's music video Or Nah (2014). What's more, Ryder has been a guest on the Maury Povich Show and Entertainment Tonight to discuss her role as Ginger in This Ain't Gilligan's Island XXX. As Ryder mentioned in her February 2009 Luke Is Back interview;
"I was Ginger. It was fun. I am really cheesy, and I know it's porn, but because I do the (mainstream) acting on the side, I want to be as good as I can. I put a lot of pressure on myself that way. I actually studied up on the character and tried to do Marilyn Monroe impressions and stuff. And so when I was on I did the whole thing. I am probably going to be embarrassed when I see it. It's fun being able to do stuff like that".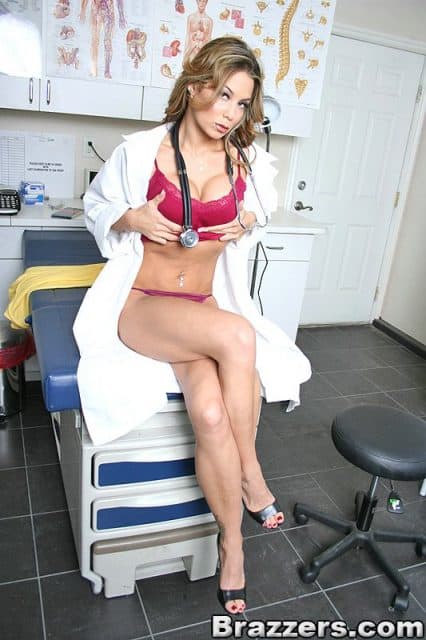 Ryder Skye in Insurance Fraud – Brazzers
One of Ryder's most notable roles has been as 'Brenda' in the comedy film The College Years (2011). This movie was directed by cult film director Brian Trenchard-Smith and it was regarded as a new sequel to Bob Clark's teen sex comedy Porky's (1982). Ryder has since co-starred in the documentary film Cinema Salvation (2011). Talking about the crossover opportunities that a porn career offers during her XCritic column interview, Ryder highlighted how;
"I do not know if this is necessarily a path to going mainstream. I guess it can be. It depends on a lot of factors. There are many angles of this business that can hurt you and there are many that can help you. When I was cast for one of my first mainstream roles, I was cast because I was a porn star. I can think of a few times when I had gone on auditions and the fact that I did porn was something that had casting directors think twice. I can remember times where things worked out in my favor and other times when they did not. So, I guess it can go either way".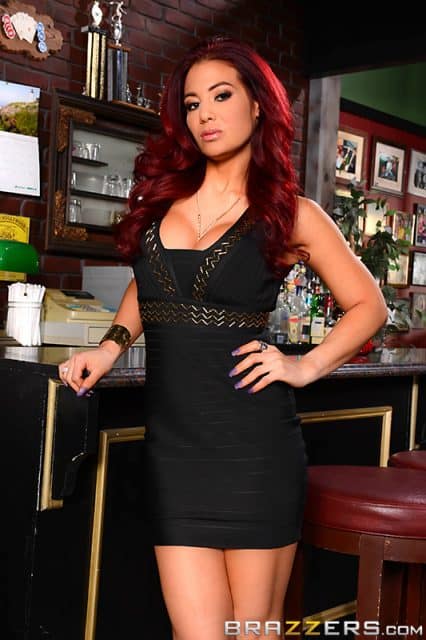 Ryder Skye in Dare For A Big Dick – Brazzers
Ryder Skye : Sex Positivity, Recent Releases & Future Plans
You may be interested to learn that Ryder is a sex-positive feminist who has always been keen to dispel the notion that being a feminist means you are anti-porn. As Ryder explains via her official solo website;
"I feel that the majority of feminists, particularly conservative or radical ones have lost track of the true definition of what feminism is. It's as if they are lost in the idea that women are not sexual creatures just as men, but instead victims to sexuality in general".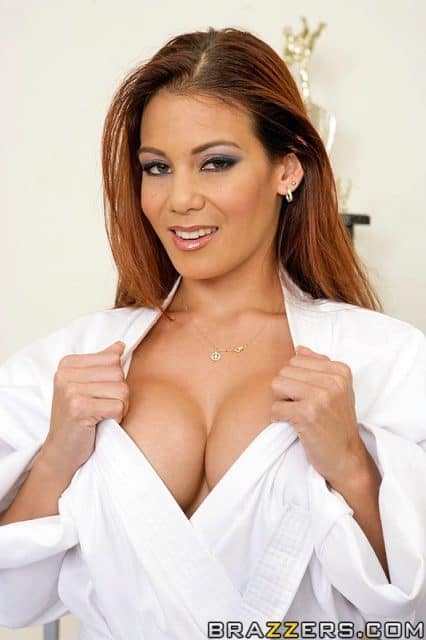 Ryder Skye in Tits Of Fury – Brazzers
Ryder first started to develop these ideals when she was in college and divulged during her XCritic column interview that;
"Well when I was in college. I was a part of this movement that was a gender haven. When it came to my own personality, I simply have always been myself. I have never tried to be a part of any other type of group. I simply could only be me. It was being able to be myself that helped me to grow these ideas and run with them. I had always had these ideas of a sex-positive culture within me. Discovering this myself, it made me want to see other people get to experience what comes from this type of self-discovery. I have always had an idea that no one should ever conform to anything else than who they want to be. Sexuality, it is something that everyone has, why should everyone be ashamed of it? It is something that I would always say to myself, "you are not hurting anyone, so why shouldn't I be who I am?…Everyone outside of the industry looks down upon us, so getting to be a part of this group of people we all work with, it is something that brings about a feeling of acceptance because we all share these open minds and similar beliefs but most important. I think we all discovered who we are".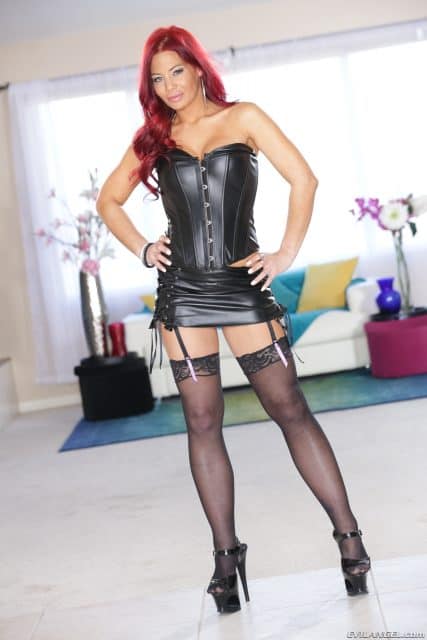 Ryder Skye in Lex Is A Motherfucker #4 – Evil Angel
Currently based in Los Angeles, California, in her spare time Ryder volunteers at the meal food service at the Union Rescue Mission. Ryder also volunteers as a food sorter for AIDS Project LA. Alongside her adult film career, Ryder attends college and she plans to attend graduate school. In fact, Ryder ultimately intends to become a marriage counsellor and sex therapist. As Ryder explained during her XCritic column interview;
"It is something that I have planned for…being in this industry, I honestly learned so much about what it would take for me to get there and do what I have always wanted to do. There is so much that I have learned that goes into that dedication. There is a lot of work, there is a lot of study and theory. I would honestly say, I would like to, but I also have this goal to bring forth a mental health section of help to the industry. I do not know if you remember this place. When AIM was around, which for those who do not know, it was one of the testing centers. I would love to start a mental health sector like that for the adult industry to help performers the same way that AIM did back in the day in other areas of health. I think that the mental health part of things is just as important as the physical health section of things. I honestly think that there are so many girls who join the industry and they are simply not ready for what comes with diving in head first into entertainment like this. That is really what I would love to do. I know it would take so much for this to happen, but I think it is something that is worth the time and investment. That would be something so good for this industry".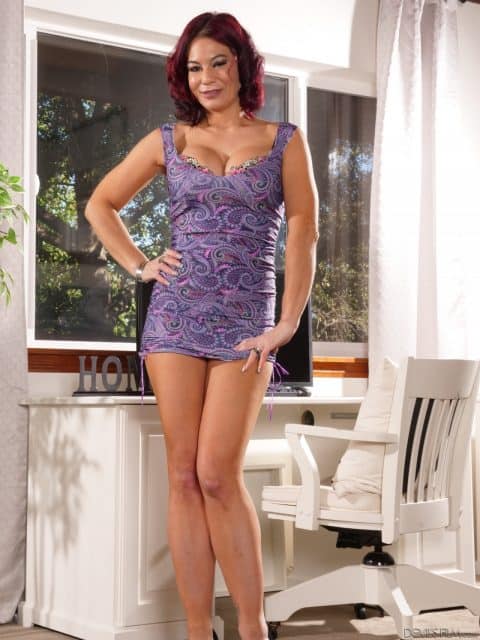 Ryder Skye in Don't Tell My Wife I Buttfucked Her Best Friend #8 – Devil's Film
So what does the future hold for fan-favorite performer Ryder Skye? Well, in recent months Ryder has filmed a thrilling The More Bad MILFs The Betters three-way with Farrah Dahl, Laura Bentley and Codey Steele that was released via Team Skeet in January 2018, she was featured in the Vouyer Media DVD Fuck Buddies (2018) and she has starred in the Devil's Film movie Don't Tell My Wife I Buttfucked Her Best Friend #8 (2018) alongside Brandi Bae, Maddy O'Reilly and Summer Day. Talking about her future plans in her June 2014 Adult DVD Talk interview, Ryder conveyed how;
"I want to go as long as possible. Realistically, I don't want to be really old doing this. I'd love to be able to do this forever but it's something you can't do forever because, ew. (laughs) I would like to get another 5 years out of it. I love my job and I'm better than I was before. It's literally the best job ever".
Want to keep yourself updated on all of Ryder's sauciest sex scenes, mainstream acting roles and upcoming projects? Then use the links provided below to stay connected with captivating crossover star Ryder Skye!
Ryder Skye – Social Networks
Twitter : @ryderskyexxx
Instagram : @ryderskyexxx
Just VR : Ryder Skye's VR Scenes
MILF VR : Ryder's Zen Garden VR Experience
Bang Bros : Ryder Skye at Bang Bros
Brazzers : Ryder Skye at Brazzers
Devil's Film : Ryder Skye at Devil's Film
Evil Angel : Ryder Skye at Evil Angel
Fantasy Massage : Ryder Skye at Fantasy Massage
Filly Films : Ryder Skye at Filly Films
Mile High Media : Ryder Skye's Sweetheart Video & Reality Junkies Movies
Naughty America : Ryder Skye at Naughty America
New Sensations : Ryder Skye at Digital Sin/New Sensations
Team Skeet : Ryder Skye at Team Skeet
Vivid : Ryder Skye at Vivid
Official Website : RyderSkye.com
Adult Empire : Ryder Skye's DVDs