Kendra Sunderland Biography
Official Websites : Subkendrasunderland  Twitter : @KSLibraryGirl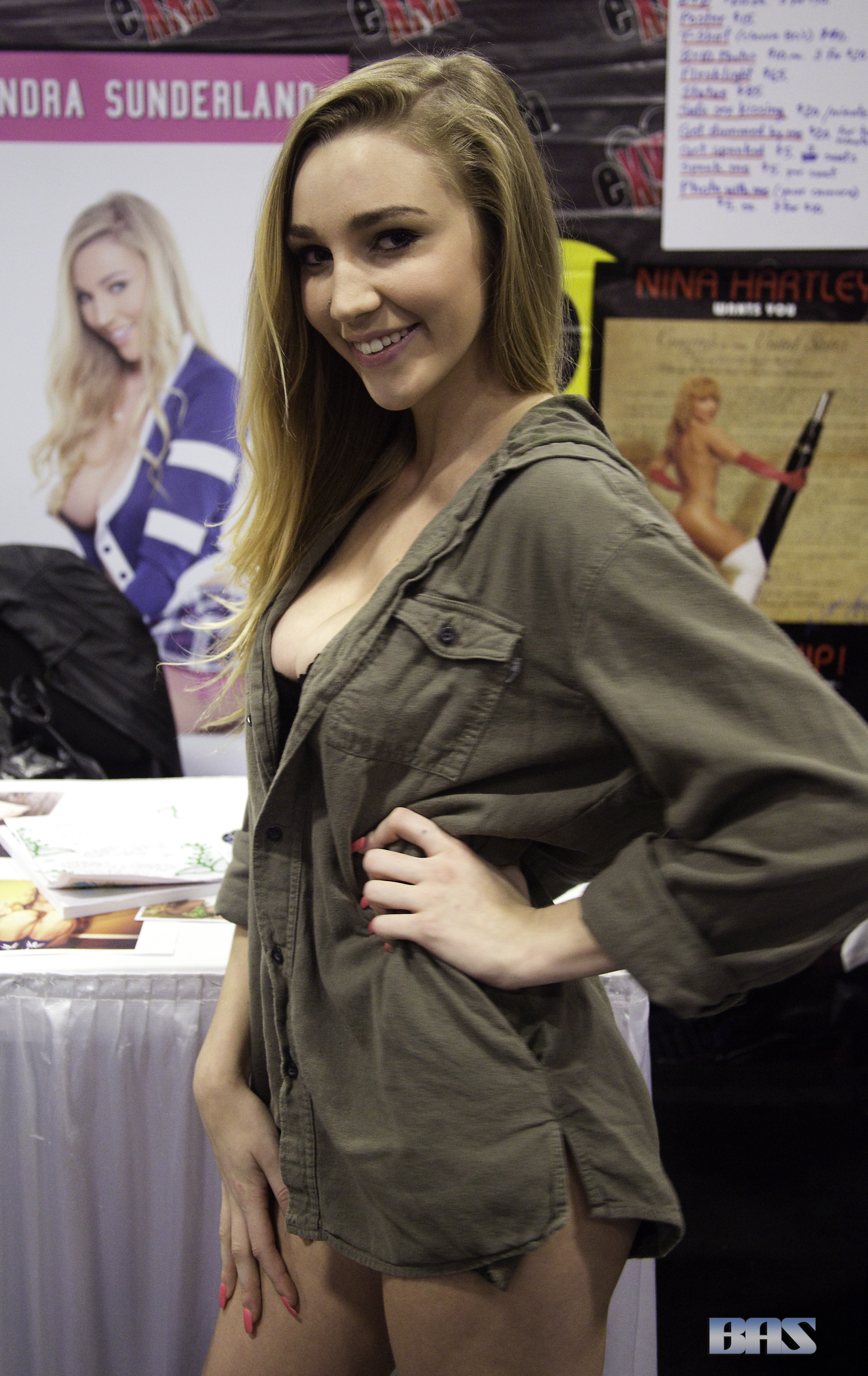 Kendra Sunderland at 2015 Exxxotica New Jersey
Kendra Sunderland : Personal Info
Name : Kendra Sunderland
Alias : KS Library Girl
Date of Birth: June 16th, 1995
Home Town : Salem, Oregon (US)
Measurements : 32G – 25 – 35
Bra/ Cup Size : 32G
Boobs : Natural
Height : 5'9 (1.75m)
Hair Colour : Blonde
Eye Colour : Blue
Tattoos : Sun design along the right side of her rib cage and a design on the right side of her upper back
Piercings : Navel, right nostril and both nipples
Years Active : 2015 – present
Number of Scenes : 10+
Introducing Kendra Sunderland; a sensational webcam model, fetish performer, blonde beauty, busty natural starlet, tall porn star and entrepreneur. Kendra Sunderland found fame as the 'OSU Library Girl' in 2015 after she filmed a kinky live chat session within the Oregon State University Library!
Born and raised in Salem, Oregon, Kendra Sunderland attended West Salem High School and graduated in June 2013. Kendra Sunderland divulged during her March 2015 Fleshbot interview that she frequently changed her friendship groups and interests throughout her high school years;
"I changed a lot throughout high school. My freshman year I was a good girl and dated a soccer player who got really good grades. Then my sophomore year I dated a stoner and started to smoke as well. All of my friends were guys and I turned into this girl who really didn't care about anything. I fought with my parents a lot and would sneak out at night to go smoke with my friends. My Junior year I was dating a guy who got me to quit smoking but when we broke up I started again. All of my friends were stoners and we would skip class. Then near the end of my junior year, my parents sent me to live with my aunt and my uncle because I wasn't following the rules. When I lived with them I didn't have any friends and I didn't smoke. I would just go to school, come back, do homework, go to bed and that was it. Not long after, I left there and went back home to live with my parents again. I would say I was a better girl And was doing better in school. I made new friends that were good influences my senior year. I didn't have many classes but I had a job working for my best friend's parents at a manufacturing company. She later became my roommate in college. So I'd say throughout high school I went from being a good girl, to a stoner who didn't care about anything, to a stoner who still got her work done".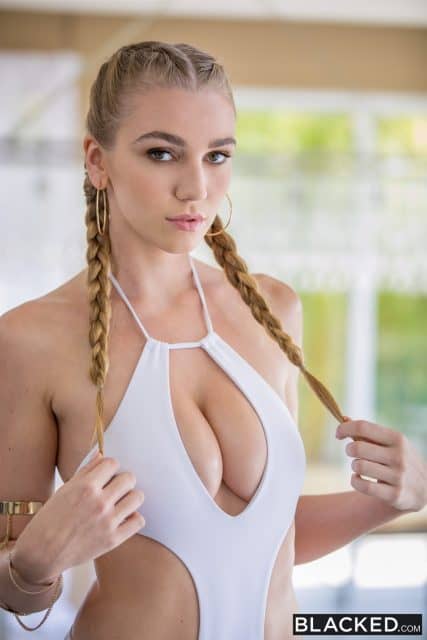 Kendra Sunderland in "Interracial Icon Volume 6" – Blacked.com – Adult Empire Galleries
 After graduating from high school, Kendra Sunderland attended Oregon State University (OSU) in Cornvallis with plans of becoming a counsellor. Although Kendra took several classes in human development, she eventually switched majors to accounting and started taking various business and economic classes. As Kendra Sunderland explained within her February 2015 Daily Dot interview;
"When I was in high school, I planned on being a counselor. So I planned on taking psychology and becoming a guidance counselor for teens. I lost interest. Near the end of my first year I got sick pretty bad and was going through a tough side. I kinda gave up on everything. I wasn't into school much. So at the start of my second year I decided to change it to something different. I decided to try accounting, 'cause my mom told me I'd look good in a business suit. I didn't get a chance to switch my major. I stopped going to school four weeks into the term. Once I got started with MFC, I decided I didn't want to be in an office every single day and work with numbers. I decided to stop going to school".
After struggling to secure a part-time college job as a waitress, Kendra Sunderland decided to create a profile on the popular adult-cam site MyFreeCams and she hosted her first ever erotic webcam modelling session in October 2014 performing under the profile Babyyygirl420. Kendra revealed during her February 2015 Daily Dot interview that she had never even heard of webcamming before she was introduced to the concept by a close friend;
"I didn't even know what it was. I just knew I didn't want to do what I was told to do after high school. I didn't know about camming. I knew I wanted to be a model, though…x
A close friend of mine told me about MFC [MyFreeCams] and Chaturbate. He knew girls that had done it. He told me you'd make a lot of money, and you don't really have to work very much, and people on there will buy you anything you want. I told him I was broke and it was hard for me to find a job. I'd just lost my job at the diner. So I mentioned it to my boyfriend and I decided to sign up one night…
One night I decided to try it out. I got dressed up, did my makeup, waited till my roommates were asleep, then I went online. There were a bunch of viewers 'cause I was new and they would tip me. I had a lot of people saying nice things, like, "I could see you being the top 100." They liked the way I looked, and said I was bubbly and fun to talk to".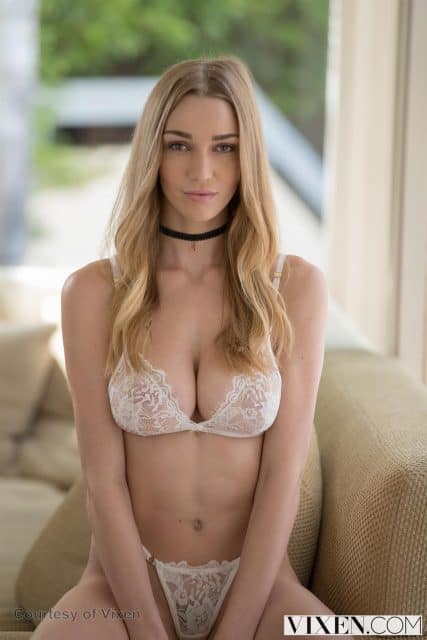 Kendra Sunderland in Natural Beauties – Vixen  – Adult Empire Galleries
Upon discovering the lucrative financial benefits of webcam modelling, Kendra Sunderland continued to host regular live chat sessions via MyFreeCams without telling any of her college roommates. Ever eager to push her sexual limits and titillate her ever-expanding global fan following, Kendra Sunderland decide to perform a live cam show from within the Oregon State University Library. Kendra Sunderland's scandalous library cam show went viral via Pornhub in January 2015 and Kendra Sunderland quickly became a local celebrity. As Kendra Sunderland herself explained within her February 2015 Daily Dot interview;
"I was using my phone watching YouTube videos and I was getting a bunch of friend requests on Facebook, so I was like, "OK, something's up." My ex-boyfriend texted me to check Yik Yak, and it had blown up about Library Girl. Everyone was posting about it and talking about how to find the video. Someone had put it on Pornhub. Then someone I had math class with at OSU recognized me and everyone posted my full name. It just blew up…
When I first got there [OSU], I kept to myself. It was just me and my roommate. She was my only friend. As time went on, we made friends in the dorm, but at first, [when it blew up on Yik Yak], the majority of people didn't know who I was. I was just the girl who worked on MFC, and then I was Library Girl…
At first it was just people I trusted, like my close friends. Then people started finding out about it. I told people the truth after my boyfriend broke up with me. I didn't want to deny it".
Unfortunately, Kendra Sunderland's adult cam-site exploits also attracted the attention of Oregon State Police who arrested her on public indecency charges on January 27th, 2015, for which she was ultimately required to pay a $1,000 fine. Kendra Sunderland discussed this public indecency charge within her February 2015 Bro Bible interview, commenting that;
"This is my first time getting caught! I was very discrete the other times and didn't do any flashing! Lesson  learned, though. Never do anything on camera for the whole world to see that you wouldn't mind coming back and biting you in the ass! The fame I can take, the possible year in jail….not so much!".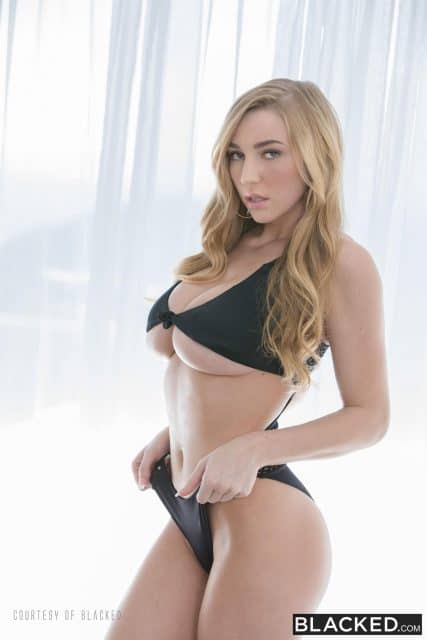 Kendra Sunderland in Interracial Icon Volume 5 – Blacked.com – Adult Empire Galleries
Kendra Sunderland further elaborated within her March 2015 Fleshbot interview how;
"The Corvallis police were actually very nice. After he asked me questions and wrote me a citation, he gave me his card and wanted me to know that if anyone was harassing me that I could call them and we can work out a safety plan. He told me that regardless of what I've done I don't deserve to be harassed. He was very sweet but of course he had to watch the video for research so it was a little awkward!…All of this media attention hasn't bothered me as much as people think it would. Yeah it sucks when the news writes lies and says that I was arrested and kicked out of school, especially when my grandparents watch the news and thought I was still in school but I've never been one of those girls to run and hide when people talk about me. I've stood up and taken responsibility for what I've done and chose to embrace it. Interviews were hard at first because I wasn't used to it but now I feel like I've got them down and I actually enjoy them!".
In the days following her arrest, Kendra Sunderland's library live cam show was viewed over 300,000 times via Pornhub before it was eventually removed. However, much to the enjoyment of her fans, clips from Kendra's library live cam show have been reposted across various amateur porn platforms and have garnered millions of views. What's more, many of Kendra Sunderland's solo webcam modelling sessions and saucy video clips have also been spread across various porn sites whereupon they have earned Kendra Sunderland an avid fan following. Upon discussing her viral video clips within her February 2015 Bro Bible interview, Kendra Sunderland commented that;
"Whatever the reason, boredom, hatred, or pure horniness, I want to thank them [for sharing the video]! This has opened so many amazing opportunities for me! If it wasn't for [whoever put it online], I'd still be in my room webcaming instead of in L.A. having an interview with Inside Daily, KROQ, Playboy, Penthouse….and BroBible!!!…
I was a little overwhelmed with all the attention and couldn't respond to everyone quick enough! But I was super hopeful and excited that it would bring amazing opportunities to me! And it did ? At first I was a little overwhelmed!! I felt bad that I couldn't respond to everyone quick enough because I wanted to return the love that I received! I was also a little nervous of how quickly my life would change, but that was overcome with how excited I was! As for the haters, I couldn't care less! Must be doing something right huh?".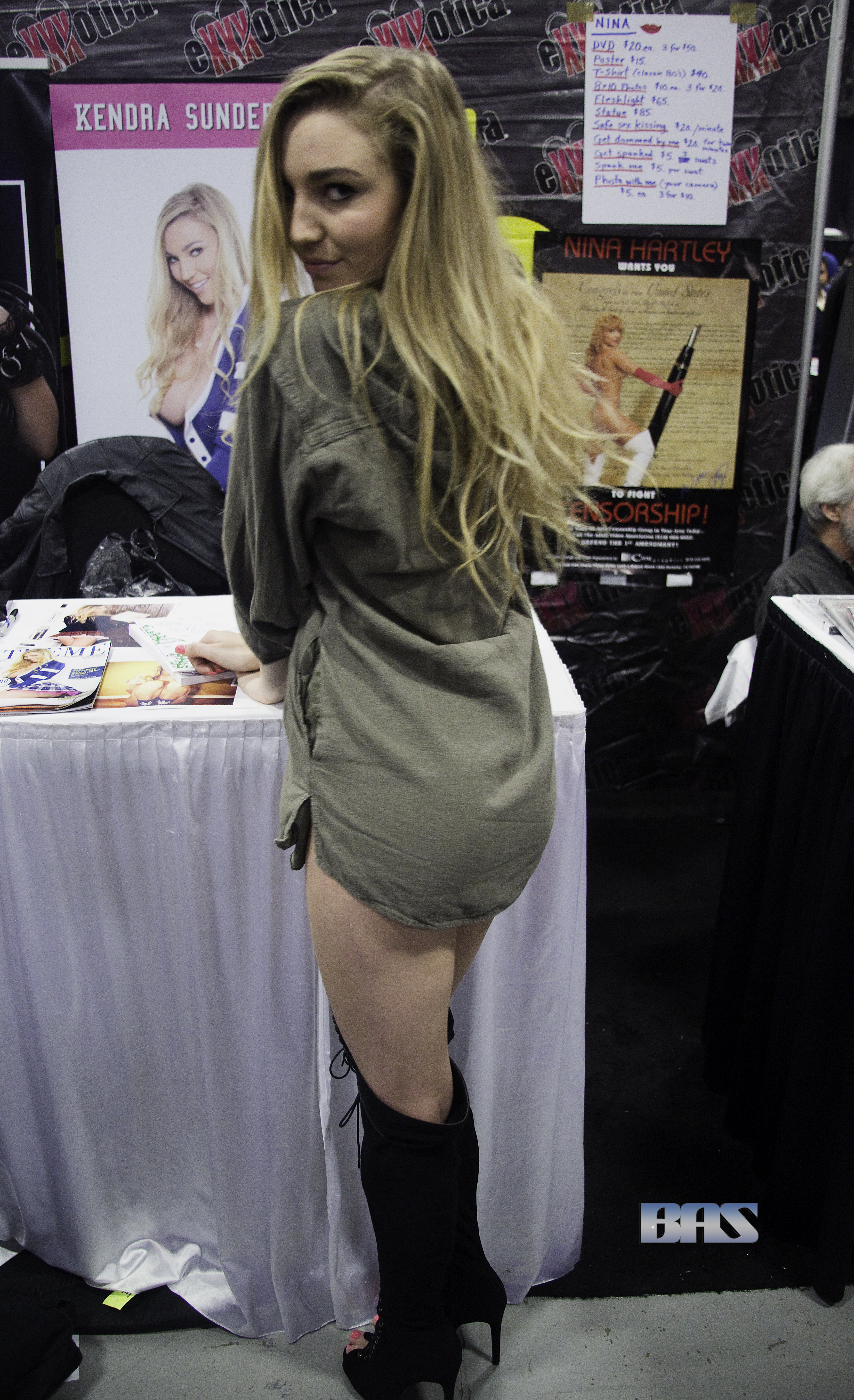 Kendra Sunderland at 2015 Exxxotica New Jersey
Kendra Sunderland : Adult Film Career
Ambitious and inspired by her ever-increasing international fan base, Kendra Sunderland dropped out of college in order to dedicate her time to performing up to five MyFreeCams live chat sessions a week. Upon resuming her raunchy live chat sessions from February 14th 2015 onwards, Kendra Sunderland created her very own Friend Finder Network official solo website PlayWithKendra.com (now redirects to her cams.com profile subkendrasunderland) which has enabled Kendra Sunderland to devote all of her time to creating exciting new web content for her global fan following.
In February 2015 Kendra Sunderland also launched her official dating website titled DateBrokeCollegeGirls.com.Kendra Sunderland has explained in previous interviews that she created this saucy dating website in order to;
"match college girls like me who are struggling to pay for school and looking for a rich older boyfriend. Hopefully this will keep them from getting naked in the library and help them use it to study!".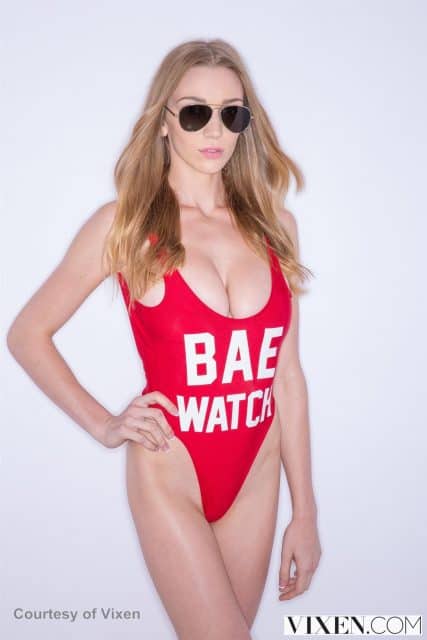 Kendra Sunderland in Natural Beauties – Vixen  – Adult Empire Galleries
Never one to rest on her laurels, in February 2015 Kendra Sunderland teamed up with leading sex toy manufacturers Pipedream Products in order to launch her very own line of sultry sex toys! Consequently, in March 2015 Kendra Sunderland unveiled The Kendra Sunderland Collection; an exclusive range of sex toy products that have been intimately moulded from Kendra's breasts (aka the "Love Doll"), from her vagina (aka the "Eager Beaver") and from her anus (aka the "Cutie Booty"). Launching her own exclusive line of sex toys has been a lifelong ambition of Kendra's and she had previously enthused during her February 2015 Bro Bible interview that;
"I would also love to have my own line of sex toys just cause I've always dreamed of that since i found out what a dildo was!".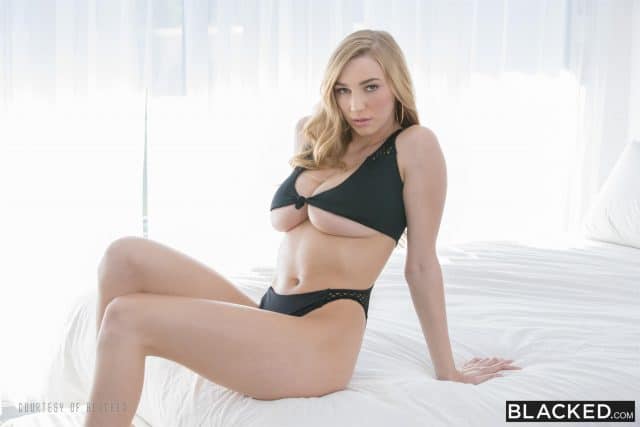 Kendra Sunderland in Interracial Icon Volume 5 – Blacked.com – Adult Empire Galleries
Kendra Sunderland went from strength to strength throughout February 2015; fulfilling her lifelong ambition of posing for Playboy in a sensational glamour modelling shoot that was featured via the Playboy website in March 2015, as well as posing for a four-page spread for Penthouse magazine that featured within their May 2015 issue whereupon she was named Penthouse magazine's "Pet of the Month". After all, as Kendra expressed within her February 2015 Daily Dot interview;
"It was always my fantasy to do that type of stuff, so I feel like i would've started anyways, even if I did have a steady job. I've always wanted to call myself a model. I love to have my picture taken. I always just kinda wanted to be the girl in the magazine that people were drooling over and fantasizing about. I've always looked at girls in Playboy and the hot girls on the cars and even the girls in the Carl's Jr. commercials and I've wanted to be just like that. That's always been my fantasy. I'm just starting out, but we'll see where this takes me".
In February 2015 Kendra Sunderland was invited to appear on Inside Edition in a section which delved deeper into her 'Library Girl' story. Kendra's OSU experiences have also been covered by mainstream media publications such as the NY Daily News and in March 2015 Kendra Sunderland was interviewed by Eila Adams for Naked News which was aired via in April 2015. Kendra Sunderland shot this raunchy interview with Eila Adams completely naked and also auditioned to become a Naked News anchor.
During this time Kendra Sunderland began to film a variety of raunchy solo sex scenes for the fetish porn production company FTV Girls. Some of Kendra's sauciest ftvgirls.com solo sex scenes include Kendra College Freshman, Kendra Funky Sports Fanatic, Kendra Pink Room Masturbation and Kendra Portland Night.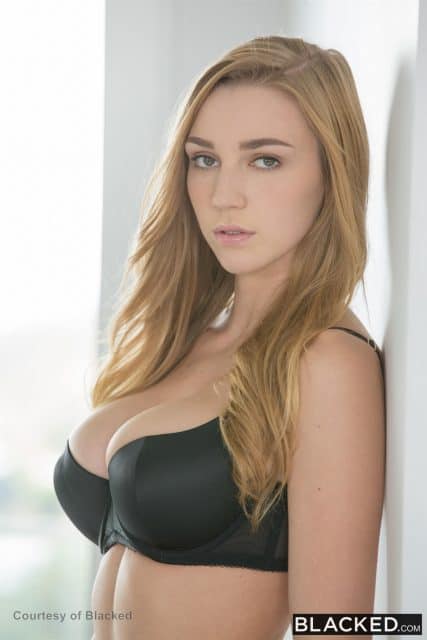 Kendra Sunderland in Kendra's Obsession – Blacked.com – Adult Empire Galleries
From 2016 onwards Kendra Sunderland has begun to garner a devoted fan following due to her saucy sex scenes that she has filmed for Greg Lansky's various Vixen, Blacked and Tushy pornographic production companies. A certified Vixen Contract Girl and 2016 "Vixen Girl of the Year", Kendra Sunderland has teamed up with Greg Lansky to star within a wealth of best-selling porn productions such as Young And Beautiful 2 (2016) for Vixen Pictures alongside Alexa Grace, Mia Malkova, Sydney Cole and Veronica Rodriguez. Some of Kendra Sunderland's most popular Greg Lansky collaborations include her August 2016 Vixen.com three-way sex scene with Mick Blue and Evan Stone titled My Friend's Daughter, her Let's Share My Boyfriend three-way sex scene with Alexa Grace and Jean Val Jean for Vixen.com in October 2016, and her Kendra's Obsession sex scenes for Blacked.com with Jason Brown in November 2016 and with Ana Foxxx in January 2017.
Kendra Sunderland's most successful Greg Lansky collaboration to date has been the Vixen Pictures and Jules Jordan Video DVD title Natural Beauties (2016) for which Kendra Sunderland's sex scene with Mick Blue won "Best Boy/Girl Sex Scene" at the 2017 AVN Awards and was nominated for "Best Sex Scene – All-Sex Release" at the 2017 XBIZ Awards. Natural Beauties also won "Best Anthology Movie"  and "Best Director – Non-Feature" for Greg Lansky at the 2017 AVN Awards as well as receiving notable nominations for "Best Cinematography" at the 2017 AVN Awards and "All-Sex Release of the Year" at the 2017 XBIZ Awards.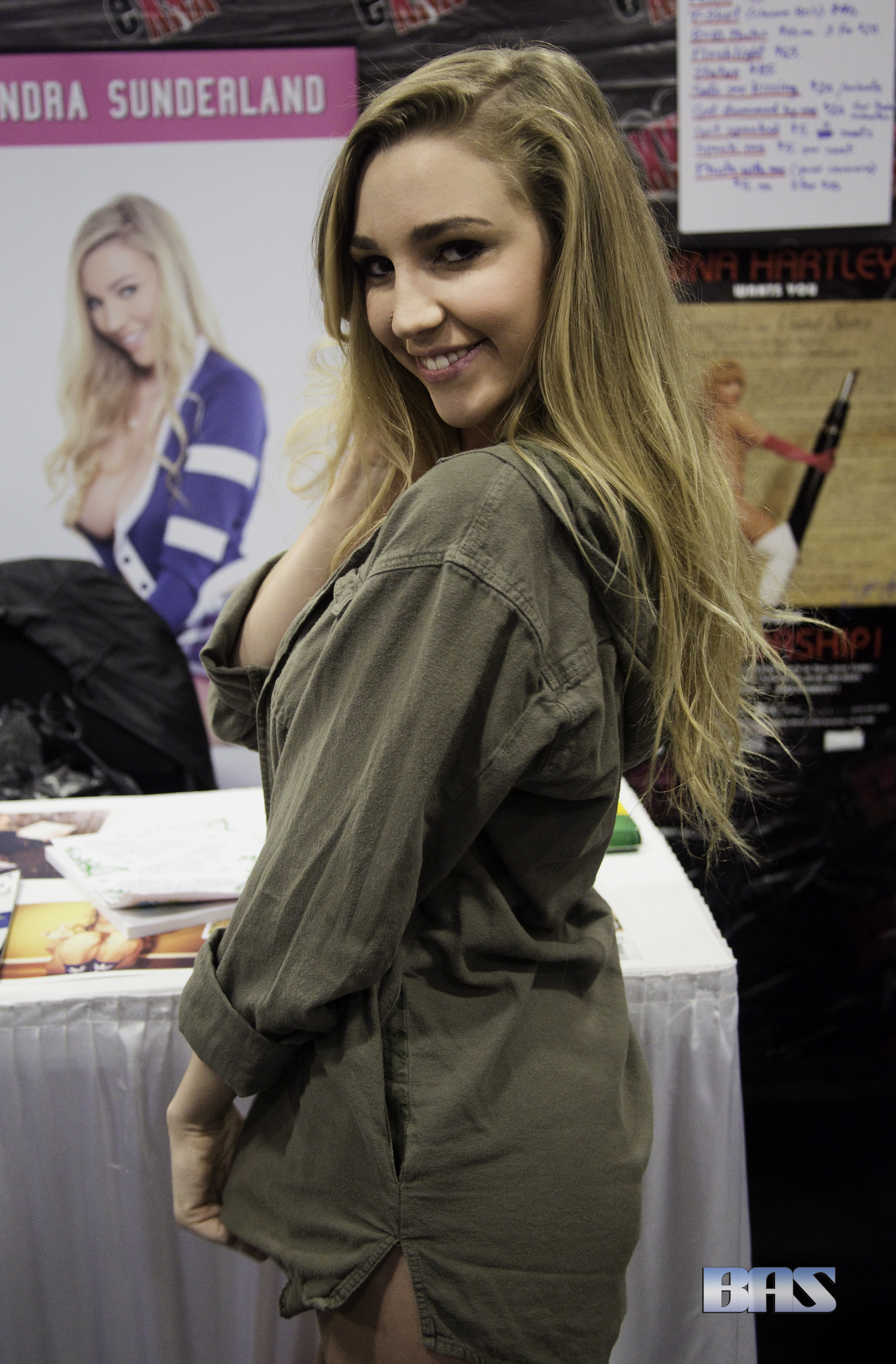 Kendra Sunderland at 2015 Exxxotica New Jersey
In addition to her award-nominated hardcore sex scenes, Kendra Sunderland continues to perform as a phenomenal webcam model and her saucy live chat sessions earned her a nomination for the coveted "Web Star of the Year" title at the 2017 XBIZ Awards. Upon discussing her long term adult entertainment industry plans during her February 2015 Bro Bible interview, Kendra Sunderland has expressed her dreams of launching her very own lingerie line and managing her own personal blog site;
"In 10 years or so I see myself being a strong business woman in charge of many different companies and businesses in the adult entertainment industry and driving around that Audi R8 I've always dreamed of! I have tons of ideas for my future and [keep in mind] these are just ideas (for now lol)! I hope to start my own line of lingerie for girls with big boobs because I've always hated going to Victoria's Secret and watching girls buy the adorable bras from PINK when I had to buy the ones in my size that were black, tan or white SO BORING!…
Most importantly, I want to have my own blog where women (older and younger) can send me their stories or questions and I could give them advice and I can encourage them to take control of their sex life and to embrace their sexuality! I want them to know it's not up to the guys whether we sleep with them (they think they are, but they aren't) and it's not them who got into our pants but us that got into theirs! Don't be ashamed of a one night stand! You got what you wanted and there's no shame in that! Be yourself and don't let anyone tell you how you should feel about yourself! Girl power!! (Sorry guys) :*".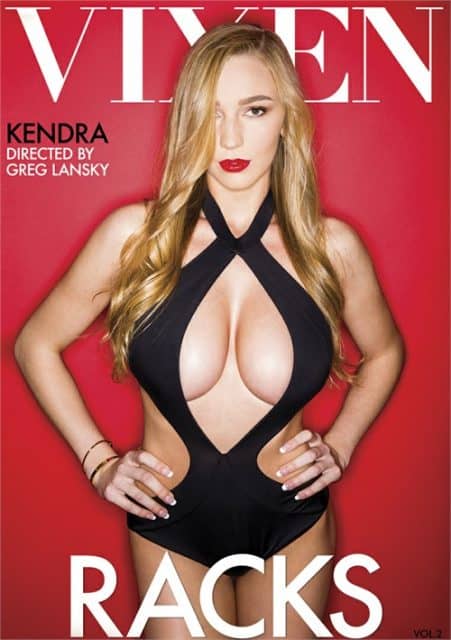 Kendra Sunderland in Racks – Vixen – Adult Empire Galleries
If you want to keep yourself updated regarding Kendra Sunderland's latest online sex scenes, kinky live chat sessions and sizzling DVD titles then please feel free to use the links provided below to interact with her various official social networking channels online today. Whether you love her live chat sessions, magazine modelling shoots or pornographic productions, blonde bombshell Kendra Sunderland manages a wealth of exciting social media platforms through which you can enjoy her exciting adult film industry projects!
Kendra Sunderland : Social Networks
Official Websites : Subkendrasunderland 
Twitter : @KSLibraryGirl
Adult Empire : Kendra Sunderland at Adult Empire
IMDB Profile: Kendra Sunderland Filmography
The Nude : Kendra Sunderland at Nude.EU