Kendra Heart Biography
Twitter : @kendraheartxxx Camsoda : Kendra Heart Evil Angel : Kendra Heart Sex Scenes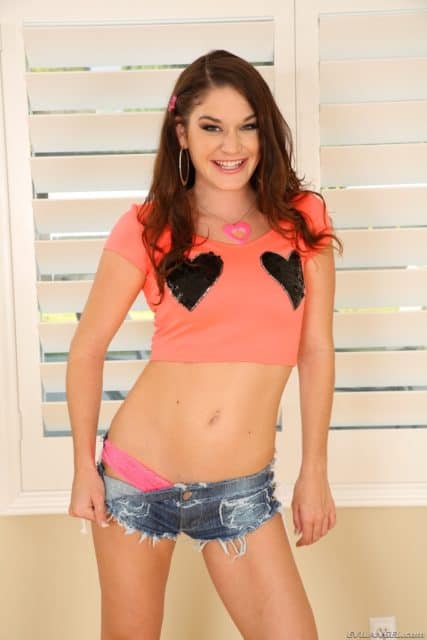 Click here to watch Kendra Heart in "Anal Brats #4 (2017)" at Evil Angel
Kendra Heart – Personal Info
Name : Kendra Heart
Date of Birth : September 11th
Star Sign : Virgo
Measurements : 34B – 26 – 36
Height : 5'4 (1.63m)
Hair Colour : Brunette
Eye Colour : Green
Years Active : 2016 – present
Number of Scenes : 20+
Kendra Heart is a beautiful brunette porn star, cam girl and model who made her industry debut in late 2016. During this time, Kendra Heart has attracted an avid global fan base due to her raunchy sex scenes in several Evil Angel, Mofos, Blazed Studios and Desperate Pleasures porn productions.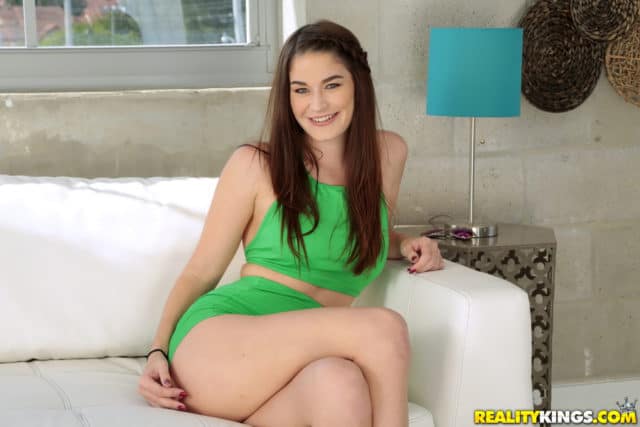 Click here to watch Kendra Heart in "Cum Here" at Reality Kings
So where did it all begin? Raised in Oklahoma and currently based in South Florida, Kendra Heart is the middle child of her family and she used to play soccer growing up. Talking about these early years in her June 2017 Adult DVD Talk interview, sexy fit and athletic pornstar Kendra Heart divulged that;
"I grew up in Oklahoma, I'm a middle child, my dad is a preacher and my mom is a straight up gold digging nympho sex icon so they're completely different. I used to play soccer…I was a wall flower, I was invisible in [high school]…I was the child that got swept under the rug. And what I mean by that is my brother was the athlete, and my sister was the book smart one. You have the only son, star athlete and the baby girl, and there I was, subsequently that's why I crave the attention I do now".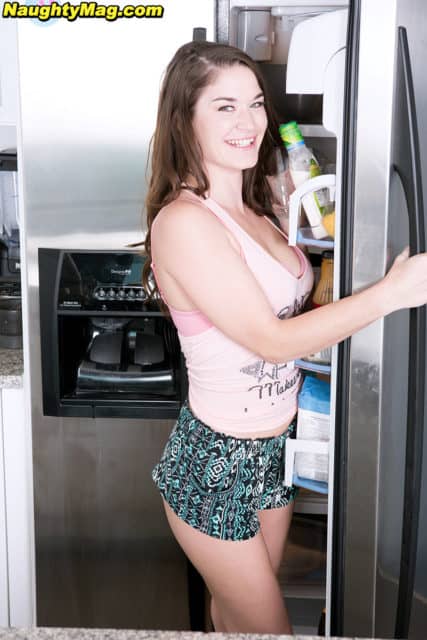 Click here to watch Kendra Heart in "Southern Charmer" at Naughty Mag
Kendra Heart was a swinger prior to performing in porn and she used to assemble gangbangs with her boyfriend. Kendra Heart and her boyfriend would find people online and they would all meet in a porn theatre! As such, when petite brunette pornstar Kendra Heart was asked how she first gravitated towards porn during her June 2017 Adult DVD Talk interview she explained how;
"The golden question and oh my gosh! So, I was in the middle of a gangbang and this is very true. So the more I tell this story, the more I include. So, let me back up and start from the beginning. I have a swinger background with swinger ways about me. All my life I've always been okay with sleeping with other people and could only have a boyfriend if we both could do that. So normally, I just never had a boyfriend, just because nobody would be okay with that. So what I would do, one of my boyfriends and I our thing would be to assemble gangbangs. And, we'd go online and find people that we liked of course. And we'd all meet at a porn theater and we'd tell people to wear a red shirt and then you'd get to fuck me like crazy. It was crazy, so sometimes if there was a lot more guys at the glory holes and they were wearing red shirts so my boyfriend would let all the guys fuck me crazy and then be the last one to have sex with me as sort of a dominant thing".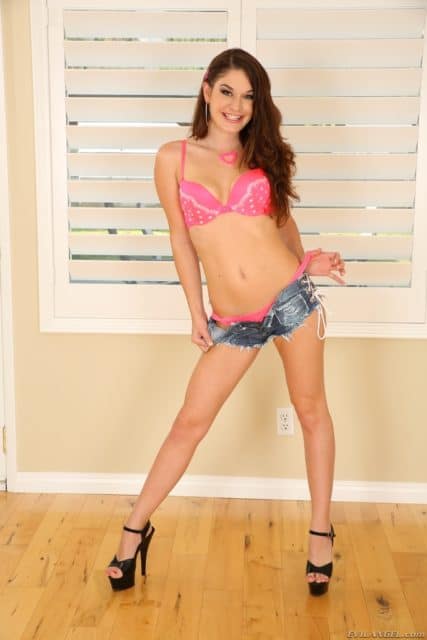 Click here to watch Kendra Heart in "Anal Brats #4 (2017)" at Evil Angel
It was during one of Kendra Heart's gangbangs that she met someone who suggested she should perform in porn. As natural beauty Kendra Heart recounted in her June 2017 Adult DVD Talk interview;
"It was one of the last ones I did. I think it was 6 guys and I had each of them sitting in the seats next to each other. I started at one end and would ride each one in reverse cowgirl while I would stroke off the guy or guys next to one I was riding. I would get to the end of the line and start back at the beginning. It was on my second or third lap down the line that I caught a petite redhead looking at me. From that moment, we spent the rest of the time just staring at one another as I rode the guys…I had all the guys cum on my breasts because that's probably my favorite place for a guy to cum. As I was getting ready to leave, the redhead told me that I was so much better than the porn star on the screen and so much more entertaining that I should do porn. I thought MMMMMMMM…It was very safe, all the way. If my BF knew that every guy was tested, then it'd be a different story, but without a test. Sorry, wrap that thing!…We're a strange couple. Instead of going out to dinner on a special occasion, we'd go to the porn theater and have fun there quite often. But not now because I'd have to be safe now and get tested quite often. That's all behind me now, but that's where I bloomed sexually".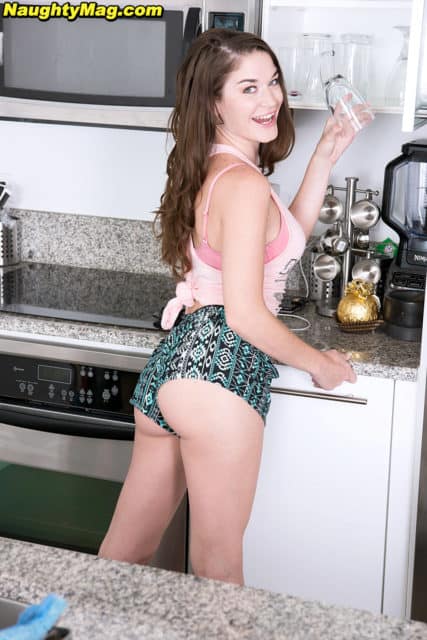 Click here to watch Kendra Heart in "Southern Charmer" at Naughty Mag
Brunette beauty Kendra Heart first started working in the adult entertainment industry as an exotic dancer and she mentioned in her June 2017 Adult DVD Talk interview that;
"I stripped for about 3 months. It was probably the worst thing I could do to my body. Stripping is so hard on us girls with the bruising, and I got so skinny because all I did was dance, dance, dance, cardio, cardio, cardio, cardio. I lost all my muscle and all my fat. So I quit just because I got too skinny".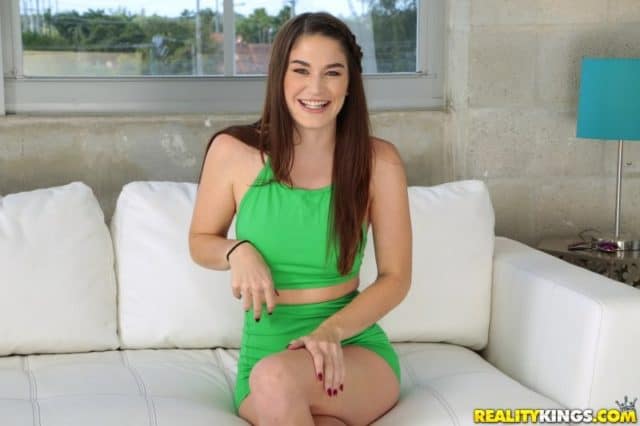 Click here to watch Kendra Heart in "Cum Here" at Reality Kings
Kendra Heart : Adult Film Career
Kendra Heart made her official porn debut in late 2016. One of Kendra Heart's earliest sex scenes was a saucy Cum Here sex scene with Damon Dice that was released via Reality Kings in December 2016. When rising starlet Kendra Heart was asked if she was nervous about shooting her porn debut during her June 2017 Adult DVD Talk interview she revealed that;
"Yes, but even in my personal life, I was nervous before I did a gangbang until I get that first cock in my mouth and then all the butterflies go away. The second I'm it action, the switch is thrown and its show time…I've been in industry about 6 months now and I really love it. I've found my niche in the world…I like being in front of the camera, posing and feeling pretty gets me ready for the scene. It's sexy as fuck to me, and I love the audience".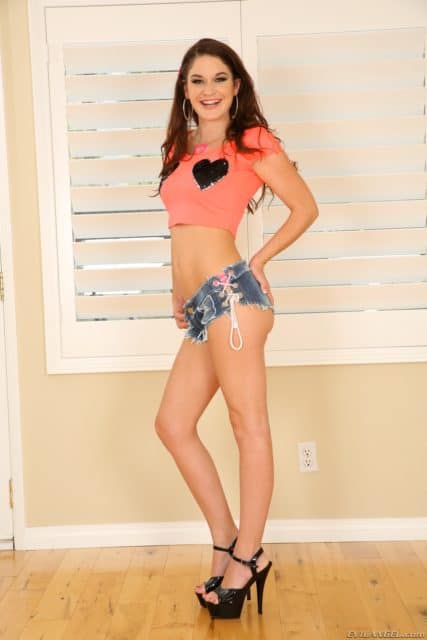 Click here to watch Kendra Heart in "Anal Brats #4 (2017)" at Evil Angel
One of Kendra Heart's favorite sex scenes to shoot has been her sizzling scene with J-Mac for Teens Love Huge Cocks. Hot teen pornstar Kendra Heart enjoyed collaborating with J-Mac and she stated in her June 2017 Adult DVD Talk interview that;
"Ooohhhh, my favorite scene was with J-Mac. It was my second scene for Teens Love Huge Cocks, and what is funny is the banana was a prop and I was blowing the banana practicing and my brother comes in and says, 'I give you something to practice on, blah blah blah' and one thing leads to another and it was the biggest cock I've ever had in my life. Yeah, and I've never had a dick that couldn't go all the way in my mouth or all the way down my throat. And, he even McChickened me which is he signature move where he picks the girl up and she's all looking like a chicken".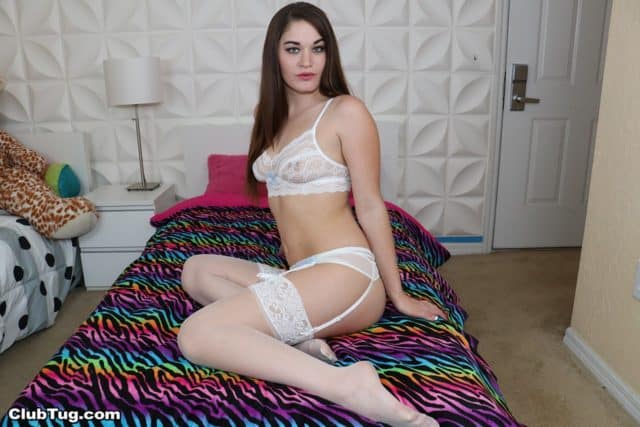 Click here to watch Kendra Heart in "Step-Sis Facialized" at Club Tug
We also recommend watching Kendra Heart's amazing anal porn scene with Mark Wood that was featured in the LeWood/Evil Angel movie Anal Brats #4 (2017) starring Moka Mora, Avi Love and Erin Grey. Kendra Heart enjoyed shooting Anal Brats #4 with porn star power couple Francesca Le and Mark Wood, divulging in her June 2017 Adult DVD Talk interview that;
"It was so hot. I love Francesca, she's hilarious. If was different, but I didn't have any reservations like, "oh my god, that's his wife and I'm fucking her husband." It wasn't anything like that and it was the first time I had a woman behind the camera. I liked it and it was more comforting because girls know where we feel pretty and what the best angles would be. I was very much wowed".
During this time Kendra Heart started to appear in several thrilling Desperate Pleasures taboo relations titles including Layover Lesbians (2017), Your Sister Sucks (2017) that showcased Kendra Heart on its box cover, My Uncle Likes Me Hairy (2017) which also featured Kendra Heart on its box cover, Taboo Diaries #13 (2017) and Bathtime Blowjobs (2017) that was nominated for "Best Oral Movie" at the 2018 AVN Awards.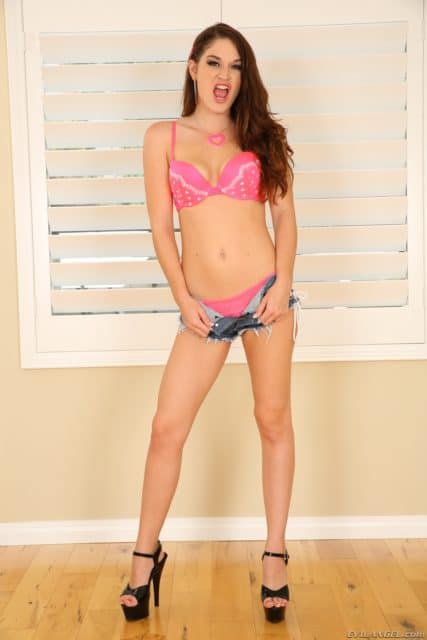 Click here to watch Kendra Heart in "Anal Brats #4 (2017)" at Evil Angel
But that's not all. Kendra Heart has also been featured in many fan-favorite Blazed Studios DVDs such as Blowjob Queens (2017), Blowjobs And Stockings #2 (2017), In My Family Two Dicks Are Better Than One (2018) which showcases Kendra on its box cover and Nuttin' But Cumshots (2018). This raunchy release was ardently endorsed by Pulse's Vice President of Sales, Hyland C, who advocated in a September 2018 XBIZ News press release how;
"Blazed Studios' releases have consistently received rave reviews from its fans. In this release, Mark delivers an epic collection of POV handjobs and blowjobs, focusing on the cumshot, so fans can have a go-to library of girls to pick from for their immersive pleasure. Fans of Blazed's POV releases are going to absolutely love this film".
Kendra Heart has since starred in the Blazed Studios productions Ever Wonder What's On A Pornographer's Phone? (2019), Flight Laid And Delayed (2019) and All Dolled Up (2019) alongside Ariel Ackerman, Hope Harper, Anastasia Rose, Angelica Cruz, Carmen Valentina, Kimmy Lee, Mercy West, Olivia Kasady, Reagan Lush and Violet Monroe. Not to be missed!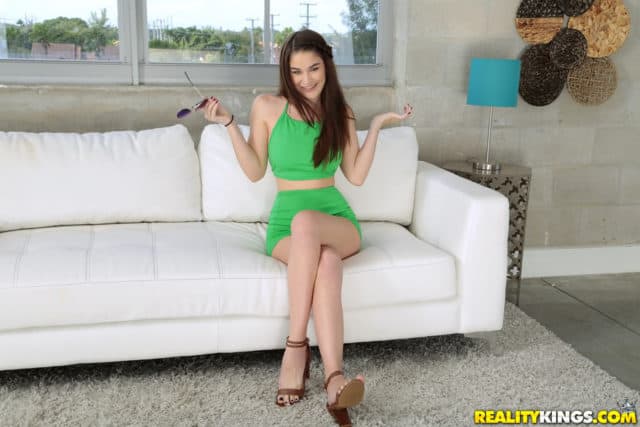 Click here to watch Kendra Heart in "Cum Here" at Reality Kings
Eager to explore even more of Kendra Heart's hottest sex scenes? Then you'll love watching her sizzling Look Mom No Hands In Her First Interracial sex scene with Dredd that was released via Interracial Pass in August 2017, her kinky sex scene with Sean Michaels in the NorthPole Entertainment release My Step Fuck Family (2017) and her saucy Public Pussy Pounding sex scene with J-Mac which was uploaded via Mofos in February 2018.
We also recommend viewing Kendra's thrilling Caught In Deeper Pussy three-way with Vienna Black and Kyle Mason that was promoted via Mofos in November 2018, her epic DP porn debut with Mirko, Oliver Flynn and Tyler Steel which was unveiled via Legal Porno in November 2018, her steamy Girls Night Out sex scene with Kali Roses that was released via Mofos in March 2019 and her seductive sex scene in the Penthouse production Mommy And Me Have A Secret (2019) starring Veronica Avluv, Rachael Cavalli and Crystal Rush. Must see sex scenes for Kendra Heart fans!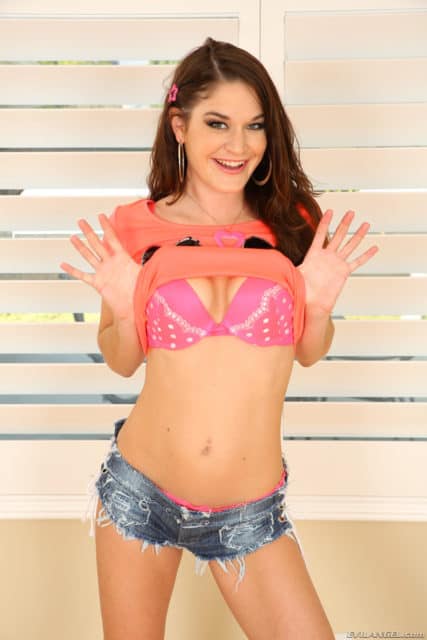 Click here to watch Kendra Heart in "Anal Brats #4 (2017)" at Evil Angel
When she isn't starring in these popular porn productions, Kendra Heart enjoys interacting with her fans via social media and hosting lusty live cam shows via Camsoda (as 'Kendra Heart'). Keen to stay connected with busty brunette beauty Kendra Heart? Then use the links provided below to discover all of Kendra Heart's hottest sex scenes, exclusive web content and upcoming live cam shows!
Kendra Heart – Social Networks
Twitter : @kendraheartxxx
Camsoda : KendraHeart
Evil Angel : Kendra at Evil Angel
Clips4Sale : Kendra Heart's Desires
Legal Porno : Kendra at Legal Porno
ManyVids : KendraHeart
Mofos : Kendra at Mofos
Naughty Mag : Kendra at Naughty Mag
Reality Kings : Kendra at Reality Kings
Tug Pass : Kendra at Tug Pass
Adult Empire : Kendra's DVDs