Karma Rx Biography
Twitter : @Karma_Rx   VR Bangers : Karma Rx VR Scenes   Camsoda : karmarx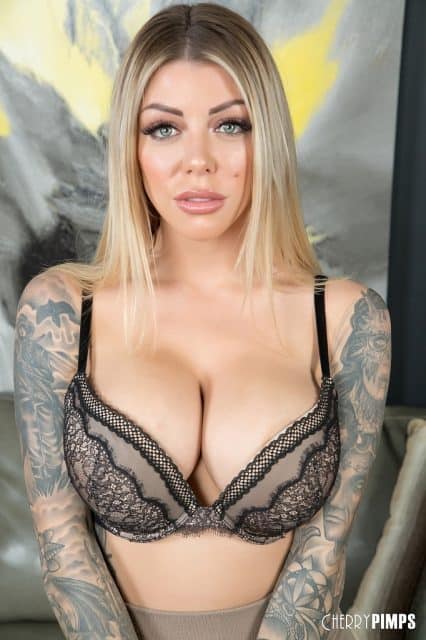 Karma Rx at Wild On Cam – Cherry Pimps
Personal Info
Name : Karma Rx
Date of Birth : January 21st, 1993
Hometown : Fillmore, California (US)
Measurements : 36H – 24 – 34
Height : 5'4 (1.63m)
Hair Colour : Blonde
Eye Colour : Green
Tattoos : Karma has full sleeves on both arms, 'Sic Fucc' script across the backs of her thighs (which is the name of her social media company) as well as various intricate designs around her ankles, across her hips and her entire back. Talking about the alluring body art across her right side in her November 2017 AVN: Fresh Faces interview, Karma mentioned that;
"It's like a Medusa head but she's got leeches instead of snakes…Because women are succubi. She's super cool looking; she's probably my favorite. Hurt like a son of a bitch but nothing's hurt as bad since...I got more stuff done on my back. I had a lizard and a dragon and I added a castle".
Piercings : Navel
Years Active : 2017 – present
Number of Scenes : 80+
Social media queen Karma Rx is famous for her saucy Snaps and sensational Many Vids clips. Since making her adult film industry debut in the fall of 2017, Karma has continued to expand her international fan following and she has won "Best Ink (Fan's Choice)" at the 2018 Nightmoves Awards as well as "Best New Starlet" at the 2019 XBIZ Awards. Karma Rx has since won "Best POV Sex Scene" at the 2023 AVN Awards due to her immersive scene in the Jules Jordan Video release Manuel's Fucking POV #12 (2019).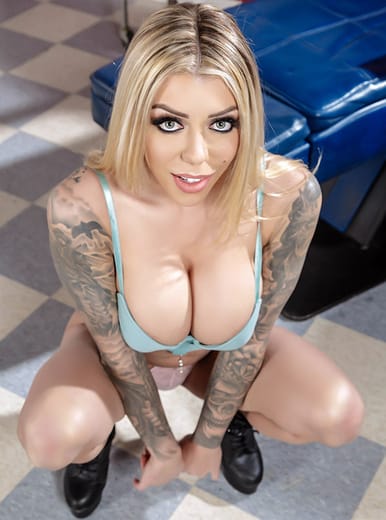 Karma Rx at Brazzers
Hailing from Fillmore, California, before she began working in the adult industry Karma managed a vape and tattoo shop for three years. Before then, Karma had been homeless for four and a half years. Reflecting upon this period of her life in her November 2017 AVN: Fresh Faces interview, Karma explained how;
 "I booked people for tattoos and I managed the e-cigarette part of it…I slept on concrete and dug in the trash…I had a drug problem. I have five-and-a-half years clean now…I'm grateful that everything in my life went the way that it did because I believe that I have the drive that I have because I was homeless…I don't take things for granted and I work really hard for everything that I have in my life and I'm proud of everything I've accomplished…
I believe that I can do anything because getting from homeless to un-homeless is about the hardest thing you can do. People don't really realize that when they yell 'get a job' to homeless people. But it's very hard to do so when you don't have a shower and address, or anybody to help you. Also I think it helps me that I know the value of money and I know what it does—it buys shit. So money has never gotten to my head…
I'm able to be grateful for all the stuff that I have and grateful in a way that I don't think a lot of people know about. It makes me want to work harder to not end up there again and I put a lot of work into maintaining that…I'm going to take over the world".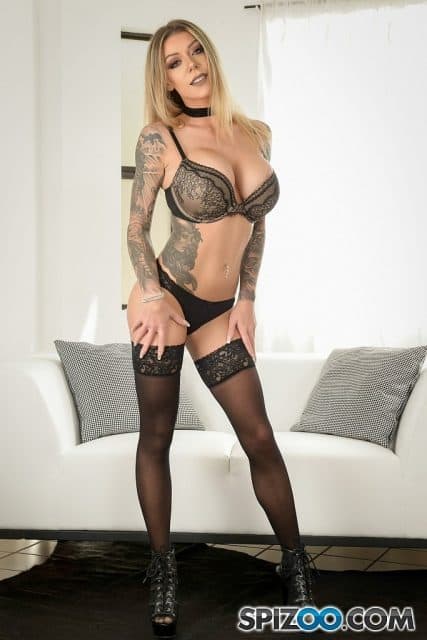 Karma Rx at Spizoo
Wondering how Karma first discovered her porn star potential? Well, it all began in the summer of 2015 when Karma created her premium Snapchat account. In no time at all Karma had amassed a devoted fan following due to her raunchy public shows. Talking about her sexy Snaps within her November 2017 AVN: Fresh Faces interview, Karma saucily stated that;
"There were overwhelming numbers of people asking me to do that and I was like why not…My Snapchat has always been really popular because I do weird shit…I did a squirt show in the DMV. I did anal in Del Taco. I did a lot of dressing room shows. People like the public stuff…I get an adrenaline rush and I've almost been arrested a lot of times with some of my riskier moves. Anal in Del Taco is just disgusting. That's a disgusting thing to do, but that was a good one—everybody liked that…At the time I was still working at the vape shop and I was like, eh I'm going to do a show—in the bathroom; I wish I could pull off a booth. That's terrifying, I don't want to go to jail…
I'm sure it gets boring to watch someone fuck themselves in different ways for 30 days in a row but I've had subscribers that have been on there for two years. I'm hoping that I get to do fun porn scenes like on top of a moving vehicle, but it's not really up to me. I'm just hoping that I get booked for fun stuff".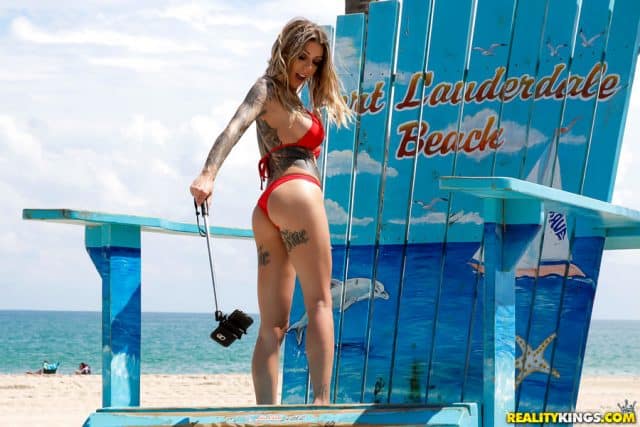 Karma Rx at Reality Kings
Karma Rx : Adult Film Career
Spurred on by the success of her social networking channels and webcamming sessions (which she continues to host under the screen name 'karmarx'), Karma first began to consider working in the adult film industry in the summer of 2017. Karma signed with the exclusive adult film talent agency ATMLA in August 2017 and by September 2017 she had signed a 60-day performance contract with Mindgeek that has enabled Karma to shoot for such prominent production companies as Reality Kings, Brazzers and Digital Playground.
During this time Karma filmed her first ever sex scenes with Ramon Nomar for the popular porn site Reality Kings. Among some of Karma and Ramon's most captivating web collaborations include Sneaky Webcam Slut which was released via Reality Kings in December 2017 and Those Are Not Mine which was uploaded via Reality Kings in January 2018. Not to be missed!
Interested in checking out some of Karma's sauciest sex scenes? Then we recommend viewing her kinky Stocks and Bonds-age shoot with Charles Dera which was promoted via Brazzers Network in November 2017, her Flixxx: Hold the Moan scene with Danny Mountain for DigitalPlayground.com in November 2017, her raunchy Naughty Office role-play with Kyle Mason which was uploaded via Naughty America in December 2017 and her Cum On My Tattoo shoot with Xander Corvus that was filmed for Burning Angel in December 2017.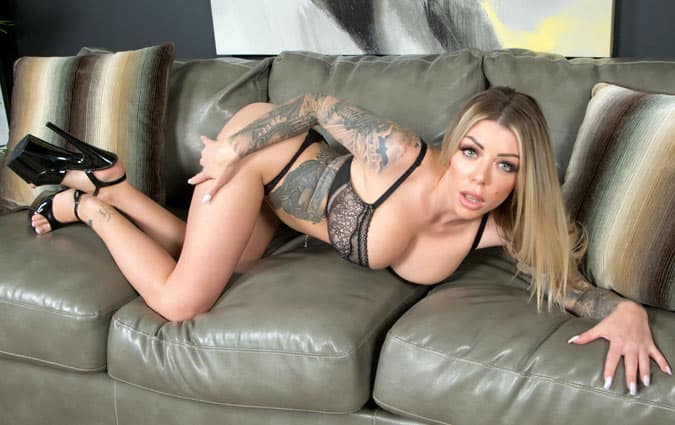 Karma Rx at Wild On Cam – Cherry Pimps
When she isn't shooting for these prominent porn networks Karma has been interacting with her fans via social media and creating some kinky web content for her ManyVids profile. In fact, within her first month of creating her ManyVids account, Karma was ranked #22 out of all their performers! Karma has talked about her ManyVids content within her November 2017 AVN: Fresh Faces interview, highlighting how;
"I'm always going to create my content but I don't know if I'm going to do this live shit content too much longer. It's a really lucrative headache…The reason I got to No. 22 in a month is I read articles about how to increase your ManyVids score…I put work into everything I'm doing."
So what does the future hold for rapidly rising starlet Karma Rx? Well, you'll be happy to hear that Karma shows no signs of slowing down anytime soon. As a matter of fact, Karma suggested via her November 2017 AVN: Fresh Faces interview that;
"I have a lot of confidence and I work hard, so I think I'm going to take over porn and that's what I believe…This is a business venture for me. I like it and it's fun and I can make the most money with the skills I already have by selling pussy…
I didn't really put too much thought into the companies at the time because I was just perving. But I really want to work with Bonnie Rotten. I don't even know if she's still working but that's kind of a dream of mine. And Tommy Gunn just because I met him and I want to have sex with him on or off film; and Anna Bell Peaks because she's cool and I like her".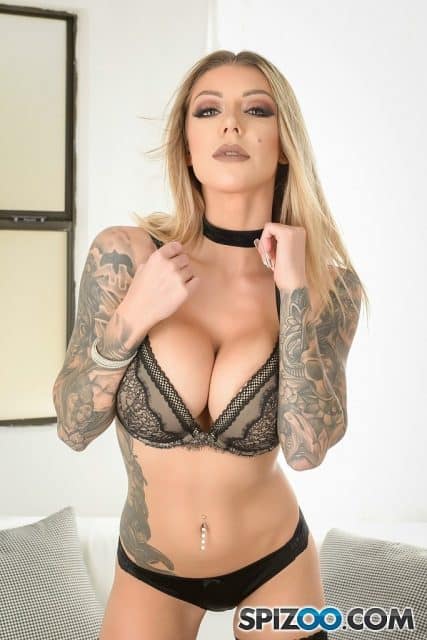 Karma Rx at Spizoo
Want to keep yourself updated on all of Karma's lusty live cam shows, hardcore web clips and saucy social media updates? Then please feel free to use the links provided below to discover all of Karma Rx's exclusive web content!
Social Networks
Twitter : @Karma_Rx
Instagram : @karma.rx
Snapchat : krx_love
Camsoda : karmarx
VR Bangers : Karma Rx VR Scenes
Brazzers : Karma Rx at Brazzers
Reality Kings : Karma Rx at Reality Kings
Cherry Pimps : Karma Rx at Cherry Pimps/Wild On Cam
Spizoo : Karma Rx at Spizoo
IMDB Profile : Karma Rx Filmography