Cristi Ann Biography
Brazzers : Cristi Ann   Instagram : @cristi.annxo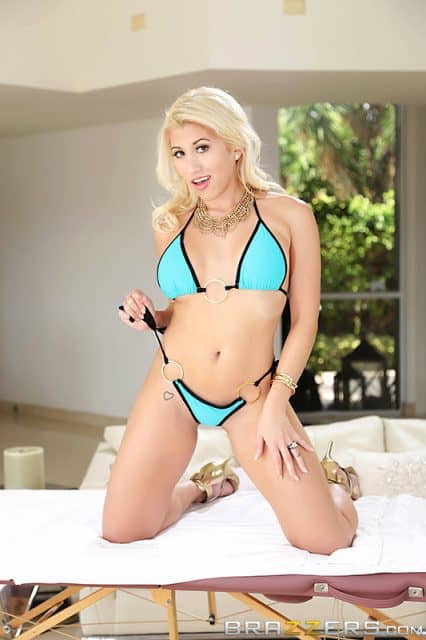 Cristi Ann at Brazzers
Personal Info
Name : Cristi Ann
Date of Birth : April 10th, 1992
Hometown : Miami, Florida (US)
Measurements : 34D – 27 – 38
Height : 5'2 (1.57m)
Hair Colour : Blonde
Eye Colour : Brown
Tattoos : Red lips on her upper left leg, a heart on her upper right leg and a snake around left ring finger
Pets : A brown Dachshund
Years Active : 2015 – present
Number of Scenes : 40+
Cristi Ann is a fan-favourite adult film star, glamour model, cam girl and feature dancer who has been performing in porn since 2015. Famous for her captivating curves and kinky live cam shows, Cristi continues to receive a wealth of "Most Spectacular Boobs (Fan Award)", "Best Supporting Actress" and "Best Scene – Feature Release" nominations at the AVN and XBIZ Awards.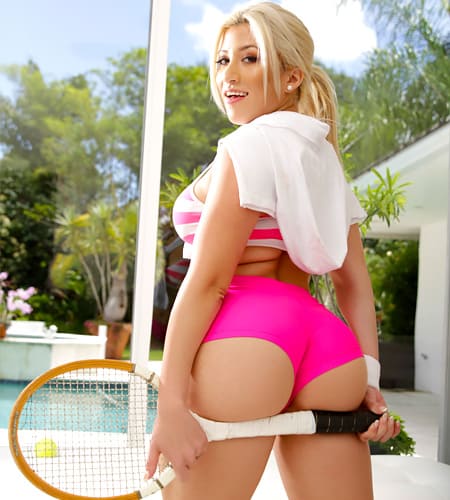 Cristi Ann at Reality Kings
Hailing from Miami, Florida, Cristi has mixed Vietnamese and Cuban heritage. Cristi attended a private school as a child where she ran Track and Field as well as taking theatre classes. Talking about these younger years during her February 2016 Adult DVD Talk interview, Cristi explained how;
"I grew up in Miami. I'm a Miami girl. A Miami girl is different from a Florida girl. Miami is such a fast paced city and it's a melting ground of all different types of culture like Latin America. My background being, my father's Cuban and my mother's Vietnamese. They met in Miami, the only place in the world that could happen. I was a nerd in school. I was very quiet. I was a little Asian nerd. Always studying. I did sports a lot. I was a runner, I still am…
Growing up, I was always an endurance runner. My dad was a runner, my mom was a runner…so, growing up, I was flat as flat can be. I was a double A practically. Growing up in Miami, you see all these voluptuous, curvy women. It's not uncommon for girls, the moment they turn 18, to get a boob job. We don't even second guess it, no one freaks out. 'Oh, you got your tits done? OK, by who?' It's just common for us Latin girls, surgery's not a big deal for us. So I got my boobs done, before porn, when I was 19. They are 34D's. I love them".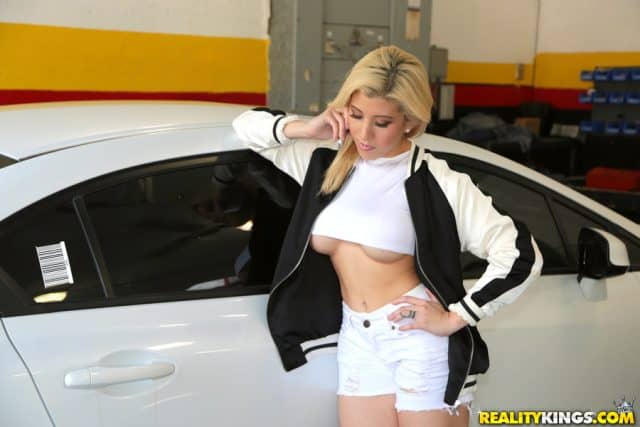 Cristi Ann at Reality Kings
After graduating from high school Cristi went to college where she graduated with her associate's degree in Pre-Nursing. In fact, Cristi worked as a teacher for six months before she discovered her passion for performing. Cristi initially started working within the adult entertainment industry as a go-go dancer when she was 18 years old and she has since posed for various promotional modelling campaigns. You may be interested to learn that Cristi has also studied costume designs and that she held various cashier and waitressing jobs before she discovered her porn star potential.
Wondering how Cristi first began performing in porn? Well, it all began when Cristi submitted an application to the Miami based production company Bang Bros. Talking about this pivotal period in her life during her February 2016 Adult DVD Talk interview, Cristi explained how;
"I was a teacher and college educated and I had odd jobs like being a cashier and a waitress and, being in Miami, I always worked in clubs. It's always been natural curiosity for me. If I'm curious, I personally investigate. I dip my toes into it, I want to learn about it. I don't lose myself in it because I'm a very grounded person but I can immerse myself in the environment. Learn it, find my niche in it and go from there. I used to strip from the moment I turned 18. I didn't need the money, I just wanted to see what the big deal was…
In Miami, we have BangBros and all these other agencies. I sent BangBros an email and asked if I could come in. I walked into the office just to feel it out. When I walked in there, they made an offer for my first scene. After that, I did my first 3 scenes with them. I didn't' sign with an agency, I didn't know nothing. I just did webcamming for another 3 months to learn about the industry and learn how it works before I jumped in. I went from there. I still do webcam on days I don't film. One day on set, I heard about this agency that I'm currently with. My agent's been great, he's worked with me, educates me, knows what's best and here I am!".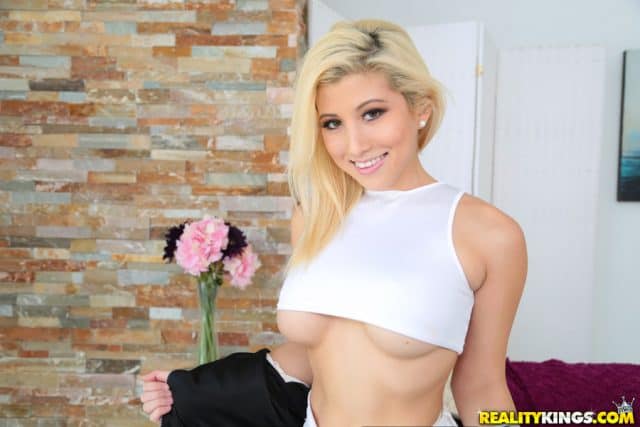 Cristi Ann at Reality Kings
Cristi Ann : Adult Film Career
In 2015 Cristi filmed her first ever sex scenes with Sean Lawless for the popular porn network Bang Bros. When she was asked about shooting her adult film industry debut within her February 2016 Adult DVD Talk interview, Cristi revealed that;
"For me, the cameras, I didn't really notice them. For me, I was just more nervous meeting the guy. I was, 'Oh God, do I get him a gift or something? Do I bring him a sandwich?' (laughs), I don't know.  Like 'Thank you for having sex with me, here's a sandwich!', that's what I was thinking. (laughs) My first scene, I was definitely nervous. The moment I met him, I blurted out, 'You're my first time. You're my first stage cock. I don't know what to do!' He was really sweet and cool about it. Once the scene starts, I'm very professional. Once you start rolling the camera, I'm on point. I don't want to waste anyone's time or money. I studied theatre all throughout my life in high school and college so the acting wasn't an issue for me. The moment my moments hit his dick, this isn't weird. (laughs)".
Spurred on by the success of her debut shoot, Cristi proceeded to star in a wealth of captivating web clips for the prominent porn networks Naughty America, Reality Kings, Mofos, Team Skeet and Brazzers but to name a few. Many of Cristi's sauciest sex scenes have been showcased within the best-selling DVD compilations titles Glory Hole Loads 9 (2015) for Bang Bros, Ass Masterpiece 16 (2016) for Naughty America and Pure 6 (2016) for Airerose Entertainment also starring Piper Perri, Amara Romani and Sydney Cole.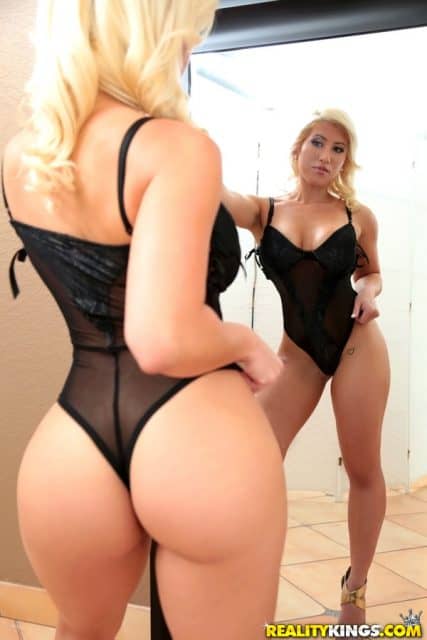 Cristi Ann at Reality Kings
Fans of Cristi Ann will also want to watch Couples Seek Third 6 (2017) for Pornstar Platinum within which Cristi shared a thrilling three-way with Courtney Taylor and Chris Strokes, Filthy Latin Sex Freaks 2 (2017) for Reality Kings that was nominated for "Latin-Themed Release of the Year" at the 2018 XBIZ Awards and Bang Bros Invasion 9 (2017) within which Cristi was showcased alongside famous female performers Eva Lovia, Abella Danger, Lana Rhoades and Lexi Luna.
Eager to explore some of Cristi Ann's sauciest sex scenes? Then you have to check out her sultry shoot with Goldie Glock in Lesbian Fantasies (2016) for Airerose Entertainment that was nominated for "Best All-Girl Movie" at the 2017 AVN Awards, her amazing group sex scene with Amara Romani, Tiffany Watson and Bill Bailey in Young Anal Adventures (2016) for Reality Junkies, her raunchy role-play with Eric Masterson in Daddy Loves My Big Tits (2016) for Smash Pictures which was nominated for "Best Taboo Relations Movie" at the 2017 AVN Awards and her epic anal scenes in the Evil Angel DVDs Real Anal Lovers (2016) and LeWood's Anal Finishing School (2016) starring Holly Hendrix, Renee Roulette and Tiffany Watson. Cristi enjoys experimenting with these raunchier sex scenes and has saucily stated in her February 2016 Adult DVD Talk interview  that;
"With porn, they do a lot of rough sex and I've been really into that. With professionals, they know what they're doing. But I also love to be dominant too. I love pulling their hair, pushing their boundaries. You don't have to be worried about me. What gets you off? Something secretive that gets you off, let's do it…(laughs) Just watching the other person get turned on by something that's so secretive to them gets me really, really turned on. 'Yes!' Being in porn, nothing fazes me or makes me freak out. I'm like, 'Yes! Let's do it!'…I do have fetishes! They definitely include role play. I love knife play, I found out. And then there's saliva. I love saliva. Lately, I've really been into dominance. Making a man feel weak, I feed off that".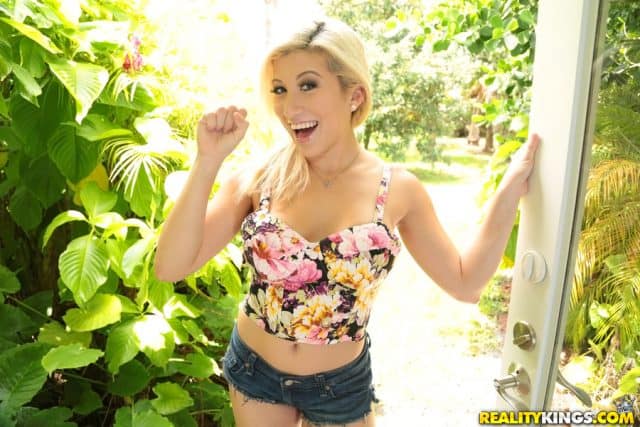 Cristi Ann at Reality Kings
One of Cristi's most popular porn productions to date has been Forked (2016) for Adam & Eve. Directed by Kay Brandt and starring Mercedes Carrera, Jenevieve Hexxx, Mia Li, Leya Falcon and Alison Rey, this cooking show themed couples release was a critical and commercial success which won "Couples-Themed Release of the Year" at the 2017 XBIZ Awards as well as earning Cristi a coveted "Best Supporting Actress" nomination. Forked also received a whole-hearted endorsement from XCritic column writer J.W. Sharp who highlighted in his April 2017 film review how;
"I do love projects that think outside the box. And when it comes to the porn genre you can't get any better than Kay Brandt's very ambitious and ingenious outing Forked! I can just imagine the pitch Kay gave to Adam & Eve, "I want to make a porn film where the stars cook and fuck each other. It would be like The Cooking Channel meets The Spice Channel." Blank stares. Thank God they green lit this one. This is the biggest feather in Kay Brandt's hat when it comes to execution, performance, cinematography via Mike Quasar, and blistering hot sex…
You know, it really all makes sense when you think about it. For a group of people who's art is displaying passion, you would think that they would be passionate with everyday activities, not just having sex. And it is shown in full force here. Like I said before I am not a cooking show fan, but to see this group of people have the times of their lives not just having sex but enjoying something else that they truly love is a breath of fresh air in what is at times a very stale environment. I hope she doesn't take this the wrong way, but Kay Brandt has some of the biggest balls in the industry. She took an idea that I'm many insiders would have scoffed at and created an amazing and ingenious work that I only hope will influence others will take as many chances as she has. It could possibly save what is becoming a rather stagnant industry. This title is squarely in my Top 10 all time favorite adult films, and it is with absolutely no reservations that I proudly give it the coveted XCritic Pick. Be proud of what you've accomplished here Kay".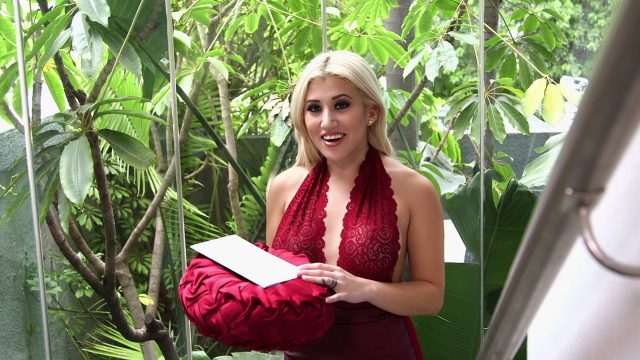 Cristi Ann in Forked – Adam & Eve – Adult Empire Galleries
Following the success of Forked, Cristi was cast in Brad Armstrong's futuristic feature release DNA (2016) within which she shared a terrific three-way with Brad and Courtney Taylor that was nominated for "Best Scene – Feature Release" at the 2017 XBIZ Awards. Also starring famous female performers Asa Akira, Chanel Preston, Jessica Drake, Abella Danger, Scarlet Red, Abigail Mac and Vanessa Veracruz, DNA was an instant hit that won "Best Cinematography" at the 2017 XBIZ Awards and received countless "Best Drama", "Best Screenplay", "Best Editing", "Best Art Direction", "Best Release" and "Feature Movie of the Year" nominations at the AVN, XBIZ and XRCO Awards.
Want to know the most best part? Cristi has continued to receive a wealth of coveted awards nominations including;
2017: AVN Awards nominee "Most Spectacular Boobs (Fan Award)"
2017: XBIZ Awards nominee "Best Supporting Actress" Forked
2017: XBIZ Awards nominee "Best Scene – Feature Release" DNA (with Courtney Taylor and Brad Armstrong)
When she isn't starring in these best-selling porn productions Cristi is busy creating new content for  her official solo website, CristiAnnLive.com. Cristi has been thrilled to launch her very own saucy solo site, enthusiastically stating via this multimedia platform that;
"I'm so excited to have a place of my own to share my dirty adventures with you, when I'm so busy shooting for other sites and studios. No matter what, I always do my best to come back here and show my naughtiest and most personal stuff to my loyal fans!…Inside my site you'll find the recent past, the present and the future — as well as my sexy girlfriends. Take care, enjoy and come meet me inside! You are going to LOVE this site".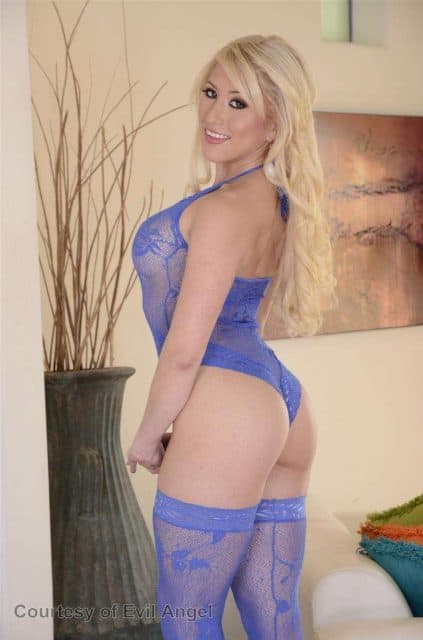 Cristi Ann in Real Anal Lovers – Evil Angel – Adult Empire Galleries
As well as posting exclusive web content via her solo site, Cristi is also a talented webcam model who hosts regular lusty live chat sessions with her fans. Cristi enjoys interacting with her fans via social media and these kinky cam shows, highlighting in her September 2016 Fleshbot interview how;
"A fan base is everything, especially when you start. They back you up, they request you for sites, they want to see you grow and be happy. I love talking to them. I want them to see I'm just an average girl they can be friends with. I think my fan base enjoys that aspect of me… I like to webcam, talk to my fans, record clips and customs…I love the liberation of 'I can do whatever I want,' meaning I'm my own boss, I make my own schedule, I can do what I want to do when I want to do it. Most importantly, I have no secrets".
So what does the future hold for multi-talented performer Cristi Ann? Well, you'll be happy to hear that Cristi has no intention of slowing down anytime soon! In fact, Cristi hotly hinted in her February 2016 Adult DVD Talk interview that;
"I hope to shoot porn until I can't shoot anymore! Hopefully, MILF category. I want to have my own site up. Make my own content. I do have a Clips4Sale and hopefully filming and directing".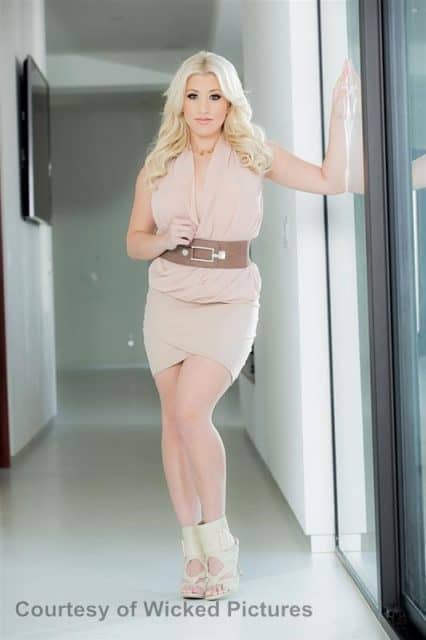 Cristi Ann in DNA – Wicked Pictures – Adult Empire Galleries
Just can't get enough of rapidly rising starlet Cristi Ann? Then please feel free to use the links provided below to stay updated on all of Cristi's recent releases, exclusive web content and upcoming live cam shows!
Social Networks
Official Website : CristiAnnLive.com
Instagram : @cristi.annxo
Brazzers : Cristi Ann at Brazzers
Naughty America : Cristi Ann at Naughty America
Reality Kings : Cristi Ann at Reality Kings
Mofos : Cristi Ann at Mofos
IMDB Profile : Cristi Ann Filmography