Christy Love Biography
Twitter : @CLCA69    Chaturbate : Christy_Love    MyFreeCams : Christy_Love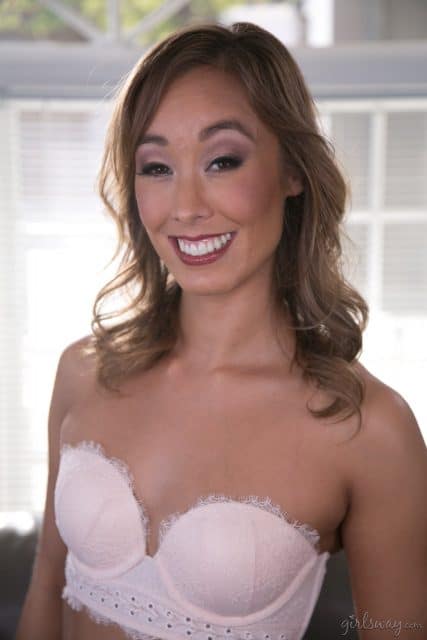 Christy Love – Glamour – Girlsway
Personal Info
Name : Christy Love
Date of Birth : May 20th
Hometown : Northern California (US)
Measurements : 32A – 24 – 32
Height : 5'5 (1.65m)
Hair Colour : Brunette
Eye Colour : Brown
Piercings : Navel
Shoe Size : Women's 6 (US)
Years Active : 2016 – present
Number of Scenes : 10+
Christy Love is a fan-favorite adult film star, webcam model and life coach who has been performing in porn since 2016. Over the past few years Christy has amassed an avid international fan following due to her sizzling scenes in several Evil Angel, Lesbian X and Girlsway productions.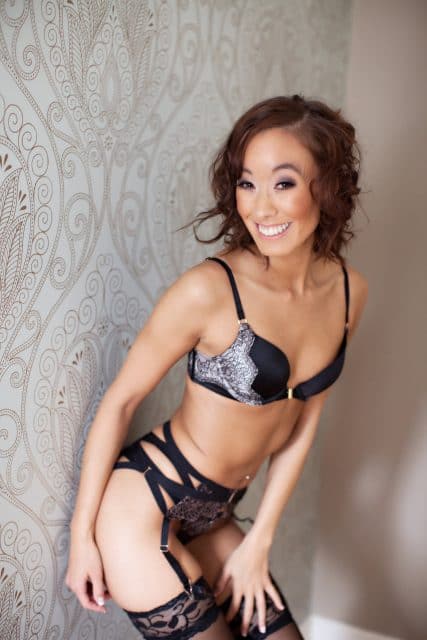 Christy Love via ChristyLove.TV
So where did it all begin? Raised in the Bay area of Northern California, Christy has mixed Korean and Norwegian heritage. Christy was raised in a very conservative household – in fact her father was a conservative Christian minister. Christy has been very honest about her childhood and has recounted via her life coaching website how she turned to porn as a means of expressing her true self. As Christy puts it in her own words;
"I grew up in a very conservative home with my mother being Korean and my father being white and a conservative Christian minister…At a very young age, I was raped, molested and abused. I struggled to know who I was and I dealt with suicidal thoughts. I was lost, I was confused and I felt broken…
I had to live up to what my parents wanted me to be ; this perfect Asian girl who was perfect at school, played the piano, religious and innocent. I was living a lie and I was so hurt inside…I turned to porn as my outlet to express myself and be who I truly was. From living a sheltered life in a bubble, to now a full time webcam model, I got to see the real world and saw that I wasn't the only one hurting inside. I went through years of therapy, counseling and went on a journey to find myself…
Although I do porn and am a webcam model, I am a devoted Christian who has learned that religious people are judgmental and hateful toward those who don't fit in their cookie cutter life. But Jesus never judges and accepts me in all my pain, struggle and humanness. I actually want to preach in churches to stop hating 'sinners' and start loving them! 'Don't hate me because I sin differently than you'".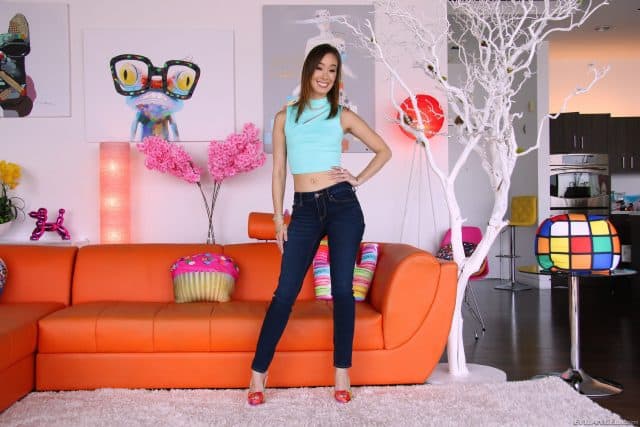 Christy Love in Asshole Auditions #2 – Evil Angel
Christy first started working in the adult entertainment industry as a webcam model and she continues to host lusty live cam shows via Chaturbate (under the screen name 'Christy_Love') and via MyFreeCams (under the screen name 'Christy_Love'). Camming has been a great outlet for Christy to experiment with her sexuality – she had her first lesbian experience and even learned how to squirt via cam! As Christy revealed during her July 2017 Adult DVD Talk interview;
"I've always been pretty curious but I was always scared because I grew up with a family that was very conservative. When I started camming, I saw all the girls do really well on girl/girl stuff and I always wanted to try it. I said, 'OK, I think it's time for me to experiment.' (laughs) One of my friends was bi-sexual and, at the time, she liked girls a little bit more so I asked her if I could lose my virginity to her. She played with a lot of girls already and was experienced. We just did it and we cammed together for a little bit…
I'm known to be a very large squirter. I squirt like Cytheria! I squirt in my webcam shows very large like her. It's this crazy ability to squirt! The #1 question I get is how did I learn. The story behind that was that I was on a cam website and I studied all these top models and I found the one thing they had in common was that they were squirters. So I needed to learn how! I went into my chatroom and pretty much said, 'Who wants to teach me to squirt?' One of my viewers said that he taught his wife how to squirt and he could teach me. I learned for the first time on cam and it took me about 20 minutes before I squirted 2 or 3 feet. Then, after that, I squirted a couple more times and it went 4 or 5 feet. Now, I'm up to 18 or 19 feet. It's just been crazy!".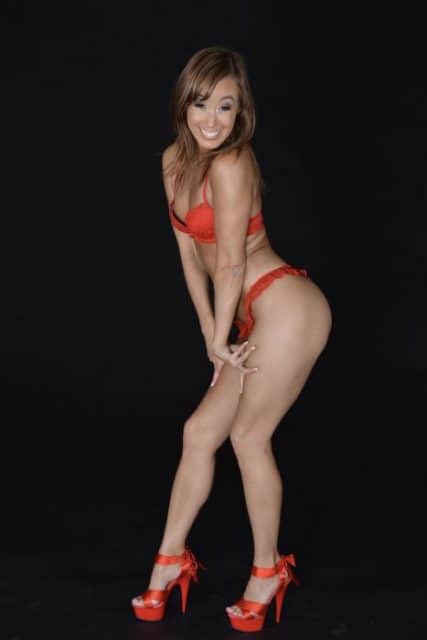 Christy Love – ATMLA Model Galleries
Christy Love : Adult Film Career
After four years of webcamming Christy filmed her first ever sex scenes in 2016 for Net Video Girls. Talking about shooting her porn debut during her July 2017 Adult DVD Talk interview, Christy recounted how;
"I was turned on. When I turned 19, I loved, loved, loved sex. I had sex a lot. (laughs) I'm pretty sure I slept with 60, 70 people. I had sex with sooo many people. For me, I felt like it was natural because, for one, I love sex. The other thing is I feel like porn is exactly like webcam modeling except people are actually there telling me how to do things instead of typing how to do things. To me, it was a little bit kinkier having other people watch so I felt like I got into it even more than not having anyone else around…
I didn't know anything about the industry. Nothing at all. I just did a Craig Listing to see what I could get. My first scene, the guy asked what I would do. I said pussy, anal, DP, all this stuff. He said, 'OK, I want you to do anal.' So my first ever porn scene was anal. So I did anal and I didn't know that I had an option. I felt when someone told you to do it, you better do it. So I took the job because I can do it. But now, I have found it's good to start with anal".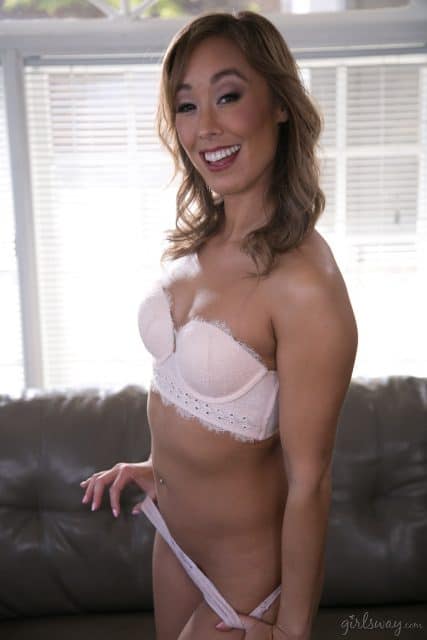 Christy Love – Glamour – Girlsway
Some of Christy's earliest porn productions include the Net Video Girls movies Interracial Casting Couch #6 and #7 (2016-2017), her Christy Loves Tugging scene with Sonny Nash that was showcased in the Reality Kings DVD compilation title Happy Tugs #13 (2018) and her sizzling scene with Mike Adriano in the Evil Angel movie Asshole Auditions #2 (2017) also starring Whitney Wright, Anya Olsen and Jasmine Jae. In recent months Christy has also filmed an epic oral group shoot with Kristall Rush, Nadia White and Mike Adriano that was featured in the Evil Angel DVD Swallowed #18 (2018). Not to be missed!
Many of Christy's most popular porn productions have been those which she has filmed for Evil Angel with the dynamic directing duo Francesca Le and Mark Wood. As matters stand, Christy has shared a titillating scene with Mark Wood in Filthy And MILFy #2 (2017) and she has starred in an epic gangbang with Isiah Maxwell, Johnny Goodluck, Justin Hunt and Mark Wood that was featured in LeWood Gangbang: Battle Of The MILFs #3 (2018). This raunchy gangbang also included Christy's first ever DP and she has saucily stated in her February 2018 Fleshbot interview that;
"I shot my first DP in a gangbang scene with Evil Angel and I fell in love. I had always heard that DP (double penetration) felt better than anal. When I experienced it for the first time, it was true! I fell in love!!!…You must have 'LeWood Gangbang – Battle Of The MILFs #3'!!! That scene is where you can see me get DPed for the first time and was caught on cam!!! You don't want to miss out on that!!!".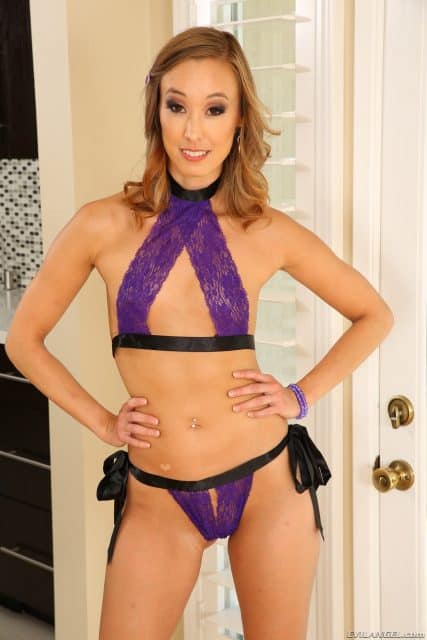 Christy Love in Filthy & MILFy #2 – Evil Angel
Christy enjoys shooting these raunchier sex scenes and when she was asked about her submissive/dominant preferences within her July 2017 Adult DVD Talk interview she explained how;
"I am naturally a sub but since I've been a sub for many years, I learned how doms treated me. I would randomly get asked, 'Are you sub or dom?' And I would say, 'Let's try me as the dominant one.' And ever since I played dominant, I actually prefer to be more dominant. I love having the control. I love having control of a man. I guess that's when I learned I have power over men, when I started practicing becoming dom and the control that I can have… I really, really want to do a gangbang. I would love to have 10, 15, 20 guys. I want to bang them all and just have them cover me in cum. That's my biggest fantasy. I would love for that to happen".
In fact, one of Christy's favorite porn networks is Kink.com and she mentioned during this July 2017 Adult DVD Talk interview that;
"Kink.com. I love, love, love them. I feel they're a company that does everything with excellence, their production, their quality, camera….everything that they do is amazing! It's super kinky and not the norm. Just so hot!".
Want to know the best part? Alongside her hot hardcore scenes Christy is also an amazing girl/girl performer. Fans of Christy's sultry girl/girl scenes will love viewing her sizzling Case No. 3192018 scene with Kimberly Chi that was released via Team Skeet's Shoplyfter web series in May 2018, her raunchy role-play with Summer Day in the Girlfriends Films movie Cheer Squad Sleepovers #26 (2018) and her saucy The Squirting Stranger scene with Zoey Monroe which was uploaded via Girlsway in July 2018.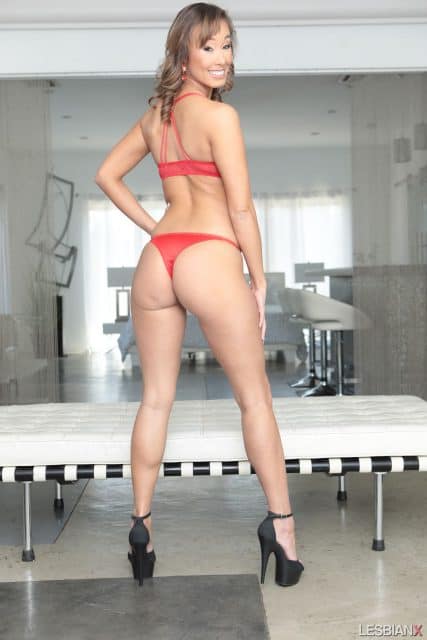 Christy Love in Asian Super Squirters (Girl Squirt) – Lesbian X – X Empire Galleries
One of Christy's hottest girl/girl collaborations so far has to be her sensational Asian Super Squirters scene with Marica Hase that was showcased in Mason's Lesbian X DVD Girl Squirt (2018). Christy received high praise from her co-star Marica Hase who eagerly expressed in a June 2018 AVN press release how;
"I loved working with Christy and every orgasm I had was very real and super intense…Both Christy and Mason were amazing to work with and I can't wait to collaborate with them again. If you're a fan who loves squirting and hot girls, you're going to love this DVD and you will definitely want to add it to your collection!".
Also starring Gina Valentina, Veronica Rodriguez, Anna Bell Peaks, Kleio Valentien, Alexis Fawx and Luna Star, Girl Squirt also received a rave review from Jon Blitt, Head of Production for Lesbian X's parent company O.L. Entertainment, who stated in a June 2018 AVN press release that;
"Mason does a masterful job presenting her gorgeous cast of performers at their most passionate…With her handpicked cast and their unique chemistry, Mason combines beauty, desire and great visuals capped by ardent squirting orgasms in four scenes of unscripted lesbian sex".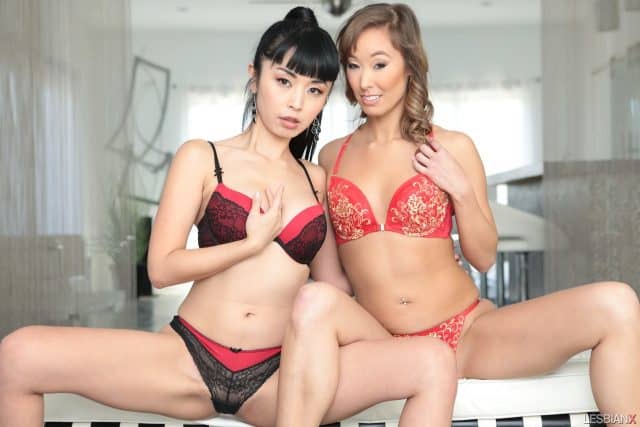 Marica Hase and Christy Love in Asian Super Squirters (Girl Squirt) – Lesbian X – X Empire Galleries
Christy Love : Life Coaching Program & Future Plans
When she isn't performing in porn Christy is committed to helping others and actually runs her own life coaching program via ChristyLove.TV. As Christy puts it in her own words; 
"In my years through porn I have met so many men and woman who struggle to know  their vision, lack life mission and not living life to its fullest potential…In this program, you will interact with me via email, Facebook post, zoom calls, Skype sessions and I will keep you accountable along your journey. Life is a team sport and we will support each other throughout this process of achieving greatness!…This program is for everyone! If you are a Christy Love fan, or a model/actress in the adult entertainment industry, I have programs within this course just for you!… 
The school of greatness is comprised of weekly videos. Each of these videos comes with an mp3 you can download and listen to later! It also has a worksheet for you to go over and work on. Each week, beginning the day you sign up, you will have access to a new video, mp3, and worksheet!…I look forward to walking hand in hand with you to a life full of greatness!…I now embrace my greatness and I want to share this process with the world through my online program, motivational speaking, upcoming book I am writing and anyone I come in contact with".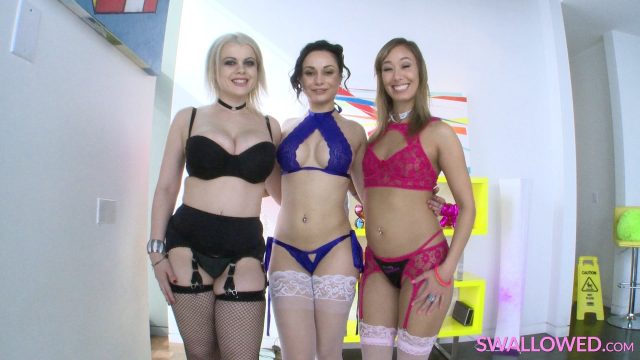 Nadia White, Kristall Rush and Christy Love in Swallowed #18 – Swallowed.com/Evil Angel
Currently represented by ATMLA, Christy continues to star in many popular porn productions as well as hosting intimate live chat sessions via Chaturbate (under the screen name 'Christy_Love') and via MyFreeCams (under the screen name 'Christy_Love'). Christy enjoys interacting with her international fan following and sincerely stated in her February 2018 Fleshbot interview that;
"I always love the affirmations and love from them. Every person loves to know they are loved and appreciated…Thank you for your constant support. I always am so appreciative and humbled for all the support I get. Love you guys!!!!".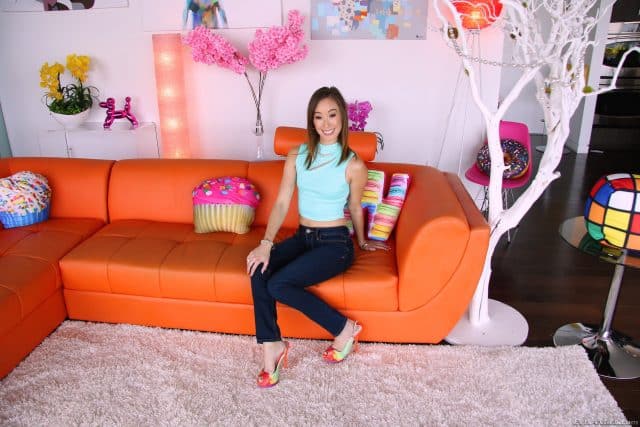 Christy Love in Asshole Auditions #2 – Evil Angel
Want to keep yourself updated on all of Christy's upcoming projects and live cam shows? Then use the links provided below to stay connected with your dream girl Christy Love! 
Social Networks
Twitter : @CLCA69
Chaturbate : Christy_Love
MyFreeCams : Christy_Love
Evil Angel : Christy Love at Evil Angel
Girlsway : Christy Love at Girlsway
Reality Kings : Christy Love at Reality Kings
X Empire : Christy Love – Lesbian X Scenes
Life Coaching Program : ChristyLove.TV
Official Website : Christyloveca.wordpress.com/