Chloe Cherry Biography
Twitter : @chloecherryxxx  Instagram : @perfect_angelgirl  Kink Profile : Chloe Cherry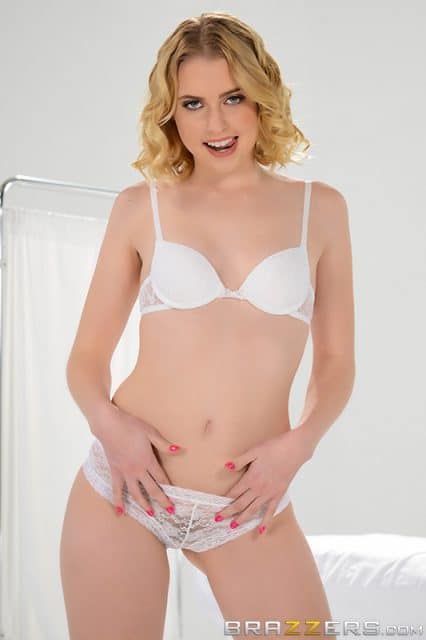 Chloe Cherry at Brazzers
Personal Info
Name : Chloe Cherry
Alias : Chloe Couture
Date of Birth : August 23rd, 1997
Hometown : Lancaster, Pennsylvania (US)
Measurements : 32A – 24 – 34
Height : 5'7 (1.70m)
Hair Colour : Blonde
Eye Colour : Blue
Years Active : 2015 – present
Number of Scenes : 100+
Introducing Chloe Cherry; a rapidly rising starlet who has been performing in porn since 2015. Previously known as 'Chloe Couture', Chloe is a fan-favourite performer who has already been nominated for "Hottest Newcomer (Fan Award)" at the 2017 AVN Awards and "Best New Starlet" at the 2018 XBIZ Awards.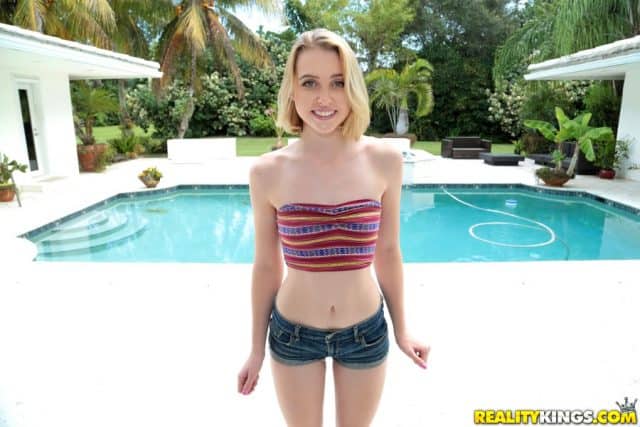 Chloe at Reality Kings
Born and raised in Pennsylvania, Chloe has always been an incredibly active individual who took part in a wide range of extracurricular activities in school. As Chloe herself explained in her August 2016 Adult DVD Talk interview;
"I grew up in Pennsylvania, around the Philadelphia area. In school, I was very actively involved in a lot of things. I did musicals and morning announcements and the yearbook… everyone knew who I was. I was very famous, I guess you could say. I really put myself out there. Everyone at the school knew my name, and this name too. I was very much an exhibitionist".
A self-described exhibitionist, Chloe lost both her virginity and her anal virginity when she was 16, revealing within her August 2016 Adult DVD Talk interview how;
"I was 16 and it was with my first boyfriend. It was in a tent. And the reason we did it in a tent was because we could never find time away from our parents. We were on a camping trip and were finally able to sneak away. We had anal and regular sex. My first time having sex was both. When I was a virgin, I wanted to have sex so bad. I knew I liked sex even though I never had sex. And then I did it and I was totally right. Completely spot on. Since then, it awoken something in me that will never die…
I knew that I was interested in having anal sex but I didn't know how much of a taboo it was. I just thought it was hot, just a sex thing that you did because you wanted to. I didn't realize that not everyone does that. I think he knew that I was very sexually open and wanted to do everything. And I think he wanted to experience that and we did. It was wonderful. It was one of the most pure experiences of my lifetime…
I've never been really one to sleep around because sex is very important to me so, therefore, safe sex is very important to me. Even as a kid, I wasn't sleeping around but I had a lot of boyfriends and we were always having sex. I took two virginities in high school. The guy that took my virginity and another guy whose virginity I took… All of my sexual experiences before porn were 100% worthy. A lot of girls look back and regret giving themselves sexually to a guy but I don't feel that way at all".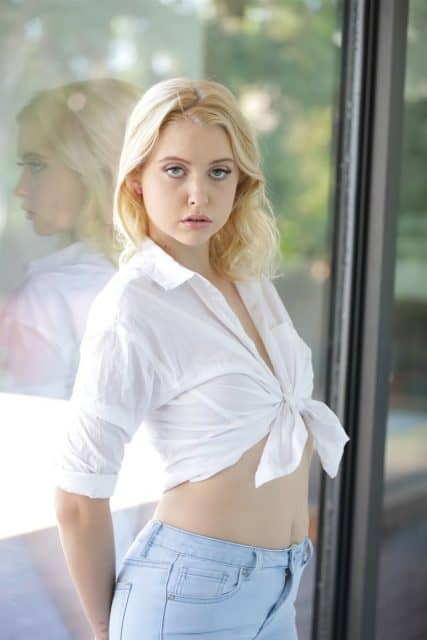 Chloe in Interracial Teens 4 – Dark X – Adult Empire Galleries
During this insightful interview Chloe explained how she had always been intrigued by the adult entertainment industry and started to pursue a porn career as soon as she turned 18. As Chloe puts it in her own words;
"I always wanted to do porn and I was finally old enough!…I watched pretty much everything; anal, boy/girl, girl/girl. I watched every genre! I watched it a lot! But I really liked Riley Reid because my friends told me that she was like me. They told me it was the closest thing to watching me in a porn. They said she was amazing! That was the best thing I ever heard in my entire life! I loved her! I just loved watching a porn and watching a girl happy doing it. Everyone looks at porn and thinks of this miserable girl being tricked into doing something but Riley was so happy to be doing porn and that was amazing! There's nothing wrong with that but the world never accepts that! They also look at it as this dark, weird thing. They can never accept that a girl wants to do porn".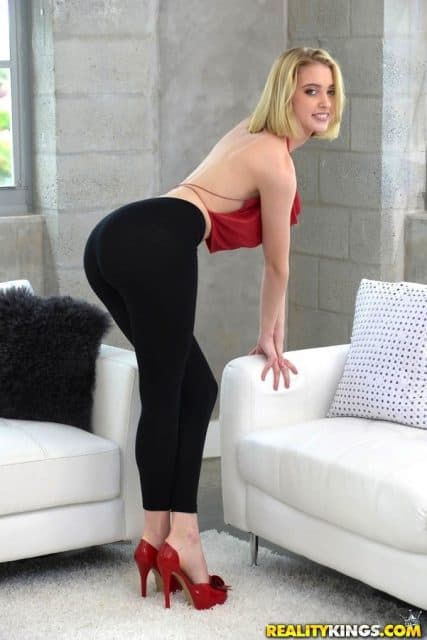 Chloe at Reality Kings
Chloe Cherry : Adult Film Career
Chloe filmed her first ever sex scenes in 2015 with Jerry Kovac for the Reality Kings porn site First Time Auditions. Chloe has since starred in a sizzling Sexy Slit web clip with Alexis Fawx in October 2015 that was featured in the Reality Kings DVD Moms Lick Teens 4 (2016) which was nominated for "Best Older Woman/Younger Girl Movie" at the 2017 AVN Awards. Talking about shooting her adult film industry debut in her August 2016 Adult DVD Talk interview, Chloe commented that;
"My first scene was so awesome. I'm just lucky that the people I worked with were amazing. The first scene I ever did was for Reality Kings. The talent was Jerry Kovacs and he was amazing! He was so good looking, so good to work with, so complimentary, so polite… he is just so amazing! Such a good talent, he was awesome. I was so excited that I was finally doing porn. I loved the scene and Jerry made me so comfortable. It was such an amazing day and the scene came out incredible. I went into porn knowing there were good people in porn. Everywhere in the world there are bad people and you just have to avoid them".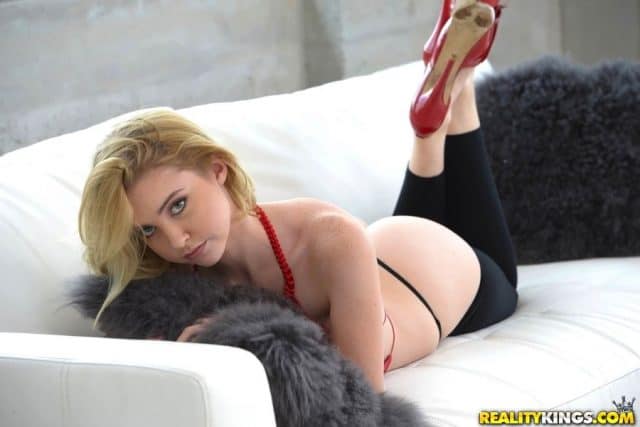 Chloe at Reality Kings
Even though she is best known as 'Chloe Cherry', when she first began performing in porn Chloe actually starred under the stage name 'Chloe Couture'. Talking about the origins of her saucy porn persona in her August 2016 Adult DVD Talk interview, Chloe divulged that;
"When I was a little kid, I always thought that my name should be Chloe. It was because of Brass Dolls. When I was younger, I was obsessed with Brass Dolls! Everyone thought they looked like hookers, I didn't give a shit. I loved them so much and one of the dolls was named Chloe and I thought that was the coolest name in the world. I so badly wanted that to be my name. I told my mom about it and she said they actually considered naming me Chloe. I was so upset, I wanted to be named Chloe. As soon as I had a chance, I picked Chloe as my stage name. And couture has always been a word that's been very relevant to me. I've always been very good with fashion. I was the best dressed kid in high school. I had a style that could never be touched by anyone. It was Grease meets NWA meets Saturday Night Fever, that's how I would describe my style".
Due to her fresh-faced beauty and petite figure, Chloe proceeded to star in a series of best-selling amateur and teen porn DVDs including Amateur POV Auditions 26 (2016) for Amateur Allure which won "Best Amateur/Pro-Am Movie" at the 2017 AVN Awards, the Dark X DVDs Interracial Teens 3 and 4 (2017), Young Interracial Addicts (2017) for 3rd Degree and Amateur Introductions 24 (2017) for Amateur Allure that won "Best Amateur/Pro-Am Movie" at the 2018 AVN Awards. In January 2017 Chloe even shot an immersive College Rendezvous virtual reality sex scene with Chad Alva that was released via WankzVR.com. Chloe enjoys shooting these intensely alluring VR shoots and has conveyed in an AVN press release how;
"Shooting this VR scene was incredibly hot for me. I love getting into character, and I love expressing more than just satisfaction, but showing viewers genuine passion. I love my job so much".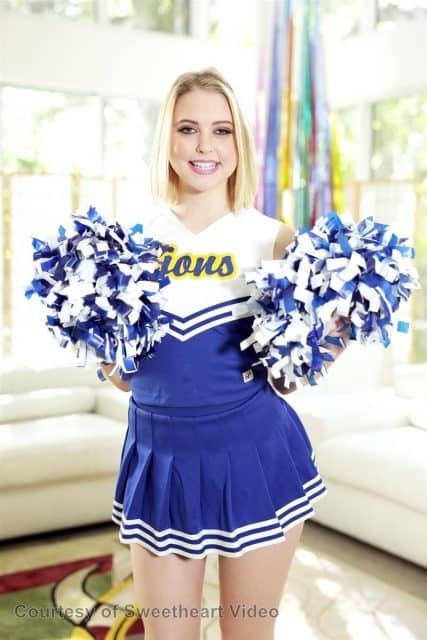 Chloe in Girls Kissing Girls 21 – Sweetheart Video – Adult Empire Galleries
During this time Chloe began to shoot a wealth of fan-favourite taboo relations titles, anal themed DVDs and hot hardcore productions. Eager to explore some of Chloe Cherry's sauciest sex scenes? Then you'll love viewing her thrilling three-way with A.J. Applegate and Jay Smooth in the Adam & Eve DVD Double Booked (2017), her raunchy anal three-way with Francesca Le and Mark Wood in their Evil Angel DVD Evil Couple Prowls Anal Teens 2 (2017) which was nominated for "Best Older Woman/Younger Girl Movie" at the 2018 AVN Awards, her amazing anal three-way with Gina Valentina and Mike Adriano in Full Anal Service 5 (2017) for Evil Angel and her taboo relations three-way with Elsa Jean and Brad Hart in the Nubiles DVD Step Siblings Caught 8 (2017).
Fans of Chloe Cherry will also want to watch her raunchy scene with Chad White in Jacky St. James' Sweet Sinner DVD Women Getting Even (2017) that was nominated for "Best Comedy" at the 2018 AVN Awards and her scintillating scenes with Jay Smooth in the Wicked Pictures feature release Spoiled (2017) which was nominated for "Best Drama" at the 2018 AVN Awards. Directed by Hank Hoffman, Spoiled showcased Chloe alongside famous female performers Abigail Mac, Chanel Preston, Elsa Jean and Olive Glass. An instant hit, Spoiled received endorsements from leading porn critics such as XCritic column writer Apache Warrior who stated in his September 2017 film review that;
"Spoiled is a film from director Hank Hoffman and the studio Wicked Pictures. It is about the relationship between Abigail Mac and Olive Glass. On Olive's birthday, Abigail wants to spoil her sweetheart, but a series of unexpected events for Abigail make her realize what it takes to spoil her sweetie… The plot is a compelling one as we follow Abigail's unsuspecting and mysterious night. Abigail shows why she is one of the better actresses. Olive Glass also acts very well here. I hope Olive gets more opportunities to act. I really enjoyed Hank Hoffman and Slinka Long's creative screenplay. This film is a pretty good couple's flick. I recommend it".
Throughout her adult film career Chloe has filmed a wide range of BDSM, femdom and taboo relations content for the fetish lifestyle network Kink.com. Chloe made her official Kink debut in March 2017 with a raunchy Daddy's Discipline three-way with Simone Sonay and Ramon Nomar that was released as part of Kink.com's Families Tied web series. Chloe has since starred in several saucy scenes for many of Kink.com's fan-favourite web series such as her My Slutty Cousin three-way with Lyra Law and Steve Holmes for Sex & Submission in March 2017 and her compelling A Mother's Work Is Never Done shoot with Angel Allwood and John Strong for Families Tied in August 2017.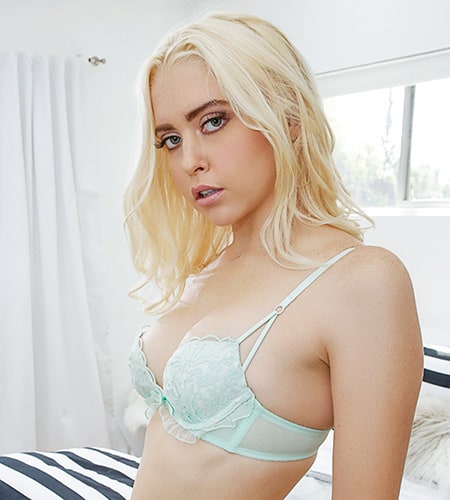 Chloe at Reality Kings
But that's not all! Chloe has also treated fans to a six-way gangbang for Kink.com's Hardcore Gangbang web series in September 2017, a scintillating Chloe Cherry Gagged & Bound scene for Training Of O in October 2017 and a raunchy The Drifter role-play for Sex & Submission in November 2017. Chloe enjoys shooting these saucy submissive scenes and raunchily revealed in her August 2016 Adult DVD Talk interview that;
"I'm very good at being submissive I've noticed. I love being submissive in sex. Any guy out there who thinks he's an amazing dom, those are the guys that I want to fuck because I'm such a good female sub. Like James! One of the reasons I love James. He's such a good dom. There are some guys who I've met in my life who will say they love rough sex but they're not a dom, they're just willing to do that because they think it's cool or it makes them look manly. That's super messed up. And girls will sometimes be submissive not because they're actually a sub but they think that's the way it should be as a woman. They think it's going to turn a  man on, which isn't true at all. A man just wants a woman to be confident in herself…
My biggest turn-on is a guy that's not insecure. Guys my age are sooo insecure. It's ridiculous! I really hate that. If a guy can be clean and confident in himself. I really like getting fingered. It never really happens in porn. I just thought of this last night. I pretty much like everything sexually but that rarely happens. Fingerbanging is awesome".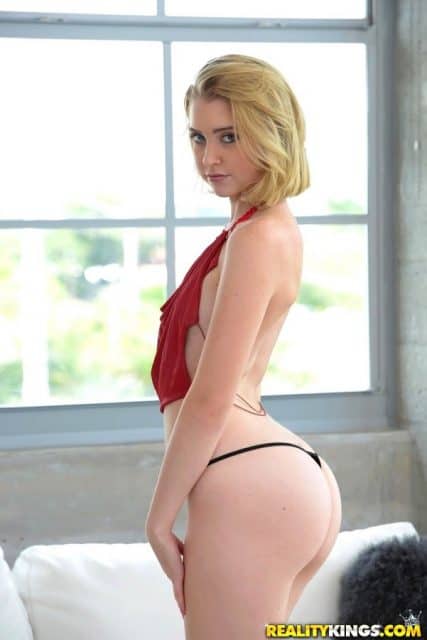 Chloe at Reality Kings
In addition to her captivating Kink.com content, Chloe has begun to collaborate with the pioneering new production company Pure Taboo. Chloe's first ever Pure Taboo shoot was a forbidden erotica scene, titled Taking The Enema, starring Tommy Pistol and Seth Gamble. Director Bree Mills praised the cast's performance within a December 2017 AVN press release, highlighting how;
"People get turned on by the strangest things at the most inopportune times, and we really wanted to explore that…The acting was modest here but very tense, and all three stars did such an excellent job of conveying a full range of emotions in their performances".
Chloe has since starred in another forbidden erotica scene for Pure Taboo titled Blind Surprise. Starring alongside Ricky Johnson, Blind Surprise was directed by Bree Mills and Craven Moorehead. Once again, Chloe earned high praise from Bree Mills who advocated in a January 2018 AVN press release how;
"Chloe was amazing in this role…This is her second episode for Pure Taboo, after last year's 'Taking the Enema,' and she has already proven herself to be quite fearless, as both an actress and performer. This scene has a surprise we know our fans will love".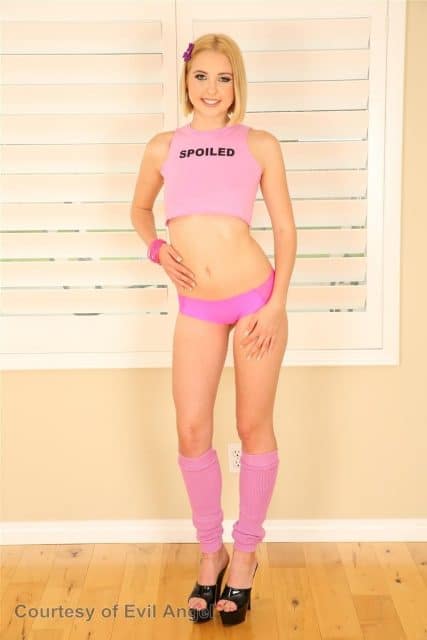 Chloe in Evil Couple Prowls Anal Teens 2 – Evil Angel – Adult Empire Galleries
When she isn't shooting these hot hardcore productions Chloe is also an exceptional girl/girl performer. We recommend checking out her sultry scenes with Honey Gold in the Sweetheart Video DVD Girls Kissing Girls 21 (2017), her sizzling session with Richelle Ryan that was showcased in the Twistys DVD compilation title Mom Knows Best 3 (2017) and her amazing all-girl three-way with Kristen Scott and Lily Rader in the Web Young production Our New Roommate (2017). Chloe has also appeared in some raunchy scenes with Mona Wales for the Sweetheart Video Lesbian Analingus 11 (2017) and she shared a saucy shoot with Anya Olsen in Lesbian Schoolgirls (2017) for Airerose Entertainment that was nominated for "Best All-Girl Movie" at the 2018 AVN Awards and "All-Girl Release of the Year: Non-Feature" at the 2018 XBIZ Awards. Talking about her first lesbian experiences in her August 2016 Adult DVD Talk interview, Chloe divulged that;
"I didn't really get with girls until right after I got out of high school. When I was in school, I had this feeling that I was bisexual. I had this best friend and is still my best friend, I love her so much. She's still in Pennsylvania and we were always together. We had this weird relationship and did everything together. No one understood why we were together, we looked so weird to people. We had so much fun but everyone started saying that we were lesbians. And it just freaked me out that someone thought I was a lesbian. I thought that myself and it freaked me out that other people thought that of me. For the longest time, I felt that I couldn't touch girls or do anything like that. Now that I'm older, I realize that I'm not a lesbian, I never was. I just like girls. That doesn't mean I don't like guys, it just means that I happen to like girls, that's all it means".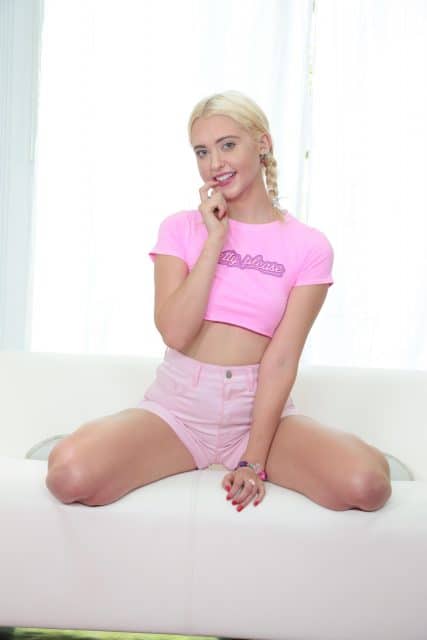 Chloe in Stepsister Creampies – Evil Angel – Adult Empire Galleries
In addition to her popular porn productions Chloe is a talented model who posed for the 2018 Spiegler Girls Car Calendar. Chloe appeared in this star-studded charity calendar alongside her fellow famous Spiegler Girls Alex Harper, Abella Danger, Casey Calvert, Vanessa Sky, Kira Noir, Anna de Ville, Marica Hase, Victoria June, Chanel Preston, Anikka Albrite and Kendra Spade. Organised by Alex Harper and Kevin Britton, this charity calendar raised money for The Animal Rescue Alliance. As Alex Harper explained in a January 2018 AVN press release;
"Kevin Britton from KB PhotoImagery and I had an idea to work on a calendar together…We thought that it'd be great to incorporate Spiegler Girls and exotic cars for an animal charity. We decided to choose the charity, The Animal Rescue Alliance, owned by Kelly Holland. All of the models and car owners involved were very kind to take time from their busy schedules to help our cause. Spiegler Girls are always punctual, stunning, respectful, and all the ladies brought their A game. It was a pleasure seeing everything come together so nicely…
KB is an amazing photographer and I'm glad that he was available to shoot the Spiegler Girls Car Calendar. He has 10+ years of experience with photography, retouching, and graphic design so he was able to not only shoot the calendar, but also design it. Kevin is a part of several automotive groups that helped organize cars for the shoots…
Overall the calendar turned out very well and I'm happy to have helped organize it…We're currently selling them on my ManyVids account, and will also be selling them in person at AEE at the Spiegler Girls, Penthouse, and Kink.com booths for $25".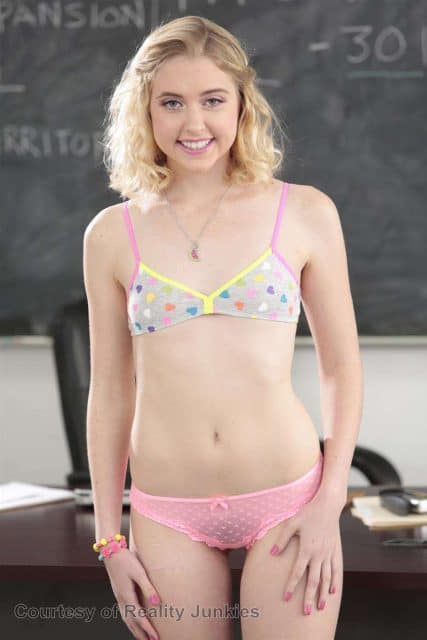 Chloe in Corrupt Schoolgirls 13 – Reality Junkies – Adult Empire Galleries
Thus far in 2018 Chloe has already starred in some sensational porn productions including the Evil Angel DVDs Stepdad Seduction 4 (2018) and Please Creampie Me (2018) as well as the Zero Tolerance porn production My Stepbrother Took My Ass (2018) featuring Alexa Nova, Riley Nixon and Whitney Wright. Want to keep yourself updated on all of Chloe's upcoming porn productions? Then please feel free to use the links provided below to discover all of Chloe Cherry's official social networking channels!
Social Networks
Twitter : @chloecherryxxx
Instagram : @perfect_angelgirl
Kink Profile : Chloe Cherry BDSM & Fetish Content
Reality Kings : Chloe Couture at Reality Kings
Brazzers : Chloe Cherry at Brazzers
Mofos : Chloe Cherry at Mofos
IMDB Profile : Chloe Cherry (aka Chloe Couture) Filmography