Chloe Carter Biography
   Camsoda : chloecarter   Burning Angel : Chloe Carter   Brazzers : Chloe Carter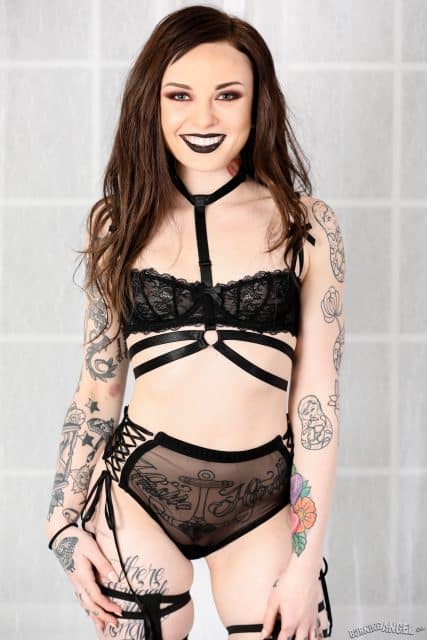 Chloe Carter at Burning Angel
Personal Info
Name : Chloe Carter
Date of Birth : January 27th, 1997
Hometown : Texas (US)
Height : 5'2 (1.57m)
Hair Colour : Blonde/Brunette/Red
Eye Colour : Blue
Tattoos : Chloe has a wealth of vibrant body art including various flowers, stars, Russian doll and hourglass designs across both arms, a butterfly on the top of her right hand and matching 'Wild' script on the back of her left thigh and 'Child' script on back of her right thigh. Chloe also has 'Where there is no struggle there will be no strength' script across the front of her upper right thigh, a snake on the back of her calf, an anchor with script across her lower abdomen, a small crescent moon on her left thigh near her knee, red lips on the side of her neck, script on her right ankle and 'Lone Wolf' script across the knuckles of both hands.
Piercings : Navel and upper lip
Years Active : 2016 – present
Number of Scenes : 20+
Chloe Carter is a popular porn star, model, cam girl and exotic dancer who has been performing in porn since the summer of 2016. Famous for her Burning Angel collaborations and raunchy Evil Angel DVDs, Chloe is a fan-favourite performer who was nominated for "Hottest Newcomer (Fan Award)" at the 2017 AVN Awards.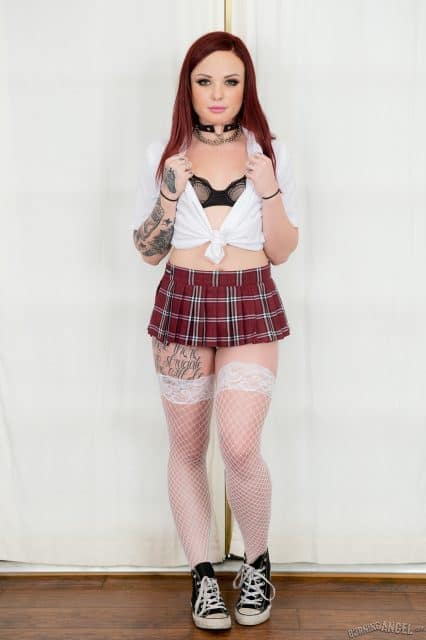 Chloe Carter at Burning Angel
Raised in Dallas, Texas, Chloe has also lived in Wilmington, North Carolina, and it was here that she first met famous female performer Eva Lovia. In fact, Chloe first met Eva's husband at the strip club where she was working and it was Eva's husband who first suggested that Chloe pursue a career in porn. Eva's husband set up a meeting between Eva and Chloe which led to Chloe becoming Eva's personal assistant for the next few months. By accompanying Eva to photo shoots, feature dancing shows and public appearances Chloe was able to gain an exclusive insight into the inner workings of the adult entertainment industry which has proved invaluable throughout her own adult film career. Chloe remains incredibly grateful to Eva for her ongoing support and recounted in her October 2016 Adult DVD Talk interview how;
"I grew up in Texas. I'm originally from Dallas, Texas. I'm a Texas girl. I lived in Texas until I was 13. I moved to North Carolina and then I went back to Texas. I stayed there for about a year and then I moved to Wilmington, North Carolina and that's when I met Eva Lovia. I wasn't there for very long until I came out here to visit. I was back and forth between Texas and North Carolina growing up…
Her husband owns a bar in Wilmington, a very popular college bar…I was working at a strip club and her husband came in one night with a couple people from the bar. At this point, I was pretty new to Wilmington so I didn't know anyone. Everyone knew who they were but I didn't. Her husband confronted me and asked me if I ever thought about camming. I guess at that point in time, he was trying to be an agent. He asked if I had ever heard of Eva Lovia. I had always been intrigued by the porn industry. Always. But I wasn't super familiar with porn stars or different companies. I wasn't a full porn fan but I was intrigued by it. When he asked if I knew who Eva was, I told him that I didn't know her. He explained that it was his wife and she was a Digital Playground contract star. He said I should meet her and he gave her my contact info…
When Eva was back in town, we ended up meeting at Starbucks. I met her and became her personal assistant way before I even considered doing porn. So I was her personal assistant for 4 or 5 months even before I thought, 'Hey, I should try this!' I text her all the time and thank her. It was so amazing having that opportunity to be able to see it before jumping into it. You hear so many horror stories about it; everyone has heard horror stories. For her to be able to show me beforehand and just by watching her, seeing how she reacts to things or does things was invaluable. I would go to photo shoots with her, see her do solos, go with her when she feature danced… I just paid really close attention to things. I learned so much from her. That helped me a lot and I finally told her that I wanted to try this. She said, 'Oh cool! Let me help you!' So she helped put me out there. I definitely give a lot of credit to her for how far I have come since I have been in the industry".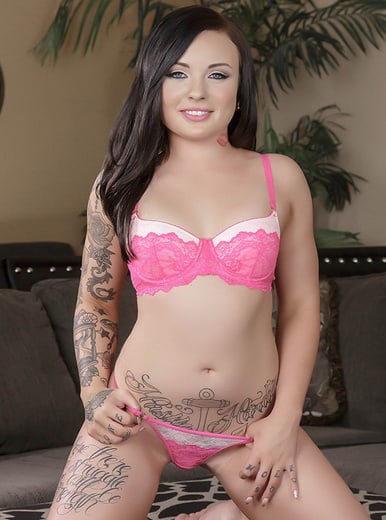 Chloe Carter at Brazzers
Chloe Carter : Adult Film Career
Chloe first began working in the adult entertainment industry as an exotic dancer before moving on to webcamming and posting some exclusive website via her solo site. Chloe made her official adult film industry debut in June 2016 when she filmed her first ever sex scenes with Small Hands for Burning Angel. Titled Chloe Carter's First Time, Chloe thoroughly enjoyed shooting her porn debut and ardently enthused in her October 2016 Adult DVD Talk interview that;
"I was so excited about my first scene. My first scene ever was with Burning Angel. I actually had been tweeting at them for months. I finally got Joanna to notice me. She sent me a message on Twitter, 'Wait, do you do porn?' (laughs) I had never done anything before. There was nothing on my Twitter and, also at the time, I don't think my Twitter had XXX in the handle or my bio so she was kind of confused. I told her I hadn't done anything yet but I want to, etc. She said she wanted to shoot me. She wanted to put me in her first class series and she wanted me there that weekend. And that was it. As soon as she said it, I was there. I was super excited because I'm so in love with Joanna and Small Hands. She says, 'You're going to be working with my boyfriend!' YES! It was awesome. I showed up and they were so amazing. They were so welcoming. They made me feel like I knew them for so long. The whole crew was awesome. I was nervous on the ride there but as soon as they said 'hi' to me, I was fine. It was great. That's one of my favorite scenes!".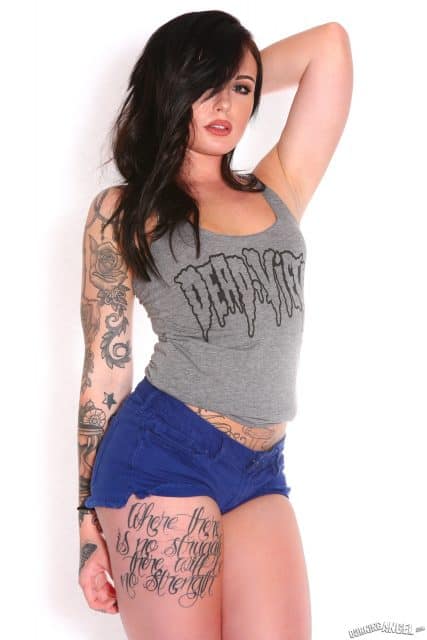 Chloe Carter at Burning Angel
But hold on, it gets even better; Chloe's porn debut was featured in the Burning Angel DVD It's My First Time 4 (2016), also starring Jenevieve Hexxx, Juliana Rose, Mallory Maneater and Rachel Ravaged, which was nominated for "Best Amateur/Pro-Am Movie" at the 2017 AVN and XBIZ Awards. Joanna had high praise for these rising starlets, commenting in a June 2016 AVN press release that;
"This line is very special to me, and we had a lot to follow up with after winning an AVN award for the series…It's really incredible to watch a girl do her very first scene; when you pair a new girl up with a seasoned industry swordsman, there's always this amazing look on the girl' face that's like 'Wow, I've never been fucked like this before!' and it's quite beautiful".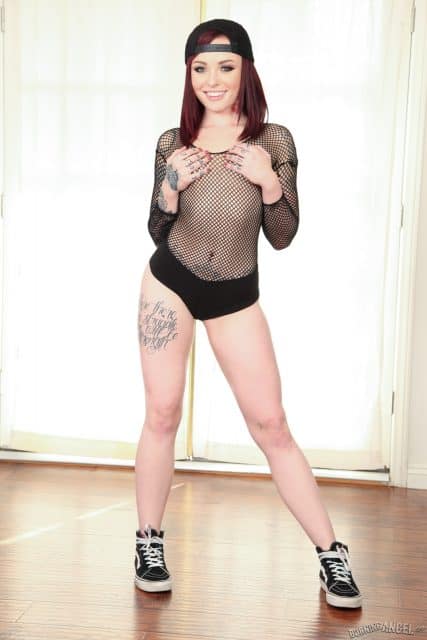 Chloe Carter at Burning Angel
You'll be happy to hear that Chloe has continued to collaborate with Joanna Angel on a wealth of popular Burning Angel productions. We recommend checking out Chloe's First Black Cock shoot with Isiah Maxwell that was featured in the Burning Angel DVD School of Black Cock 3 (2016) and her thrilling three-way with Elsa Jean and Gage Sin that was showcased in the Burning Angel DVD All Access POV (2017) which was nominated for "Best Gonzo Movie" at the 2018 AVN Awards. Chloe posed on the box cover of All Access POV alongside Elsa Jean and eagerly expressed in a February 2017 AVN press release how;
"I feel like I always say the same thing about every Burning Angel scene that I've done, but it never fails that I have an amazing time!…Meeting and working with Elsa for this scene was so much fun! Definitely a must see".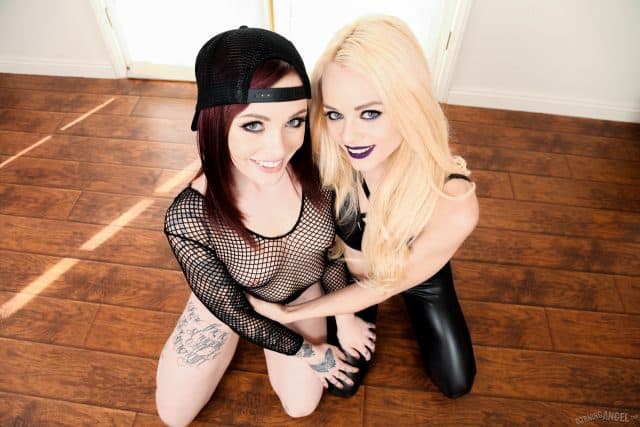 Chloe Carter and Elsa Jean at Burning Angel
A landmark moment in Chloe Carter's adult film career came in April 2017 when she filmed her first anal scenes for Burning Angel with Markus Dupree. This raunchy anal shoot was featured in the Burning Angel DVD Gothic Anal Whores (2017) which was nominated for "Best Anal Movie" at the 2018 AVN Awards. Chloe enjoyed working with Markus Dupree and saucily stated in an AVN press release that;
"As usual, I had a blast working for Burning Angel…This was my first Burning Angel scene that involved butt stuff, and I am so excited for any of you that take the chance to see this one (which you all should). I think we all know how much I adore working for Burning Angel, but this time I was also able to work with the amazing Markus Dupree, who I'd love to thank for being so incredible and lovely to work with. Everyone please go check out this sexy scene! You're in for lots of lollipops, squirting, and plenty of butt stuff".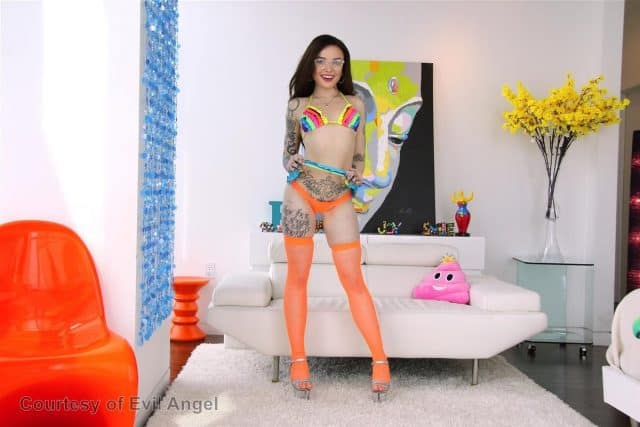 Chloe Carter in Rectal Workout 3 – Evil Angel – Adult Empire Galleries
In recent months Chloe shared an amazing anal scene with Small Hands that was included in the Burning Angel DVD Professional Anal Whores 2 (2017) also starring Rizzo Ford, Zoey Monroe, Kat Dior and Stacy Jay. Chloe loves collaborating on these Burning Angel productions and sincerely conveyed in her May 2016 Fleshbot interview how;
"So far my all time favorite male performer is Small Hands and female performer is Joanna Angel. These two are my favorite simply because both of them found a way to develop a relationship with me off camera and make me feel as if I've known them forever. They are extremely fun to be around, and I would love to work with them for as long as I'm in the porn industry!…I'm inspired by any porn actor and actresses who aren't afraid to be themselves and are happy with who they are".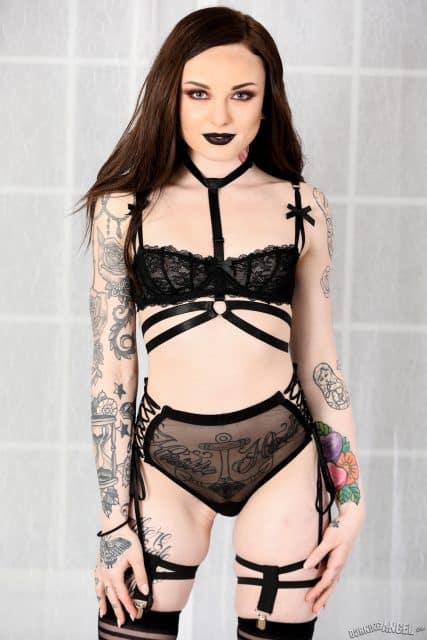 Chloe Carter at Burning Angel
In addition to her best-selling Burning Angel productions Chloe has also starred in a wealth of raunchy Evil Angel DVDs. We recommend checking out Swallowed 7 (2017), She Loves Anal (2017) that was directed by porn power couple Francesca Le and Mark Wood, Ready For Anal 3 (2017) within which Chloe shared a thrilling three-way with Harlow Harrison and Mike Adriano, Rectal Workout 3 (2017), Hookup Hotshot: Send Nudes (2017) and Tight Anal Sluts 3 (2017) that showcased Chloe in a terrific three-way with Charlotte Sartre and Mike Adriano.
Just can't get enough of captivating cutie Chloe Carter? Then you'll love viewing her raunchy scenes with Marcus London in Blown To Cumpletion (2016) for Devil's Film, her cuckolding session with Kade and Robert Axel in the Kick Ass Pictures production Cum Eating Cuckolds 25 (2016) and her kinky role-play with Ariella Ferrera, Keiran Lee and Lucas Frost in Stepmom Swap (2016) for Digital Playground which was nominated for "Best Taboo Relations Movie" at the 2017 AVN Awards.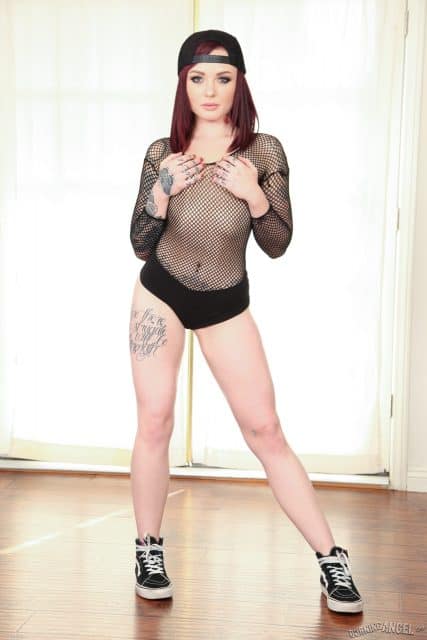 Chloe Carter at Burning Angel
Fans of Chloe Carter will also want to watch her scintillating scenes in Perv City's Department of Double Penetration (2017), her saucy shoot with Gabriella Paltrova in Lesbian Anal Virgins 2 (2017) for Filly Films and her compelling three-way with Leigh Raven and Nikki Hearts that was featured in their Filly Films DVD Real Fucking Lesbians: Coast To Coast (2017). When she was asked about her personal submissive/dominant preferences during her October 2016 Adult DVD Talk interview Chloe conveyed how;
"I'm very submissive. I cannot be dominant at all. Everyone thinks I'm dominant because of my tattoos and my look but I'm not. I've been asked to do so many dominant scenes but I can't do it! I can't be mean to people! I suck at it. Unless they really, really, really, really make me mad, I can't be dominant. I did a Cuckold scene for ATK and I'm being fucked by this big black dude and I'm talking shit to this white guy. I was like, 'Oh my God! I don't even know what to say!' So I was laughing and trying to be really mean. They had to cut! I don't know how to be mean!…
I haven't even been dominated before! I just did a BDSM scene and that was the first time I had even been tied up before. I'm very new to that whole thing…Shay Fox was dominant to me once and I loved it! I thought it was amazing! It was so awesome, she spit in my face and everything. It was pretty cool. Other than that, that was the only time I was ever dominated. It wasn't super intense, she just had to talk down to me. It wasn't even a sex scene or anything like that. It was definitely a turn-on".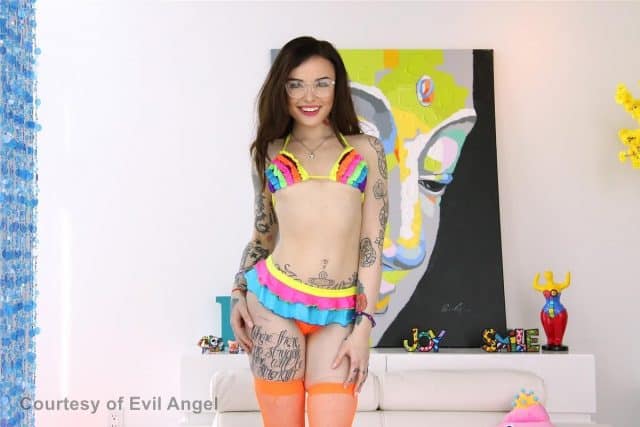 Chloe Carter in Rectal Workout 3 – Evil Angel – Adult Empire Galleries
With so many saucy scenes under her belt it was only a matter of time before Chloe was nominated for "Hottest Newcomer (Fan Award)" at the 2017 AVN Awards. Chloe enjoys interacting with her fans via social media and through her kinky live cam shows that she hosts via Camsoda under the screen name 'chloecarter'. Chloe remains incredibly grateful to her international fan following and mentioned in her May 2016 Fleshbot interview that;
"Having a fan base has been awesome. It goes to show that people out there look up to me and definitely motivate me every day to keep going. My fans have been absolutely incredible…I love the idea of being able to express my sexuality in such an awesome way and being able to show that on camera!".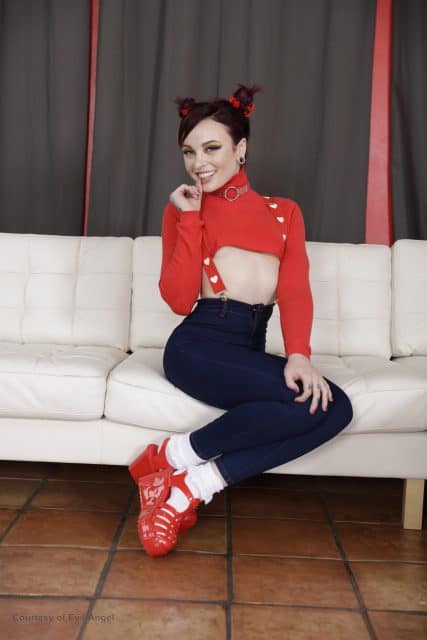 Chloe Carter in Hookup Hotshot: Send Nudes – Evil Angel – Adult Empire Galleries
In her spare time Chloe enjoys singing and playing piano. In fact, you may be interested to learn that Chloe taught herself how to play piano when she was 12. Chloe has always been a creative individual who loves decorating and has aspirations of becoming a tattoo artist. As Chloe herself explained in her October 2016 Adult DVD Talk interview;
"I sing. I love to sing. Love it, love it, love it. I taught myself how to play piano when I was 12. My biggest inspiration has always been Amy Winehouse. She was so talented and I wish she could have carried that on but she didn't. I also like to draw. I still want to be a tattoo artist. I grew up in a tattoo shop so I've always learned stuff about that. I'm more of an artsy person. I like decorating, I used to be in interior design classes. I'm a pretty creative person. Anything that has to do with art, I love it. Outdoorsy stuff. I like experiencing things…
I pretty much like all music but I don't like newer country. I like older country like Johnny Cash. I love Amy Winehouse. Right now, I'm listening to a lot of Halsey. She has a unique voice and real music that has stories behind it. I like music that tells a story to which I can understand it and show that I care about singing. If I'm just singing about nothing then what am I singing about?".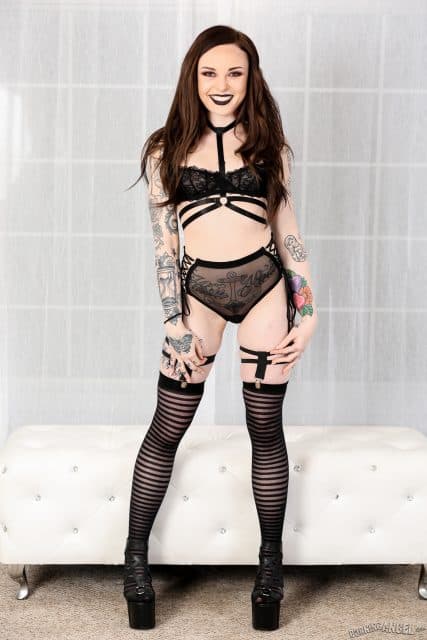 Chloe Carter at Burning Angel
Want to keep yourself updated on all of Chloe's recent releases, exclusive web content and upcoming porn productions? Then please feel free to use the links provided below to stay connected with terrifically tattooed starlet Chloe Carter!
Social Networks
Camsoda : chloecarter
Burning Angel : Chloe Carter at Burning Angel
Evil Angel : Chloe Carter at Evil Angel
Brazzers : Chloe Carter at Brazzers
IMDB Profile : Chloe Carter Filmography