Carmella Santos Biography
Nubiles : Carmella Santos Solo Scenes   Reality Kings : Carmella Santos Sex Scenes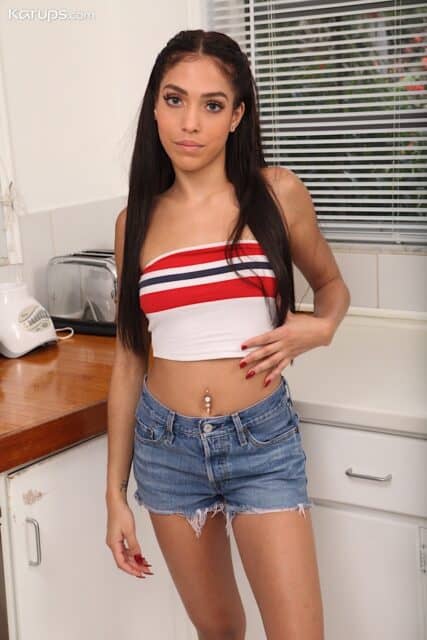 Click here to see more of Carmella Santos's hottest sex scenes at Karups Hometown Amateurs
Carmella Santos – Personal Info
Name : Carmella Santos
Alias : Selena Sosa
Date of Birth : March 2nd
Star Sign : Pisces
Measurements : 34D – 24 – 36
Height : 5'5 (1.65m)
Hair Colour : Brunette/Blonde
Eye Colour : Brown (often wears blue contact lenses)
Tattoos : Red roses on the right side of her lower abdomen
Piercings : Navel and left nostril
Years Active : 2016 – present
Number of Scenes : 20+
Carmella Santos (aka Selena Sosa) is a stunning all natural Latina pornstar who has been thrilling fans since late 2016. During this time, Carmella Santos has garnered a loyal fan following due to her sultry stage presence, captivating curves and fantastic sex scenes for Bang Bros, Mofos, Reality Kings and Team Skeet.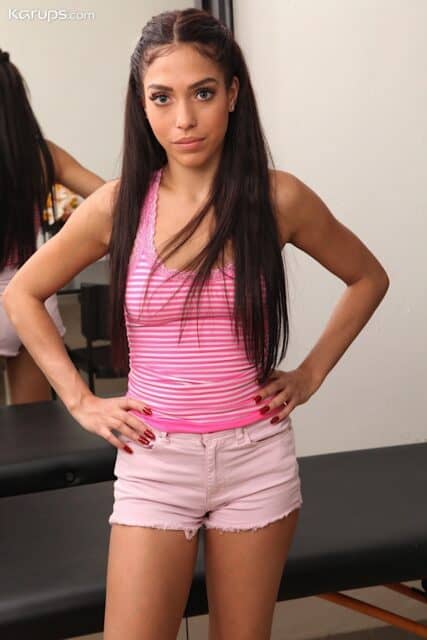 Click here to see more of Carmella Santos's hottest sex scenes at Karups Hometown Amateurs
So where did it all begin? Hailing from Miami, Florida, Carmella Santos has Brazilian heritage, she was an athlete in high school and she has studied sports medicine in college. Carmella Santos has always had a sexually curious nature and she revealed in her January 2017 Naughty Mag interview that;
"High school was amazing for me. I am an athlete, so I got a lot of free time to myself for training and for traveling from game to game. That meant that I could hang out with my boyfriend pretty much any time I wanted. While all of my friends were studying, I was sucking and fucking my guy in the parking lot or under the bleachers. We were probably screwing four or five times a week! Now that I'm in college studying sports medicine, I don't get to have as much sex as I want. I know that it's weird, but my favorite position is the 69. I just love sucking cock and having my pussy eaten out, so what could be better than doing both at the same time? Nothing!".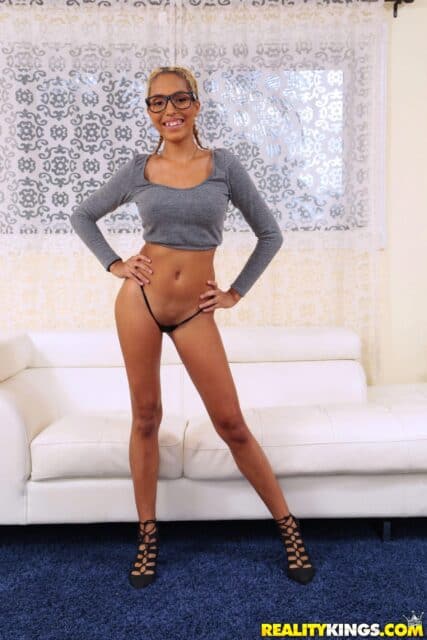 Click here to watch Carmella Santos (aka Selena Sosa) in "Cum Selena" at Reality Kings
Carmella Santos : Adult Film Career
Sexy all natural pornstar Carmella Santos made her official porn debut in late 2016 and she is credited in many of her initial sex scenes as 'Selena Sosa'. Carmella Santos's first ever hardcore sex scene was a sizzling 18 Year Old Brazilian Babe Gets Ditched By Her Boyfriend shoot with Derrick Ferrari that was released via Bang Bros in December 2016 as part of their Bang Bus web series. As the scene description hotly hints;
"There are tons of hot chicks desperate for cash out there. The Bangbus aims to find them all and fuck them. This week the bus pulled up to a couple arguing. We started making fun of them and the guy got down from his car ready to fight our crew. If you're angry at your girl don't take that shit on us man. After he calmed the fuck down, we offered him 100 bucks to drop his girl on the spot and take off. Once he took off, it was time for the bus to swoop in with a wad of cash. Stranded in the middle of nowhere this chick jumped in the bus in no time. Then when we started flashing the money the panties dropped. This Brazilian chick had a huge pair of tits and tight fucking pussy. That pink gash of hers took pounding all over the fucking bus!".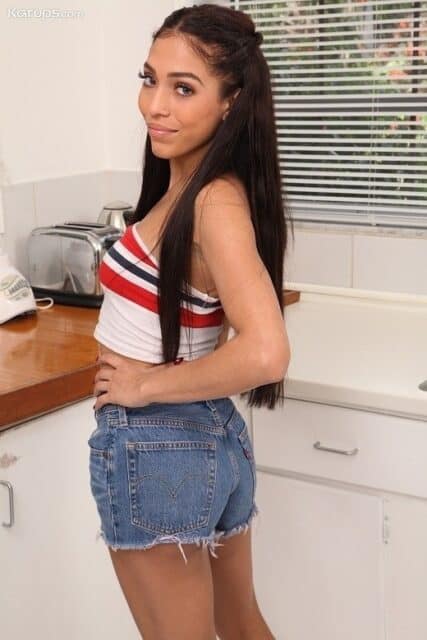 Click here to see more of Carmella Santos's hottest sex scenes at Karups Hometown Amateurs
Pretty petite pornstar Carmella Santos has also filmed an amazing Beach Bikers group sex scene with Jessie Lynne, Olivia Lua and Peter Green which was uploaded via Team Skeet's BFFS web channel in December 2016, she shot a seductive Teenage Balcony Flasher solo scene for Naughty Mag in January 2017 and she shared a steamy Dorm Room Fuck Session sex scene with Brick Danger that was promoted via Bang Bros in January 2017 as part of their Bang Bros 18 web series. In fact, Carmella Santos has since been featured in the Bang Bros DVD Bang Bros 18 #16 (2017) alongside hot teen porn stars Audrey Royal, Michelle Martinez, Sophia Leone and Stacie Jaxxx. As the scene description for Dorm Room Fuck Session raunchily reveals;
"Selena Sosa has fully embraced herself in her studies. But she has forgotten what college is all about. Brick stopped by to remind her that college is about the partying and fucking. She wanted to continue studying, so he came up with a little game. If he could correctly answer any 5 questions she would ask him, then they get to fuck and if he was incapable of answering correctly, he would lend her his car for a month. She fired her 5 questions and Brick answered all of them correctly. This is when shit got real, he slowly took of her top revealing her magnificent tits, and it was all fun from there. He slammed her pink hole all over her dorm room. Pounding that pussy in several different positions before exploding in the studious face of hers".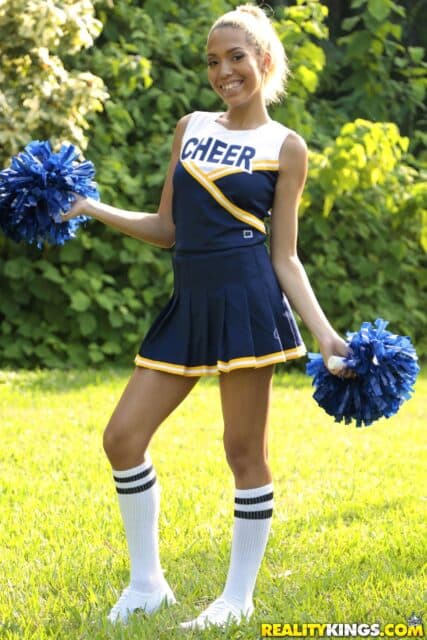 Click here to watch Carmella Santos (aka Selena Sosa) in "Give Me An Oh" at Reality Kings
Popular Latina pornstar Carmella Santos has continued to shoot a wealth of fantastic sex scenes for many leading porn sites. You'll love watching natural beauty Carmella Santos's saucy Cum Selena scene with Peter Green which was released via Reality Kings in January 2017, her sultry Amateur Teen, Red Crop Top, Sun Dress and Top Shelf Tits solo scenes that were all uploaded via Nubiles in February 2017 as well as her raunchy Miami Latina Goes Straight For Cash romp with Tony Rubino which was promoted via Mofos in June 2017. Sexy teen pornstar Carmella Santos has even filmed a sensual Give Me An Oh lesbian porn scene with Amber Gray that was unveiled via Reality Kings in March 2017 with the hot description;
"Amber Gray and Selena Sosa were practicing their cheerleading routines. They started to practice handstands. Selena did a handstand as Amber held her legs. Amber got a good look of the outline of her pussy through her panties. Next, while Selena was busy, Amber took off her panties and hid them. She pretended to have a cramp and asked Selena to help her stretch her out. Amber opened her legs and Selena noticed she had no panties on. Selena was aroused and Amber asked her to touch it. They played with each other's pussies and soon after, they were inside the house, fucking each other with their pom poms. They sat on each other's faces and it was a great practice".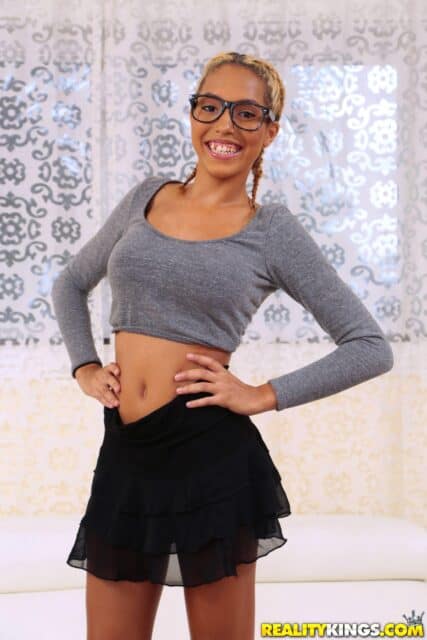 Click here to watch Carmella Santos (aka Selena Sosa) in "Cum Selena" at Reality Kings
Carmella Santos : Industry Hiatus & Comeback Career
Carmella Santos took a break from performing in porn in 2018 in order to pursue her own personal projects. Much to the joy of her fans, hot brunette pornstar Carmella Santos resumed her adult film career in late 2019. You'll love viewing Carmella Santos's steamy Missed Connections and Nice And Wet solo scenes which were both released via Karups Hometown Amateurs in October 2019 and her fantastic Second Round On The Bus hardcore sex scene with JMac that was uploaded via Bang Bros' fan-favorite Bang Bus web series in November 2019. As the scene description saucily states;
"This week we pulled up on these two hot chicks but sadly they wouldn't give us the time of day. So we sent their ass packing. Luckily for us we ran into another girl who had actually been on the bus. It turns out that she was down to fuck, and really wanted to hop in again and get some cock. She climbed inside the bus and soon she was choking on Jmac's cock. I love these super easy girls. From there, her pussy got stretched all over the fucking bus. Once we were done with her, we sent her ass packing for the second time".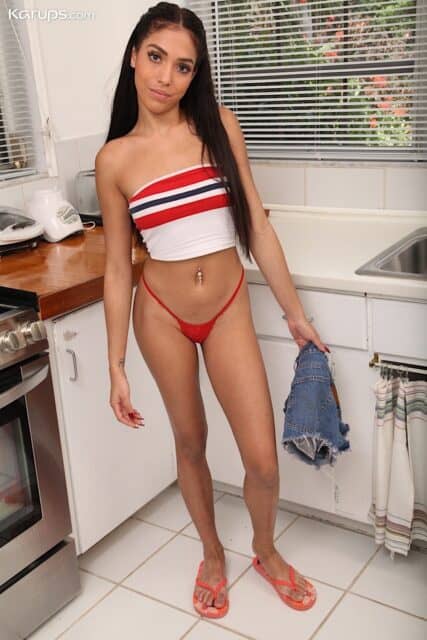 Click here to see more of Carmella Santos's hottest sex scenes at Karups Hometown Amateurs
Alongside her compelling web content, sexy Brazilian pornstar Carmella Santos has starred in a wealth of bestselling DVDs. You have to check out Carmella Santos's sizzling Cum Selena sex scene with Peter Green in the Reality Kings release Slip It In #7 (2019), her steamy Teenage Balcony Flasher solo scene in the Score compilation title Amateur Pussy Hunt X-Cut #9 (2020) and her epic Beach Bikers group sex scene with Jessie Lynne, Olivia Lua and Peter Green in the Crave Media movie Spring Break Fuck Parties #15 (2020) featuring Arya Fae, Kristen Scott, Anastasia Knight, Cameron Minx, Sadie Blake, Ella Knox, Bambi Adelle, Aspen Celeste and Riley Star. As the scene description for Beach Bikers hotly hints;
"It was a beautiful day outside and the girls decided to go bike riding! Riding in their swimsuits, every single guy that passed by could not help but stare at their asses. The girls met a guy and they suggested he join them in their hotel room for a foursome! How lucky he was. He wore each of their pussies out just as much as the baldest tire on the beach bikes".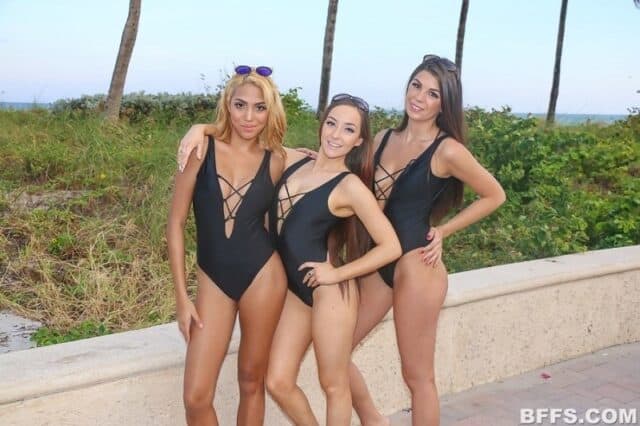 Click here to watch Carmella Santos, Jessie Lynne and Olivia Lua in "Beach Bikers" at BFFS/Team Skeet
Eager to discover even more of stunning natural beauty Carmella Santos' hottest sex scenes, exclusive web content and upcoming productions? Then use the links provided below to stay connected with your favorite Latina pornstar Carmella Santos!
Carmella Santos – Social Networks
BFFS : Carmella Santos at BFFS
Karups : Carmella Santos at Karups
Mofos : Carmella Santos at Mofos
Naughty Mag : Carmella Santos at Naughty Mag
Nubiles : Carmella Santos at Nubiles
Reality Kings : Carmella Santos at Reality Kings
Adult Empire : Carmella Santos's DVDs
Babeapedia : Carmella Santos at Babeapedia