Carly Rae Summers Biography
 Twitter : @CarlyRaeSummers   VR Cosplay X : Carly Rae Summers' VR Scenes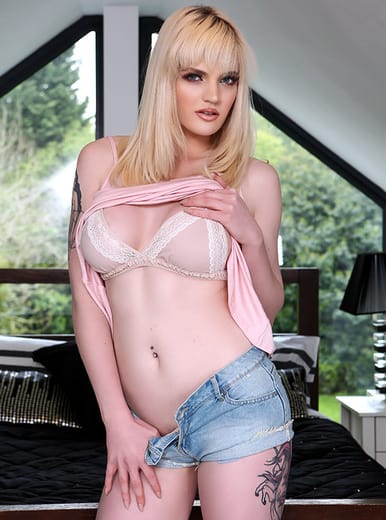 Click here to watch Carly Rae Summers in "My Boyfriend Or His Brother?" at Brazzers
Carly Rae Summers – Personal Info
Name : Carly Rae Summers
Date of Birth : March 5th
Star Sign : Pisces
Hometown : Manchester, England (United Kingdom)
Measurements : 32E – 26 – 33
Height : 5'7 (1.70m)
Hair Colour : Blonde/Red
Eye Colour : Blue
Tattoos : A lady on her upper right arm and a unicorn on her upper left thigh
Piercings : Septum, tongue and navel
Years Active : 2013 – present
Number of Scenes : 50+
Carly Rae Summers is a popular British porn star, fetish performer and model who has been working in the adult film industry since 2013. Best known for her raunchy web clips, Carly Rae Summers has attracted an avid international fan following due to her sizzling scenes in several Brazzers, Digital Playground and Evil Angel productions.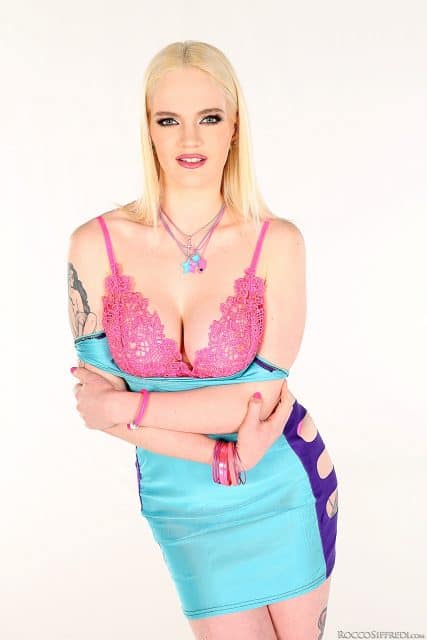 Click here to watch Carly Rae Summers in "Rocco's Abbondanza #6" at Evil Angel
So where did it all begin? Hailing from Warwickshire, England, Carly Rae first started working in the adult entertainment industry during her second year of university. You may be interested to learn that Carly Rae has since graduated from Manchester Metropolitan University with a degree in Fashion Design and Technology. Carly Rae Summers initially started shooting her own amateur photos and videos which soon attracted the attention of adult film talent scouts. And the rest is history! Talking about this pivotal period of her life during her April 2014 Humanity Hallows interview, Carly Rae Summers divulged that;
"I went through the whole of my second year and nobody knew anything. No one had a clue who I was, or what I was doing. As soon as I came into third year, one person found out, and then everybody found out. A good 500 of my Twitter followers are people from university. On nights out, I get people shouting 'Carly, Carly!' and having their photo taken with me. I get people staring at me in the street and I see people talking about me quite a lot – they're so obvious about it! But I'm in the wrong industry if I'm trying to keep to myself. I love the attention so it doesn't bother me…
My university have been okay with me about it as well, I got in trouble for hashtagging them on Twitter, and so we had a little chat and a meeting with the head of department. But they're fine with what I do. Occasionally my tutor will ask me if I'm okay. But I'm fine, nothing bad has happened to me, fortunately…I've never felt exploited though, mainly because I'm in control of everything I do. When my mum found out she asked, 'Who made you do it?' I said, 'No-one made me do it, I don't know why you would assume that.' It's not like someone put a gun to my head and said 'You will make porn.' Obviously, I've done porn because I want to, not because I've been forced into it. I made a grand last week. I can buy myself pretty things".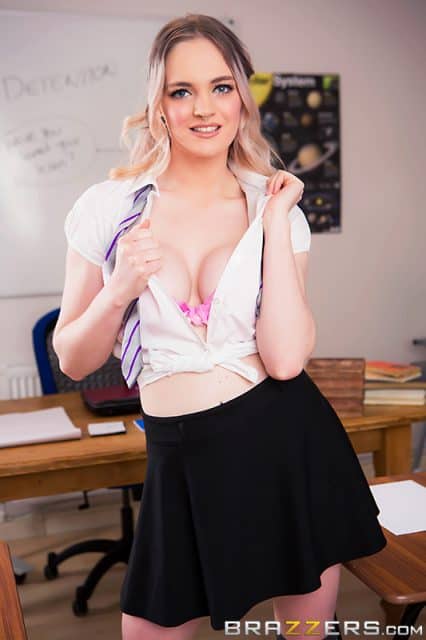 Click here to watch Carly Rae Summers in "Ethics In Detention" at Brazzers
Carly Rae Summers : Adult Film Career
Carly Rae Summers first started working in the adult film industry in January 2013 and some of her earliest porn productions include Public Exposure (2014) for Killergram, Homegrown International: Globe Twatters #2 (2015) for Homegrown Video and the Dusk Films/Juicy Entertainment DVDs Nerd Pervert #8 and #16 (2015). Talking about shooting her official porn debut during her 2014 The Tab interview, Carly Rae Summers revealed that;
"It was just a standard strip tease and a basic boy girl scene. It took two hours…I absolutely loved it. I do it because it's a fetish for me. I love the concept of getting filmed and other people watching me…It really gets me off. I do it because it's what I want to do rather than for the money".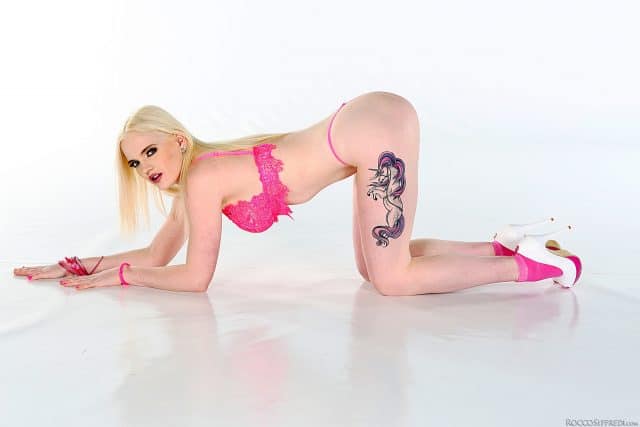 Click here to watch Carly Rae Summers in "Rocco's Abbondanza #6" at Evil Angel
Interested in checking out some of Carly Rae Summers' hottest hardcore scenes? Then you'll want to watch her sizzling scene with Chris Diamond in the Digital Playground production Dirty Secrets (2016), her raunchy Ethics In Detention role-play with Danny D that was released via Brazzers Network in January 2016 and her thrilling three-way with Ava Austen and Luke Hotrod in the JoyBear Pictures feature movie The Invitation (2015) that was nominated for "Best Foreign Feature" at the 2016 AVN Awards and "Foreign Feature Release of the Year" at the 2016 XBIZ Awards.
You'll be happy to hear that Carly Rae Summers has since starred in another JoyBear Pictures movie; Tease (2016). Also starring Ella Hughes, Stella Cox, Victoria Summers and Amber Nevada, Tease was an instant hit that was nominated for "Best Foreign Feature" at the 2017 AVN Awards.
Want to know the best part? Over the years Carly Rae Summers has continued to star in a wide range of British, American and European porn productions. Our top picks? They'd have to be Private Specials #177: Gold Digging Strippers (2017), Rocco's Abbondanza 6 (2017) for Evil Angel and Private Gold #208: Bacholerette Party (2017) within which Carly shared a raunchy group shoot with Ella Hughes, Lucia Love, Suzy Rainbow, Antonio Black, Dean Van Damme and Emilio Ardana.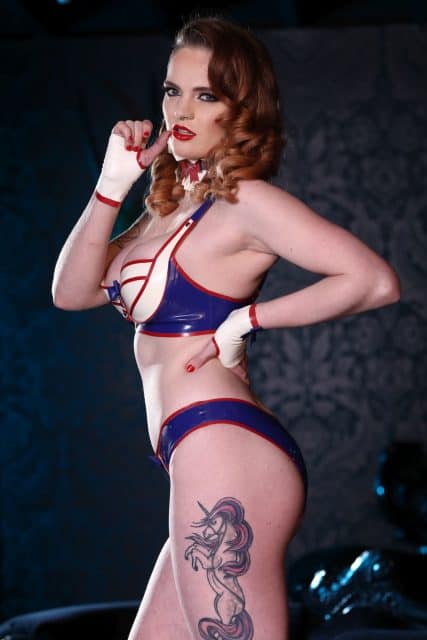 Click here to watch Carly Rae Summers in "Malice Before Daylight" at Harmony Films
Fans of Carly Rae Summers will also love viewing her sizzling My Boyfriend Or His Brother? role-play with Danny D and Jordi El Nino Polla that was uploaded via Brazzers Network in May 2017 and her titillating The Kitchen Helper scene with Jordi El Nino Polla that has since been showcased in the Brazzers DVD compilation title Pornstar Paradise #3 (2017) also starring Nicolette Shea, Bridgette B, Jade Jantzen, Dani Jensen, Moka Mora and Jasmine Jae. Must see sex scenes for Carly Rae Summers fans!
Alongside her mainstream porn productions, Carly Rae Summers has amassed an avid fan following within the fetish lifestyle market due to her compelling BDSM, fetish and taboo relations content. Fans eager to explore Carly Rae Summers' captivating kinkster side will want to watch her saucy scenes in Kinky Fetish Models (2015) for Bizarre Video and in the Pure XXX Films DVDs Stepdad Punishment (2015), My Stepdad Is A Filthy Perv (2016), My Stepdad Likes It Dirty (2017) and Living With The In-Laws (2017).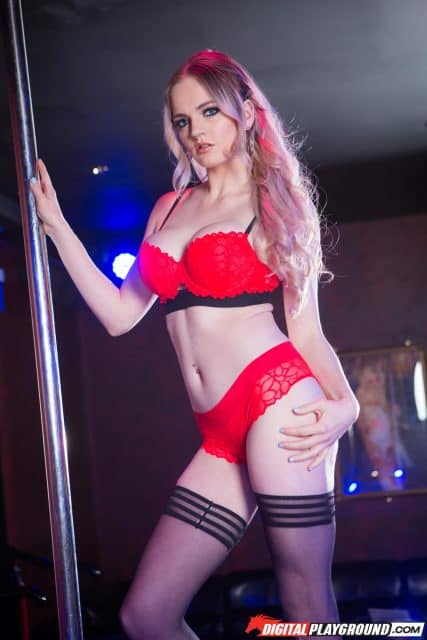 Click here to see more of Carly Rae Summers' hottest sex scenes at Digital Playground
But hold on, it gets even better. Carly Rae Summers has treated her fans to some incredibly immersive virtual reality sex scenes that have been released via Virtual Taboo. Fans of Carly Rae Summers will love experiencing her Follow My JOI and Tainted Love VR scenes that were unveiled via Virtual Taboo in November 2016. Carly Rae Summers has even cosplayed as Ivy Valentine and Jaina Proudmoore in some sensational HoleCalibur and Jaina Proudmoore: A XXX Parody virtual reality sex scenes which were released via VR Cosplay X in February 2017 and June 2018. It's like Carly Rae Summers is in the room with you!
Never one to rest on her laurels, Carly Rae Summers has since starred in several fan-favorite UK Sinners taboo relations titles including Unexpected Action (2016), Cumming Again (2017), Family Secrets (2017) and Sexual Surrender #2 (2017) that featured Carly Rae Summers on its box cover. Carly Rae Summers enjoys shooting these raunchier sex scenes – especially oral. As Carly Rae Summers saucily stated in her 2014 The Tab interview;
"The deep throat specialist thing is what I'm exceptionally good at. I absolutely love it…Once a boy said to me that I was different because I want to do it. I'm exceptional. It's an ego thing when someone tells you you're good at something".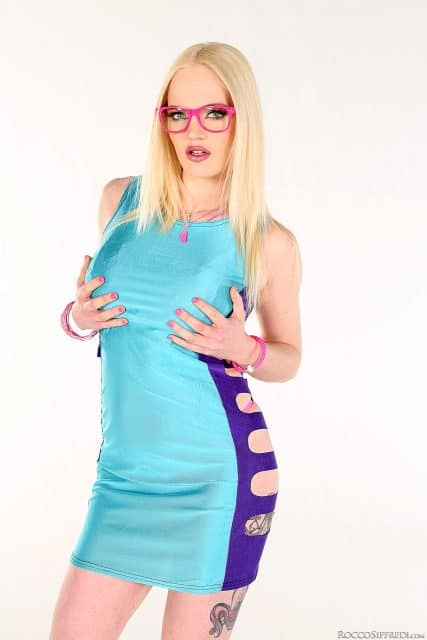 Click here to watch Carly Rae Summers in "Rocco's Abbondanza #6" at Evil Angel
A landmark moment in Carly Rae Summers' adult film career occurred in August 2016 when she was featured in a BBC Three documentary titled Jade: Why I Chose Porn. Aired in the UK, Carly Rae Summers appeared under the name Jade and offered viewers an exclusive glimpse into her life as an adult film star. Carly Rae Summers discussed her reasons for appearing in this documentary during a July 2016 Huffington Post interview. As Carly Rae Summers puts it in her own words;
"Being in this documentary is important because I wanted to create a piece that truly reflects the adult industry as I see it. Usually in the media we only see the negative impact it can have on a person's life or people who got into it for the wrong reasons. We see a view of the industry that's one-sided. For me, it's not like that. I love my job and the opportunities it has given me…I'm not pretending it's perfect. What job is? At times it's exhausting. And I can be incredibly lazy at the best of times. There are long hours and early starts, waking up at 6am for an 8am train to London and not returning home until 11pm. But this would be the same for anyone who has to commute across the country for a living".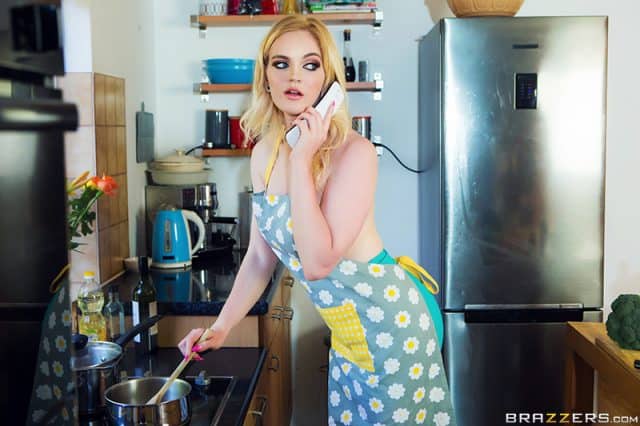 Click here to watch Carly Rae Summers in "The Kitchen Helper" at Brazzers
One of the main reasons Carly Rae Summers appeared in this BBC Three documentary was to address the negative misconceptions that many people have about female performers and the adult film industry in general. Carly Rae Summers highlighted how performing in porn has boosted her body confidence as well as teaching her aspects of sex education that she had never previously known. As Carly Rae Summers explained in further detail during her July 2016 Huffington Post interview;
"I could never have dreamed of spending my life travelling the world, particularly not as a model. I want people to understand that it has changed me for the better. Diving head first into the adult industry meant I had to grow up fast. It's helped me develop into a confident, well-rounded person. It's given me an understanding of life I would never have achieved by going down a different career path…
Not only has porn helped shape me as an individual, it has taught me things sex education didn't. I know the girls we see in magazines and on TV have been altered to perfection and that my body is normal. Watching pornographic films and being around other industry girls taught me that I'm not alone and that females go through the same complications as myself every day. It's bloody difficult to be flawless. I accept my body and I am confident about my image. I feel lucky that I've been financially stable since the age of 21 (a luxury for most people my age). In the film I explain that I am a feminist. I'm in control of my life, and the decisions I make along the way. I'm my own boss. I decide what shoots I do and don't undertake with no pressure from a third party. All these positives outweigh any negatives…
When people watch the programme I want them to understand that pornographic actors don't always conform to the stereotypes people have. The negatives shown in the media and talked about by politicians aren't always correct. When people ask me about my career they ask if I actually enjoy my job, accompanied by a look. Most people are very sceptical about my chosen career. They have the impression that I've been forced to undertake roles in films, instead of believing that I could actually be passionate about the industry, and that this is what I want to do with my life".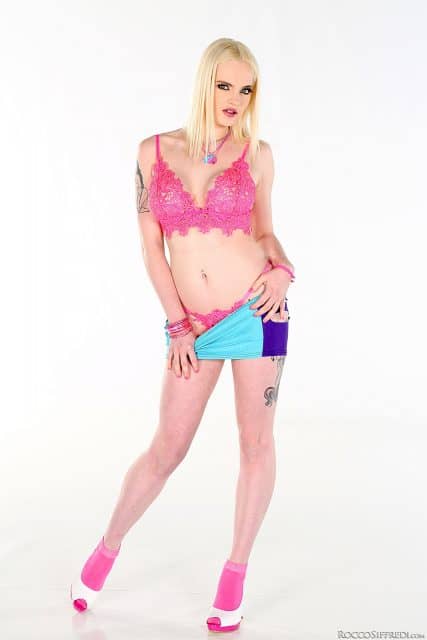 Click here to watch Carly Rae Summers in "Rocco's Abbondanza #6" at Evil Angel
Since appearing in this BBC Three documentary, Carly Rae Summers has continued to star in many popular porn productions such as the UK Porn Kings DVDs Sex Party Swingers #4 and #5 (2016-2017) and the Harmony Films movie Malice Before Daylight (2018) featuring Misha Cross, Rebecca More, Rhiannon Ryder and Barbie Sins. Most notably, Carly Rae Summers has appeared in the Digital Playground parody release Hand Solo: A DP XXX Parody (2018) alongside Valentina Nappi and Athena Palomino. Talking about this highly anticipated Star Wars inspired porn parody via a May 2018 AVN press release, producer and cast member Danny D mentioned that;
"When we started producing Hand Solo, I decided to build all the sets in our studio, which allowed us a lot more creative freedom with set design and it really complements the film…We sourced some amazing stylings and costumes. My personal favorite was Screwbacca! Everyone took a selfie with that guy and everyone in the crew wore the costume at some point during shooting".
Wondering what the future holds for Carly Rae Summers? Well, when Carly Rae Summers discussed her long term goals during her July 2016 Huffington Post interview she highlighted how;
"My ambition is to live life to the full and to keep on living by this mantra. I don't regret any of the decisions I've made up until this point. Unlike many career focused people, I don't have a five or ten year goal. As long as I'm successful and happy, then I'm hitting my target".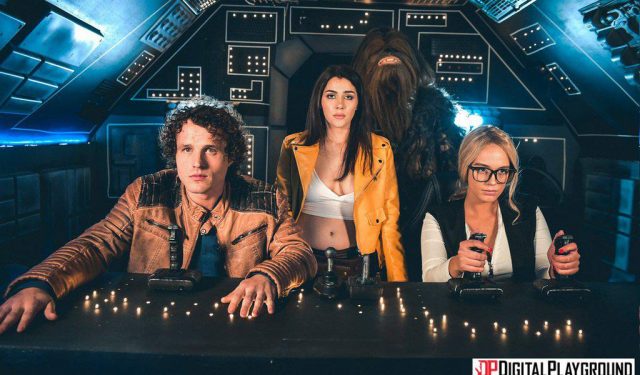 Click here to watch Carly Rae Summers in "Hand Solo: A DP XXX Parody" at Digital Playground
Want to keep yourself updated on all of Carly Rae Summers' upcoming projects and exclusive web content? Then use the links provided below to stay connected with your favorite British babe Carly Rae Summers!
Carly Rae Summers – Social Networks
Twitter : @CarlyRaeSummers
VR Cosplay X : Carly Rae's VR Scenes
Brazzers : Carly Rae Summers at Brazzers
Digital Playground : Carly Rae Summers at Digital Playground
Evil Angel : Carly Rae Summers at Evil Angel
Virtual Taboo : Carly Rae Summers at Virtual Taboo
Adult Empire : Carly Rae's DVDs
Official Website : HouseOfRae.co.uk