Brooke Beretta Biography
Twitter : @BrookeBeretta   MILF VR : Brooke Beretta VR Scenes   Brazzers : Brooke Beretta Sex Scenes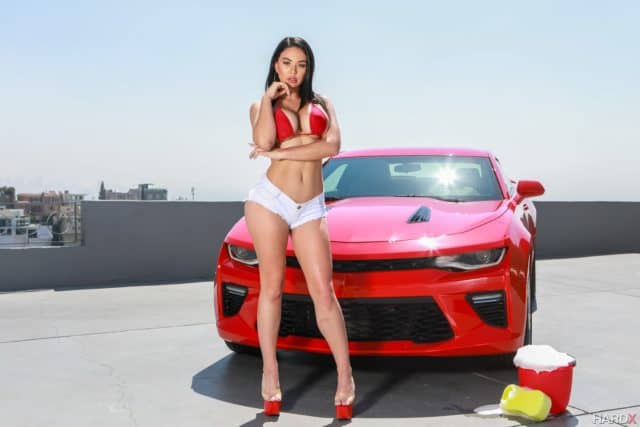 Brooke Beretta in Slippery When Wet! – Hard X – X Empire Galleries
Personal Info
Name : Brooke Beretta
Date of Birth : February 20th
Measurements : 34DDD – 26 – 38
Height : 5'8 (1.73m)
Hair Colour : Brunette
Eye Colour : Brown
Tattoos : A flower with falling petals across the right side of her lower abdomen and flowers across the left side of her rib cage
Piercings : Navel
Shoe Size : Women's 8 (US)
Years Active : 2017 – present
Number of Scenes : 15+
Brooke Beretta is a gorgeous rising porn star and glamour model who made her official adult film industry debut in early 2017. During this time Brooke has attracted an avid fan following due to her amazing scenes for Reality Kings, Brazzers, Naughty America and Bang Bros. Watch this space!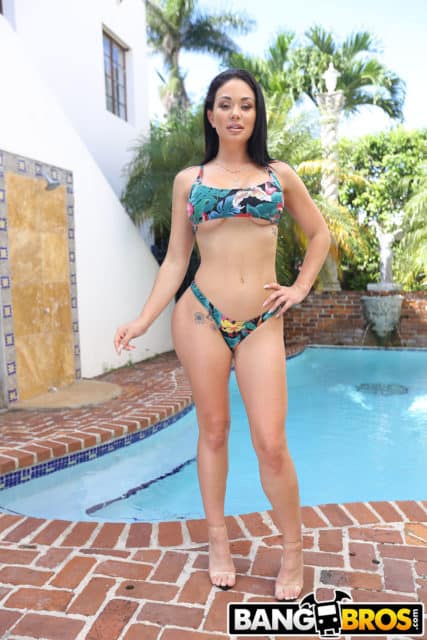 Brooke Beretta in Brooke's Poolside Creampie – Bang Bros
So where did it all begin? Raised in New Hampshire, Brooke has mixed American, French, German and Irish heritage. Brooke moved around a lot as a child and has lived in Boston, Massachusetts, as well as in Miami, Florida. As Brooke explained in her September 2018 Adult DVD Talk interview;
"I technically grew up in New Hampshire. We moved around a lot as a kid. I went to elementary through high school in New Hampshire. I grew up conservative, hardworking middle class, I would say. It was a small town and I was a little bit rebellious. When I was 18 or 19, I moved to Boston for 2 years. Then I ended up moving down to Miami".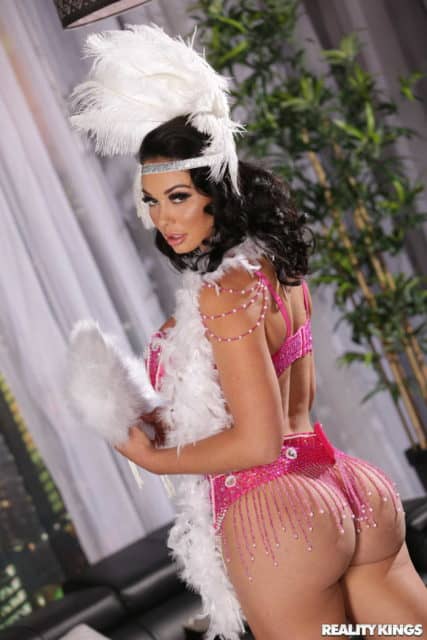 Brooke Beretta in Big Ass Burlesque – Reality Kings
Brooke identifies as bisexual and had her first relationship with a girl whilst she was living in Boston. Talking about this early relationship in her September 2018 Adult DVD Talk interview, Brooke recounted how;
"I actually had a girlfriend when I lived in Boston. That was probably 2011-2012. I dated this girl and she was so perfect. She had the nicest breasts I have ever seen! They were 34 Double D's natural! She had blonde hair, blue eyes and soft skin. In Boston, there were really no attractive men but there were a lot of attractive girls! I had a group of 8 or 9 girlfriends and we were all single so some of us would hook up because there was nothing else going on. My first experience was when I was dancing at this strip club in Boston and I was friends with this girl. We kissed and she came over and we started dating. It was one of the best sexual experiences I had when I was young. The best orgasm I ever had by far! However, I know that I'm not gay because I would wake up in the morning and think that it was different than being with a guy. I just feel like women, we know each other's bodies a little bit better".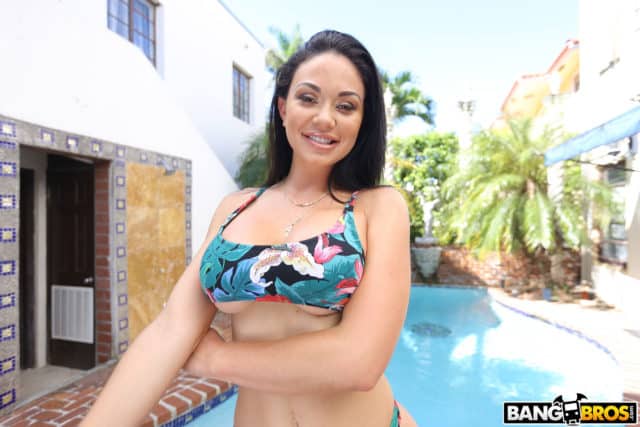 Brooke Beretta in Brooke's Poolside Creampie – Bang Bros
After high school Brooke attended college where she studied Business. Brooke did not graduate from college but she has attained her real estate license and worked as an accountant and in admin before she decided to pursue a career in porn. Brooke started working in the adult film industry in early 2017 because it enabled her to indulge her passionate and sex-positive nature. As Brooke divulged during her September 2018 Adult DVD Talk interview;
"I took a few business classes but I wasn't passionate about it. I didn't finish my degree because I wasn't prepared financially. I wasn't going to lose my money and not be ready. However, I have my real estate license and I did work as an accountant and in admin. I quit because it was so boring. Then I started back in the adult industry in 2017…To be honest, the reason [she decided to enter the adult industry] is I used to be very sexually repressed. I was raised really conservative and for whatever reason, I've dated men that were really conservative. In my opinion, being sexual is natural. There's nothing wrong with it. I came to terms with it and just grew up. I just feel like I have the look and I just love porn in general. I'm not knocking anyone or being condescending but I feel I have a certain look and have a lot to offer. Also, I'm passionate. I've been single for a while and have a very high sex drive. The more you work out, the more aroused you get. Also, the sexual experiences that I've had lately, personally, I've been really unsatisfied. I'm very picky about who I sleep with but I haven't even been interested in anyone! So why not do porn? I feel like my passion and my sex drive is reflected through my videos".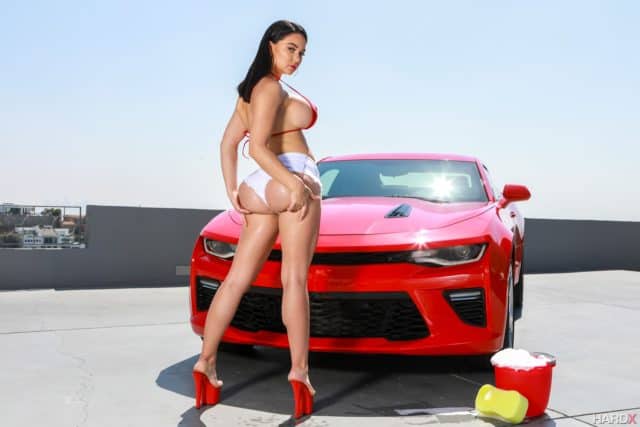 Brooke Beretta in Slippery When Wet! – Hard X – X Empire Galleries
Brooke Beretta : Adult Film Career
Brooke made her official adult film industry debut in early 2017 and her first ever sex scene was a raunchy Bang Bus shoot with Derrick Ferrari that was released via Bang Bros in March 2017. When Brooke was asked about shooting her porn debut during her September 2018 Adult DVD Talk interview, she highlighted how;
"I was very nervous. I was so scared. I think it all gets into your head. My first scene was in January or February of 2017. That was the Bang Bus for BangBros. It wasn't bad, I just remember it was super-hot. It was an outdoor thing and then we were fucking on a bus. That was crazy. The male talent was Derrick Ferrari and he was great".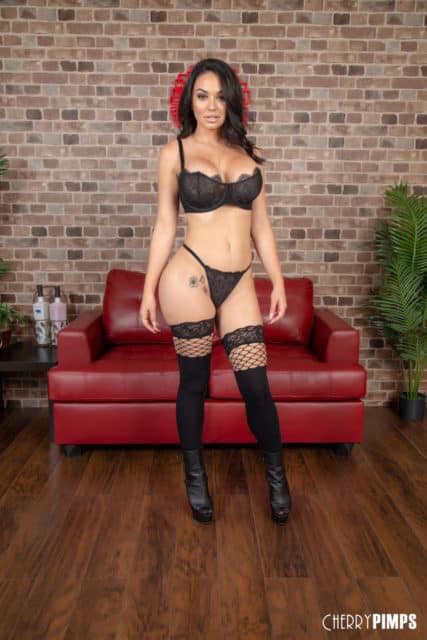 Brooke Beretta at Cherry Pimps/Wild On Cam
Wondering how Brooke chose her sultry stage name 'Brooke Beretta'? Well, Brooke has revealed during this September 2018 Adult DVD Talk interview that;
"Brooke is my middle name. And I started as a dancer and I always went by Brooke. Then I couldn't think of another name that fit me. Beretta, I love the name. Also, I shoot a lot of guns. I love to go to the shooting range and Beretta is an Italian gun company".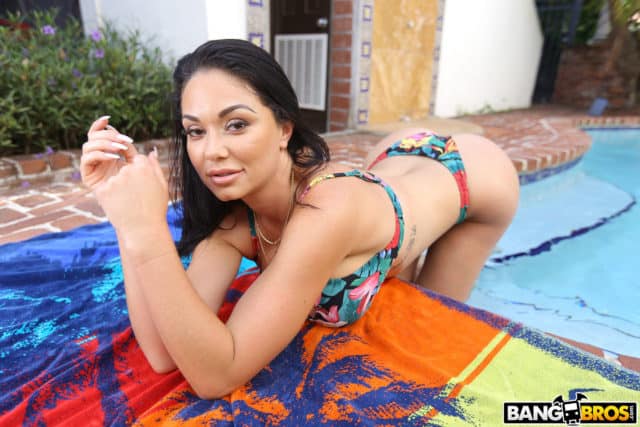 Brooke Beretta in Brooke's Poolside Creampie – Bang Bros
Many of Brooke's earliest sex scenes were filmed for the Florida-based porn network Reality Kings. We recommend checking out Brooke's steamy Sexy Brooke shoot with Bambino in March 2017, her sizzling Pussy In Charge scene with J-Mac in April 2017 and her kinky Nurse Titfuck medical role-play with Tyler Steel in November 2017. Fans of Brooke Beretta will also want to watch her sultry The Temptation Test scene with Kyle Mason which was promoted via Brazzers in March 2017 and her raunchy Let's Try Anal shoot that was uploaded via Mofos in June 2017.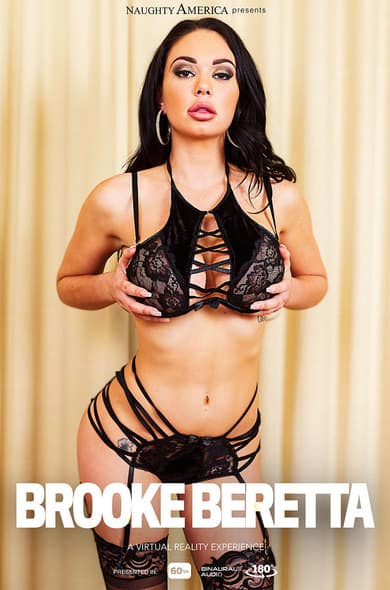 Brooke Beretta: A Virtual Reality Experience – Naughty America VR
Despite the success of these initial sex scenes, Brooke was not confident in herself so she decided to take some time off from the adult industry in order to boost her self-esteem and body confidence. It was during this time that Brooke met a personal trainer and started a new training regime. Talking about this pivotal period of her life during her September 2018 Adult DVD Talk interview, Brooke highlighted how;
"Technically, I started in early 2017, like January or February. I just wasn't ready, to be honest. I was scared and immature and I was coming out of an extremely unhealthy relationship with my ex. There was just a lot of mental abuse and my self-esteem just wasn't there. I feel like I wasn't able to give 100% to the industry. I needed a makeover, to be honest. I did 4 or 5 films, I wasn't proud of my work and I didn't like the way I was looking. Just looking a little ratchet. I wasn't in shape and thought I could provide a lot more. I did a couple random shoots in Miami. I redid my entire body, I did an entire makeover from head to toe. I have been working out but I was more casual. In January, just after the New Year, I met a really famous, established trainer and I've been working really intensely with him. I didn't technically know what my motivation was and it all just ended up coming together. I guess subconsciously, I was just prepping to do videos again…
Bang Bros ended up getting in touch with me through my Twitter. I ended up getting a ton of bookings. I randomly got booked for 10 scenes in a row. It was literally all this month (August). Within a 12-day period, I ended up doing 10 videos. I didn't really know what to expect. I actually ended up oversleeping for my first shoot for Bang Bros. They were really good about it. I started out on the wrong foot but I managed to bounce back. The 10 scenes I did were great, no complaints. Everyone said I did wonderful. Actually, one of my biggest strengths was anal which I never thought would be a thing. But that's going to be a highlight of what I can do talentwise. I am technically brand new. I did a True Anal scene with Mike Adriano that just came out. I recently signed with OC Modeling".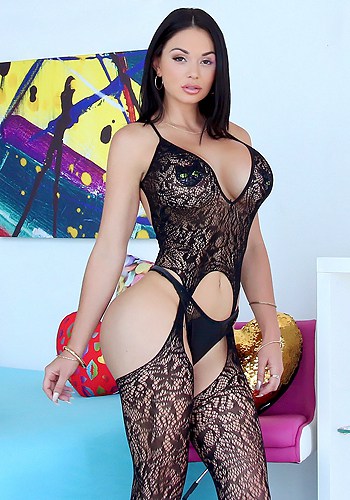 Brooke Beretta in True Anal Access #2 – TrueAnal.com
Brooke resumed her adult film career in fantastic fashion by shooting a sizzling scene with Tyler Steel for Porn Pros in July 2018. Brooke loved shooting this raunchy scene and enthusiastically stated in her September 2018 Adult DVD Talk interview that;
"When I did my comeback scene for Porn Pros in July, that was wonderful. That was my first scene in almost 2 years. I had my new look and my new body. That one was fabulous. It was really great, I was really comfortable and the male talent was good. I really pick up on people's vibes, their energy, so I really appreciate when my co-workers have a good attitude and converse before the scene. That scene was amazing and I only have good things to say about that".
Brooke Beretta in Naughty Office – Naughty America
Interested in checking out some of Brooke's hottest hardcore web clips? Then you'll love watching her steamy Slippery When Wet! scene with Mick Blue which was released via Hard X in September 2018, her saucy Brooke's Poolside Creampie shoot with Kyle Mason that was filmed for Bang Bros in September 2018, her raunchy Naughty Office role-play with Tony Rubino which was promoted via Naughty America in September 2018 and her seductive Big Ass Burlesque scene with Damon Dice that was uploaded via Reality Kings in November 2018. Must see sex scenes for Brooke Beretta fans!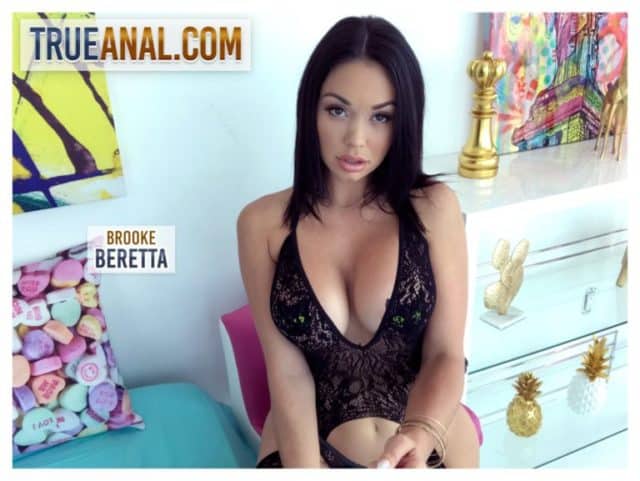 Brooke Beretta in True Anal Access #2 – TrueAnal.com
But that's not all. In addition to her compelling web clips, Brooke has started to appear in some fan-favorite Jules Jordan movies. Our top picks? They'd have to be Brooke's raunchy scene with Mike Adriano in True Anal Access #2 (2018) and her scintillating scene with Manuel Ferrara in Bounce #3 (2018) also starring Bridgette B., Kissa Sins and Vanessa Cage. In particular, Bounce #3 earned Brooke a rave review from prominent porn critic Roger T. Pipe who stated in his December 2018 RogReviews article that;
"Manuel Ferrara brings us four women with plenty of curves to enjoy. They know how to shake, they know how to bounce and when that is done they know how to fuck…Brooke Beretta is a new girl who really stands out for me. She is perfectly built for this movie with a spectacular ass and breasts that really steal the show. Don't miss this scene…Nice work here with a couple of can't miss scenes and one new girl you won't want to miss….New brunette Brooke Beretta has curves all over the place. Her ass is really hot, but that rack is just crazy. What a fantastic chest this woman has and wow does she know how to shake it…Watch out for this young lady my friends, she's got curves for days".
Most recently, Brooke has treated her fans to some sizzling live sex shows which were first broadcast via Cherry Pimps' Wild On Cam web channel in October 2018 and January 2019. Brooke has also filmed a raunchy Workout Sex Club scene with Keiran Lee that was unveiled via Brazzers in January 2019.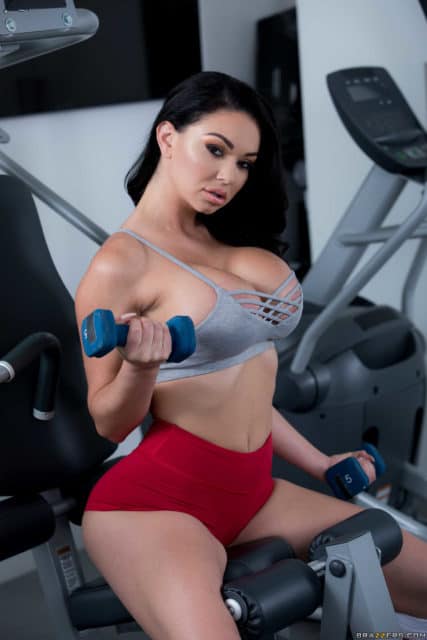 Brooke Beretta in Workout Sex Club – Brazzers
Just when you thought it couldn't get any better, Brooke has started to shoot some incredible virtual reality sex scenes. You'll love immersing yourself within Brooke's kinky Halloween Sluts VR group sex scene with Kenzie Taylor and Whitney Wright that was released via Naughty America VR in October 2018. You'll also love experiencing Brooke's immersive Getting Wet virtual reality sex scene which was unveiled via MILF VR in December 2018 and her intensely alluring Brooke Beretta Fucks You In A Hotel VR experience that was promoted via Naughty America VR in January 2019. It's like you're in the room with Brooke!
When she isn't starring in these popular porn productions, Brooke enjoys working out, kayaking and traveling. As Brooke mentioned in her September 2018 Adult DVD Talk interview;
"I'm really into health and fitness. I do a lot of cross fit, I work with a personal trainer. I do hot yoga. I do long runs like 6 miles. I'm into kayaking. It's about my health and fitness…it makes me feel good! I'm in my late 20s now, keeping up appearances is important. Besides that, if I'm not working out, I love traveling a lot. I love seafood too. I would say that's about it. I love spending time with my girlfriends".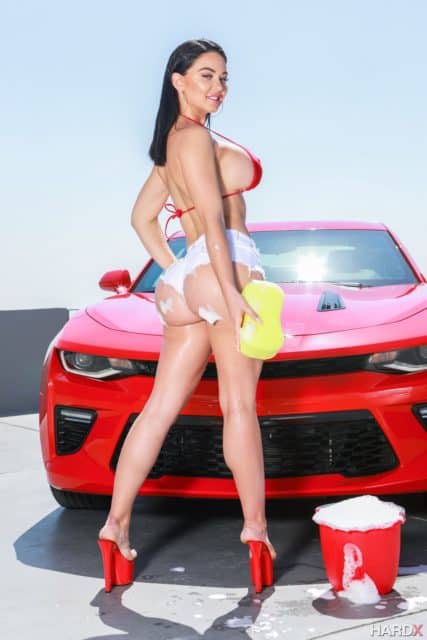 Brooke Beretta in Slippery When Wet! – Hard X – X Empire Galleries
Want to stay updated on all of Brooke's sizzling sex scenes, exclusive web content and upcoming productions? Then use the links provided below to stay in touch with stunning rising star Brooke Beretta!
Social Networks
Twitter : @BrookeBeretta
Instagram : @officialbrookeberetta_
MILF VR : Brooke Beretta VR Scenes
Bang Bros : Brooke Beretta at Bang Bros
Brazzers : Brooke Beretta at Brazzers
Mofos : Brooke Beretta at Mofos
Naughty America : Brooke Beretta at Naughty America
Reality Kings : Brooke Beretta at Reality Kings
True Anal : Brooke Beretta at True Anal
X Empire : Brooke Beretta at X Empire
Wild On Cam : Brooke Beretta at Cherry Pimps/Wild On Cam
Official Website : XXXBeretta.com