Brenna Sparks Biography
Twitter : @brennasparksxxx   MyFreeCams : brenna_sparks   Reality Lovers : Brenna Sparks VR Scenes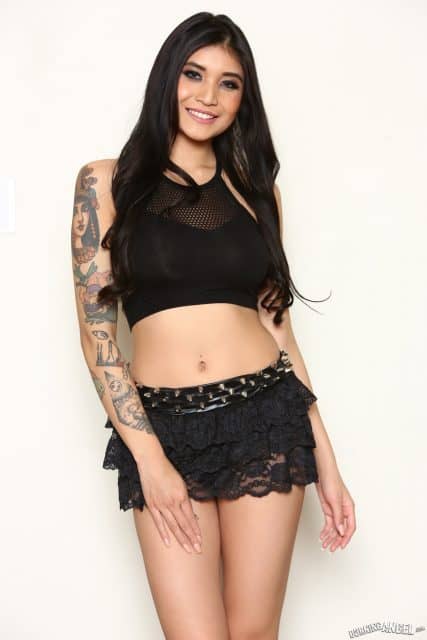 Brenna Sparks at Burning Angel
Personal Info
Name : Brenna Sparks
Date of Birth : February 2nd
Hometown : Las Vegas, Nevada (US)
Measurements : 32C – 24 – 34
Height : 5'5 (1.65m)
Hair Colour : Black
Eye Colour : Brown
Tattoos : A right arm sleeve incorporating various snowflakes, The Rescuers designs, a hot air balloon, a woman's face, two clouds under a rainbow and many more multi-coloured designs
Shoe Size : Women's 7.5 (US)
Years Active : 2016 – present
Number of Scenes : 30+
Brenna Sparks is a rapidly rising starlet who has been performing in porn since 2016. A multi-talented porn star, cam girl and exotic dancer, Brenna has already starred in many best-selling Wicked Pictures, Evil Angel and Girlfriends Films productions which have earned her a notable "Hottest Newcomer (Fan Award)" nomination at the 2018 AVN Awards. Watch this space!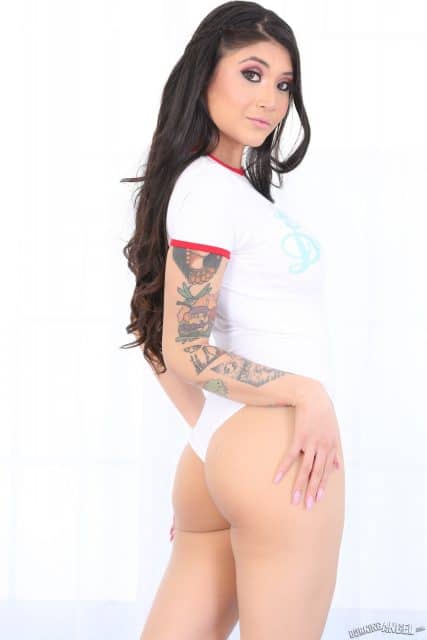 Brenna Sparks at Burning Angel
Hailing from Las Vegas, Nevada, Brenna has Laotian heritage. Despite her confident stage presence, you may be surprised to learn that Brenna was very shy in her younger years. As Brenna explained during her March 2017 Adult DVD Talk interview;
"Growing up I kept to myself. I was very quiet and shy. School was annoying to deal with. I wasn't very popular nor did I seek to become popular. I started working as soon as I could and was on my own and completely taking care of myself by the time I was 18".
After leaving school Brenna worked as a server at Five Guys. Unfulfilled with this 9-5 lifestyle, Brenna decided to indulge her sexual curiosity and started working as an exotic dancer. Brenna has prior dancing experience; having mentioned in a previous Barelist interview that she is flexible, loves ballroom dancing and used to compete when she was younger. Brenna found stripping to be a liberating experience and highlighted in her January 2018 V Porn Blog interview how;
"I got sick of flipping burgers at Five Guys. I wanted something with more freedom. I hated having a schedule, as well as listening to some guy getting paid $4 an hour more than me ordering me to scrub the toilets. Oh, and I hate working a job with no option to grow. Stripping gave me flexibility, it gave me the opportunity to make myself as successful as I wanted to be, and it provided me with an income that made me happy, but also motivated me to push for more. Being 18 years old and not worrying about money was a good feeling. Of course, I had other things I was worried about, like what I wanted to do with my life, but at least the money issues were gone".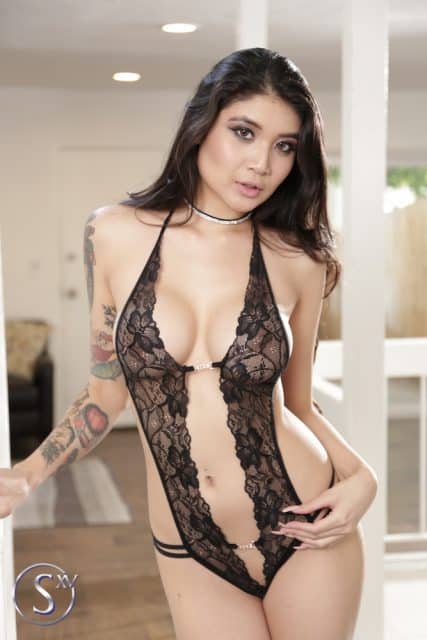 Brenna Sparks – Society 15 Modelling Profile
Performing as an exotic dancer introduced Brenna to the idea of working in the adult film industry so she started to research various adult film talent agencies just to see what she could find. The result was instantaneous; within 24 hours Brenna was receiving responses from multiple agencies! Spurred on by these positive responses Brenna decided to drive to Los Angeles, California, meet with an agency and shoot her first ever sex scenes. Talking about this landmark moment in her life during her January 2018 V Porn Blog interview, Brenna conveyed how;
"Growing up I had a few close friends and my romantic relationships lasted a very long time, so I never really "dated." My personality was a mixture between shy and outgoing, and I've always enjoyed isolation…I've been in the adult industry since I was 18. I started off as a stripper and eventually thought, "Hey, I like sex and I don't mind being recorded. Let's give porn a try!" I proceeded to research agencies for the heck of it and ended up getting responses within 24 hours. I honestly couldn't believe it! After that, I got in the car, drove to L.A. to meet up with the agency, and was soon shooting my first porn".
Brenna remains a multi-talented adult film star, exotic dancer and cam girl who continues to host intimate live chat sessions via MyFreeCams (under the screen name 'brenna_sparks'). When Brenna was asked about the origins of her porn star stage name during her March 2017 Adult DVD Talk interview, she revealed that;
"I like Viking history, so I went with an Old Norse name. The name 'Brenna' means 'sword', and 'Sparks' is just 'sparks', so you can think of it as 'Sword Sparks'".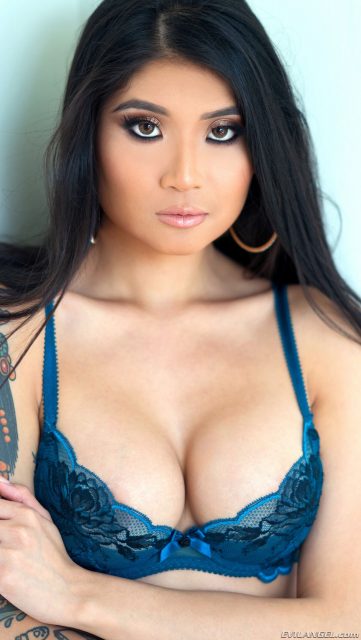 Brenna Sparks at Evil Angel
Brenna Sparks : Adult Film Career
Brenna made her adult film industry debut in late 2016 and some of her earliest porn productions include her Sparks It Up shoot with Gage Sin that was promoted via Reality Kings in December 2016, her Bunk Bed and Bang collaboration with Danny D that was released via Brazzers Network in December 2016 and her sizzling scene with Ryan Driller which was uploaded via Naughty America in December 2016 as part of their My Wife's Hot Friend web series. Brenna discussed shooting her first ever sex scenes within her March 2017 Adult DVD Talk interview, divulging that it was;
"Definitely nervous and confusing. There were a million thoughts going through my head. For one I've never had sex on tape, let alone have people watching me. I also knew very little about the process, so I was kind of awkward too".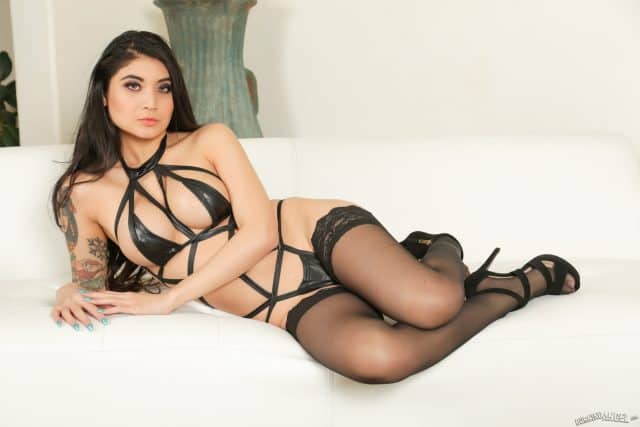 Brenna Sparks at Burning Angel
You'll be happy to hear that working in the adult industry has significantly bolstered Brenna's self-confidence and personal motivation. As Brenna explained during her January 2018 V Porn Blog interview;
"I've grown to be more confident in myself and my abilities. My mind has definitely matured and grown from it. It's definitely made an enormous change for the better, but not for reasons most would think. For example, porn has made me aim higher than I ever did before. It's somehow turned me into a motivated person that's going for things that would have never been attempted at before porn".
Due to her Laotian heritage Brenna has been cast in many Asian themed releases including the Devil's Film productions Pho King Asians (2017) and Asian Strip Mall Massage 3 (2017), Giant Dicks In Asian Chicks 2 (2017) for 3rd Degree, Asian Nuru Massage (2017) for Kinky Spa and Jonni Darkko's Evil Angel sequel release Asian Fuck Faces 4 (2018) featuring Ember Snow, Jade Luv, Jade Kush, Lana Croft, Marica Hase and Nari Park.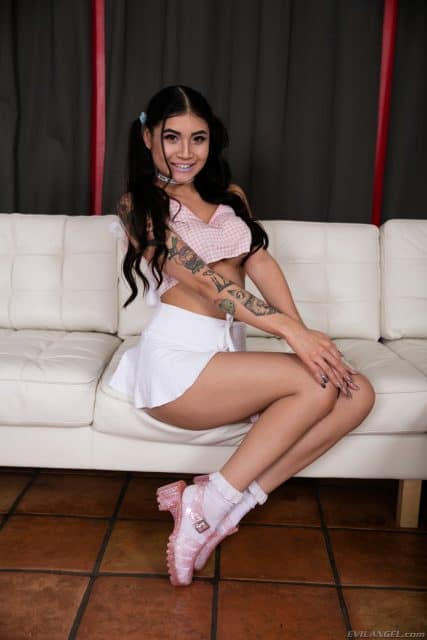 Brenna Sparks in Hookup Hotshot: Dick Appointment – Evil Angel
But wait, it gets even better! Most recently Brenna has starred in, and posed as the box cover model for, Axel Braun's latest Wicked Pictures production Asian Connection 2 (2018). Also starring Ember Snow, Jade Luv, Saya Song and Kimberly Chi, Brenna was thrilled to be featured in this star-studded Asian DVD and enthused in an April 2018 AVN press release how;
"Working with Axel is always amazing and I'm honored to be featured on the cover…I hope my fans enjoy the DVD, especially my scene with Mr. Pete. Please pay for your porn and buy the DVD. Bring to any show I'm at this year, and I will sign it for free".
Famous for her captivating curves, Brenna's stunning 32C assets have earned her starring roles in such big bust themed DVDs as I Love My Sister's Big Tits 7 (2017) for Digital Sin also starring Ivy Rose, Julie Kay, Katy Jayne, Lena Paul and Molly Jane. Talking about her amazing 32C assets during her March 2017 Adult DVD Talk interview, Brenna mentioned that;
"I got them for myself. I had an A cup and didn't feel it suited my body type. I'm not sure how much they help with work, other than making me more confident with myself. Sometimes I miss my A cup though ? funny how you don't appreciate some things until long after they're gone".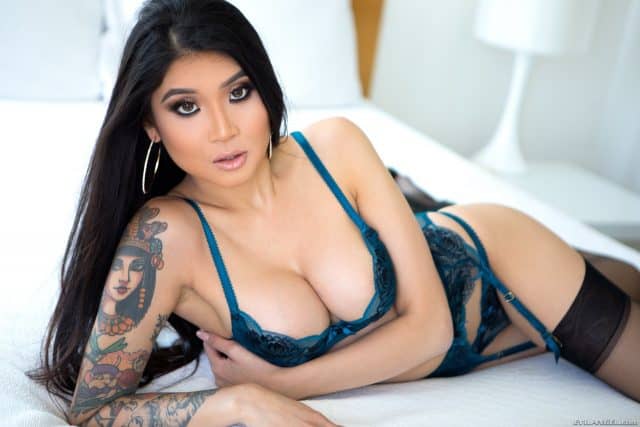 Brenna Sparks at Evil Angel
In addition to her hot hardcore scenes Brenna is a popular girl/girl performer who has been cast in many fan-favourite Girlfriends Films DVDs. We recommend checking out Brenna's steamy shoot with Olive Glass in Bad Lesbian 9 (2017), her kinky role-play with Ember Snow in Cheer Squadovers 24 (2017), her saucy scene with Richelle Ryan in Mother-Daughter Exchange Club 50 (2018) and her scintillating scene with Summer Chase in Please Make Me Lesbian 16 (2018).
Brenna has since shared a seductive scene with Ayumi Anime and Jade Luv that was featured in the Metro/Video Team production No Man's Land: 3 Way Lesbians (2018). Brenna enjoys shooting these sultry girl/girl scenes and mentioned in her March 2017 Adult DVD Talk interview that performing in porn has opened her eyes to how much fun it is performing with girls. As Brenna puts it in her own words;
"How much fun it is to be with girls too! It's definitely something I want to explore further. It's raised confidence in myself, sexually".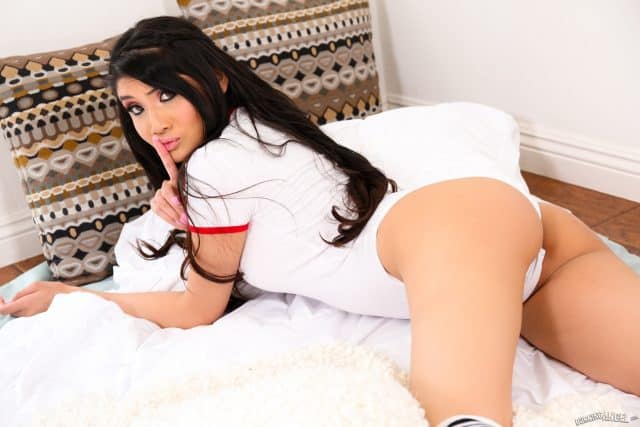 Brenna Sparks at Burning Angel
Want to know the most impressive part? Brenna continues to be cast in a steady stream of popular porn productions such as My Husband Is A Cuckold 2 (2017) for She Will Cheat, Teacher's Assistant (2018) for Fantasy Massage and Big Black Cock FTW (2018) for Burning Angel also starring Ivy Lebelle, Della Dane, Arya Fae, Romi Rain and Joanna Angel. Fans of Brenna Sparks will love viewing her sizzling POV shoot in Bang POV 6 (2017) for Bang Bros, her kinky scene with Bryan Gozzling in the Evil Angel DVD Hookup Hotshot: Dick Appointment (2017), her thrilling Dirty Daughter Dirtier Stepmom three-way with Richelle Ryan and Johnny Castle that was released via Team Skeet in October 2017 and her raunchy scenes with Jason Katana in Evil As They Cum (2017) for Venus Girls Productions.
During this time Brenna continued to upload some exclusive web content via her official Many Vids profile. Brenna enjoys filming these amateur style productions and commented in her Slickster Magazine interview that;
"I personally like the amateur style, it feels a lot more authentic. I do believe we will be seeing a lot more of it, with girls and couples creating their own content".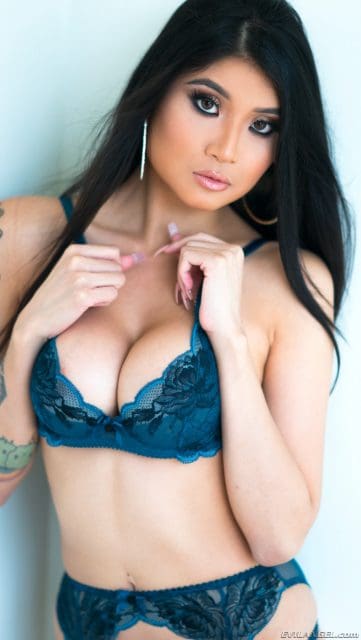 Brenna Sparks at Evil Angel
A landmark moment in Brenna's adult film career occurred in August 2017 when she signed with Kendra Lust's exclusive adult film modelling agency Society 15. Brenna has since starred alongside Kendra in the ArchAngel Productions DVDs Pour It On! Volume 3 (2017) and Kendra Vs. Teens: A POV BJ Movie (2017). Kendra praised Brenna and her fellow cast members in a December 2017 AVN press release, commenting that;
"I really loved making this movie…It was such a sexy thrill directing these naughty teens and challenging and pushing their oral abilities; 'cause who doesn't love a big cock in their mouth? ? They made my job look super easy and I can't wait for the fans to see this one".
Starring in so many best-selling DVDs and raunchy web clips have earned Brenna the title of Fantasy "Girl of the Month" for April 2017. Brenna has since been hailed as All Adult Network's "Girl of the Week" in December 2017 and she received several "Asian Empress of the Year" and "Born To Hand Job" nominations at the 2018 Spank Bank Awards. Most notably, Brenna was nominated for "Hottest Newcomer (Fan Award)" at the 2018 AVN Awards.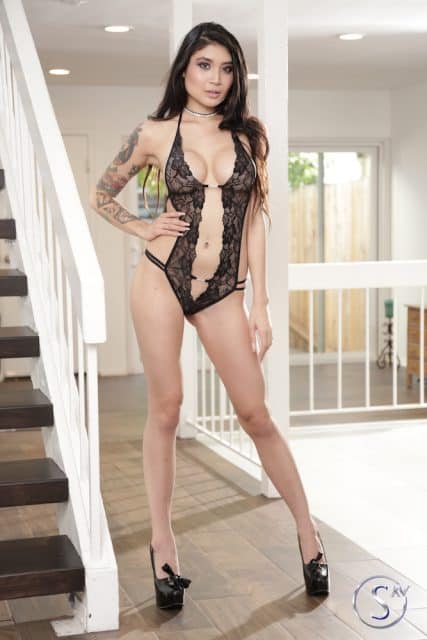 Brenna Sparks – Society 15 Modelling Profile
A fan-favourite performer, in recent months Brenna was cast in the Wood Rocket porn parody Dragon Boob Z (2018) alongside Missy Martinez, Daisy Ducati, Casey Kisses and AJ. Talking about this fun parody release within an April 2018 AVN press release, Brenna eagerly expressed that;
"Dragon Ball Z is one of my favorite anime series, and I was so excited when WoodRocket called me and asked to cast me as the lead…Goku is my favorite character of all time, so to play Gokooze in the parody was amazing! This is my favorite role to date in my adult career. Watch it and give it the thumbs up!".
Want to get up close and personal with Brenna Sparks? Well, you're in luck! Brenna has started to shoot some incredibly immersive virtual reality sex scenes for Reality Lovers. Her Orgasm Museum and Easy Learning VR experiences are must see sex scenes for avid Brenna Sparks fans!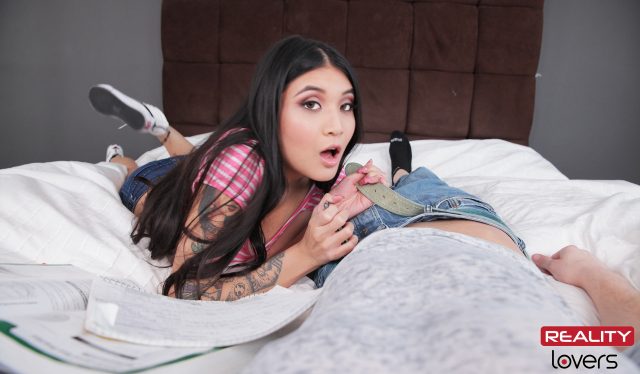 Brenna Sparks in Easy Learning – Reality Lovers
Brenna enjoys the challenge of shooting these VR porn productions and revealed during her December 2017 VRPorn interview how;
"An Orgasm at the Museum" was my very first VR film and my very first experience with VR in general. I actually didn't have that much experience in the adult industry prior to shooting VR. Shooting regular films was difficult enough for me at that time, but throwing in VR really challenged me as a newbie. The entire workflow felt different; from how we shot, positions, and directing. It felt like being thrown into the water when you only sort of know how to swim! I definitely felt overwhelmed, but I pushed through it and it was a great way to establish some street cred in the industry. Shooting regular films felt so much easier for me after that!…
I think LIVE VR would be a very hot concept. The fan would feel like they are interacting with me in that moment. Nothing is recorded but just streamed live for a one-time experience. I don't know if that's possible, but I think is a unique idea…VR will be huge, and any company that pushes to do it will be heavily rewarded later. It's definitely a fresh approach for the porn industry, with lots of potential creative outcomes".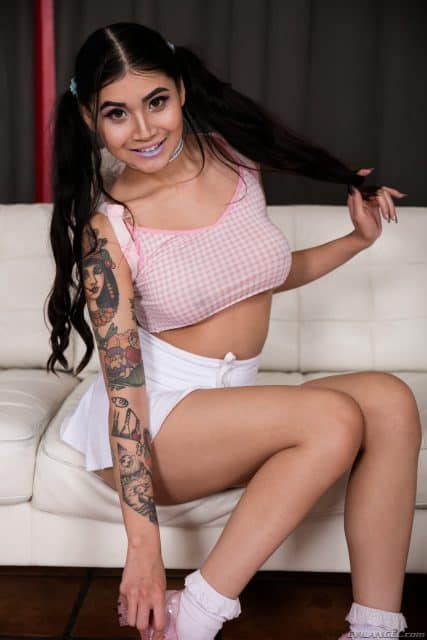 Brenna Sparks in Hookup Hotshot: Dick Appointment – Evil Angel
When she isn't performing in porn Brenna enjoys interacting with her fans via social media, hosting intimate live chat sessions via MyFreeCams (under the screen name 'brenna_sparks') and updating her personal blog site, BrennaSparks.com, with unique and engaging content. As Brenna explains via her personal blog;
"This blog has been created to give all my current (and future) fans a deeper look into my everyday life. Platforms like Twitter and Instagram are not the ideal choice for what I want to do and I felt that the best way to go about achieving my goal is to just make this blog and start sharing!…
I'll begin my blogging journey by sharing many of my interests and every day activities. I'll use it like my own personal journal, but would also like to talk about things like my personal philosophies, vegetarianism, cryptocurrency, photos and videos of all sorts, reviews, and a bunch of other stuff that interests me. As time goes on, I will narrow down my focus on just a couple of categories, but for now I just want to be me…
Thank you for being my fan and your support. If you have any suggestions or requests, send me a message or comment. That said, I hope to make this site another interesting place for you to visit!".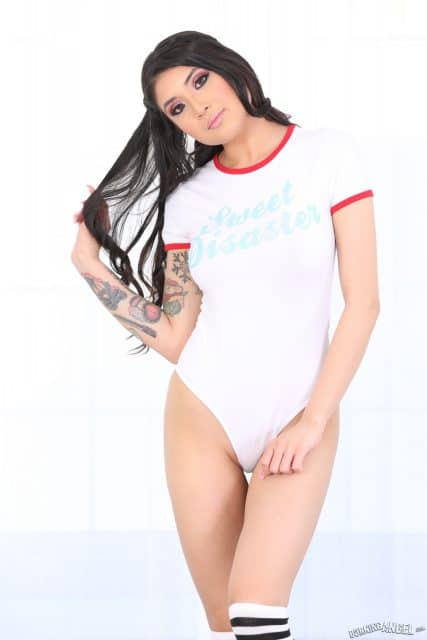 Brenna Sparks at Burning Angel
In fact, you may be interested to learn that Brenna is interested in cryptocurrency and becoming a venture capitalist. When Brenna was asked to give some advice on the cryptocurrency market during her January 2018 V Porn Blog interview she advocated that;
"It is the future. You either get with the program and benefit from it, or kick yourself later…Get in and start putting your money to use. Don't just let it all sit in a bank doing nothing. Put some of it to work and give it the opportunity to reward you.

– For people who don't have a lot to invest with, take a shot at lesser known coins. I'm talking coins with $20 million dollar market cap or less. Do some research on it, but go for those because they will provide you with the best chances at actually growing your initial investment into something substantial. $100 in Bitcoin won't make you much, but $100 in some lesser known "alt-coin" could make you $5,000. When you have $5,000 or more to invest with, that's when you start to have a lot of options and possibilities.

– Invest only what you would be okay with not having a few months later. For example, if you invest $500, would that $500 be important to have a few months later, or can you live without it? The correct answer would be you can live without it".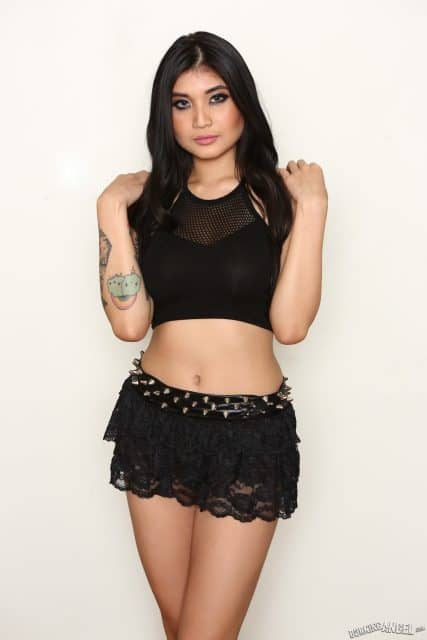 Brenna Sparks at Burning Angel
What does the future hold for rapidly rising starlet Brenna Sparks? We'll just have to wait and see! Until then, you can keep yourself updated on all of Brenna's exclusive web content, lusty live cam shows and upcoming projects using the links provided below!
Social Networks
Official Website : BrennaSparks.com
Twitter : @brennasparksxxx
Instagram : @brennasparksofficial
MyFreeCams : brenna_sparks
Reality Lovers : Brenna Sparks VR Scenes
Many Vids : Brenna Sparks
Brazzers : Brenna Sparks at Brazzers
Naughty America : Brenna Sparks at Naughty America
Reality Kings : Brenna Sparks at Reality Kings
Evil Angel : Brenna Sparks at Evil Angel
Burning Angel : Brenna Sparks at Burning Angel
IMDB Profile : Brenna Sparks Filmography