Athena Rayne Biography
Twitter : @WildgirlAthena   Chaturbate : magickkitty97   Evil Angel : Athena Rayne Sex Scenes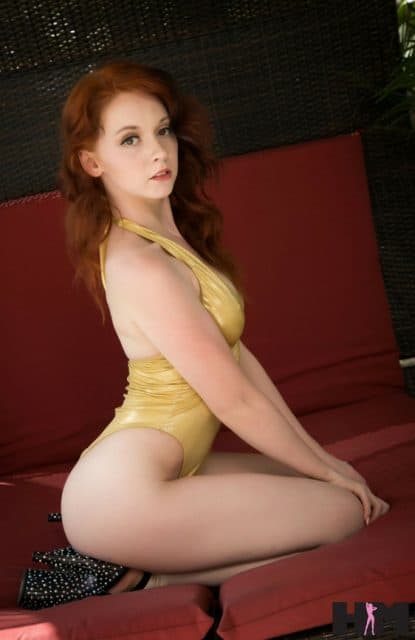 Athena Rayne – Hussie Models
Personal Info
Name : Athena Rayne
Date of Birth : November 18th
Measurements : 30D – 23 – 36
Height : 5'3 (1.60m)
Hair Colour : Red
Eye Colour : Hazel
Shoe Size : Women's 5/6 (US)
Pets : 1 dog (called Angel)
Years Active : 2017 – present
Number of Scenes : 40+
If you love ravishing redheads then you have to check out Athena Rayne! A multi-talented porn star, model and cam girl, Athena first started performing in porn in late 2017 and she has already attracted a devoted fan following with her stunning natural beauty, raunchy web clips and sizzling live cam shows. In fact, Athena won "Best 'O' Face" at the 2019 Spank Bank Awards.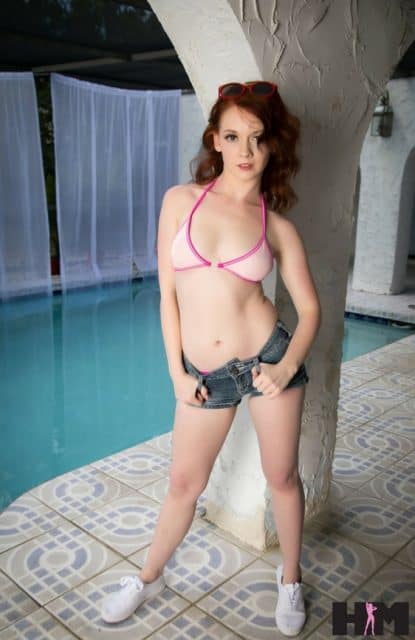 Athena Rayne – Hussie Models
So where did it all begin? Hailing from Savannah, Georgia, Athena first started working in the adult entertainment industry as a professional dominatrix. From here, Athena started hosting lusty live cam shows via Chaturbate (as 'magickkitty97'). Athena first thought about pursuing a career in porn after she attended her first nude party where she was paid to have sex live. Athena enjoyed the experience so much that she decided to contact the adult film modelling agency Hussie Models. Athena was subsequently contacted by Hussie Models in November 2017 and they flew her out to Florida to shoot her first ever sex scenes. Talking about this pivotal period of her life during her November 2018 Adult DVD Talk interview, Athena recounted how;
"I was a military brat, my dad was in the army. I went to middle school and high school in Savannah, GA, which was probably 20-30 miles away from the main city so kind of out in the boonies. I was an artsy kid, always part of theatre, painting, dance, music…anything where I could use my mind or my body to create something or do something. I was not popular but I also wasn't a loser. I didn't really fit in with one clique but I was friends with all cliques. I did not lose my virginity until I was 17 but I did have this fascination with sex my entire life, even at a young age. I never viewed it the same way as everyone else. I was raised very Christian, very Republican and, clearly, I am on the very opposite end of that spectrum now. I think that definitely played a part into the idealizing of sexuality. For my peers, it was a very dirty, taboo thing but, for me, it wasn't really strange in my mind. I went to college in San Antonio, TX for about half a year after leaving high school, hated it and wished I had never done it. I realized I was dropping a ton of money on a theatre degree that I would never use. Dropped out, went back home. Still had this fascination with sexuality and became an art model. Then I started doing Pro Dom and that clearly didn't go over very well with my parents. I got kicked out and ended up homeless. Then I decided I wanted to start camming. I started camming out of a Starbucks bathroom for 4 months. Finally, I made enough to move out with a roommate. That roommate turned out to be my current boyfriend and is now my ManyVids partner. And my story continues on. The conversation about porn itself took place in October of last year, right before me and my boyfriend attended our first nude party. We were paid to be there to have sex live. We're both swingers and huge exhibitionists. After that, I applied to my first agency and didn't hear back from then until the day after my 20th birthday which was in November. I flew into Florida the next week and have been in it ever since!".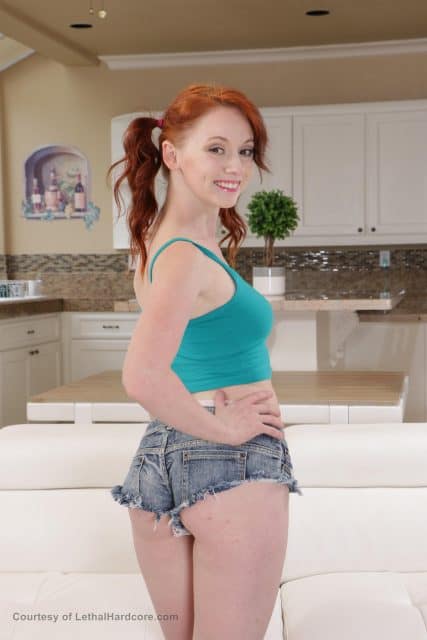 Athena Rayne in Stepdaddy's Butthole Buffet 3 – Lethal Hardcore
Athena Rayne : Adult Film Career
Athena made her adult film industry debut in late 2017 and many of her earliest porn productions were filmed by the Florida based porn networks Reality Kings, Bang Bros and Team Skeet. We recommend checking out Athena's steamy The Smaller The Better shoot with Kyle Mason which was uploaded via Team Skeet in January 2018, her raunchy Bang Bus scene with J-Mac that was promoted via the Bang Bros network in January 2018 and her sizzling Athena Cums From Miami shoot with Van Wylde that was released via Reality Kings in March 2018. Athena discussed her reasons for performing in porn during her November 2018 Adult DVD Talk interview, explaining how;
"I feel like I had already been acting in theatre; I had been in a professional theatre group, I had been working in music…there really was nothing else for me to try. And, again, being so creative and having such a different view of sexuality, porn was the only medium I hadn't done yet. (laughs) I was so bored with my life and my town that I just wanted out. I was really, really excited to try to take my ideals on sexuality and my ideas of human nature as a whole to a whole different level. That was a big reason why I wanted to do it. Another is just that I just loved having adventures. I always loved finding new things to do, finding weird things that other people didn't want to be a part of and being a part of it. The reality is, I feel so many people are scared of the things they shouldn't really be scared of and I've made one of my life's missions is that if I'm scared of something, I just do it. And a big part of it is, I don't ever want a thought of wanting to do something, not doing it, and then grow old one day and be 'I wish I would have done that!' I don't want any regrets".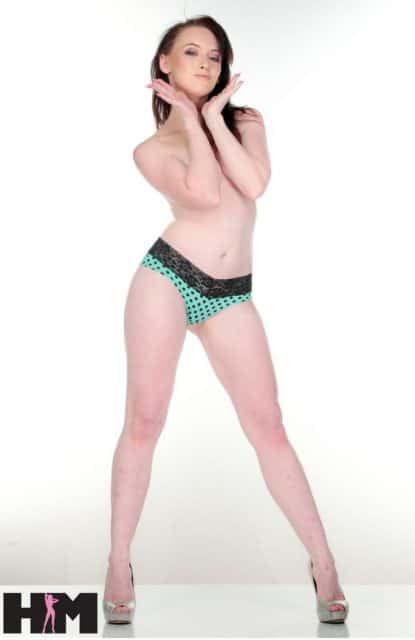 Athena Rayne – Hussie Models
Throughout 2018 Athena has continued to shoot a wealth of  hot hardcore web clips for many fan-favourite porn sites. Fans of Athena Rayne will love watching her seductive Ballerinas 2 group shoot with Ashly Anderson, Shae Celestine and Bambino which was promoted via BFFS.com in January 2018 as well as watching her two-part Bootcamp Baddies collaborations with Miranda Miller, Eric John and Tommy Gunn that were unveiled via DaughterSwap.com in February 2018. Athena has since shared a steamy Save Water Bro, Let's Shower Together! scene with Kyle Mason which was uploaded via FamilyStrokes.com in March 2018 and she has starred alongside Harmony Wonder, Kylie Martin and Brick Danger in a raunchy Pussy Palace group scene that was filmed for BFFS.com in April 2018.
But that's not all! Rapidly rising starlet Athena has also been featured in the Lethal Hardcore DVD Stepdaddy's Butthole Buffet 3 (2018) also starring Valentina Nappi, Lexi Lore and Scarlett Mae. Most notably, Athena has appeared in Bryan Gozzling's Evil Angel DVD Hookup Hotshot: Sex Tapes 3 (2018) alongside Amara Romani, Anastasia Knight and Rope Baby. Talking about this titillating production via a February 2018 AVN press release, director Bryan Gozzling conveyed how;
"I decided to move things in an even more authentic direction…Hookup Hotshot has always been about real sex with real girls. With my new 'Sex Tapes,' I'm able to show the process of domination and submission more clearly. 'Sex Tapes' are the raw, stripped-down version of what I do, and they make it possible to achieve some really amazing stuff…By being alone with the girls, we are able to focus more on each other, and the sex is more natural and intense because of that".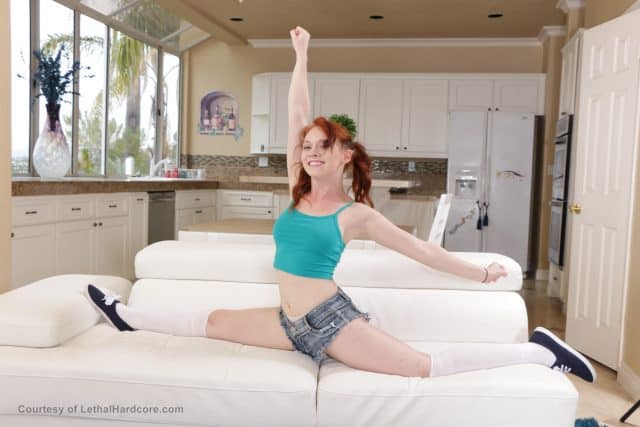 Athena Rayne in Stepdaddy's Butthole Buffet 3 – Lethal Hardcore – Adult Empire Galleries
Currently represented by Hussie Models, Athena continues to shoot new porn productions as well as releasing custom videos via Many Vids and hosting regular lusty live cam shows via Chaturbate (under the screen name 'magickkitty97'). In her spare time, Athena volunteers at the Humane Society and she also pursues various creative costume and fashion projects. As Athena explained in her November 2018 Adult DVD Talk interview;
"I'm an art kid; I like creating things. I create all my costumes for my events. I like to sew, I like doing fashion as well. One thing that I will be releasing eventually is my own fashion line. I like getting my hands into things whether it's machinery or sewing or crafting or whatever. And then I also volunteer a lot at the Humane Society. I've been doing that since I was 8 years old. I do a lot of the stuff that others don't want to do like mucking up stalls and doing the stuff that everyone hates. Everyone likes playing with the animals but that's not what you're here for, you're here to help".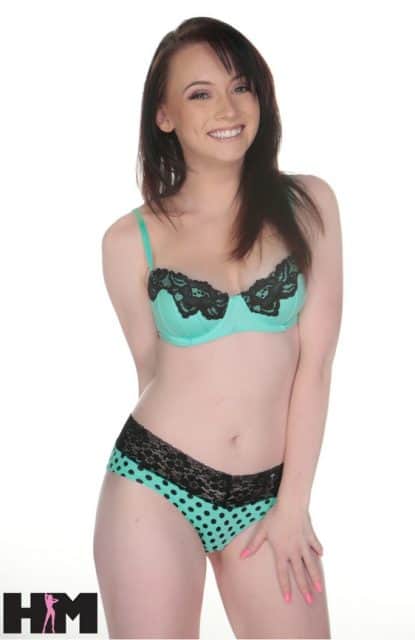 Athena Rayne – Hussie Models
Want to keep yourself updated on Athena's latest porn productions, kinky live cam shows and exclusive web content? Then use the links provided below to stay connected with your favorite ravishing redhead Athena Rayne!
Social Networks
Twitter : @WildgirlAthena
Chaturbate : magickkitty97
Many Vids : RealAthenaRayne
Evil Angel : Athena Rayne at Evil Angel
Reality Kings : Athena Rayne at Reality Kings
IMDB Profile : Athena Rayne Filmography