Aruba Jasmine Biography
 Twitter : @Aruwba   Digital Playground : Aruba Jasmine Movies   Brazzers : Aruba Jasmine Sex Scenes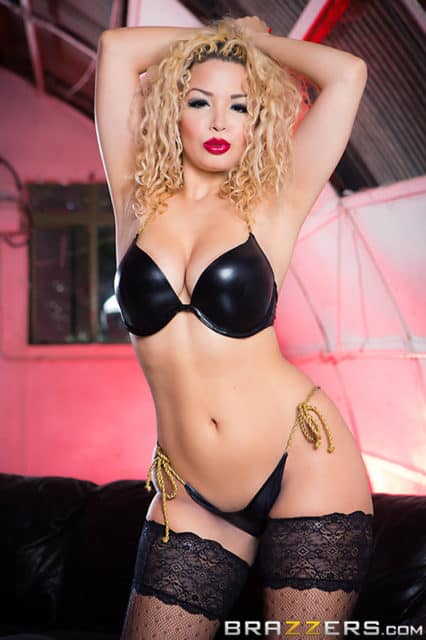 Click here to watch Aruba Jasmine in "Aruba's Thirsty For Big Cock" at Brazzers
Aruba Jasmine – Personal Info
Name : Aruba Jasmine
Date of Birth : March 7th
Star Sign : Pisces
Hometown : London, England (UK)
Measurements : 32G – 25 – 37
Height : 5'7 (1.70m)
Hair Colour : Blonde
Eye Colour : Brown
Shoe Size : Women's 5 (UK)
Years Active : 2014 – present
Number of Scenes : 20+
Aruba Jasmine is a beautiful busty blonde adult film star, glamour model and ASMR YouTuber from London, England. Over the years Aruba Jasmine's amazing (all-natural!) curves, fun loving personality and sizzling scenes for Brazzers, Digital Playground and Harmony Films have earned her a devoted global fan base as well as a notable "Favorite Cam Girl (Fan Award)" nomination at the 2017 AVN Awards and a coveted "Web Star of the Year" nomination at the 2017 XBIZ Awards.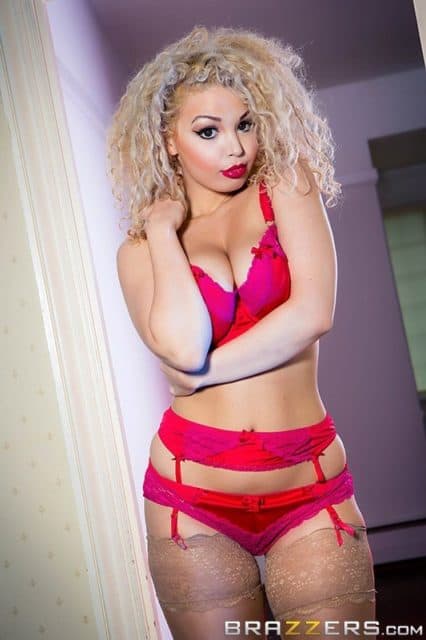 Click here to watch Aruba Jasmine in "Sexual Activity" at Brazzers
Aruba Jasmine : Adult Film Career
Hailing from London, England, Aruba Jasmine is a natural born performer who plays guitar and produces her own music. Aruba Jasmine first started working in the adult entertainment industry as a glamour model. Aruba Jasmine has appeared on the British adult TV channel Babestation and she has modelled for several British adult magazines including Razzle (Volume 32 Issue #2 and Volume 36 Issue #6), Escort (Volume 34 Issue #2), Men Only (Volume 79 Issue #3), Escort XXX-Rated (Issue #82) and Best Of Men Only (Issue #49).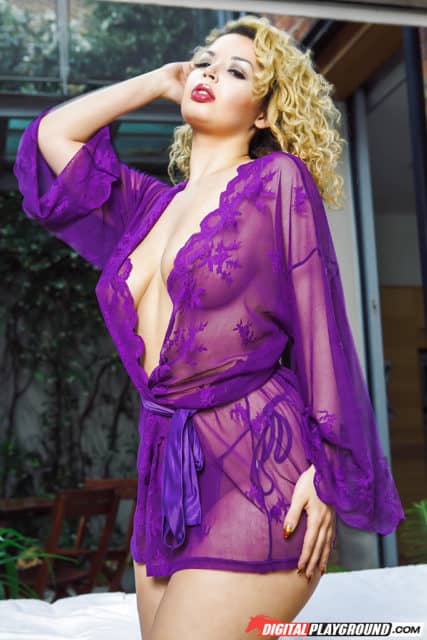 Click here to watch Aruba Jasmine in "Big Tits Massage" at Digital Playground
Aruba Jasmine made her official porn debut in late 2014 when she filmed some sizzling scenes for Brazzers Network. We recommend watching Aruba Jasmine's steamy Sexual Activity boy/girl debut with Ryan Ryder in October 2014, her raunchy Aruba's Thirsty For Big Cock scene with Danny D in November 2014 and her sensual Hump In The Night scene with Chessie Kay in November 2014.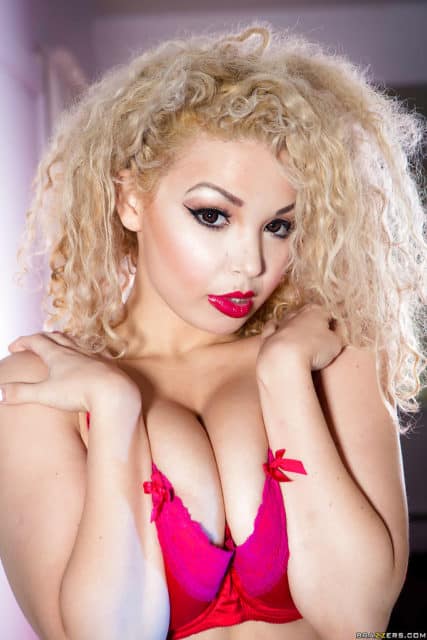 Click here to watch Aruba Jasmine in "Sexual Activity" at Brazzers
One of Aruba Jasmine's hottest Brazzers sex scenes has been her sensational Storm of Kings XXX Parody: Part 2 three-way with Peta Jensen and Rob Diesel in April 2016. This epic Game of Thrones inspired shoot was featured in the Brazzers movie Storm of Kings XXX Parody (2016) which won "Best Art Direction" at the 2017 XBIZ Awards. Directed by Dick Bush and featuring Aletta Ocean, Anissa Kate and Jasmine Jae, Storm of Kings was an instant hit that received a total of 7 nominations at the 2017 AVN Awards (including "Best Screenplay: Parody" and "Best Foreign Feature"). This star-studded porn parody also received 12 nominations at the 2017 XBIZ Awards (including "Parody Release of the Year"). What's more, Storm of Kings was recommended by Adult DVD Talk critic Astro Knight who highlighted in his April 2017 film review how;
"Storm of Kings strikes me as a very well done porn parody of [Game of Thrones]. The story flows nicely while grabbing on little things here and there, and the production aspects and special effects help nicely. Ryan Ryder gives a fantastic performance as King Jasper, and really comes off as a complete bastard…The rest of the cast is just as solid, and that includes plenty in non-sex roles. Sexually the movie is also very good. Anissa and Jasmine start things out very nice with their anal threesome and cumswapping for Ryan, and Aruba and Peta follow them up with another solid threesome taking on Rob. Aletta and Marc turn out a very hot scene, and Marc is just as solid taking on Peta in the final scene…Storm of Kings is a solid parody that should please fans of the source material and nicely rides the line between being a solid rental and a decent purchase…It's a solid parody and porn release even if you haven't seen the original".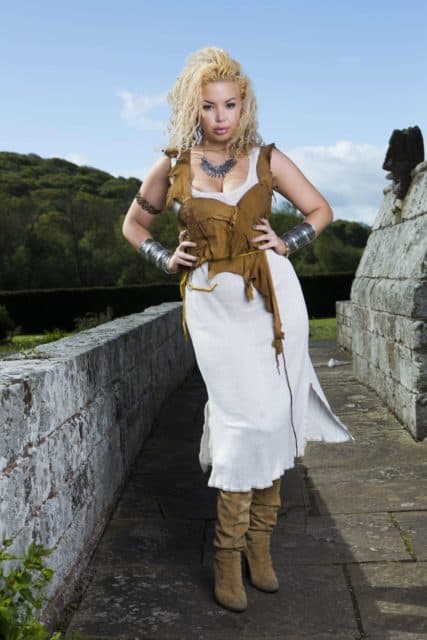 Click here to watch Aruba Jasmine in "Storm of Kings XXX Parody: Part 2" at Brazzers
In addition to her critically acclaimed Brazzers collaborations, Aruba Jasmine has shot for a wide range of popular porn networks. You'll love watching Aruba Jasmine's sultry scene in the Paradise Films DVD The Girls Club (2015), her sensual A Hard Day's Work scene for Babes.com in September 2015 and her steamy Big Tits Massage scene which was released via Digital Playground in September 2015. During this time Aruba Jasmine also shared a sizzling scene with Sienna Day in the JoyBear Pictures release Fit: Beautiful Bodies In Motion (2015) that was nominated for "Foreign Feature Release of the Year" at the 2016 XBIZ Awards and she shared a raunchy scene with Luke Hotrod in the Spizoo movie Demon Lust (2015) which was nominated for "Best Comedy" and "Best Special Effects" at the 2016 AVN Awards.
Wait, there's even more. Fans of Aruba Jasmine should also check out her scintillating scene with J. Crew in Marco Salieri's Last Dance #2 (2015), her raunchy romp with Marc Rose in the Harmony Films release Obscene Little Whores (2016) and her thrilling three-way with JezziCat and Proxy Paige in the Inflagranti movie Kinky Euro Girls (2016) starring Carly Rae and Lucia Love. Not to be missed!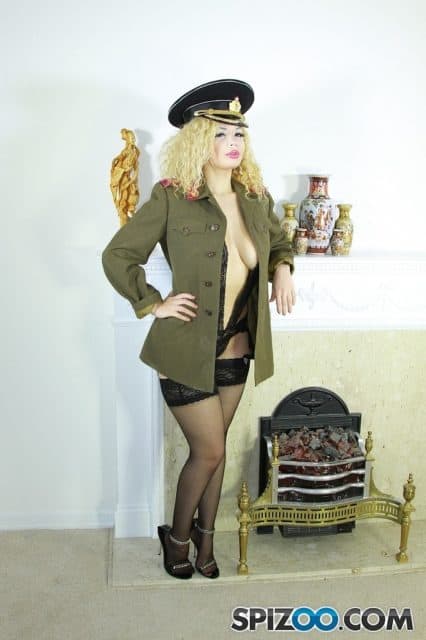 Click here to watch Aruba Jasmine in "Aruba Jasmine Sex Time (featured in Demon Lust)" at Spizoo
In recent years, Aruba Jasmine has appeared in the Taboo Dream Studios production Ralph's European Vacation (2018) and she has filmed a sensational scene with Andy Mann for the UK Porn Kings sequel release Hardcore Honeys #2 (2018) featuring Chessie Kay, Jasmine Jae, Lexi Valentine and Tamara Grace. Aruba Jasmine has also collaborated with Lili (aka LiliMissArab) on a thrilling I Wish two-part shoot that was released via Lili's official website LiliMissArab.com in July 2019. Aruba Jasmine received high praise from her I Wish co-star Lili who enthusiastically stated in a July 2019 XBIZ News press release that;
"Jasmine and I are complete opposites, but we look alluring together and my members are really going to enjoy and be talking about this scene for some time. If you're not already a VIP member, you need to be to see my scenes with Jasmine!".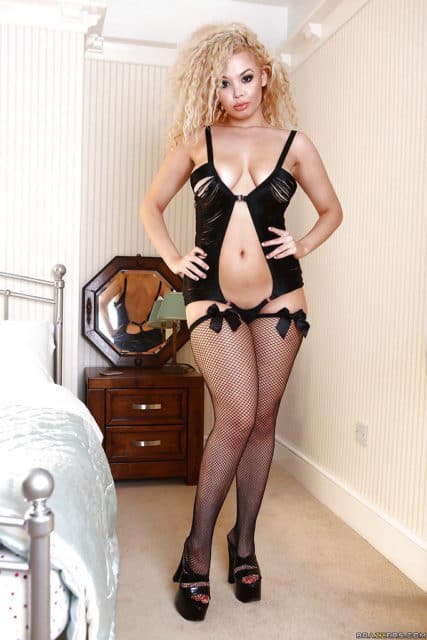 Click here to watch Aruba Jasmine in "Hump In The Night" at Brazzers
When she isn't shooting these sensational sex scenes, Busty blonde bombshell Aruba Jasmine enjoys interacting with her fans via social media and creating her own experimental ASMR videos that she uploads via her official YouTube channel ('Ruwba'). Aruba Jasmine loves creating these titillating ASMR videos and she has eagerly expressed how;
"I just love to create videos and experiment with ASMR !! I genuinely believe it is possible to care for someone that you have never met. This is true regardless of your perceptions of me or any hate directed towards me. I feel nothing but LOVE and I want to be your friend through the hard or lonely times giving you comfort and TINGLES with my PLAYFUL interpretation of ASMR and my use of Binaural 3D Sounds. I began with guitar and then music production, so ASMR became a natural progression for me to explore sounds and the impact they can have on us. I made this channel to help you relax, so join me on a FUN and experimental journey to awaken your senses give you tingles, lower anxiety and help you to sleep. Wherever you may be at this moment in time, mentally or physically, I'm here for you! Just stick on your headphones and escape with me!".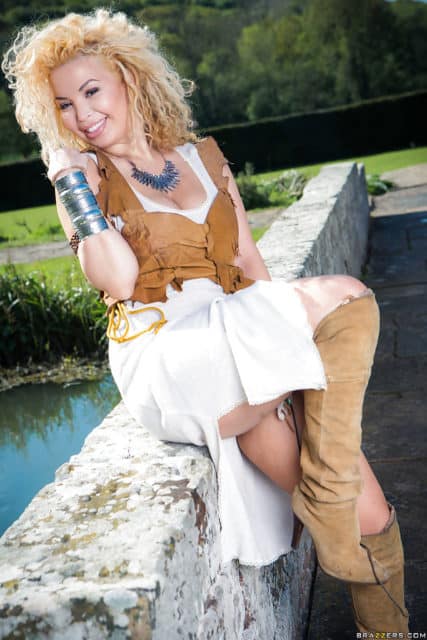 Click here to watch Aruba Jasmine in "Storm of Kings XXX Parody: Part 2" at Brazzers
Keen to stay connected with your favorite British blonde pornstar Aruba Jasmine? Then use the links provided below to discover all of Aruba Jasmine's hottest sex scenes, exclusive web content and upcoming projects!
Aruba Jasmine – Social Networks
Twitter : @Aruwba
Instagram : @aruba_juice
Babes : Aruba at Babes
Brazzers : Aruba at Brazzers
Digital Playground : Aruba at Digital Playground
Spizoo : Aruba at Spizoo
YouTube : Ruwba
Adult Empire : Aruba's DVDs
Official Website : Aruwba.com
The Nude : Aruba at Nude EU
Babeapedia : Aruba at Babeapedia