April Flores Biography
Twitter : @TheAprilFlores , @fatgirlfantasies Kink : April Flores BDSM & Fetish Content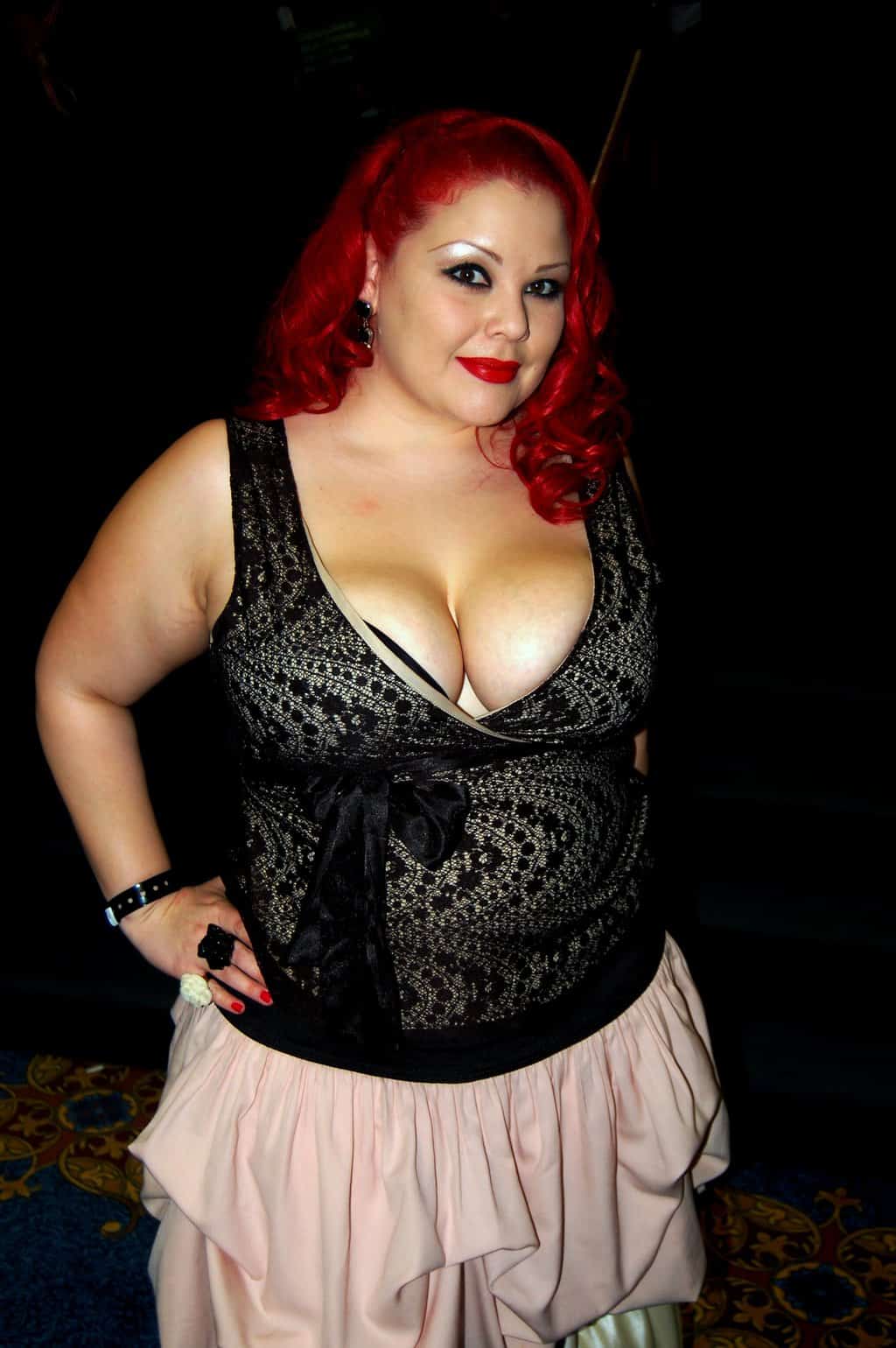 April Flores at 2009 AVN Expo – Image Sourced from Wikimedia
April Flores – Personal Info
Name : April Flores
Alias : Fatty Delicious, Fatty D
Date of Birth: April 20th, 1982
Home Town : Los Angeles, California (US)
Hair Colour : Red/ Pink / Black
Eye Colour : Brown
Tattoos : Designs on her upper and lower back, a multicoloured butterflies design on her right calf and a large multicoloured floral design on her left calf


Shoe Size : Women's 7.5 (US)
Years Active : 2005 – present
Number of Scenes : 40+
Without a doubt, April Flores is one of the most prominent and pioneering BBW performers in the adult entertainment industry. For over a decade April's magazine modelling shoots, DVD feature releases and online sex scenes have captivated, entertained and inspired fans across the globe as well as earning her a wealth of distinguished adult film awards.
Before she became the BBW porn superstar that her fans know and love, April was born and raised in Los Angeles, California, within a very religious household. April has mixed Ecuadorian and Mexican heritage and has jokingly described herself as 'Mexidorian'. April commented within her February 2008 Hot Movies For Her interview that when she was younger she often struggled with trying to figure out what her future career would be;
"Trying to figure out what I wanted to do with my life was always hard for me. One of the biggest reasons I didn't finish college is that I couldn't decide on a one major. I guess I would be a make-up artist, or a real estate agent.<!–".
April is a confident model and performer but she has revealed that during her childhood she was a quiet, reserved and shy girl who often struggled with weight-related issues. However, after losing weight during her college years, April reached the conclusion that 'life is just the same' and decided to embrace her curvaceous figure. After all, as April has candidly stated within her February 2013 'My History With The Word Fat And How I Came To Embrace It' article for xojane.com;
"From an early age, we are constantly bombarded with messages about what the society deems an acceptable body and these images have an effect on our psyche. I am trying to do my little part in providing some balance for other women who have a body that doesn't necessarily fit into that standard…
Yes, I am fat. I see the word fat as a descriptive word. Just like the word red. My hair is red and I am fat. It has no harmful power over me — in fact, I have given it so much of a different, positive meaning that I completely embrace it. I am excited that I am able to continue to share this idea with other women through my work in films, with my writing and with the photography book Fat Girl, which will be published very soon…
I believe that the association of the word fat can evolve from a negative and become a positive, and I feel that the evolution has already begun. This is a pretty exciting time for us Fat Girls!".
Moreover, April has praised the rising popularity of BBW porn stars within her 2014 XCritic column interview, highlighting that;
"The beautiful thing about life is that there is variety! Some people prefer thinner bodies, and some prefer larger bodies. Diversity in representation is necessary and is the way of the future. It's true that mainstream porn is kind of set in its beauty standards, but so is every other form of visual media. What can be done to fix it? Change is unavoidable and is happening now. I think back to when I first started, and contrast it to the visibility women of size have now and it is significant. I am optimistic that media will evolve and include racial, sexual, gender, and body diversity".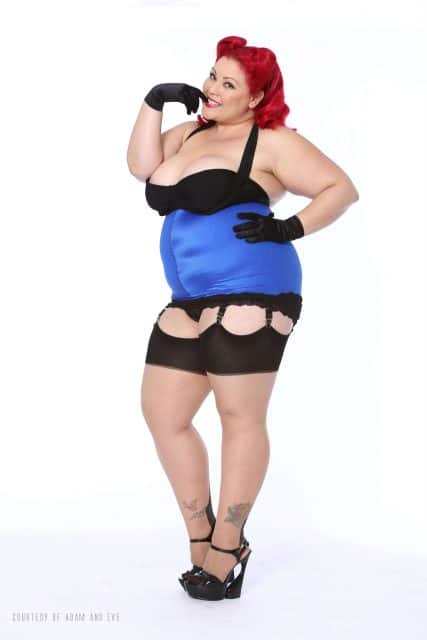 April Flores in Plus Size Pin Ups – Adam & Eve – Adult Empire Galleries
April Flores : Adult Film Career
April began working within the adult entertainment industry in June 2000 when she posed as a model for photographer Carlos Batts for the very first time. This sparked the beginning of April's adult film career as well as a 13 year long romantic relationship with Carlos whom she married in 2001. Before Carlos tragically died on October 22nd, 2013, April and Carlos formed an amazing adult film partnership that transformed the BBW porn industry. April recounted her first ever photo shoot with Carlos within an August 2015 Crave Online interview. As this insightful article reports;
"It was June 2000, and Flores was on her way to their very first shoot. As she walked up the stairs to his apartment, suddenly it hit her – modelling for Batts would change her life forever…
Of their first shoot, Batts remembers, "I wanted to impress her. Everything was mellow, comfortable, super sexy." Then he asked her to put on a bikini. April remembers that. "I felt like, 'Aww hell no,'" but then she decided, "Fuck it." She threw caution to the wind, and posed for what would be the first of hundreds of shoots that would occur between the two for the next twelve years".
As April and Carlos further elaborated within their joint The Rumpus interview in August 2013;
"April Flores: When I met Carlos at the gallery, he looked at me and I thought he was giving me a flirtatious look—I thought we gave each other "the sex look," but I found out later it was an "I want to shoot you" look. I didn't know the difference yet.
Carlos Batts: I gave her a business card, but I was sincere in my cheesiness. She just had this awesome face and she looked pretty curvy and I thought, Holy shit, this is amazing! My first instinct was to shoot her. Then when I shot her the first time, I glitched a little bit because I thought she was so hot. She was covered in baby oil and smelled nice and she looked very comfortable and it blew my mind. She was super-relaxed and super hot—the best model I ever shot. Usually you get one of the five things you need in a model, but she had that moment where she had it all. After the first time, there was definitely a crush. The second shoot became the cover of my book Wild Skin.
Flores: I was nervous—I had never shot with a stranger before. I'd only taken pictures with friends. He said, "I wanna shoot you in a bikini," and I was like, "I don't know about that." He had one. I wanted to do a good job, and decided I didn't want to let my insecurities get in the way of his vision".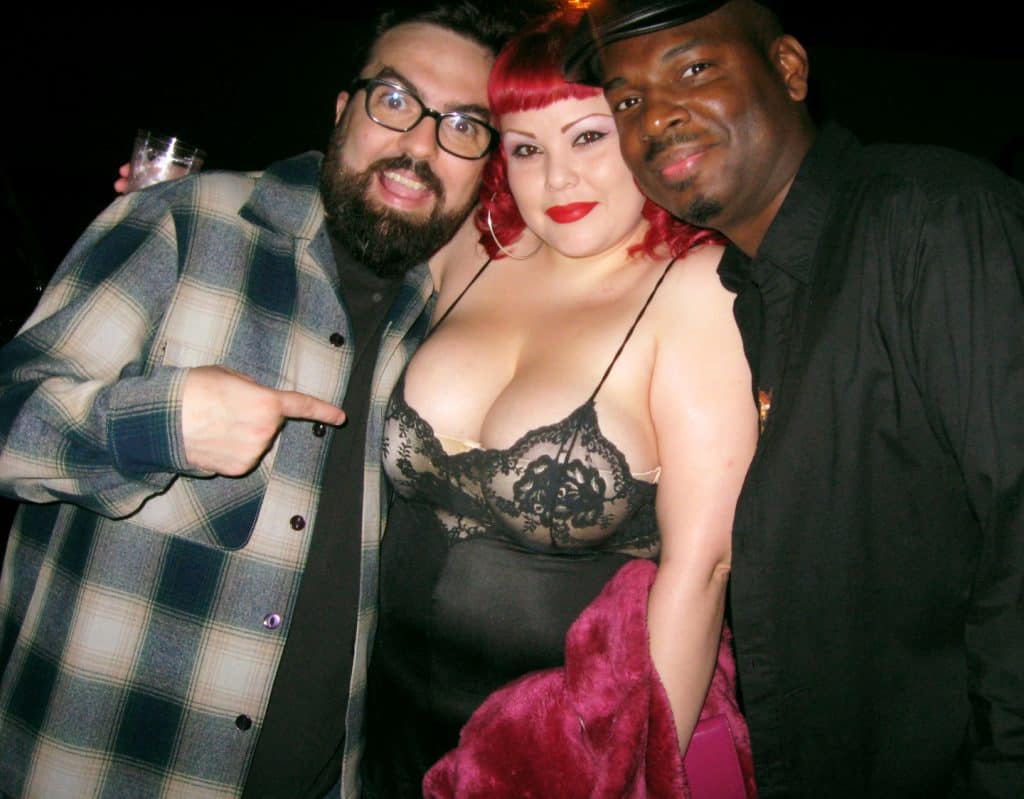 Coop, April Flores and Carlos Batts – Image Sourced from Wikimedia
With Carlos' support and guidance, April progressed from shooting high quality photo sets to filming her own amateur porn productions. As April and Carlos explained within their joint August 2013 The Rumpus interview;
"Flores: We had been shooting stills for four or five years and then Carlos started to have a video camera set up, taping our shoots. Slowly, the focus shifted from the still camera to moving.
Batts: It was very slow because at first it was just to document. She had such good symmetry and doesn't have a blemish on her skin, so I knew it was gonna work. I was shooting and thinking, If you talk on camera, people are gonna pass out. Our first movie was more of a musical experimenting and documentation. Then there was Voluptuous Life, which was full-blown sex culture outside of porn—exotic dancers and art shows and cool stuff that was happening outside of the goofy shit that happens in the San Fernando Valley.
Rumpus: What about the transition from shooting nudes to having sex on film?
Flores: It started with photos, and then I became more comfortable. While we were working on Fat Girl, in 2005, Carlos had shot Belladonna and we met with her for the book project, and though she declined to be shot, she asked me to do a scene with her on camera. She was super nice and I felt very comfortable with her and I thought it'd be a one-time thing—a story to entertain myself with when I'm old. I wore a wig because I wanted to remain anonymous.
Batts: It was the early stages of what we have now. We just had a basic blog and there wasn't really the mass production there is now.
Flores: That was the first woman I had sex with. I try to live my life by saying "yes." I'd rather look back and say, "I did this," rather than, "I could have done that." She's so experienced, so she lead the scene and I did my own thing. I had a glass dildo in her ass and I was thinking, Oh my god, I hope it doesn't break! I was wearing black gloves. I was trying to perform and be an interesting subject, as well".
As mentioned above, during this time Carlos worked with numerous glamour model and adult film stars including the fetish porn superstar Belladonna. In this manner, April and Belladonna soon began to collaborate on photo shoots together. In fact, in October 2005 April ended up shooting her first ever sex scenes with Belladonna for the Evil Angel DVD feature release Evil Pink 2 (2005). Upon discussing her adult film industry debut within her 2014 XCritic column interview, April revealed that;
"I did my first scene with Belladonna in October 2005, so it has been exactly 9 years! My husband Carlos Batts had shot her for a Japanese magazine and she saw my photo on the cover of his book Wild Skin. She liked my look so we met up to see how we could work together. We had wanted to shoot her for our ongoing "Fat Girl" photobook project (which incidentally was published last year) but instead she asked me to be in a scene with her for her movie Evil Pink 2. I did it to experience something new and I thought it was going to be a onetime thing".



April Flores – Adult Empire Galleries
April has since collaborated with Belladonna on multiple DVD feature releases that were produced by Evil Angel and Belladonna Entertainment such as; Belladonna's Strapped Dykes (2009) with Jiz Lee, Aiden Starr, Bobbi Starr, Sinn Sage and Syd Blakovich, Belladonna's Foot Soldiers 2: The Feet Market (2009) also starring Lexi Belle, Alexa Jordan, Ava Rose and Miley Villa, Dark Meat 3 (2009) also starring Krissy Leigh, Dana DeArmond, Jessi Star, Chavon Taylor and Charlotte Vale, and Belladonna's Toy Box (2009) with Kimberly Kane, Lexi Belle, Nikki Rhodes, Alexis Texas, Bobbi Starr, Gianna Michaels, Claire Adams, Sinn Sage and Alexa Jordan.


Throughout her adult film career April has performed within multiple best-selling DVD titles for Evil Angel including Marshmallow Girls: BBW Idol April Flores (2014) alongside Aiden Starr, Betty Blac, Tommy Pistol, D. Snoop, Donny Sins, Isiah Maxwell and Moe Johnson. This spectacular signature showcase was nominated for "Best Specialty Release: Other Genre" at the 2015 AVN Awards and for "Best BBW Release" at the 2015 Nightmoves Awards. April's star showcase was praised by XCritic column writer Rob Perez who enthused within his July 2014 online review how;
"April Flores represents the BBW genre like no other performer today. As sexy as she is April represents the every woman, and that is why she is a highly regarded performer, activist, and artist. But she is also sexual, playful and all the other qualities that make her the best plus size performer today, possibly ever. She has broken down so many doors throughout her career but Marshmallow Girls may be her greatest achievement—her own showcase title for a major non-niche studio, the first BBW performer to accomplish that. This will open a lot of doors for other BBWs but what we care most about is the content. Let's just say April is at her all-time best here. The time to showcase April Flores is now and with all these amazing scenes we can say that her fans will not be disappointed with this release…
Aiden Starr has directed a near flawless production. Forget that it stars a BBW Performer/Legend, this is a textbook example of how to shoot showcases—by putting the performer in a new light in a way the fans don't normally see them. That's a showcase title, not a title with a bunch of scenes that just show the same girl over and over again. I firmly believe Marshmallow Girls is simply one of the very best showcase titles of the year and of course, April Flores displays her natural sexual aura that has made her a superstar. She is a cross genre performer who belongs in the same breath and sentence as any other mainstream performer. Her body looks amazing, her beautiful face is addicting, but her sexual appetite is what will grab you for sure. It's a terrific, strokable fest that you'll want to replay over and over again. Marshmallow Girls earns itself a Highly Recommended rating, definitely".
As mentioned in Rob Perez's XCritic film review, Marshmallow Girls: BBW Idol April Flores was directed by Aiden Starr with whom April has continued to collaborate on several fan-favourite DVD titles for Evil Angel and Aiden Starr Corporations such as Marshmallow Girls 2 (2015) for which April's girl/girl sex scene with Brianna Rose was nominated for "Best Scene – All-Girl" at the 2016 XBIZ Awards. April and Aiden have also worked together on Curvy Chicks Love Dicks (2015) that was nominated for "Best BBW Release" at the 2015 Nightmoves Awards, as well as Marshmallow Girls 4 (2015) and most recently Interracial Sex Addicts (2017) that was directed by Aiden Starr and which featured April alongside famous female porn stars Proxy Paige, Casey Calvert, Penny Pax, Riley Reid, Sarah Shevon, Maddy O'Reilly, Ana Foxxx and Carissa Montgomery.
In addition to her best-selling Evil Angel DVD titles, April has also starred within several best-selling Adam & Eve DVD feature releases including; Kiss Attack (2008) with Claire Adams, Voluptuous Biker Babes (2008) with Bunny De La Cruz and Desiree Devine, World Of Sexual Variations 3 (2009) , World Of Sexual Variations 4 (2012) and Plus Size Pin Ups (2015). In fact, April has worked with a wide range of leading pornographic productions on numerous best-selling DVD feature releases such as First Dates (2008) for Abigail Productions with Varla Vex, Morphine (2007) for Vivid with Kimberly Kane, Waist Watchers 4 (2008) for Zero Tolerance, Live In My Secrets (2009) for Vivid Alt. Studios and Nostalgia (2009) for Reel Queer Productions. In 2010 April was directed by Dave Naz for the Heartcore Films DVD title Turbo Rock (2010) and she has also performed in the Cheeky Monkey parody production Alice (2010) with Aiden Starr, Andy San Dimas, Sunny Lane, Katie St. Ives and Kimberly Kane that was nominated for "Best Parody : Drama" at the 2010 AVN Awards.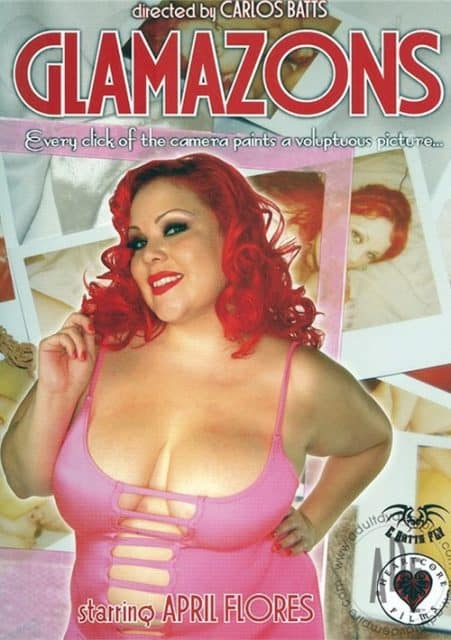 April Flores in Glamazons – Adult Empire Galleries
A defining moment in April's adult film career occurred in 2007 when April performed the DVD feature release Voluptuous Life with Kimberly Kane and Peppermint Fatty. Voluptuous Life was directed by April's husband Carlos Batts for Bad Seed Studios and it paved the way for Carlos to direct April in multiple fan-favourite DVD titles for Heartcore Films such as Behind The Red Door (2009) that featured April in five sizzling solo, girl/girl and group sex scenes with Ashley Blue, Kelly Shibari and Syd Blakovich, Glamazons (2009) with Alix Lakehurst, Ruby Violence and Jerry, and Dangerous Curves (2010). Fans of April Flores should also check out such C. Batts Fly Studios productions as Alter Ego (2010), Sola (2011), Artcore (2011) with Courtney Trouble and Kelly Shibari and April Flores World (2012) that was nominated for "Specialty Release of the Year" at the 2013 XBIZ Awards.
Another pivotal moment in April's adult film career came in 2010 when she began collaborating with the pioneering adult film star and director Courtney Trouble on numerous DVD feature releases for her pioneering production company Trouble Films. Fans eager to discover April and Courtney's earliest collaborations should check out the Reel Queer Productions and Trouble Films DVD titles Bordello (2010), Roulette: Toronto (2010) and Roulette: Dirty South (2010). One of Courtney and April's most successful porn collaborations to date has been Live Sex Show (2012) for Trouble Films that showcased April in several saucy sex scenes with Courtney Trouble, Jiz Lee, Nina Hartley, Tina Horn and Roger Wood that were filmed live during 2010's San Francisco's Masturbate-a-Thon. Hosted by Carol Queen in front of 200 people, Live Sex Show received rave reviews from XCritic column writers Apache Warrior and Rob Perez who exclaimed within their separate film views that;
"This film is a true winner. The sex is incredibly captivating and entertaining. Jolene Parton and Peter Devries give a personal one on one performance that feel like they are a real couple and in their own private world. April Flores and her mysterious partner showed diligent desire in wanting to please one another. Tina Horn and Roger Wood had the most intense performance that had sincere trust and love combined with kinky playfulness and heated fuckable passion. Nina Hartley and Jiz Lee are entertainers who can interact with an audience while still keeping their eye on the sexual prize. A lot of credit must go to all of the performers who contributed to this production since The Center for Sex & Culture is a marvelous place and its goals are so important. I highly recommend this film" [Apache Warrior].


"I've watched a lot of porn films over the past 20 years but this was a truly unique experience. I wouldn't exactly put this on for my jerk off enjoyment however, there is plenty of replay value here. It is an excellent art film first and foremost and while having sex in front of an audience is not new at all, this is clearly one of the best "live sex show" adult movies ever filmed. This is the nature of Queer porn, a genre that is not too well known outside it's fan base but a genre I feel could definitely find an audience outside its market. It takes a lot of courage to film such a taboo scene such as fisting but Nina and Jizz show that fisting can be a mutually beautiful, natural sex act. Tina and Roger definitely show how a real if not the "normal" lesbian couple get it on, displaying one of the freshest, hottest girl/girl sex scenes I've seen in a long time. Kimberly and Jolene show that even the most average looking girl can have very high sexual appeal. Of course April is impressive as always and Courtney is a cute BBW with the sexual appetite of a tiger who can easily handle herself sexually with some top name talent. I'm definitely impressed with the quality of the production, the uniqueness and the balls it took to release such a DVD. It is definitely one of the most unique releases of the past year and a DVD worthy of your time to check out. With a one hour time limit, it packs a lot punch in that time frame. It easily earns itself an XCritic Pick!" [Rob Perez].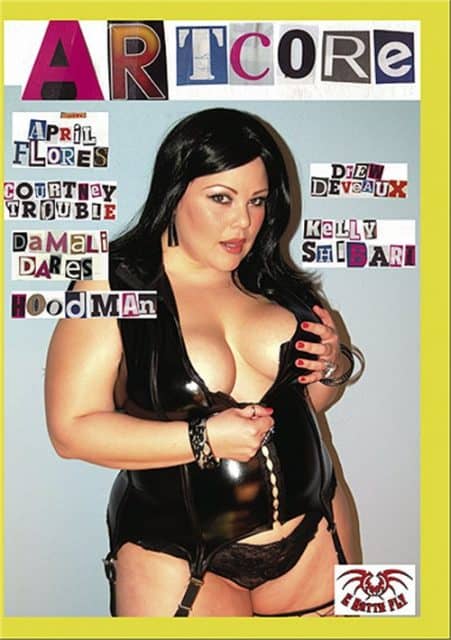 April Flores in Artcore – Adult Empire Galleries
From 2012 onwards April has collaborated with her friend and fellow porn star Courtney Trouble on numerous groundbreaking pornographic productions for Trouble Films including Fuckstyles Of The Queer And Famous (2012), Lesbian Curves 2: Hard Femme (2013) that was nominated for "Feminist Porn Release of the Year" at the 2014 XBIZ Awards, Lesbian Curves 3 (2014), and the show stopping production Fucking Mystic (2014) with Betty Blac, Iris Indigo, Daisy Ducati, Ivy Dykes, Jeze Belle, Sandy Bottoms, Kitty Stryker, Lyric Seal, Vivienne Dawn, Jiz Lee, Andre Shakti, Chelsea Poe, B Nefarious, James Darling, Juba Kalamka, Ramses Rodstein and Ruckus XXX that was nominated for "Best DVD" at the 2015 Transgender Erotica Awards and for "Best Soundtrack" at the 2015 AVN Awards. Upon being asked about her ongoing friendship and adult film collaborations with Courtney Trouble during her illuminating XCritic column interview, April enthusiastically commented that;
"I love working with Courtney who is a mentor, collaborator and dear friend. We met at the AEE Convention in Las Vegas in 2009. Courtney was there on business and came up to me with an enthusiastic introduction. It was later in the day and I was pretty exhausted, but we instantly hit it off. We took a selfie, (before that was even a thing) and we met up the next day as well. I could have never imagined how valuable and significant our friendship would become and there is so much more ahead!".
Over the years April has established herself as one of the best BBW porn stars in the industry. Some of April's moat popular BBW feature releases include; Her Little Secret (2010) for Triangle Films that featured April in a girl/girl sex scene with Adrianna Nicole, Plumpers At Play 6 (2010) for Sensational Video, Rough Sex 2 (2010) for Vivid with Claire Adams that was nominated for "Best Vignette Release" at the 2011 AVN Awards, Scale Bustin Babes 36 (2010) and Whale Watching 7 (2010) that were both filmed for Rodnievision, Alpha Femmes (2011) for Anna Devia Productions with Jiz Lee, the spectacular Adam & Eve DVD compilation title Binging On Blowjobs the Adam & Eve femdom pegging feature release Strap On Bonanza (2011), Lesbian Truth Or Dare 5 (2011) for Sweetheart Video with Nina Hartley, Boob-A-Licious Babes 4 (2013) for Adam & Eve, and Mystery World Of Sex (2013) for Mystery Films.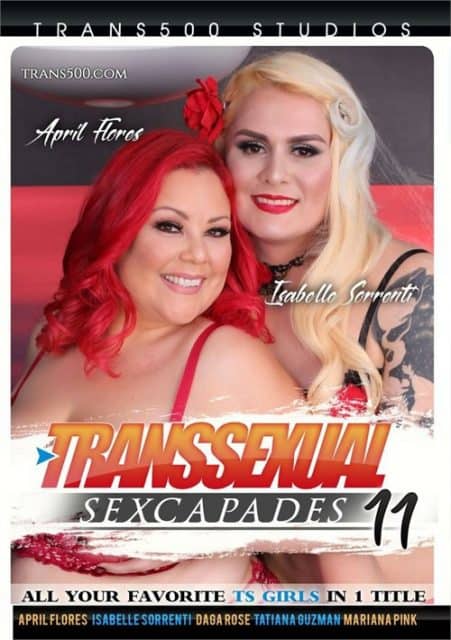 April Flores and Isabella Sorrenti in Transsexual Sexcapades 11 – Trans 500 – Adult Empire Galleries
Performing within these fan-favourite DVD feature releases has earned April a wealth of adult entertainment accolades over the years. Some of April's most impressive adult film award wins and notable nominations include;
2010: FPA Awards winner "Heartthrob of the Year"
2011: AVN Awards nominee "Crossover Star of the Year"
2012: BBW Fan Fest Awards winner "Creative BBW of the Year"
2013: BBW Fan Fest Awards winner "Hall Of Fame Inductee"
2014: AVN Awards winner "BBW Performer of the Year"
2015: AVN Awards winner "BBW Performer of the Year"
2015: Nightmoves Awards winner "Best BBW Performer"
2015: Biggie Awards winner "Best Lesbian Scene of the Year" Marshmallow Girls 2 (with Brianna Rose)


2016: AVN Awards nominee "BBW Performer of the Year"
2017: AVN Awards nominee "BBW Performer of the Year"
April was thrilled to receive these prestigious adult film awards and sincerely enthused within her March 2015 AVN interview that;
"My immediate reaction … was a mixture of gratitude and surprise…I feel supported by the people I respect and by my peers. I feel like I'm a true part of this industry … independently from Carlos [Batts, her late husband]. Winning this year feels like I am a part of this whole machine that is pornography".
Following her 2015 "BBW Performer of the Year" AVN Awards win, April was directed by Kitty Stryker for the Trouble Films feature release Here Kitty Kitty (2015) with Cinnamon Maxxine, Kitty Stryker, Miss Quin and Ruckus XXX. Here Kitty Kitty was praised by XCritic column writer Apache Warrior who advocated within his online review that it;
"will definitely get you turned on a lot. The women are quite attractive with April Flores, Miss Quin, and Kitty Stryker leading the way. Kitty directed a very good film that showcased herself well. She was very unselfish as she allowed her partners to shine through amazingly well. The girl on girl sex is hot and those who enjoy BBW women will want this film. Gorgeous April Flores is not only a babelicious sex symbol, but her skills as a performer in the BBW arena are legendary. Meanwhile, Cinnamon Maxxine is a passionate and driven finger fucker who can give any pussy it's worthwhile workout. Pretty Miss Quin deserves to be filmed more as she will become a fan favorite. The viewers can see that she loves to pleasure women. As for the three-way, it's pretty hot. Ned Would and Ruckus give Kitty a hot fuck especially Ned who gives her a cool creampie. The gay sex between the guys is also quite good. I especially enjoyed the cocksucking moments. I highly recommend this film a lot".
In June 2015 April made her adult film debut on the fetish porn site Kink.com when she filmed three saucy BDSM and femdom pegging sex scenes for Kink.com's fan-favourite Divine Bitches and Kink University web series. April showcased her femdom prowess in a three-way sex scene with fellow femdom fatale Mona Wales and male porn star Will Havoc titled Baby Wants To Fuck! AVN BBW of the Year April Flores! for their Divine Bitches web series, as well as shooting another titillating Divine Bitches three-way sex scene with Mimosa and Sebastian Keys titled Daffodils: BBW Juicy Smother Fuck Indulgence. In June 2015 April also filmed a captivating three-way sex scene with Camille Black and Will Havoc titled Big & Beautiful Sex techniques that was distributed via Kink.com as part of their compelling Kink University fetish porn education web series.
In August 2015 April launched her official plus-size porn site FatGirlFantasies.com which enabled her to begin directing her own web content. April discussed the inspiration for FatGirlFantasies.com within an August 2015 AVN press release; revealing that;
"Back in early 2014 when I was still in deep shock from the loss of my late husband, Carlos Batts, Courtney Trouble proposed the idea of Fat Girl Fantasies…I think Courtney saw that it could be a good way for me to channel my sadness into creativity while keeping in line with the work that Carlos and I had been doing. Fat Girl Fantasies developed from love—the love between friends who use the medium of pornography to express themselves. Fat Girl Fantasies was conceived from the need to show the world how beautiful and desirable a sexual fat woman is…
Personally, I have long felt that the term BBW, while not inherently offensive, does not represent who I am as a performer. I know I'm not the only performer who feels that way. The crew of TROUBLEfilms is excited to expand the opportunities of plus-sized performers beyond the constraints of the BBW genre by showcasing the fantasies of the performers, to the delight of their fans!…The general feeling is that we all want to help each other out … so I'm really excited to use that momentum to launch my website and to include these women".
FatGirlFantasies.com has enabled April to direct, produce and star within all manner of raunchy BBW web content alongside fellow plus-size porn superstars Eliza Allure, Cinnamon Maxxine, Karla Lane, Jade Rose, Courtney Trouble and Kitty Stryker. What's more, April has also filmed some kinky FatFantasies.com content with mainstream porn stars Asa Akira, James Darling and Isaiah Maxwell in order to embrace performers of all body types. Fans eager to discover April Flores' exciting new BBW content should check out the FatGirlFantasies.com and Troubles Films DVD collaborations Gold (2016) and Glitter (2016).
With regards to her future adult film industry plans, April conveyed within her March 2015 AVN interview that she plans to film a wide range of exciting new content for her new plus-size porn site; possibly even her first ever anal sex scene! As April herself stated;
"My first anal scene will definitely be for my website that we're launching in the spring…If I do something that big it's going to be for my company, my website. I think it's going to be cool".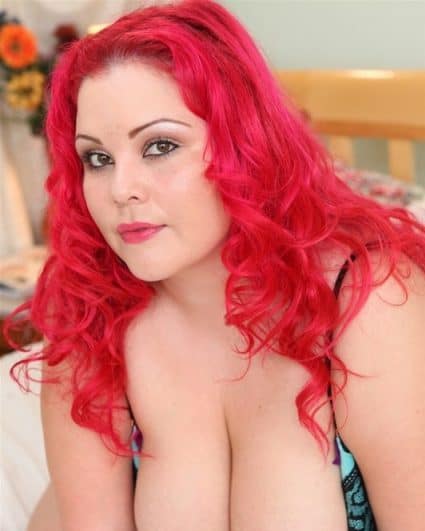 April Flores in Lesbian Truth or Dare 5 – Sweetheart Video
April Flores : Art Exhibits & Literary Works
Throughout her adult film career April Flores and her husband Carlos Batts were a major driving force in many BBW art exhibits and literary works. For instance, in 2009 April unveiled her first ever moulded sex toy; a life-sized inflatable doll titled Voluptuous Pussy that served as an exact replica of April's body. Often referred to as 'the first realistic plus-size sex toy', Voluptuous Pussy was made by sex-toy manufacturers Topco from a high quality Cyber Skin material and it proved to be an instant success among April's international fan following. In fact, April's Voluptuous Cyber Skin Love Toy was even presented at a unique art exhibit titled The April Flores Toy Exhibit that was organised by Topco Sales and held at The La Luz de Jesus Gallery in Los Angeles in May 2009. Following this successful exhibit, in December 2009 April also hosted the April Flores XXX-Rated Toy Show at the Antebellum Gallery in Hollywood, California.
April has since participated in such groundbreaking events as the first ever Queer Porn Festival in Brooklyn in April 2015 which she helped organise alongside her fellow porn professionals Stoya, Jiz Lee, Courtney Trouble, Tobi Hill-Meyer, Chelsea Poe, and Papi Coxxx among others. April has also been featured within the Nude Survey One erotic art exhibit that was hosted at the Jamie Brooks Fine Art Gallery in Costa Mesa, California, in April 2015 and which showcased photos, paintings and sculptures from over 30 artists. In September 2015 April participated in the FSC (Free Speech Coalition) After Dark: Capes & Panties porn star cosplay fashion show and auction that were held at the Supperclub LA in Hollywood, California. Most recently, April joined forces with her fellow BBW performers to take part in Eliza Allure's Real Bodies – A Body Positive Art Show that was held at the Beauty Bar in Las Vegas in January 2016 in order to raise funds for ItGetsBetter.org.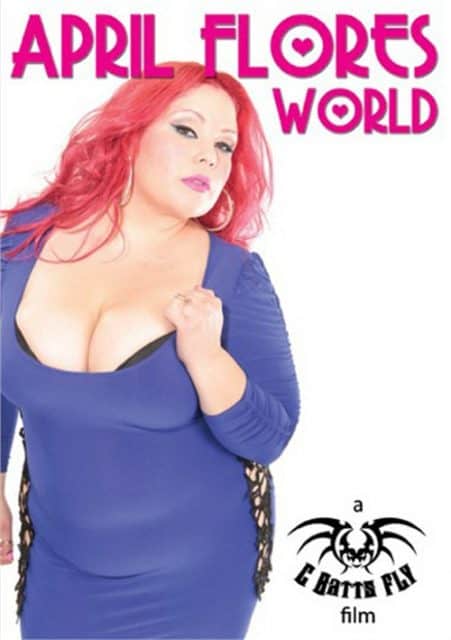 April in April Flores World – Adult Empire Galleries
In addition to her art exhibit projects, in 2013 April co-authored a fine art book with her husband Carlos Batts titled Fat Girl that was published by Rare Bird Books. Consisting of photographs taken by Carlos, an introduction written by April and a foreword written by Miss Rosen, this fabulous fine art book was unveiled at an exclusive art show held at the MOCA (Museum of Contemporary Art) Gallery and at the Coagula Curatorial Gallery both of which can be found in downtown Los Angeles, California. Fat Girl symbolised the couple's twelve year partnership and served as Carlos' fourth artistic publication. When asked about whether they consider themselves to be an active part of the fat acceptance movement within their joint The Rumpus interview in August 2013, April and Carlos elaborated on the ways in which works of art such as Fat Girl can be utilised as powerful form of activism;
"Flores: I think, in my own way, I am being an activist with my body being the tool, but an activist for everything I stand for—self-expression, body positivity, sex positivity, female-positive stuff. It's not just fat.
Batts: Art is the strongest form of activism. Art encompasses everything. It encompasses the queer movement, fat activism, racism, all the "isms"—that's our job. We're not supposed to be total consumers…even though I want to be rich and have a million dollar boat, but my motivation is to cross boundaries and create a dialogue, and that's what I've done it for since I was a kid".
After all, Fat Girl showed plus-size models as glamorous, sexual icons and it received a wealth of positive reviews from leading American and European publications such as Screw Magazine, Photographie and Hersfelder Zeitung. Some of these glowing endorsements for Fat Girl have been listed below;
"In Hollywood, it seems, young and willing women stand on line to let Carlos Batts shoot photos of them in his idiosyncratic, eccentric manner. At his studio in Los Angeles, Batts transforms them into fetish divas and goddesses of lust. A few well-known porno performers also number among his models. The result is a multidimensional and unprecedented mosaic of crazily erotic photos. This is a book that every collector simply must have in his collection" [Screw Magazine].
"Batts' pictures are enlivened by his unmistakable style. He meticulously stages his models' erotic auras. He's long since made a name for himself in the USA as an innovative newcomer. Stars of the fashion and music scene (for example, the rap musician Snoop Dog) book him for their shootings" [Photographie].
"One can only stare in astonishment at the creativity and inventiveness of this American, who has settled in Hollywood" [Hersfelder Zeitung].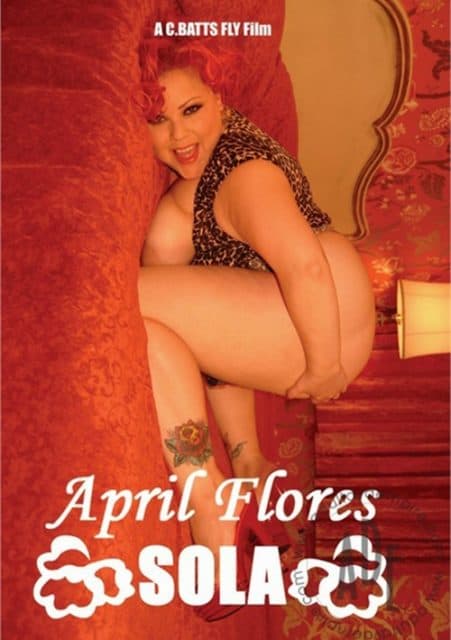 April Flores in Sola – Adult Empire Galleries
Tragically, after being married for 10 years, Carlos Batts died of natural causes on October 22nd, 2013. April has attributed many of her adult film industry breakthroughs to the ongoing support and guidance of her late husband. As April sincerely stated within her 2014 XCritic column interview;
"The most pleasurable moments were when I was working with my late husband on his projects. I was always so caught up in the momentum of the process that I wasn't really able to see how fortunate I was to experience working with my partner on that level. The "firsts" I accomplished have always been awesome too. The first cover of AVN, the first BBW to have a sex toy molded from my body, the first to win an AVN award for BBW performer of the year, the first BBW to have a showcase movie from a major studio. I appreciate the personal growth this industry has given me…
Carlos was an amazing artist and wanted everyone around him to succeed. Those fortunate enough to have spent time with him know that he was a constant motivator for those he cared for. We were together for 13 years, married for 10. We were selfless when it came to each other because we built our lives to intertwine in every dimension. From the outside, it may have appeared that my successes were separate from his, but that is not the case. We functioned as a team and I learned so much from him. I was given the chance to know true love and that is something I will proudly carry for the rest of my life".
April discussed the publication of Fat Girl and how she has begun to process Carlos' passing within her August 2015 Crave Online interview. April sincerely expressed within this enlightening interview how she has developed more appreciation for Carlos as an artist since his passing and that she feels a newfound respect for his creative process;
"I am too close to everything that has happened. I see memories in each picture we took. I am really grateful the book was completed. Carlos was all about completing things. Out here, in Los Angeles, everyone has a million ideas. A quarter of them get started and three of them finish. Carlos was one of them…
Looking at the photographs now, I see his hard work, his determination even more so than when I was with him. I'm a singular person now. Before I was is muse and I was lazy. I had the privilege and luxury to focus on my hair and my makeup and nothing else mattered except creating the image. Now our relationship has switched and Carlos is my muse. I can make him come to life by continuing our work…
I look back at myself in these photographs and I see exactly how much I didn't know and how much I foolishly thought I did know and a tiny bit of who much I took time as a process for granted. We don't know until we know…
Looking back at the photographs, I'm looking at a family album. I can really respect his creative process now more than I did at the time. Carlos took care of setting up lights, setting up the background, developing the film, getting the slides—everything…
I can see him now more as an artist than as a husband. Outside of the daily bullshit that poisons marriages like groceries, rent, and bills—all those things that had clogged my mind and I wasn't able to fully appreciate the process—I can fully appreciate the process now that he can't be here to talk about the bills…After he passed, I realized that once you leave this plane, what do you have if you don't have kids or a legacy? You have your art. It's the most true part of yourself. What am I doing to leave behind? I have to get to work! (Laughs)…
I am continuing with the work. I see his vision of beauty in the pictures. So much thought and care went into everything. It's another level now. I'm just another viewer. He's out of my reach. It's like the artists who died 100 years ago and all we can have is the work".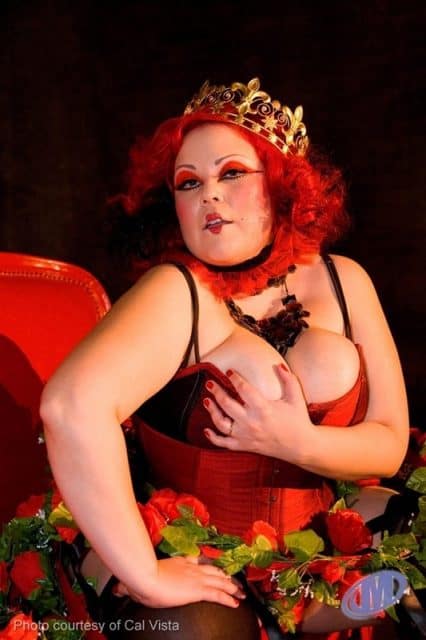 April Flores in Alice – Cal Vista – Adult Empire Galleries
April Flores : Mainstream Media Projects, Magazine Modelling Shoots & Future Plans
A multi-talented porn star, glamour model, producer, director and BBW spokesperson, April Flores has been featured within a broad spectrum of mainstream media publications and literary works over the years including Virgie Tovar's BBW porn anthology Hot & Heavy: Fierce Fat Girls On Life, Love & Fashion which was first published by Seal Press in October 2012, the May 2013 Buzzfeed article What Is Feminist Porn? and Shira Tarrant's adult film industry literary work The Pornography Industry: What Everyone Needs To Know that was published by Oxford University Press in 2016.
April was the first porn star ever to win the coveted AVN Awards accolade for "BBW Performer of the Year" when it was introduced as a new awards category in 2014 and in December 2009 she became one of a select few BBW porn stars to feature on the cover of AVN Magazine after having already posed for the cover of Bizarre Magazine in 2008. As April herself enthused in July 2008;
"I woke up to wonderful news that I am on the cover of the latest issue of Bizarre Magazine!!! What a wonderful honor it is especially since I've been a fan of that magazine for the past 7 years. :)…
I can't wait to see the pictures inside. Bizarre was wonderful to me! They flew me out to Montreal to shoot with photographer Martin Perreault. The theme of the shoot was all things sweet. I loved it! They had various candies and lollipops for me to suck on and play with. There was a wall of pink and blue balloons, and another set up with bubbles flying all around me. My favorite set up was with me laying on the floor with 6000 candies covering and surrounding my body! It was like a little girl's dream come true and I kept getting distracted by the cuteness of it all…
I've been waiting to see this issue for months now and I am just bursting with excitement. I am off to my local newstand to buy a copy….. YAY!!!".
Throughout her prolific porn star career April has posed for numerous glamorous modelling shoots which have featured within the plus-size magazines Bizarre, Big Butt Magazine and Juggs. One of April's most popular magazine shoots to date has been her pin-up girl photo shoot for Bizarre Magazine. Channelling Marilyn Monroe in a vintage bathing suit and classic 50's halter dress, this nautical-themed photo shoot was heralded by trendhunter.com and polyvore.com as sultry, elegant and iconic. April has also posed as a model for the street wear brand Mishka's 2013 Calendar and she has since been featured within LA Weekly, Fleshbot, Real Queer Porn, Queer Porn TV , bluebloods.net , dailyxtra.com, thefeministpornbook.com, jezebel.com, damemagazine.com, artslant.com and gramponanate.com among many, many more mainstream media publications!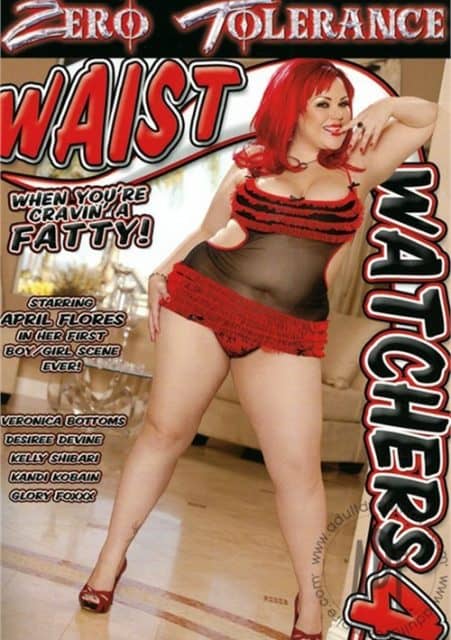 April Flores in Waist Watchers 4 – Zero Tolerance – Adult Empire Galleries
A confident performer with a raw sexuality and natural charisma, April shines in front of the camera as well as behind a microphone; as was evident when she appeared on the popular talk show Sex Out Loud with Tristan Taormino. In fact, April currently hosts her own radio show, Voluptuous Life, via the Vivid Radio network and the SiriusXM smart phone app. Talking about her radio talk show during her 2014 XCritic interview, April highlighted how;
"I want my listeners to be aroused, interested, challenged, informed, provoked and most importantly – entertained!".
Most recently, April has filmed a light-hearted video clip for Buzzfeed in May 2016 titled Do You Know More About Sex Than A Porn Star? wherein she and her fellow porn stars Maxine Holloway, Derrick Pierce and Tarantino XXX competed against their Buzzfeed presenter counterparts in order to find out who could correctly answer more obscure facts about sex!
When she isn't working on her latest DVD feature releases and adult film industry projects, April loves visiting museums and galleries as well as experimenting with her own photography projects and artwork. As April enthused within her XCritic column interview;
"I love art and going to museums and galleries. I enjoy taking pictures and I have started filming and my own work. Right now a lot of my interests revolve around rebuilding my life after losing my soul mate. I am exploring all aspects of the creative process and will continue to use the adult genre as a means of self expression…".
April is also an ardent animal lover and proclaimed her passion for pugs within this 2014 XCritic column interview;
"I am a dog person – a pug person to be exact. I am allergic to cats, so I've never had the chance to bond with them".
Never one to rest on her laurels, April Flores continues to take the adult film industry by storm in 2017. You can learn more about out April's upcoming FatGirlFantasises.com web content, check out her latest DVD feature releases, and discover all about her recent public appearances by visiting her official social networking channels today using the links provided below!
April Flores – Social Networks
Official Website : Fattyd.com , Carlosbatts.com
Twitter : @TheAprilFlores , @fatgirlfantasies
Kink Profile : April Flores BDSM & Fetish Content


Adult Empire : April Flores at Adult Empire
Gamelink : April Flores at Gamelink