April Dawn Biography
Twitter : @aprildawnmodel   ManyVids : April Dawn   Reality Kings : April Dawn Sex Scenes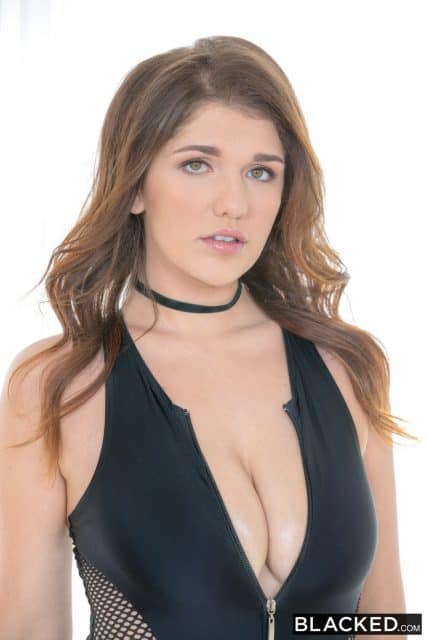 April Dawn at Blacked.com
Personal Info
Name : April Dawn
Date of Birth : June 10th, 1997
Hometown : New York (US)
Measurements : 34DD – 26 – 36
Height : 5'7 (1.70m)
Hair Colour : Brunette
Eye Colour : Hazel
Tattoos : A hannya mask on her upper left thigh. Talking about her tattoo in her May 2017 Big Tits Paradise interview, April mentioned that;
"Let me clarify, it's not satanic. There's a lot of factors to put into play when you are putting it on your body as artwork. I would like to also clarify that when I originally got it, well decided to get it, it was with all intentions that it was just a memorial for a friend who died young. I waited about three years to really let it set and decide if I wanted it on my body forever or not. There was never a day that I second-guessed myself. A few months before I got the tattoo, a friend asked me if I knew what it meant. I did not, and he proceeded to inform me that it stood for good luck. Come time when I'm laying on the table before my artist started doing work he asked me if I knew what it meant. Again, I said no, but that someone had told me that it meant good luck. I then got a history lesson, and I must say by the end of it I knew very much that I needed to get this tattoo on my body. It portrays demonic qualities as well as angelic. It all depends on the era that you base it off of, the colors that you use, the side of the body put it on.
If half the people that feared the way it looks asked about the meaning, we would probably live in a more diverse and understanding society. But sadly that is not the case, and having it on my body puts me in a category. What category? I'm not really sure because I don't really pay attention, because ever since the day that I saw it I wanted to know what it really meant. If you would like to do your research it is called a hannya mask. It stems from Japanese culture, and many Americans today actually put these masks on their body, to represent whatever the deeper meaning to the era of the mask is. At least that's why I got it, I hope half the people that have this mask on their body know what it means!".
Piercings : Navel
Years Active : 2016 – present
Number of Scenes : 10+
April Dawn is a independent adult film star, glamour model and cam girl who has been performing in porn since 2016. Famous for her all-natural big bust and kinky live cam shows, April is a fan-favorite performer who continues to star in a wealth of best-selling porn productions for Reality Kings, Evil Angel and Desperate Pleasures.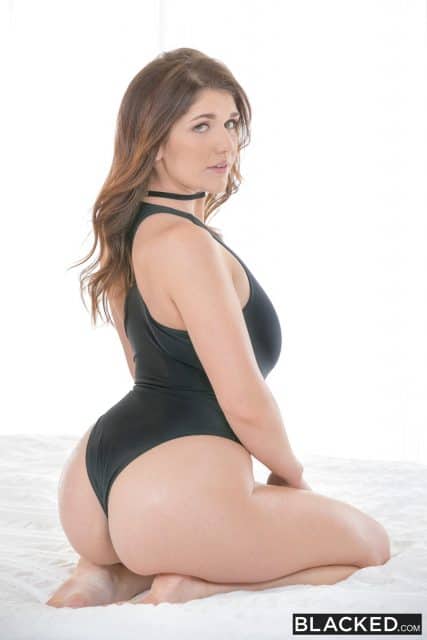 April Dawn at Blacked.com
Hailing from Florida, April has always been an athletic individual who loves kayaking, paddle boarding, snorkelling, working out and exploring the great outdoors. A hardworking individual, April has held all manner of odd-jobs since she was a teenager; from working in restaurants to helping her aunt at her screen printing store. April also attended college with plans of becoming a psychologist. Talking about these early years during her May 2017 Big Tits Paradise interview, April reflected upon how;
"I've always chosen to do more manual labor than anything – I've served food since I was 14, done odd jobs here and there throughout the years, as well as help my aunt out at her screen printing shop. A couple years ago we thought about starting up an apparel line of our own – we never really followed through with, printing the t-shirts for other people was enough for us, but about five years ago my aunt started making this lotion which we still create to this day. We are trying to figure out how to start up a company off of it and hoping that it becomes a successful bath and body product line. Other than that there was a year and a half of school with hopes of becoming a psychologist only to decide adult films was something that I wanted to try out. So here I am, making adult films and trying to make my first million by 21".
Wondering what first prompted April to pursue a career in the adult film industry? Well, it all started when April's friend (and former agent) Black Rose suggested that he could help her forge a career in the industry. As April explained in her May 2017 Big Tits Paradise interview;
"A friend of mine was friends with my (now) agent, Black Rose, and suggested that he knew someone he could hook me up with to get me started. I don't think I would've had it any other way. I have yet to work with any other agencies but personally I don't think I would want to, I feel right at home with my fellow roses and thorns".
Now an independent performer, April discussed her reasons for performing in porn in greater detail during her November 2017 AIP Daily interview, elaborating upon how;
"Lord, what got me into this industry had to have been pure curiosity. I've always had a high sex drive with a craving for really abnormal things in the bedroom in terms of your average Joe and what better way for an open minded young adult in this crazy year of 2017, to explore their sexuality and preferences in a manor where I could find more benefits than just money…
Now all jokes aside because I have major personality, I never really got into this for a specific reason, it just felt right for me! I've tried school, and I'll probably go back some day for fun, but porn has helped me start a business outside of the Industry as well. I also have to say, doing the adult film gig last year I've become a much more structured person, As well as my confidence has skyrocketed in my personal life. I never thought I'd stick around for a year, let alone be able to have the unforgettable opportunities that I have so far, and I only hope that it continues to grow. Where ever it may, in a positive direction one would hope…And if it doesn't I'd probably switch something up. I'd have to add".
April Dawn – Lethal Hardcore – Adult Empire Galleries
April Dawn : Adult Film Career
April filmed her first ever sex scenes in 2016 with popular fetish performer Rootdawg. This fantastic foot fetish shoot was promoted via Rootdawg's fetish clip store on Clips4Sale. Talking about shooting her porn debut in her May 2017 Big Tits Paradise interview, April conveyed how;
"My first shoot ever was actually a foot fetish shoot, and it was the first time I ever had to put my feet on someone, and that's a big deal for me. The first shoot was with Rootdawg, he has a cool little fetish clip store on clips4sale".
From this point onwards April began to star in a wealth of thrilling fetish porn productions for Desperate Pleasures including Family Anal Adventures 3 (2016), I Blow Better Than Mommy (2016), Backseat Blowbangs (2017), Gapetoberfest The Movie (2017), Spitroast Sluts (2017), Silenced By The Hams (2017) and Your Sister Sucks (2017) starring Aaliyah Hadid, Anastasia Rose, Camille Black, Kendra Heart and Skye Avery. April has enjoyed shooting these types of fetish web clips. As a matter of fact, April stated in her November 2017 AIP Daily interview that some of her biggest industry idols have their roots in the fetish community. As April puts it in her own words;
"I'd have to say some of my biggest idols are a lot of the people I've met in the fetish community, Whitney Morgan, Bobby Genital, the Demon Seed Radio show crew in general they were some of the first people I met in the industry and they were, and to this day so far, some of the most genuine people I've met. They gave me some great advice starting out and I still make sure to come by when I'm down in Florida to keep up with them. Robert Morgan with Royal Empire Productions has been a great friend since I've started as well, I didn't come into the business idolizing anyone. And I still don't, I definitely would love to meet some of the bigger names in the industry that would be a great learning experience but I like to meet people before I pass judgement on their character, and i couldn't idolize someone I wasn't sure was a good person".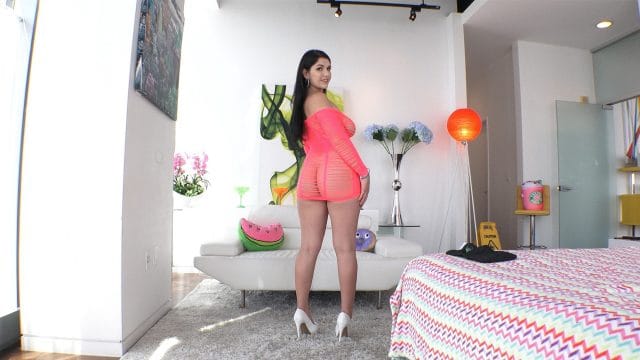 April Dawn in Full Anal Service 5 – Evil Angel


Just can't get enough of rising starlet April Dawn? Then we recommend checking out her thrilling all-girl Ranch Affair three-way with Ivy Rose and Veronica Valentine that was promoted via the Team Skeet porn site BFFs.com in April 2017. April has discussed her dream girl/girl performers in her November 2017 AIP Daily interview, saucily stating that;
"Oh god if I could I'd work with Abella Danger, Keisha Grey, Jocelyn Kelly and Kissa Sinns! God who else? I don't know I'd wanna work with all those super pretty girls! They look so happy on film and like they love what they do! Oh Adriana Chechik! She's a babe! Lord I couldn't possibly name them all".
During this time April starred in Pube Mania (2017) for ATKingdom, My Stepdaughter Has A Hairy Pussy 2 (2017) for Lethal Hardcore, she filmed a sizzling My Rise In The Ranks: Part 2 scene with Flash Brown that was released via Greg Lansky's award-winning porn site Blacked.com in June 2017 and she shared an epic anal scene with Mike Adriano which was showcased in the Evil Angel sequel release Full Anal Service 5 (2017) also starring Chloe Cherry, Gina Valentina, Scarlet de Sade and Adrian Maya.
Fans of April Dawn will also love viewing the wealth of hot hardcore shoots that she has filmed for Reality Kings including Boob Wash with Kyle Mason in May 2017, My Busty Secretary with Sean Lawless in June 2017, Filled To The Brim with Tyler Steel in January 2018 and Oil and Water with Robby Echo in January 2018. April has loved shooting these saucy scenes and enthused in her November 2017 AIP Daily interview how;
"Favorite scene, I hate that question because I don't think I've really loved one scene more than the last! I do feel like I've preformed better in some than others though, like my Mike Adriano scene that just dropped on EvilAngel.com! That had to have been one of my best BJs captured on film so far! And my IR debut with Flash Brown for Blacked.com! That was an unforgettable day and the chemuon set was phenomenal! I still hear that is some of my best fans favorites!..My dream scene would probably be like this massive gangbang with like, 24 German guys on a beach. Really it just has to be on a beach and I want big fat German cock and I want them to yell nasty things to me in German and spit in my mouth, because that would be so hot".

April Dawn at Blacked.com
When she isn't performing in these best-selling porn productions April can be found interacting with her fans via social media as well as hosting some lusty live cam shows via ManyVids (under the screen name 'AprilDawn'). April loves camming with her fans and has mentioned in her November 2017 AIP Daily interview that;
"I try to cam as much as possible, I prefer to do the one on one skype shows because I feel like my personality gets lost in the camming. I have danced a few times though and I would love to get into feature dancing! I'm looking into taking pole dancing classes currently! And I just ordered a pole a week ago!! If anyone had any tips I'm definitely more than open to hearing them! Find me on social media!".
You may be interested to learn that April has experienced a massive surge in self confidence from pursuing these adult modelling projects. After all, April highlighted in her May 2017 Big Tits Paradise interview how;
"[The] best experience in modeling I have gotten so far is the tremendous gain in self-respect and self-love I have developed. Honestly, when I decided to start doing this I was not in the headspace that I am today. I have to say in the past 9 or 10 months I have grown in a lot of ways that I not only did I not know I needed to grow in but in the past would never have felt I could grow in. When I first decided that this is something I really wanted to focus my time and energy on and risk so much for, I didn't think that it would help me grow in so many different aspects. In all honesty I thought that it was just gonna be me occasionally having sex on camera and that was all I was going to take away from the experience, just to fulfil a kink that I knew I always had, and I am so proud to say that not only is my initial reason for entering the business minuet compared to other reasons I have uncovered, but it actually wasn't even a reason. I was lying to myself, I have definitely uncovered bigger reasons why I chose to do this".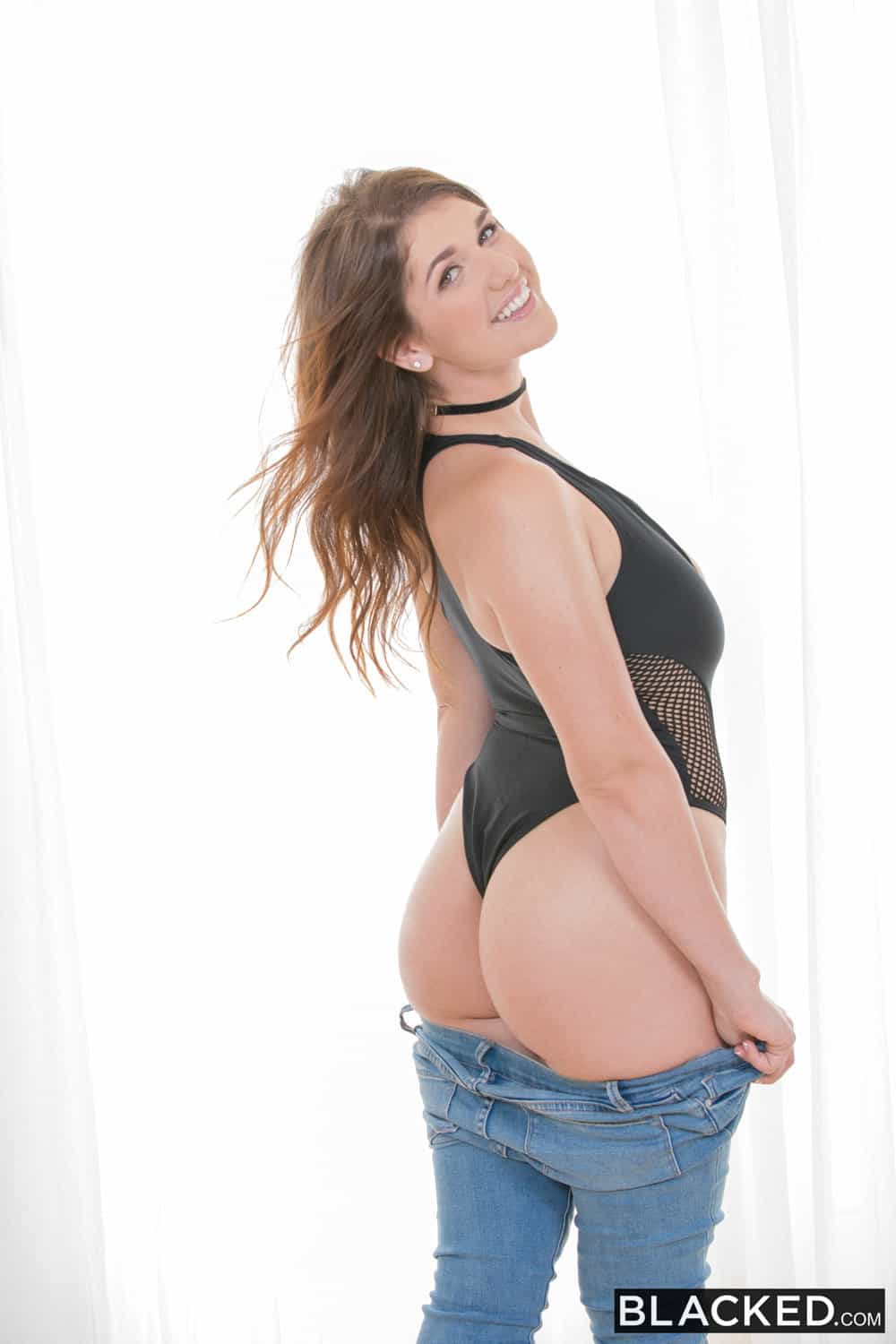 April Dawn at Blacked.com
So what does the future hold for fan-favorite performer April Dawn? Well, you'll be happy to hear that April shows no signs of slowing down anytime soon! In fact, April commented in her May 2017 Big Tits Paradise interview that;
"Lord I hope my future holds many, many, many shoots. Maybe touring, traveling around. And amazing growth for the bath and body product line that my aunt and I are partnering to release"
During this interview April also revealed that she is keen to tackle more acting roles and that she would love to collaborate with the Sins porn star power couple. As April puts it in her own words;
"Definitely shoots with more acting, I would love to see if I could grow in that realm. I would also like to dabble in more of the sensual stuff!…Johnny Sins and Kissa Sins. What I would give to shove my face in that fat beautiful ass. In general I have a thing for couples, that's a real a turn on for me".
Eager to explore all of April's kinky web content? Then please feel free to use the links provided below to keep yourself updated on all of April Dawn's saucy social media updates, hottest hardcore web clips and upcoming live chat sessions!
Social Networks
Twitter : @aprildawnmodel
ManyVids : April Dawn
Evil Angel : April Dawn at Evil Angel
Reality Kings : April Dawn at Reality Kings
Adult Empire : April Dawn DVDs
IMDB Profile : April Dawn Filmography