Anya Ivy Biography
Twitter : @SexxxyIvy   Camsoda : anya-ivy   VR Bangers : Anya Ivy VR Scenes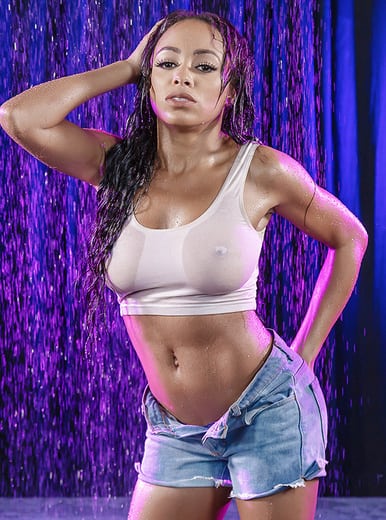 Anya Ivy at Brazzers
Personal Info
Name : Anya Ivy
Date of Birth : January 28th, 1992
Hometown : Atlanta, Georgia (US)
Measurements : 34D – 24 – 34
Height : 5'2 (1.57m)
Hair Colour : Black
Eye Colour : Brown
Tattoos : A floral design and script on her lower back as well as a design on her left hand
Piercings : Navel
Shoe Size : Women's 7 (US)
Years Active : 2014 – present
Number of Scenes : 90+
Anya Ivy is an incredibly versatile adult film star, cover model, cam girl, singer and dancer who has been performing in porn since 2014. Famous for her critically acclaimed parody releases and captivating web content, Anya continues to receive many notable "Best Boobs (Fan Award)" and "Nicest Breasts" nominations at the AVN and Urban X Awards.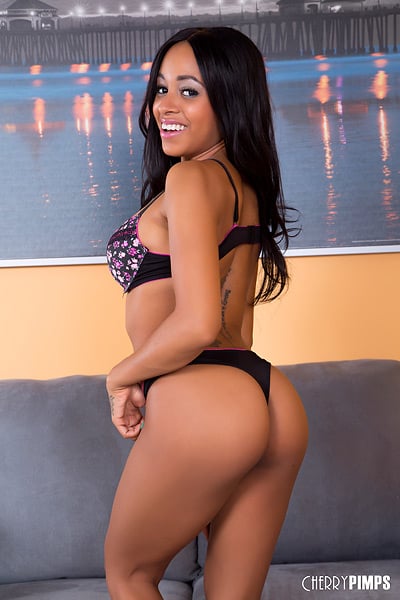 Anya Ivy at Cherry Pimps
Hailing from Atlanta, Georgia, Anya was a competitive cheerleader who graduated from high school with honours before attending college for two years. Talking about her high school years within her November 2015 Fleshbot interview, Anya divulged that;
"In high school I was a competitive cheerleader and an honor student, so I kept pretty busy. I went to two different high schools, so I had many friends and exciting experiences. I wouldn't say I was with an 'in-crowd' since I kept mostly to myself and jumped in and out of all sorts of "crowds." In high school, I was just a fun girl to be around. I had a few steady relationships in high school, but I didn't know real dating until college…
I remember staying up late with my cousins just to watch late-night porn movies on the major networks. I even admit to having used internet porn on my cell phone just to get off at night so I can sleep! I've always known the world of porn existed but never imagined I would be in the center of it all. My favorite actress, before I began, was Skin Diamond, and when I met her I knew that things were getting real".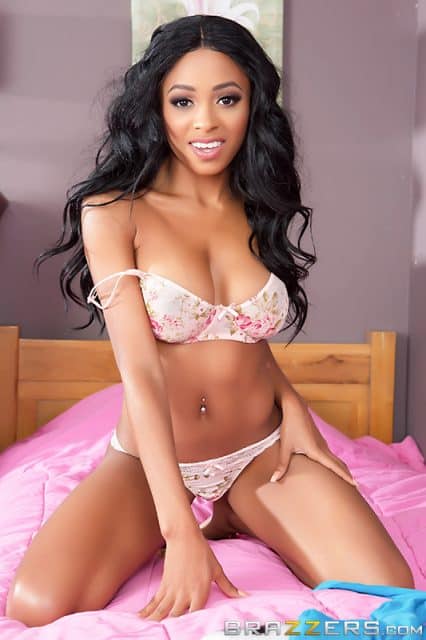 Anya Ivy at Brazzers
Anya is a natural born performer with a passion for acting, singing, dancing and the arts. In fact, Anya is a classically trained ballerina who explained during her November 2015 Fleshbot interview how;
"I have been an entertainer since I can remember. My family used to set up a tripod camera and let me sing and dance in front of it to my heart's desire. I have never been shy in front of a camera. However, I can get very shy in person with people. It is very odd. So even when it comes to intercourse, I always feel free in front of a camera…
 My favorite type of scene would be any one that pushes the levels of my imagination. I love to act out scenes and learn new things…I also enjoy networking with people in the industry and learning all I can about film techniques. Acting and film are passions of mine that I feel are strengthened by my role as a porn star in the center of all the action".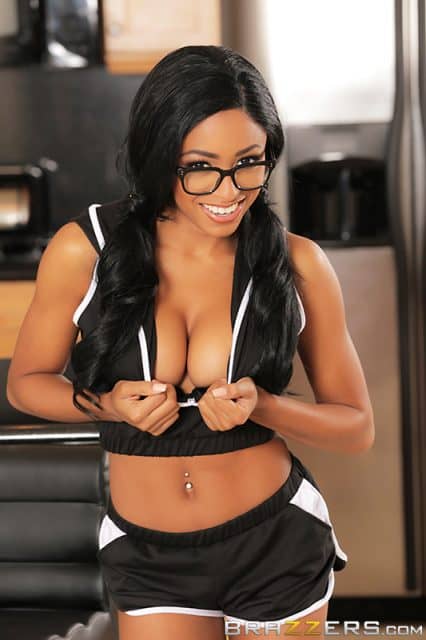 Anya Ivy at Brazzers
After leaving college Anya started working as a waitress in a local bar and it was during this time that Anya first began working in the adult entertainment industry as an exotic dancer. Wondering how Anya progressed from dancing to performing in porn? Well, it all began following a chance meeting with a girl in Atlanta who introduced Anya to her agent. Talking about this landmark moment in her life during her July 2015 Adult DVD Talk interview, Anya highlighted how;
"I grew up in Atlanta but I spent my summers in Florida. I was an honors graduate and competitive cheerleader which explains my flexibility. (laughs)…I was in college for 2 years before deciding to leave. And this is where my destiny took me…I met a girl back in my hometown of Atlanta. She introduced me to her agent. I sent pictures to him and one thing led to another".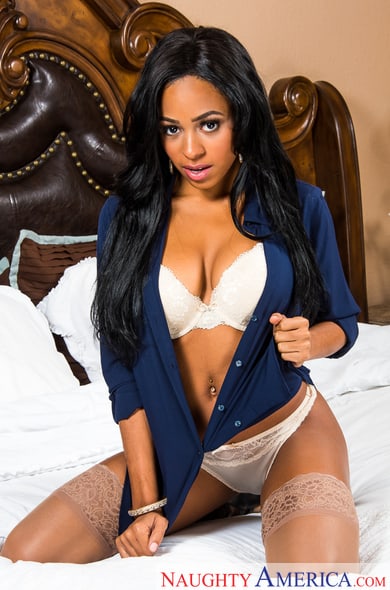 Anya Ivy at Naughty America
Anya Ivy : Adult Film Career
Anya filmed her first ever sex scenes in 2014 for the popular porn site Mofos. Anya discussed shooting her adult film industry debut within her July 2015 Adult DVD Talk interview, revealing that;
"I was scared. The day before, I was anticipating it. People always tell you how it's going to be but you always imagine it in your head. My first scene was fortunately, very comfortable. They took me out to breakfast and were really nice. I was with a really nice guy. Luckily, I'm not afraid of the camera because I've been acting since I can remember. Porn changed a lot of me, you're doing something that's taboo or private; something that's done in the bedroom is now in front of the camera. But I've never been afraid of the camera…
It took me a little while to get comfortable with a lot of things. I had to get used to facing different angles. It took me a minute to get comfortable with all that. Just like with everything, it takes time and experience… I have a lot that have opened my eyes to a lot of different things. I can say, I have experienced a lot in the little time I've been in the industry…I'm becoming more open to different things the longer I stay in the industry".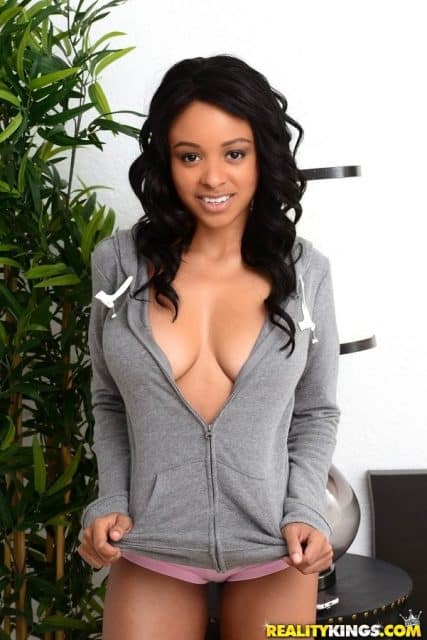 Anya Ivy at Reality Kings
From this point onwards Anya began to shoot a wealth of raunchy web clips for the prominent production companies Mofos, Bang Bros, Cherry Pimps, Brazzers, Naughty America, Team Skeet and Twistys. Several of Anya's sauciest sex scenes have been featured in the best-selling DVD compilation titles Brown Bunnies 18 (2016) for Bang Bros that was nominated for "All-Black Release of the Year" at the 2017 XBIZ Awards and the Brazzers DVD Work Harder…Fuck Harder (2016) which showcased Anya in an epic group sex scene with Diamond Jackson, Jade Aspen, Jasmine Webb and Keiran Lee. Anya has since been featured in Ebony Sex Tapes 1 (2017) for Mofos which was nominated for "Pro-Am Release of the Year" at the 2018 XBIZ Awards, Moms In Control 6 (2017) for Brazzers that was nominated for " Best Older Woman/Younger Girl Movie" at the 2018 AVN Awards and the Twistys DVD Til Sex Do Us Part (2017) which was nominated for "Best Polyamory Movie" at the 2018 AVN Awards.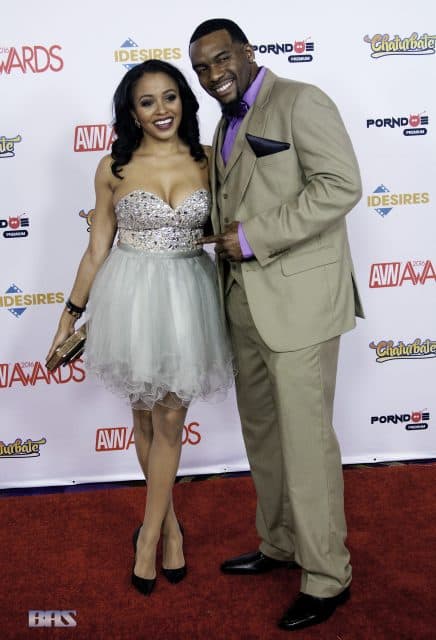 Anya Ivy and her date at the 2016 AVN Awards – Image Attribution : Baldwin Saintilus
One of Anya's most popular porn productions to date has been the X-Play parody release Not The Jersey Boys XXX (2014). Directed by Will Ryder, this musical porn parody was an instant which won "First Choice Winners" at the 2014 Nightmoves Awards. But wait, it gets even better! Not Jersey Boys XXX also won "Best Marketing Campaign – Individual Project" and "Best Soundtrack" at the 2015 AVN Awards as well as taking home "Best Music" and "Parody Release of the Year: Comedy" at the 2015 XBIZ Awards. Anya thoroughly enjoyed shooting this musical parody  release and commented in a January 2015 AVN press release that;
"I'm happy to be in Jersey Boys XXX. It's a musical so it was a big shoot and my sex scene didn't start until three in the morning, so the build-up was really exciting. I was so anxious to have sex because the guys were cute singing their songs and it was cool because I love having sex at any hour…Every day has been flowing. Good things happen—you progress and you get better".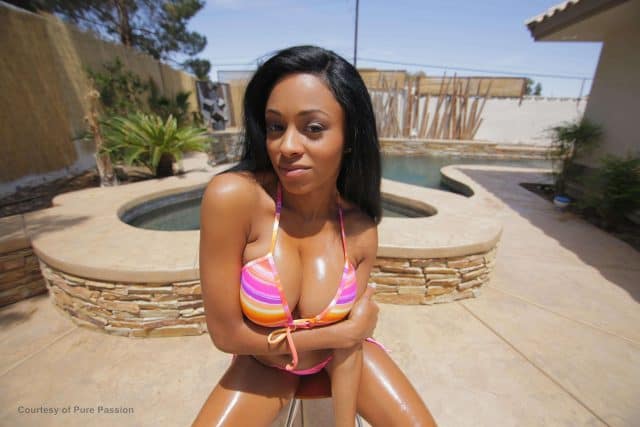 Anya Ivy in Black Lust – Pure Passion – Adult Empire Galleries
Want to know the best part? Any has continued to collaborate with Will Ryder on several fan-favourite porn parodies including Love, Sex and TV News (2015) for Adam & Eve which won "Best Comedy" at the 2016 AVN Awards and This Ain't The Interview XXX (2015) for Hustler Video that was nominated for " Best Parody: Comedy" at the 2016 XRCO Awards and "Parody Release of the Year" at the 2016 XBIZ Awards. Anya has also starred in Will Ryder's Adam & Eve production The Young & The Rest Of Us (2015) which was nominated for "Best Drama" and "Best Screenplay" at the 2017 AVN Awards.
Interested in checking out some of Anya Ivy's most popular porn performances? Then you'll love viewing her raunchy scenes with Mr Pete in Porn's Top Black Models 4 (2015) for Elegant Angel that was nominated for "Best Ethnic Movie" at the 2017 AVN Awards and "All-Black Release of the Year" at the 2017 XBIZ Awards, her steamy scenes in Sensual Moments 4 (2015) for Erotica X which was nominated for "Best All-Sex Release" at the 2015 Nightmoves Awards and her thrilling three-way with Aria Alexander and Keiran Lee in the Digital Playground production Filthy Fucks (2016).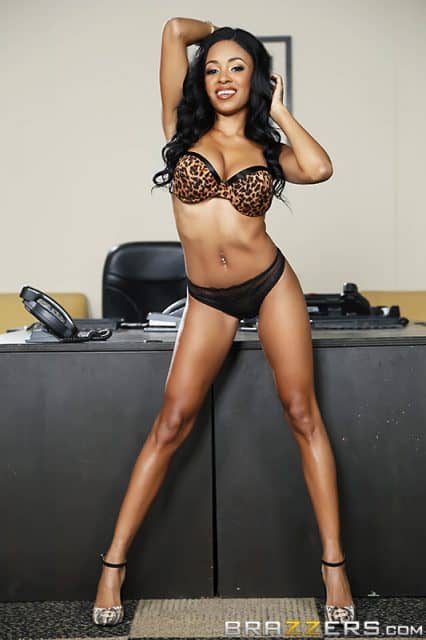 Anya Ivy at Brazzers
Die-hard Anya Ivy fans will also want to watch her saucy shoot with Mick Blue in Mason's Hard X production Black Bombshells (2015). Also starring Ana Foxxx, Chanell Heart and Teanna Trump, Anya posed for the box cover of this star-studded DVD which was nominated for "Best Interracial Movie" at the 2016 AVN Awards. What's more, Black Bombshells 4 received an ardent endorsement from Jon Blitt, the head of production for OL Entertainment, who enthusiastically stated in a September 2015 AVN press release that;
"Mason knocked this one out of the park…She's cast four of the absolute best ladies in the industry, with outstanding scenes especially from Teanna Trump and Ana Foxxx. There is no doubt this will be a top seller".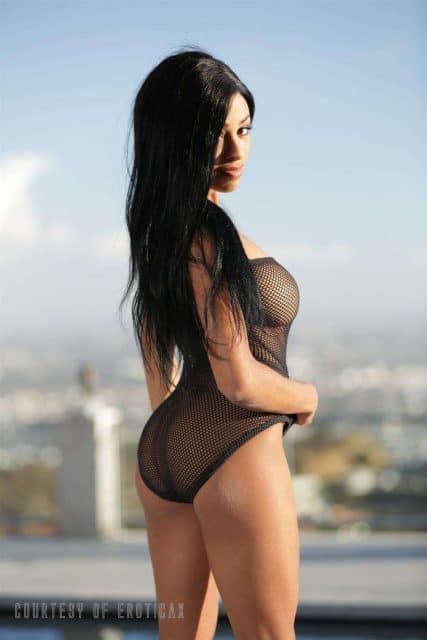 Anya Ivy in Sensual Moments 4 – Erotica X – Adult Empire Galleries
Interested in exploring new genres, Anya has begun to star in broad spectrum of taboo relations titles such as the Digital Sin DVDs I Seduced My Brother 2 (2015) and Interracial Family Affair 2 (2015). Anya has also been featured with some amazing all-girl releases including the Sweetheart Video productions Lesbian Beauties 16 (2016) and Lesbian Beauties 19 (2017) within which Anya shared a sizzling scene with Daya Knight. Most recently, Anya has shared a thrilling three-way with Alix Lovell and Lucky Starr in Little Dragons Pictures production Nikki Phoenix's Lesbian XXX Games (2017). When Anya was asked about her personal sexual fantasies within her November 2015 Fleshbot interview she expressed an interest in shooting more fetish porn productions, hotly hinting that;
"I'd like to get more into the fetish/dominatrix/kink world. So far, as a porn actress, I've gotten to play out lots of fantasies but I've always wanted to wear lots of leather with a whip in my hand. I guess you could say I have an unquenched 'Christian Grey syndrome'…
I'm very much into the S&M world. I can picture myself covered in skin-tight leather and even learning some rope-tying tricks. There are many things that I have done, but just as much that I have not. There are many worlds I have yet to explore…The first thing I love about being a porn star is my sexual freedom. I have been able to portray lots of different characters and fulfil lots of fantasies, safely".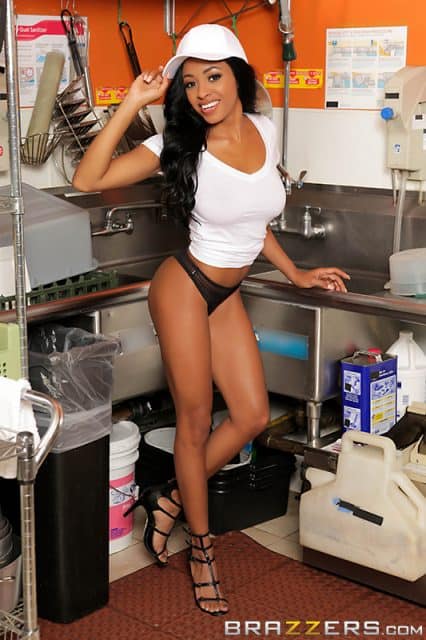 Anya Ivy at Brazzers
Due to her sensational scenes in a wide range of popular porn productions Anya has received some notable adult film award nominations including;
2016: AVN Awards nominee "Best Boobs (Fan Award)"
2017: Urban X Awards nominee "Nicest Breasts"
Upon receiving these coveted industry nominations Anya has always been quick to thank her fans for their support and praise. After all, as Anya enthusiastically stated in her November 2015 Fleshbot interview;
"I appreciate my fans who see me for who I am and who applaud the effort I put into my brand. When I wake up in the morning, I read the letters and tweets I get from loving fans and they encourage me to keep moving forward. I do get unpleasant messages, but I pay them no mind as every person has his/her own opinion. Having a connection to so many people I only know through the internet is surreal. It's one of the only pillars of encouragement I receive, and I can't imagine where I'd be without fan support…
For anyone reading this, I would like to thank them. Without my fan base I would not be where I am today. I appreciate all of the love and support I get from the people who support my efforts. I continue to do my very best and strive for excellence within this industry and beyond".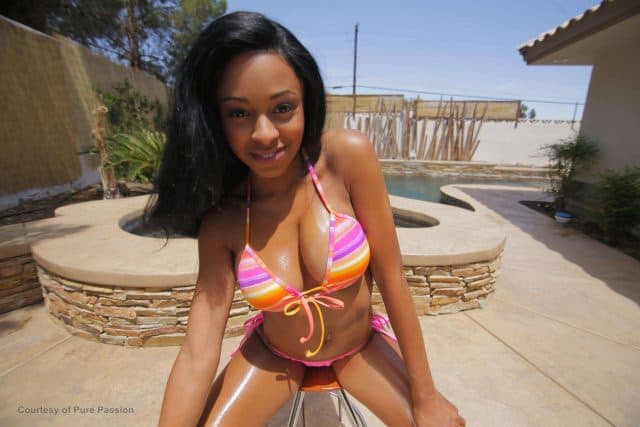 Anya Ivy in Black Lust – Pure Passion – Adult Empire Galleries
Anya Ivy : Recent Releases, Personal Blog & Future Plans
In early 2017 Anya took some time off from performing in order to redefine her career focus. Anya resumed her adult film career in the summer of 2017 with a renewed vigor and conveyed in a May 2017 AVN press release how;
"I'm taking the business side of my career more serious. I listen more. Hoping to grow in a whole new way, I'm more receptive to career advice and collaborations with visionary people. My goal is take things all the way. When I'm not filming, you can find me buried in a book, or busy on my sewing machine, creating my own unique lingerie designs. I'm working on more films, getting back into filming consistently. I'm excited to re-emerge and participate in this year's industry events, and taking advantage of more opportunities, and utilizing my talents".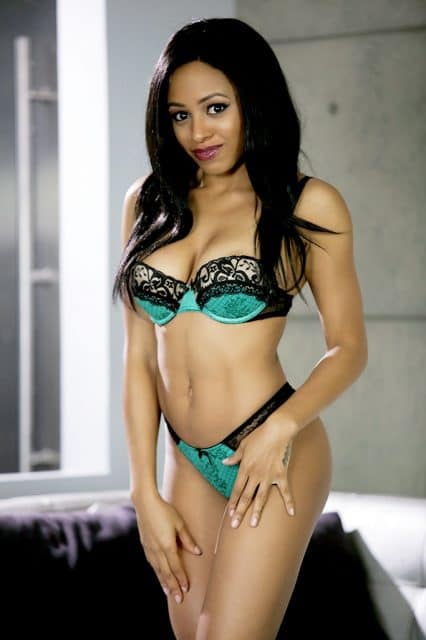 Anya Ivy – OC Modeling Profile
During this time Anya proceeded to star in a steady stream of critically acclaimed DVDs including Axel Braun's Brown Sugar (2017) for Wicked Pictures which was nominated for "Best Interracial Movie" at the 2018 AVN Awards as well as "Interracial Release of the Year" and "All-Sex Release of the Year" at the 2018 XBIZ Awards. Anya even received a wholehearted endorsement from XCritic column writer J.W. Sharp who commented in his July 2017 film review that;
"Very rarely is a black girl/white guy interracial gonzo disc treated with as much beauty as this one. While most are usually cheaply made, fly-by-night releases that are made simply for prurient fetishists, Axel Braun has brought his superb filmmaking style and made one of the most gorgeously produced releases on the subject I've ever seen. His wonderful use of soft and natural lighting brings a sweet feel of sexiness and sensuousness to each scene. Add also the terrific performances from some of the best ebony stars in the industry today, along with their mostly veteran male counterparts, and you have what I consider one of the most essential titles of the genre I've seen in a while. Without any reservation I'm giving this absolutely beautiful and well performed release the Xcritic Pick! Truly terrific and not to be missed".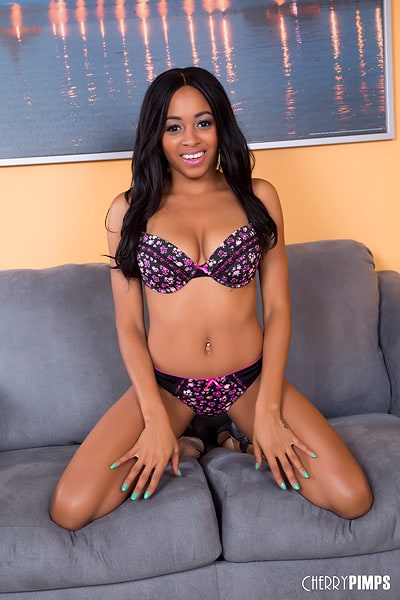 Anya Ivy at Cherry Pimps
When she isn't performing in these critically acclaimed DVDs Anya continues to host regular live cam shows with her international fan following via Camsoda (under the screen name 'anya-ivy'). Anya also enjoys travelling and indulging her passion for the arts. As Anya herself explained within her November 2015 Fleshbot interview;
"Traveling to new places always puts a huge smile on my face. I enjoy seeing things I've never seen before and exploring. I'm also a product of a very artistic family, so I'm sucker for anything in the arts. Going to see live music, visiting museums, dancing, and dining at great restaurants are things I love to do, just to name a few. I also sing, paint, and read books in my spare time".
You may be interested to learn that Anya shares photos and stories from her travels via her personal blog, Myivydiary.com. As Anya puts it in her own words;
"I travel many places taking pictures and engaging with lots of interesting people in the world of entertainment. My goal is to learn and share all I can about the inside of the industry I'm in, from film, health, politics and personal experience".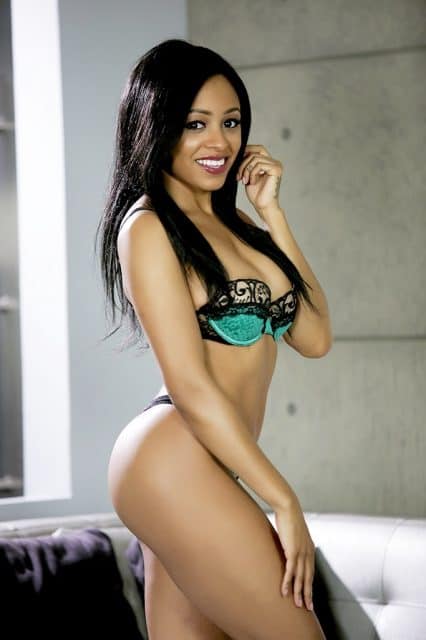 Anya Ivy – OC Modeling Profile
Currently represented by OC Modeling, you'll be happy to hear that Anya has no plans of retiring anytime soon. In fact, Anya mentioned during her November 2015 Fleshbot interview that;
"As a porn star, I plan to grow as much as possible. My goals are mainly set on my transition into mainstream film, so I plan to learn all I can from everything that happens off-camera and perfecting film techniques. Paying attention to production is important. I plan to absorb many skills on my journey as a porn actress…
When I think about my future, I think of limitless possibilities. Exposing myself to the world has opened doors for me that I could have never imagined. I have many scenes that have yet to be released, however, I'm currently working on simply growing as an individual in this industry. I would just suggest keeping an eye on my progression".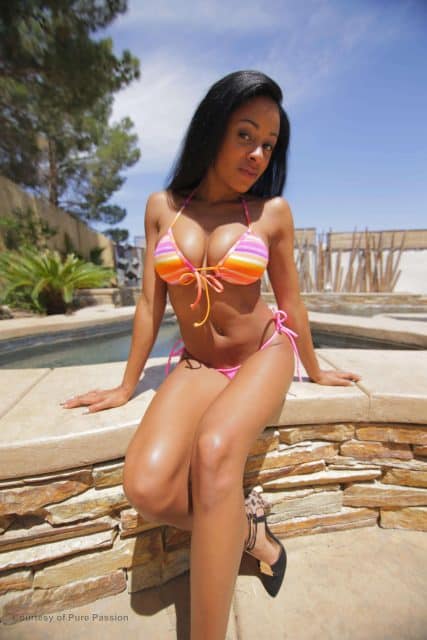 Anya Ivy in Black Lust – Pure Passion – Adult Empire Galleries
Eager to explore all of Anya Ivy's raunchiest releases? Keen to learn more about her upcoming productions and lusty live cam shows? Then please feel free to use the links provided below to stay connected with your dream girl Anya Ivy!
Social Networks
Twitter : @SexxxyIvy
Instagram : @anya_ivy
Camsoda : anya-ivy
VR Bangers : Anya Ivy VR Scenes
Blog : Myivydiary.com
Website : Anyaivyvip.com
FanCentro : AnyaIvySnaps.com
Brazzers : Anya Ivy at Brazzers
Naughty America : Anya Ivy at Naughty America
Cherry Pimps : Anya Ivy at Cherry Pimps
Reality Kings : Anya Ivy at Reality Kings
IMDB Profile : Anya Ivy Filmography