Angelina Castro Biography
Twitter : @AngelinaCastroX   Scoreland : Angelina Castro Sex Scenes   Pornstar Platinum : Angelina Castro Movies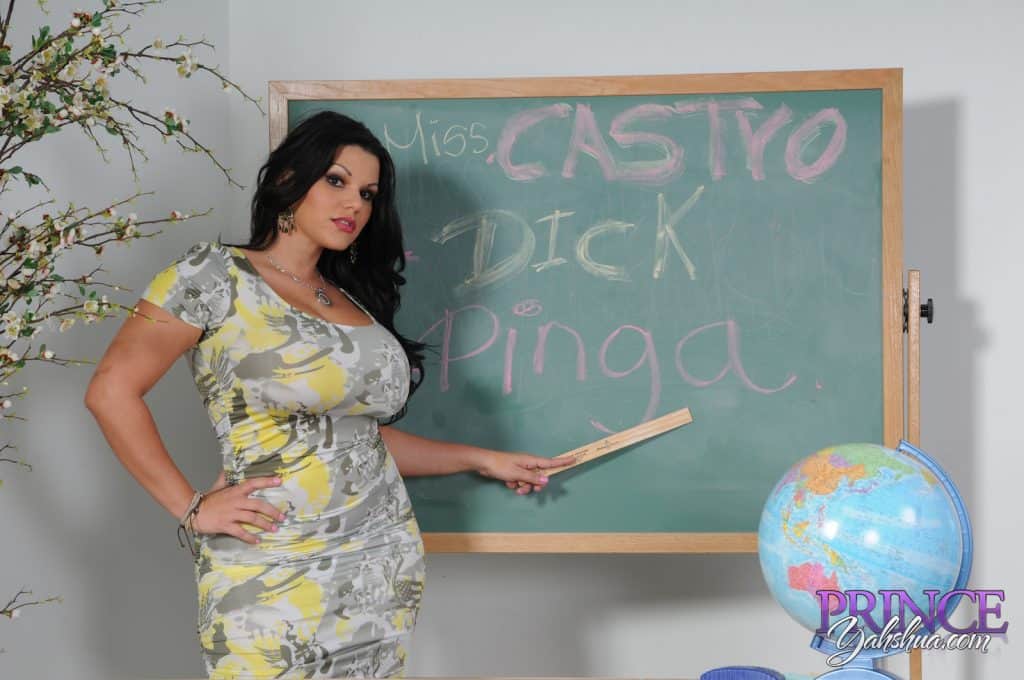 Angelina Castro at PrinceYahshua.com
Personal Info
Name : Angelina Castro
Hometown :  Havana (Cuba)
Date of Birth: September 6th, 1982
Measurements : 42F – 28 – 42
Height : 5'8 (1.73m)
Hair Colour : Brunette / Black
Eye Colour : Brown
Tattoos : Ankh cross on her left ankle, chain design traveling from her calf down to her foot, 'Allah' in Arabic on the right side of her pelvis, butterfly design across her lower back and a symbol across the back of her neck
Years Active : 2009 – present (as a performer) , 2011 – present (director)
Number of Scenes : 70+ (as a performer) , 1+ (as a director)
Introducing Cuban cutie Angelina Castro! Born in Havana, Cuba, Angelina moved with her family to the Dominican Republic when she was 10 years old before settling in the United States of America when she was 12 years old. When asked about her Cuban heritage in a January 2011 kushionsrus.com interview Angelina expressed that;
"I'm super Cuban and I can't even lie about it. From the way I walk to the way I talk you know 'I'm fucking Cuban'. I love being Cuban because I really think it gives me like a license to do whatever I want and my excuse is always: 'what can I do I'm Cuban'. I'm thick and I embrace it. I don't have anything against smaller girls but I'm used to females looking like me not like 13 year old girls. I was so frustrated in my earlier years because I wanted to be a woman and I was lil and skinny so I got some huge gifts and I start eating more rice And beans and i developed the ass that I'm so proud of today. I picked my name as a tribute to my Cuban people. Angelina Castro is the only Castro that gets fucked. I'm crazy and spontaneous and I thank my heritage for that because all Cubans are crazy and if you don't believe come and be in my shoes in my town for a day. Tony Montana got nothing on us. A Cuban woman is a tall thick black haired bitch that loves dick or in other words it's Angelina Castro".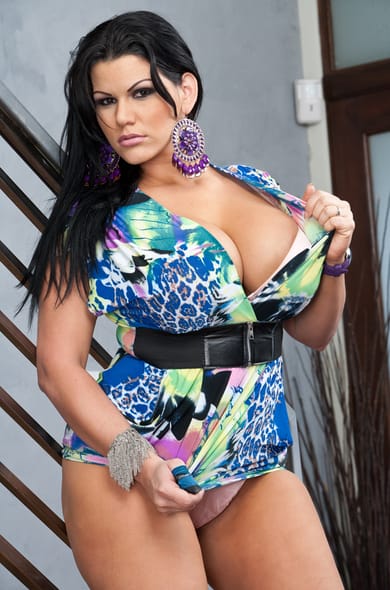 Angelina Castro at Naughty America
Raised in Miami, Florida, Angelina, her older sister and younger brother attended private school and participated in school riots against Fidel Castro whilst they grew up in exile. Angelina comes from a close-knit family; even more so now that she has a son herself.  Within her Tenere Williams interview Angelina discussed how her family have always accepted her adult film career and simply regard it as another job. In fact, Angelina is incredibly humble with regards to her celebrity status and explained in her own words how;
"I actually have a son that's 12 years old. And for my brother and my son, it's just a job. It's like if you said, 'my mom is a lawyer.' It's never been a problem. Just for them, its 'my mom is a porn star' or 'my sister is a porn star'… I got into it almost as a dare from a friend. I had just finished college and I was a 38 DDD and I wasn't your average porn star. But my friend told me, 'You're gonna work because you have an attitude.' I fell in love with more of the behind the scenes and the power porn gives rather than the porn itself… I've never used my celebrity for any of that stuff. I don't even consider myself a celebrity. I'm just a girl that gets recognized because of what I do. But I have 22 speeding tickets and I've never used my tits to get out of anything. I'd rather get out of things because I'm smart, because I can get away with it or because I'm an asshole (laughs). The only thing I use my celebrity for is good things and some of the causes I support here in Miami".
Angelina never let her tumultuous upbringing deter her from her studies and she graduated from high school with honours before attending college where she trained to become a certified chiropractor. Angelina worked as a clerk at Walgreens , as a home decorator and as a stylist before graduating from college and working as a therapist for several years.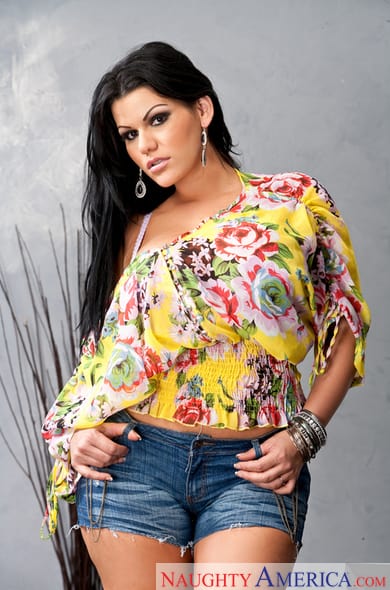 Angelina Castro at Naughty America
Angelina Castro : Adult Film Career
In August 2009 Angelina decided to experiment with filming some hardcore sex scenes. Little did Angelina know that her adult film debut would become a smash hit with fans in Miami and she was approached by The Enrique Santo Show for an radio interview regarding her decision to become an adult film star. Angelina discussed this interview and how it led to future hosting roles within her kushionsrus.com interview;
"Two years ago 8/28/09 to be exact I did my first movie. Which I hated because I didn't have a connection with the guy and the producer kept telling me to scream and I wasn't feeling shit so why should I scream??? My scene, even though it sucked, was out and people loved it. A Miami radio station contacted me and interviewed me. I did great and a TV show called me and interviewed me on October 6 2009, I remember because that is my dad's birthday. I got to the TV show and the first thing they say is, oh you are bigger than the regular porn girl, I said yes I am and that's why I'm here, I bounce my tetas up and down and they start laughing. I was on the show for one hour and they loved me so much that they called me the next day and gave me a job as a co-host. I stayed on that show for one year and I moved to the news after that. I've been on TV since then being the Cuban porn star that can talk about anything anywhere And be accepted. I talk on TV about anything from Obama to anal sex".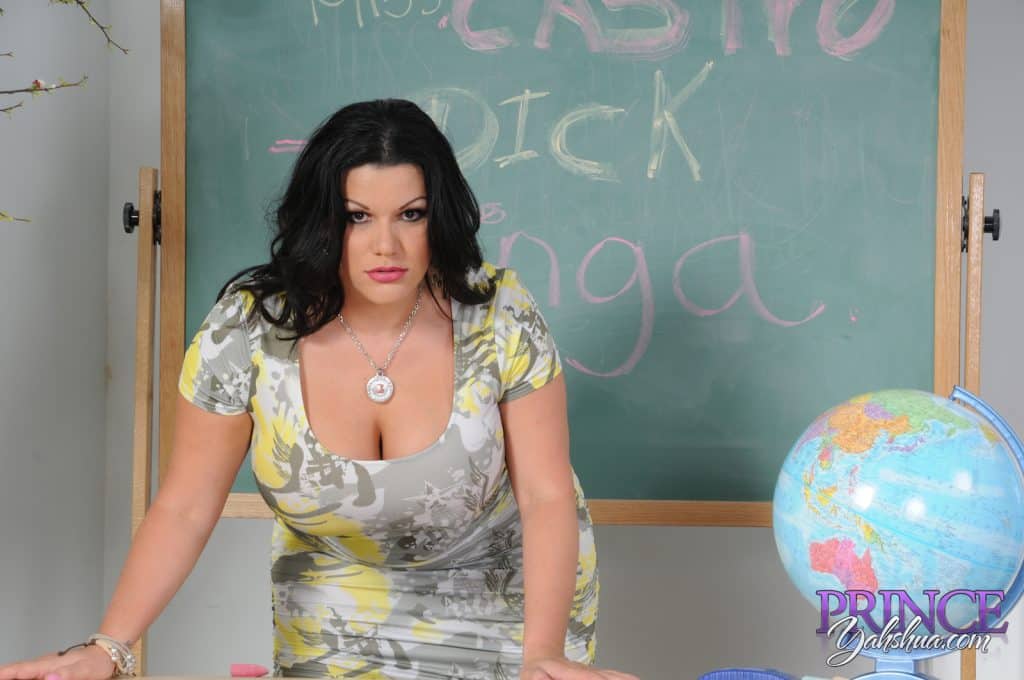 Angelina Castro at PrinceYahshua.com
In this manner, Angelina kick-started her adult film career and went on to become the first ever Cuban porn star to co-host a mainstream show on Spanish television, La Cosa Nostra, whereupon she offered sexual health advice to viewers who were eager to liven up their sex life. As Angelina herself explained via her official solo website;
"Right after college i decided to do a porn just to try it out, because i was curious. Little did I know it would become a phenomenon in Miami. I got a call from a radio station (98.3 The Enrique Santo Show) for an interview. After i got out of there defending my decision to do porn, i realize that it was my duty in life to become the best porn star I could be, so i can show people that the stereotype that they have of females in this industry, is wrong! After that show I kept doing Radio and TV interviews. I became the first Cuban Porn Star that co hosted a show on main stream TV (La Cosa Nostra- october 2008). I had a segment on the news at 8 pm ( Angel Zayon 100%) were i was teaching couples about sexual positions and toys that would fill their lives with spice and excitement. For the last 3 years I've worked in all main Spanish channels, (Univision, telemundo, americateve, mega tv, etc)".
As mentioned above, in 2009 Angelina began to film hardcore sex scenes in collaboration with the prominent pornographic production company Justin Slayer International. Before long Angelina began to feature within many of Justin Slayer's best-selling DVD titles including South Beach Cruisin' 2, Mami Culo Grande 7, 2 Tha Point 1 and Confessions Over Cocktales 2 with Esperanza Gomez, Lisa Lee and Miss Raquel. During this time Angelina also filmed a saucy sex scene with Karlo Karrera that was also featured within Score's best-selling DVD title Busty Slut Expo and led to Angelina performing within such 2010 Score DVD feature releases as Busty Cock Worshippers 2, Leg Worship and Score TV Uncut and Uncensored.
Throughout 2010 Angelina continued to shoot with Justin Slayer International and starred within the Latin themed DVD titles; South Beach Cruisin' 4  and Mami Culo Grande 8 that were both nominated for "Best Ethnic Release: Latin" at the 2011 AVN Awards, Sara Jay In Heat, Phuck Girl 6 also starring Misty Stone and Charley Chase and Keep It Right There 5. In 2010 Angelina also featured within the Elegant Angel DVD feature release Big Wet Tits 10 that won "Best Big Bust Release" at the 2012 AVN Awards, Orgy Sex Parties 9 for Pink Visual and Happy Ending Handjobs 2 for Lethal Hardcore alongside British MILF star Tanya Tate, Lexxxi Lockhart, Gigi Rivera and Ashley Winters.
Angelina's amicable personality and natural buxom beauty soon earned her multiple adult film shoots with leading pornographic production companies Elegant Angel, BangBros, ScoreLand, Reality Kings, Naughty America, Evil Angel, Fetish Network, Sensational Video, Pure Play Media, Score, Brazzers, Justin Slayer International and Darkside Entertainment, as well as numerous prestigious adult film award nominations including;
2012: Nightmoves Awards nominee "Best Latina Performer"
2014: Nightmoves Awards nominee "Best BBW Performer"
2015: AVN Awards nominee "Social Media Star (Fan Award)"
2016: AVN Awards nominee "Social Media Star (Fan Award)"
Angelina is extremely appreciative of these adult film award nominations and the ongoing support of her fans. Throughout her porn star career Angelina has strived to forge a path within the adult entertainment industry for fellow Latin and BBW performers. As Angelina put it in her own words within her kushionsrus.com interview;
"I want to thank all those great people that love me and accept me for who I am and my great fans that have put me in a great position in life. Thank yous to all those that watch my movies and appreciate realness. Sex is a great thing and the day that society decides to accept it the world will be a better place…I wanted to see girls like me, real looking girls, I'm the real Latina next door. I want to see a movie and feel it not all that talking and unnecessary screaming and shit. I want to start my movies beautiful and hot and I want to end up with my eyebrows on my butt. That's when you know you really getting fucked".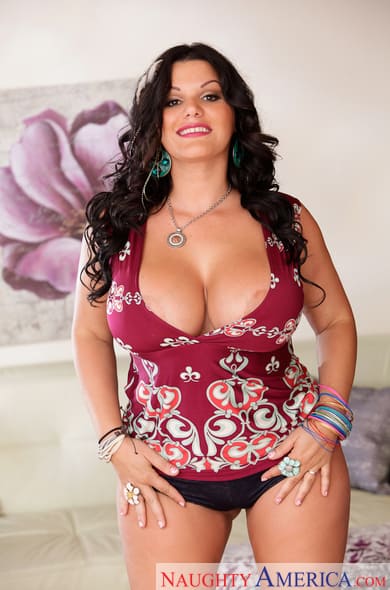 Angelina Castro at Naughty America
Consequently, in 2011 Angelina teamed up with famous adult film director Josh Stone in order to co-direct her first ever pornographic production Angelina Mundo 1 which was produced by Josh Stone Productions and distributed by Justin Slayer International. Angelina Mundo 1 was a smash-hit with Angelina's US and Latin fan base and resulted in Angelina filming a sequel feature release, Angelina Mundo 2, which was distributed in February 2014.
As well as directing her  very own adult film production, Angelina performed within a string of successful DVD feature releases throughout 2011 including; Amazon Whore Princesses for Venom Digital Media Femdom Ass Worship 11 for Evil Angel and MeanBitch Productions, Hefty Hispanic Hotties 1 for Sensational Video which was nominated for "Latin-Themed Release of the Year" at the 2012 XBIZ Awards, Neighbour Affair 10 with Chanel Preston, MacKenzee Pierce, Rachel Starr and Ava Addams for Naughty America, Latinas Unleashed with Andy San Dimas, Vicki Chase, Jynx Maze and Alexa Nicole for Venom Digital Media and Latin Adultery 14 with Esperanza Gomez and Isis Love for Naughty America that was nominated for "Best Latin Release" at the 2012 AVN and Urban X Awards. In fact, Angelina's performance in Latin Adultery 14 was so popular among fans that she was recruited to star in Latin Adultery 17 in 2013 which earned her yet another nomination for "Best Ethnic Release: Latin" at the 2013 AVN Awards!
From 2012 onwards Angelina began to feature within a wealth of fan-favourite fetish porn productions, Latin themed releases and BBW DVD titles. Fans of Angelina's captivating Cuban curves will not want to miss out on; the 2012 Elegant Angel DVD compilation 25 Sexiest Boobs Ever also starring Ava Addams, Kagney Linn Karter, Eva Angelina, Gianna Michaels, Jayden James, Lisa Ann, Sophie Dee and Taylor Vixen, her Fetish Network DVD series instalments Foot Fetish 8, 9 and 10 (2013) and Taboo 18 24 and 27 (2013), her best-selling BBW Sensational Video DVD titles such as Home Alone Chubbies that won "Best BBW Release" at the 2014 Nightmoves Awards. Angelina has since starred in Samantha 38G and Friends 2 (2013) which was nominated for "Fetish Release of the Year" at the 2014 XBIZ Awards, as well as appearing in Hefty Hispanic Hotties 2 (2012) for Sensational Video that was nominated for "Latin Themed Release of the Year" at the 2013 XBIZ Awards and her personal porn project Team BJ: Do You Have The Balls (2013) with Sara Jay for Official TeamBJ.com that was nominated for "Best Web Premiere" and "Best Marketing Campaign – Individual Project" at the 2014 AVN Awards.


Angelina is famous for her wide collection of MILF themed DVD titles and interracial feature releases such as MILFs Like It Black 10 (2013) for Brazzers and Mofos that also starred Veronica Avluv and Payton Leigh, Miami MILFs (2015) for Josh Stone Productions that was nominated for "Best MILF Movie" at the 2016 AVN Awards, She Got Flava (2012) for Josh Stone Productions that was nominated for "Best Interracial Release" at the2013 AVN Awards, and Big Tit Movie (2012) for Darkside Entertainment with Ava Devine, Sara Jay Likes Her Girls BBW (2015) for Wyde Syde Productions that won "Best BBW Release" at the 2015 Nightmoves Awards.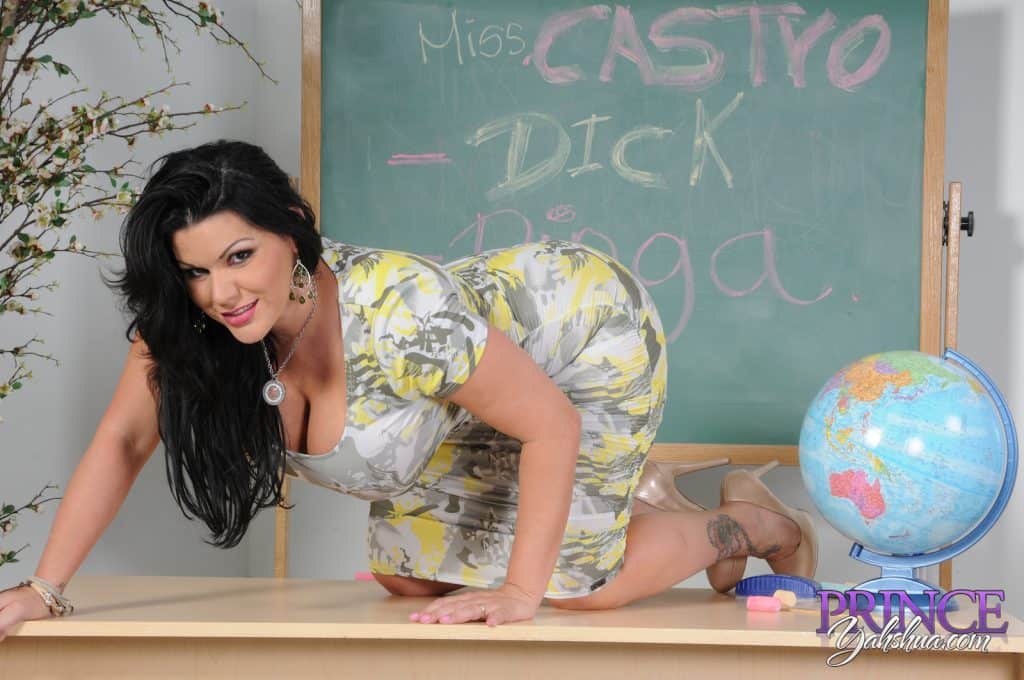 Angelina Castro at PrinceYahshua.com
Angelina Castro : Popular TS Porn Collaborations
In addition to her massive BBW and Latin fan bases, over the years Angelina has also amassed a dedicated fan following within the LGBT porn community due to her captivating collaborations within multiple trans-oriented feature releases. Fans eager to discover Angelina's kinky side should check out Pop My Cherry (2013) for transatplay.com which she filmed with transsexual business mogul Venus Lux. Angelina filmed has continued to collaborate with Venus Lux and the pair reunited on-screen in the Trans 500 Studios production Trans At Play 3 (2014) that was nominated for "Transsexual Release of the Year" at the 2015 XBIZ Awards which received a rave review from XCritic adult film blogger Apache Warrior;
"This film is a good one with three solo performances and one very cool looking girl on tranny session. Of course, the best and most replayable part of this movie is the duo of Venus Lux and Angelina Castro. Both performers apply good effort in humping one another. As for the solo play, Quinn and Brooke Bang are quite hot lookers that should be used more often. I expect that they would be very hot in a fucking scene. I recommend this film".
Angelina has also starred within the fan-favorite Trans 500 Studios DVD titles such as Trans At Play: She Male Exclusive (2015) alongside Venus Lux, Carla Novaes, Natassia Dreams and Bruna Butterfly that was nominated for "Best Transsexual Release" at the 2015 Nightmoves Awards, Kaitlyn Gender: Based On A Not So True Story (2015) with Jonelle Brooks, Wendy Williams and Kylie Maria that won "Transgender Release of the Year" at the 2016 XBIZ Awards, and All In The Family (2016) with Jonelle Brooks that was distributed via transatplay.com.


An avid sports fan, when she isn't filming her latest feature film projects you will find Angelina cheering on her favourite baseball and basketball teams! Angelina is also a caring an conscientious individual who loves to give back to her local community. As Angelina stated within her kushionsrus.com interview
"I help the homeless at a church. Every two months there is an event in Miami beach and we feed, cloth, and give them the necessary stuff like toothpaste, canned food, and shoes so they can survive on the streets. I always wanted to adopt kids. I have one of my own and I think that is enough with the giving birth shit. I want to give my Slovenia to all those that need it".
As matters stand, Angelina continues to work as an adult film performer, Spanish TV host and ardent advocate of adult film professionals' working rights. When asked about her career ambitions and future plans, Angelina confided within her Webster Style interview that;
"Success is a very personal matter. I believe I'm successful because my family is together. My son is healthy and smart. I'm accepted by who I am and I don't live with any holds or taboos, that stop me from doing what I want… Still travelling, spreading freedom to do as I please, and hopefully with more dogs and kids that I have now…I'm very happy with who I've become and where I'm going. I would like to reach more people and talk to them about my experiences and views in life. I don't give advice I just tell stories and people are allowed make their own opinions".
So if you'd like to learn more about exotic entertainer Angelina Castro then please feel free to use the links below to visit her official social networking channels online today. By utilising these official links you can schedule yourself a live chat session with the Cuban cutie herself, learn about her exclusive clothing and condom lines, or simply catch up on her latest video clips and fantastic feature releases!
Social Networks
Official Website : AngelinaCastroLive.com
Twitter : @AngelinaCastroX
Instagram : @laangelinacastro
Scoreland : Angelina Castro at Scoreland
Naughty America : Angelina Castro at Naughty America
Pornstar Platinum : Angelina Castro at Pornstar Platinum
Prince Yahsuha : Angelina Castro at Prince Yahshua
Scoreland : Angelina Castro at Scoreland.com
IMDB Profile : Angelina Castro Filmography