Amber Ivy Biography
Website : Amberivyxo.com Twitter : @AmberIvyxo Instagram : @amberivyxo Kink Profile : Amber Ivy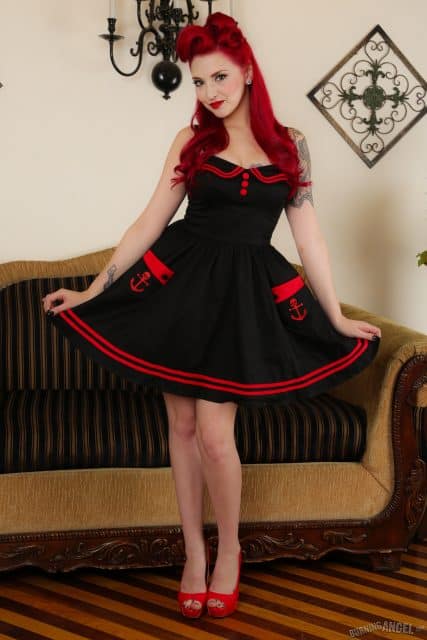 Amber Ivy at Burning Angel
Personal Info
Name : Amber Ivy
Date of Birth : November 6th, 1993
Hometown : Cleveland, Ohio (US)
Measurements : 34C – 26 – 36
Height : 5'4 (1.63m)
Hair Colour : Red
Eye Colour : Brown
Tattoos : A red heart on her left breast, a large black ink floral design across her upper left arm, various symbols on the inside of her right forearm, a large castle with a moon and bats design across her right side as well as several large red roses travelling down the side of her left hip and upper thigh. Talking about her tattoos during her July 2016 AVN: Fresh Faces interview, Amber mentioned that they are; "My little sticker book. Because I've gotten every one in a different place. So every time I've traveled I've been like I have to get a tattoo here".
Thus far Amber has been tattooed in Salem, Savannah, Columbus, Ohio, Las Vegas, Hollywood and Cleveland.
Piercings : Nose and navel
Pets : 2 cats
Years Active : 2014 – present
Number of Scenes : 50+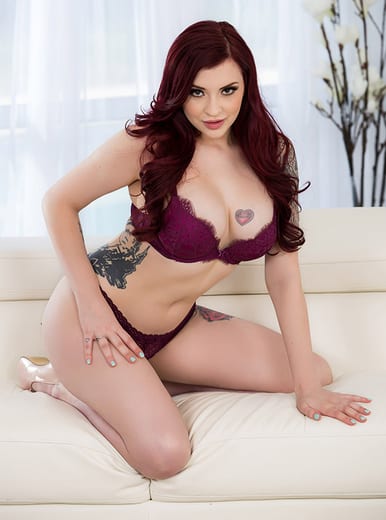 Amber Ivy at Brazzers
Born and raised in Cleveland, Ohio, you may be interested to learn that Amber attended a Christian Catholic school as a child. However, Amber soon started to indulge her rebellious streak as a teenager – dying her hair, wearing thick eyeliner and experimenting with quirky fashion trends. As Amber herself explained in her February 2017 Adult DVD Talk interview;
"I'm from Cleveland, Ohio and I rep it as much as I can because it's the home of rock 'n roll and I love it. (laughs) I went to a Christian Catholic school so it was that whole Catholic schoolgirl thing. A little sheltered, at first, then I started breaking out of my shell, probably around pre-teen or early teen years. I started dying my hair, wearing eye liner, putting safety pins on my uniform and stuff I shouldn't have been doing in the school that I was going to. (laughs) I was rolling with some heavy thick eyeliner and they would send me right to the bathroom and make me scrub it off before my first period class every single day. I didn't have to wear the plaid skirt, it was more solid colors in a skort or a jumper. So it wasn't too crazy but a lot of religion!".
Amber left this Catholic school when she was in the seventh grade at which point she started attending a local public school. It was during this time that Amber lost her virginity and she has revealed within her February 2017 Adult DVD Talk interview that;
"It started with me leaving the Catholic school which I finally convinced my parents to let me do in the 7th grade. I thought that all the kids at public school were sexually active because everyone was talking about sex! I thought everyone had lost their virginity and were promiscuous! (laughs) So, I figured I had to fit in with my new peer group and I had to lose my virginity! Little did I know, everyone was just talking about it and not actually doing it. (laughs) I was AOL Instant Messenger and I found this guy that was 2 lockers down. I asked him to come over. He had his brother drop him off and pick him up and I just wanted to get it over with. It was really special. (laughs)…
I started dating and fucking girls for a while. I went from 'ok, let's get this over with' to 'I think I'm a lesbian!' (laughs) Real quick!…I fucked all my girlfriends. (laughs) To this day still! (laughs) We're not really friends until we have lesbian sex…I really thought I was gay for a really long time. I didn't try guys again until I was probably 16 or 17. Then that was a whole 'nother story! (laughs)".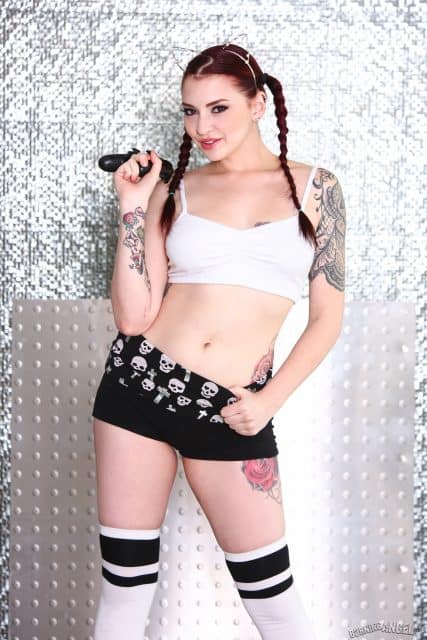 Amber Ivy at Burning Angel
Amber is an incredibly creative individual who played flute for nine years and who remains passionate about art and photography. In fact, Amber attended college at a young age where she graduated with an associate's degree in Art. In fact, when Amber made her porn debut she was actually a Biology major! Talking about her studies in her July 2016 AVN: Fresh Faces interview, Amber highlighted how;
"I got two associate's degrees by the time I was 20. I'd like to finish, I really would…I'm young, I want to do this right now...I love learning in general. Something I live by is, 'if you're not learning, you're not progressing. If you're not growing, you're dying. With biology, everything has an answer. And even as we progress further we're starting to find some of those answers…
It's one thing that's a constant for me. I love learning about it. I love practicing it. It's important in life in general. I found that fiery passion that I have and it's for science. But I also have that part of me that's fiery and driven by art and the two always clash…So just figuring out the balance for me. I have done traditional art—like painting and drawing and that kind of stuff. So I like to have my fingers in a little bit of everything".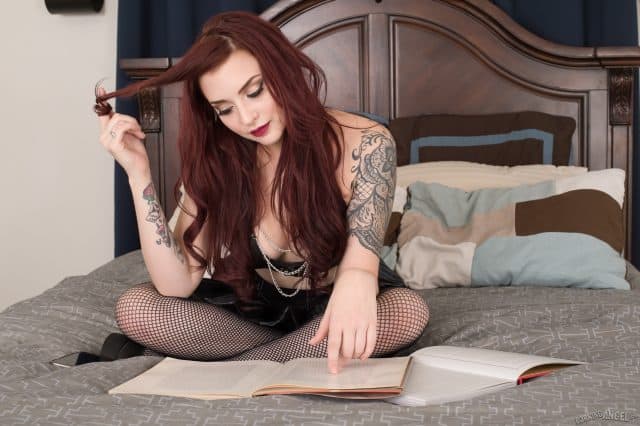 Amber Ivy at Burning Angel
So just how did Amber discover her porn star potential? Well, it all began when Amber met award-winning porn director Joanna Angel at a local strip club where Amber was working. Talking about this pivotal moment in her life during her February 2017 Adult DVD Talk interview, Amber recounted how;
"I met Joanna Angel when she was feature dancing and I was working at strip club. I asked her, 'How do I do porn?' And she told me I could work for her. I didn't know anything about Burning Angel or porn or anything. We would have monthly feature dancers in our club. Just to see what they were all about, I would look them up and watch their porn before they performed at the club. But that was the full extent of porn that I knew about…
At first, it was a revenge thing to a guy I had been seeing for around 2 years. But I dated him when I first turned 18. We were already having groupsex, threesomes, foursomes, orgies….He was the one who I started opening up to and doing different things sexually. I knew I was into girls and I didn't really want to give girls up so he said, 'How about we just have friends over?' So we had that then we broke up. So I decided to do porn".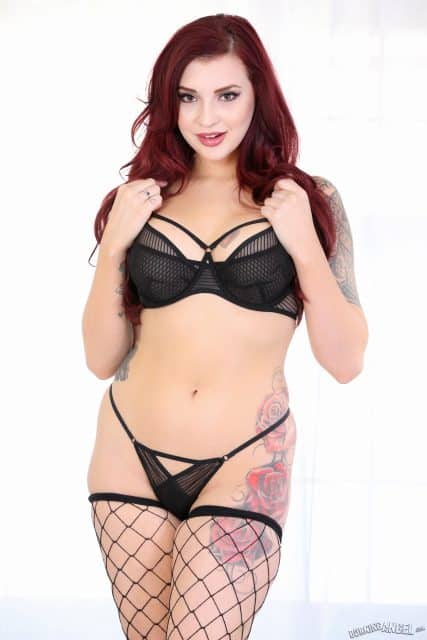 Amber Ivy at Burning Angel
Amber Ivy : Adult Film Career
In November 2014 Amber filmed first ever sex scenes with Xander Corvus for the Burning Angel porn parody How The Grinch Gaped Christmas (2015). Amber discussed shooting her porn debut within her February 2017 Adult DVD Talk interview, conveying how;
"I was really nervous. My first scene was for Burning Angel called The Grinch Who Gaped Christmas. Joanna Angel was spray painted green from head to toe. Coming to LA was a magical thing and then going to a set where there were directors and people putting things together so it looked like Christmas. I loved it immediately. 'If this is what porn is, sign me up!' (laughs) I wanted to get spray painted green. It was really fun. I did my first scene with Xander Corvus. I was really nervous but it went really well. It even got nominated!".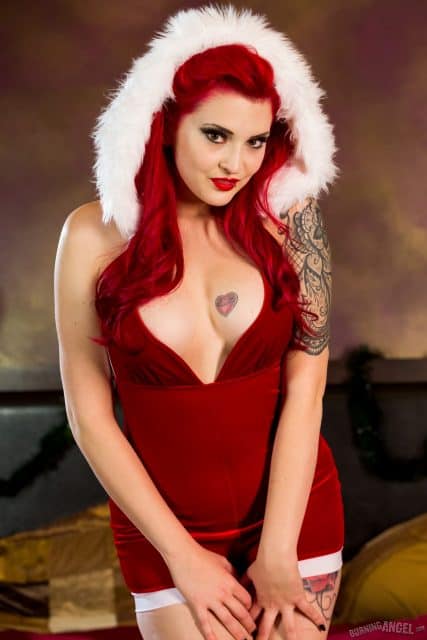 Amber Ivy in How The Grinch Gaped Christmas – Burning Angel
Directed by Joanna Angel, this kinky Christmas comedy was an instant hit which was nominated for "Clever Title of the Year", "Best Makeup", "Best Director: Parody", "Best Screenplay: Parody" and "Best Parody" at the 2017 AVN Awards. What's more, Amber personally received a "Best Scene – Parody Release" nomination at the 2017 XBIZ Awards for her hot hardcore shoot with Xander Corvus! All in all, How The Grinch Gaped Christmas was a critical and commercial success that received rave reviews from prominent porn critics such as Adult DVD Talk blogger AstroKnight who stated in his December 2016 film review that;
"How the Grinch Gaped Christmas is a very fun porn parody. Not only does Joanna Angel do a great job playing The Grinch, but she does an excellent job with the story. The reading of the pornified version of the Dr. Seuss classic is nothing short of fantastic, and had me smiling every time as well as laughing out loud a few times…
I went into How the Grinch Gaped Christmas with a bit of hope and more than a little apprehension, but came out more than impressed with the job Joanna Angel and her crew did here…this one's a fuck of a lot better than the Jim Carrey piece of shit that all too many people associate with the classic tale today. If you're at all curious about How the Grinch Gaped Christmas, make sure you pick it up. If you're a fan of heavily inked girls, it's probably even worth the purchase".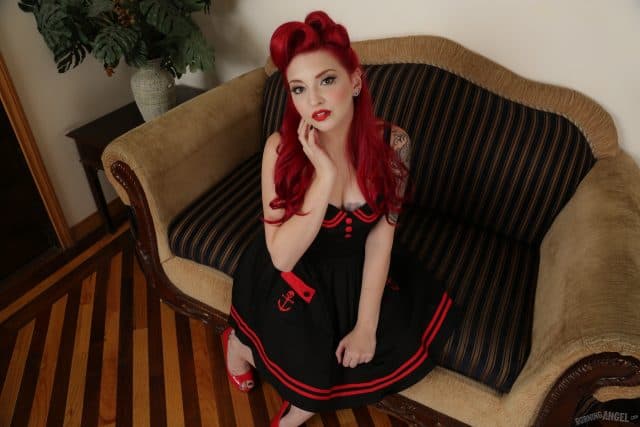 Amber Ivy at Burning Angel
Want to know the best part? Amber has continued to collaborate with Joanna Angel on a wealth of kinky Burning Angel comedies such as the award-winning Cindy Queen Of Hell (2016) wherein Amber played a Halloween extra, Let's Play (2016) starring Janice Griffith, Nikki Darling and Dollie Darko, School of Black Cock 3 (2016), Joanna Angel's Anal Training Camp (2016) and Dysfucktional Family Reunion (2016) that was nominated for " Best Taboo Relations Movie" at the 2017 AVN Awards and "All In The Family Theme" at the 2017 XRCO Awards. Most recently Amber has starred in Curves For Days 2 (2017) and she has filmed a raunchy Dirty Secrets – Amber Ivy POV shoot with Will Havoc that was released via BurningAngel.com in June 2017. Not to be missed! Amber has loved shooting for Burning Angel and ardently enthused during her December 2015 Fleshbot interview how;
"I love working for Burning Angel because of the support web of people. There are so many people that I've met and befriended. Since we are all in the industry, or dating someone in the industry there's a great understanding between all of us. I always look forward when I get to shoot at the same time as some of my friends or stay with them on my travels. When we all get together, it's like no time has passed. It's a great little group…I love Burning Angel fans because mostly they have love for everyone! They know most of the girls too and suggest hot things for us to do together!…
Joanna is a peach. She's a great director because she gives you a rough outline of what is happening and says, "Okay now go at it!" She lets her performers really be themselves instead of outlining cookie-cutter style how sex should be. She lets the performers vibe and work out how sex on film works best for them. And always provides celebratory after-sex food!".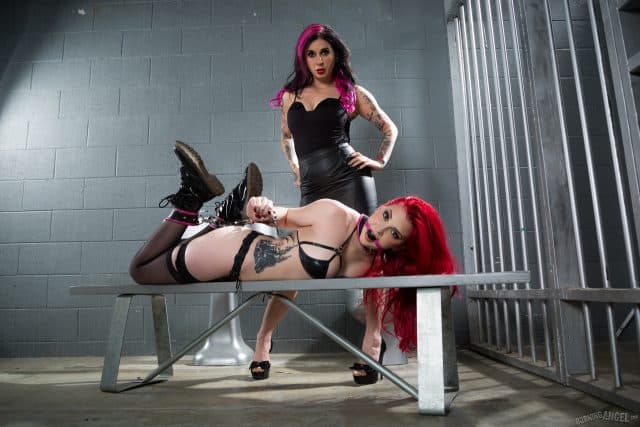 Joanna Angel and Amber Ivy – Burning Angel
Over the years Amber has continued to star in several best-selling porn parodies including Skanknado (2017) for Hustler Video that was nominated for "Clever Title of the Year", "Best Parody" and "Best Special Effects" at the 2018 AVN Awards as well as Amber's Damn Fine Pie! A Twin Peaks Parody Gangbang which was released via Kink.com in May 2017 and nominated for "Best Sex Scene – Vignette Release" at the 2018 XBIZ Awards. This Twin Peaks porn parody has also been showcased in the Kink DVD compilation title Hardcore Gangbang Parodies 3 (2017) which was nominated for "Best Parody" and "Best Art Direction" at the 2018 AVN Awards. Amber has personally received several notable nominations at the AVN and XBIZ Awards including;
2017: AVN Awards nominee "Hottest Newcomer (Fan Award)"
2017: XBIZ Awards nominee "Best Scene – Parody Release" How The Grinch Gaped Christmas (with Xander Corvus)
2018: XBIZ Awards nominee "Best Sex Scene – Vignette Release" Hardcore Gangbang – Damn Fine Pie! A Twin Peaks Parody Gangbang (with Tommy Pistol, Owen Gray, Will Havoc, Jon Jon and Mickey Mod)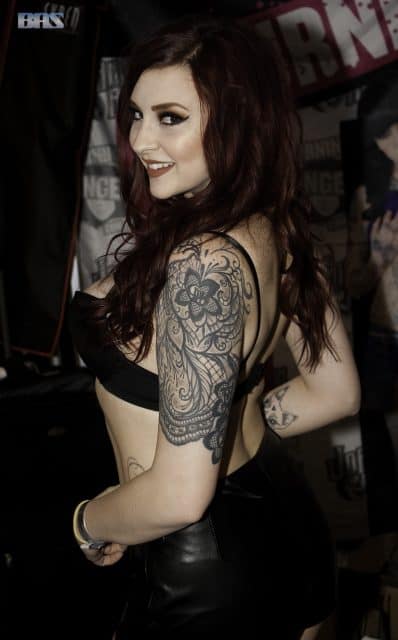 Amber Ivy at 2016 AVN Adult Entertainment Expo – Image Attribution : Baldwin Saintilus
Instantly recognisable by her ravishing red locks, alluring body art and captivating curves, Amber has been featured within many fan-favourite DVD series. Fans of Amber Ivy will love viewing her saucy scenes in the Elegant Angel DVD Big Wet Interracial Asses 2 (2017) featuring A.J. Applegate, Abella Danger and Lauren Phillips that was nominated for "Best Interracial Movie" at the 2018 AVN Awards, as well as checking out Axel Braun's Inked 3 (2017) for Wicked Pictures within which Amber was showcased alongside fellow tattooed starlets Leigh Raven, Draven Star, Honey Gold and Rizzo Ford.
One thing's for sure; Amber is famous for her epic anal scenes. Curious? Then we recommend checking out her raunchy scenes with Mark Wood in the LeWood/Evil Angel DVD Little Anal Vixxxens 2 (2016), her sizzling scenes in My Anal Intern (2016) for 3rd Degree that was nominated for "Best Anal Movie" at the 2017 AVN Awards, her kinky Amber's Pantyhose anal role-play with Bill Bailey that was uploaded via Brazzers Network in April 2017 and her amazing anal shoot with Nat Turnher in Aiden Riley's Evil Angel sequel release Dark Meat 9 (2017) also starring Zoey Monroe, Mandy Muse and Saya Song.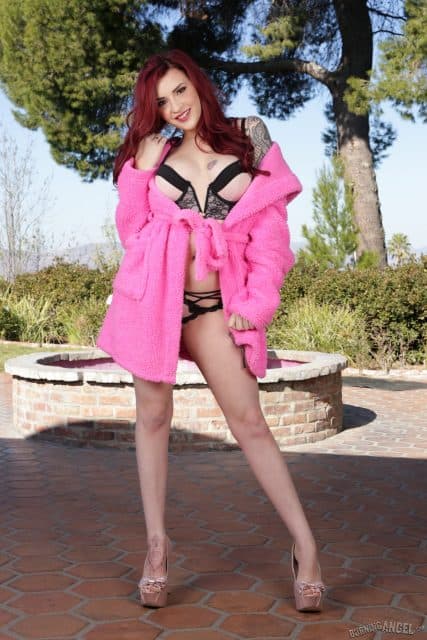 Amber Ivy at Burning Angel
You may be interested to learn that Amber is also a popular girl/girl performer. If you're interested in checking out some of Amber's lusty lesbian collaborations then you'll want to watch her scintillating shoot with Leigh Raven in Lesbian Anal Virgins 2 (2017) for Filly Films, her steamy scenes with Val Dodds in Twisted Sisters 2 (2017) for Addicted 2 Girls and her raunchy Everything Butt group wrestling role-play with Cheyenne Jewel, Savannah Fox and Jenevieve Hexxx that was released via Kink.com in September 2017.
Amber has also filmed a sultry shoot with Chloe Scott that was featured in Yoga Girls 4 (2017) for Addicted 2 Girls, she has starred in a kinky massage themed scene with Daisy Ducati that was uploaded via Kink.com in December 2017 and she has shared some saucy scenes with Dahlia Sky and Zelda Morrison in the Hustler Video DVD Prison Lesbians (2017) that was nominated for "All-Girl Release of the Year: Non-Feature" at the 2018 XBIZ Awards. Amber has enjoyed exploring her devilish domme side within these lesbian porn productions, raunchily revealing via her February 2017 Adult DVD Talk interview how;
"I like being in charge. (laughs) I'm more dominant than submissive in bed, I've always been that way, even before porn. Sex should just flow but you can steer it in certain directions. I don't necessarily like a guy to be completely submissive. I like having subs and I've done a little bit of pro dom work but I prefer having sex with men that are not completely submissive but are open to it. I'd rather do the tying up than being tied up".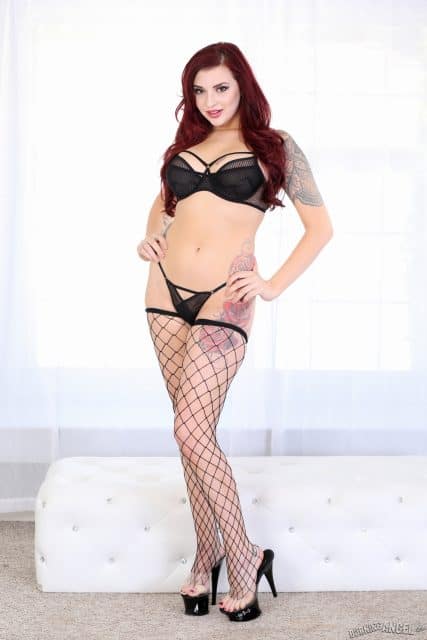 Amber Ivy at Burning Angel
When she isn't shooting these fan-favourite porn productions Amber enjoys interacting with her fans via social media, updating her official solo site, AmberIvyxo.com, with exciting new content as well as indulging her passion for art and photography. After all, as Amber stated in her February 2017 Adult DVD Talk interview;
"Art and photography are definitely huge hobbies of mine. I started college at a really young age and got my degree in art. I'm trying to utilize it this year and branch out. Last year was moving to LA and figuring out what I'm doing. This year, I think is the year that I really buckle down and creating more since I've gotten away from that quite a bit. Anything I can put my hands on! Crafting…I know how to do a million things! I can knit, I can sew, I played the flute for 9 years. I dabble in a lot of stuff".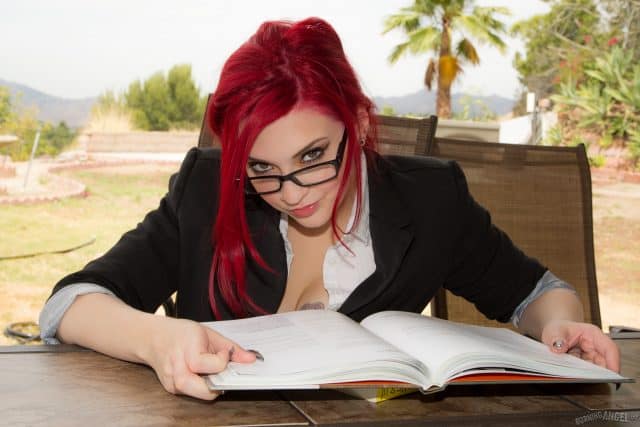 Amber Ivy at Burning Angel
Keen to keep yourself updated on all of Amber Ivy's upcoming porn productions and personal projects? Then please feel free to use the links provided below to stay connected with your favourite ravishing redhead Amber Ivy!
Social Networks
Website : Amberivyxo.com
Twitter : @AmberIvyxo
Instagram : @amberivyxo
Kink Profile : Amber Ivy
Burning Angel : Amber Ivy at Burning Angel
IMDB Profile : Amber Ivy Filmography