Amarna Miller Biography
Twitter : @AmarnaMiller  Instagram : @amarnamiller  Camsoda : amarnamiller  Kink : Armana Miller
Amarna Miller at Reality Kings
Amarna Miller : Personal Info
Name : Amarna Miller
Date of Birth: October 29th, 1990
Home Town : Madrid (Spain)
Measurements : 34A – 24 – 34
Height : 5'4 (1.63m)
Hair Colour : Red
Eye Colour : Blue
Years Active : 2012 – present
Number of Scenes : 100+
Meet the spectacular Spanish porn star and redhead pornstar Amarna Miller! Famous for her impressive portfolio of European and American online sex scenes and DVD feature releases, Amarna Miller is an amazing adult film actress with an aptitude for photography, video production and the arts.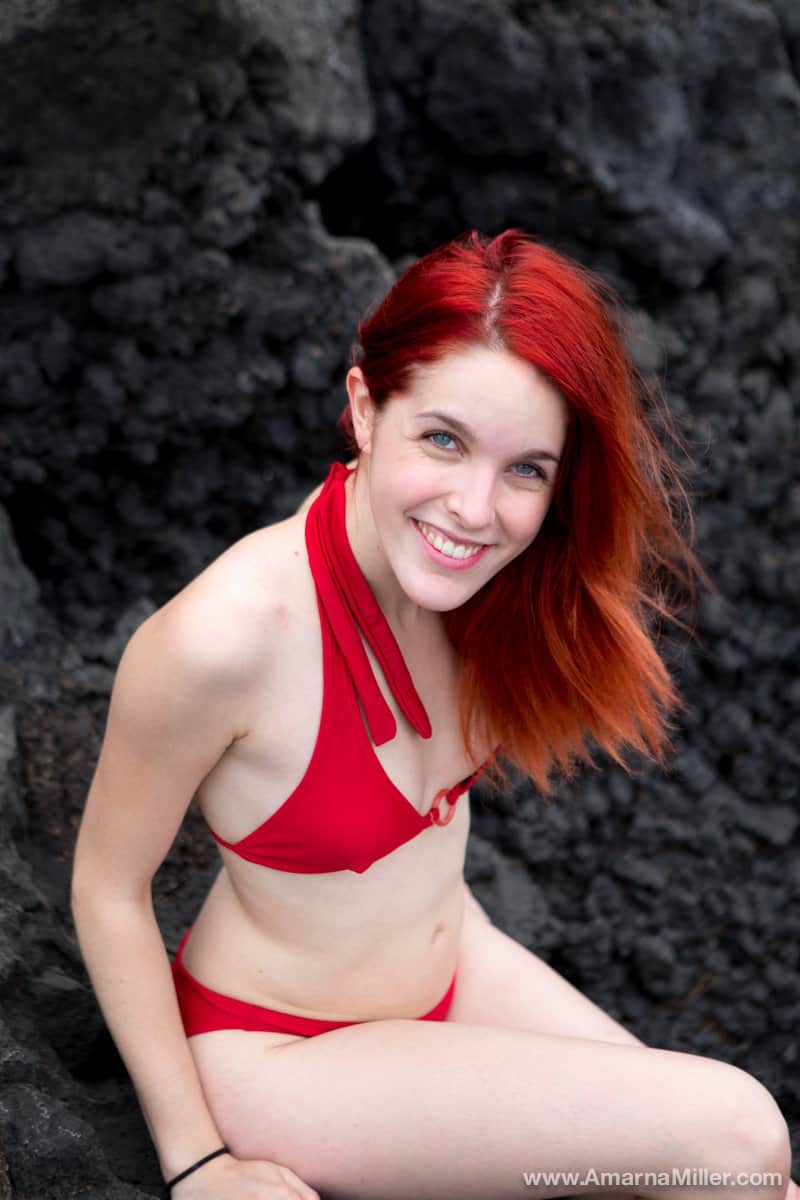 Image Sourced from Wikimedia
Born in Madrid, Spain, Amarna Miller has conveyed within her June 2014 Adult DVD Talk interview that during her childhood she always yearned to travel the world and to live closer to nature;
"I was born in Madrid, Spain. It's a nice city with lots of history but I have always think that it's "too much city" for me. I really love nature; to be in the wilderness it's probably one of the things that I enjoy the most, so when I'm in a city for a long time I feel like trapped. Anyways I really shoot a lot outside of Madrid so at this moment of my life I only spend there about four or five days per month. I am lucky because with my job I have the possibility to travel almost everywhere in the world and usually with flight and expenses covered".
Amarna Miller revealed within her August 2015 Fleshbot interview that she was a shy yet intelligent girl during her high school years;
"I was actually quite shy and a very good student. I loved going to school! My favourite classes were all that had something to do with history or arts. Back then, I had the classic school romance, I was together with my boyfriend for almost two years, and the truth is that I keep great memories from that time!".
Amarna's aptitude for the arts led her to begin creating and selling her own hand-made bags, jewellery and crafts at a local flea market when at she was merely 16 years old. Upon turning 18, Amarna briefly worked as a photographer for the Santiago Bernabeu stadium which is the home of the football team Real Madrid. However, Amarna Miller has always had a highly sexual nature so she soon sought out a job as a nude model posing for painters and photographers. As Amarna puts it in her own words during her March 2014 Barelist interview;
"I was thinking about becoming a model, and a couple of months later I was modelling for some of the biggest names in Spanish photography. I really enjoyed to do explicit images so from there to porn it was just one little step…Because I have always been quite interested in erotic photography, my pictures become increasingly more explicit, and at some point I started to shoot pornographic pictures. I felt really comfortable in front of the camera, so at some point I started to think about getting into the porn industry…My friends support me since the first moment. Knowing me for all these years they already knew that I was going to be into this business in one way or another…My parents respect my decision but they do not like it. Because I have a career and I'm a clever girl, they think I could be doing something else. But the fact is that this is exactly what I want to do".
Amarna Miller discussed within her December 2014 AIP Daily interview how she created her porn star stage name 'Amarna Miller' from her love of Egyptian history and literary works;
"I love history of art and Egyptian history, specially the period of the 18th dynasty, when the Pharaoh Akhenaton created the monotheist religion based in the cult to the god Aton, the Sun. In this period there was a huge revolution inside the artistic field, and the human representations of the pharaoh, his wife and daughters are incredible. The famous bust of Nefertiti was done during his time and he also moved the capital of the empire from Tebas to Amarna! And that's why I chose my name. I wanted something strange enough to be original but also with an interesting history behind. And Miller is for Henry Miller, one of my favourite writers".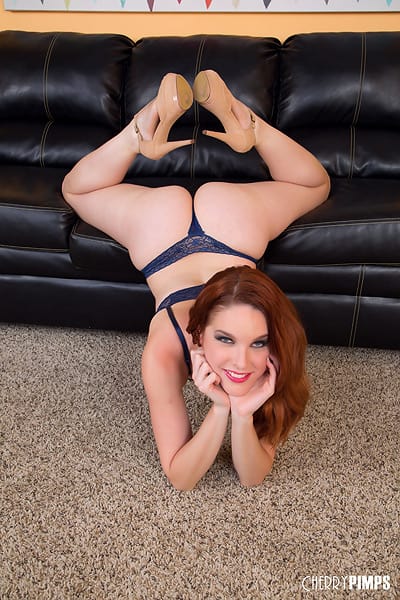 Amarna Miller at Cherry Pimps
Amarna Miller : Adult Film Career
After graduating from high school, 18 year old Amarna Miller decided that she wanted to become a porn star. Unfortunately, after contacting several Spanish pornographic production companies she found herself disappointed with the types of sex scenes on offer to her. Given that Amarna had just begun to undertake her Fine Arts degree at the European University of Madrid, she decided to put her cinematography skills to good use and formed her very own pornographic production company, Omnia-X. In this manner Amarna began to make a name for herself as an independent porn star and before long she was sought after to shoot for the Australian porn site Abbywinters.com. Amarna discussed these early days of her adult film career in greater detail within her Adult DVD Talk interview, elaborating how;
"I've always been interested in experiment with my sexuality and I also enjoyed a lot to watch porn, so at some point I started to ask myself, "Could I become a porn actress?" I sent messages to all the companies that I could find on my country, but I was really disappointed with their answers. The scenes they were offering me were not the kind of porn I wanted to do, the technical quality was really low, the stories were degrading and the payment was small. I just had started my university degree in Fine Arts. I was learning how to use a video camera and I became specially interested in the field of photography, so taking the basis I was learning on my classes I started to record my own porn videos. At first it was only a hobby but step by step I improved my skills and took it more seriously…
Then I started to create my own porn company. I created a huge repository with my own porn videos and later I included other girls and boys. I was 19. Knowing everyday a little more about the industry, I could see soon that my place to shoot was outside of my country, so I did a research to find good companies to work with. By this way I discovered Abbywinters.com, an Australian website actually based in Amsterdam. With them I shot my first scene outside of my company. At first I only did solo and girl/girl shoots but soon I decided to go further and shoot also boy/girl. I finished my degree last year and since then porn has been my full time job, developing my own company and also shooting for other ones. I love to work in this industry and I feel really proud of what I'm doing".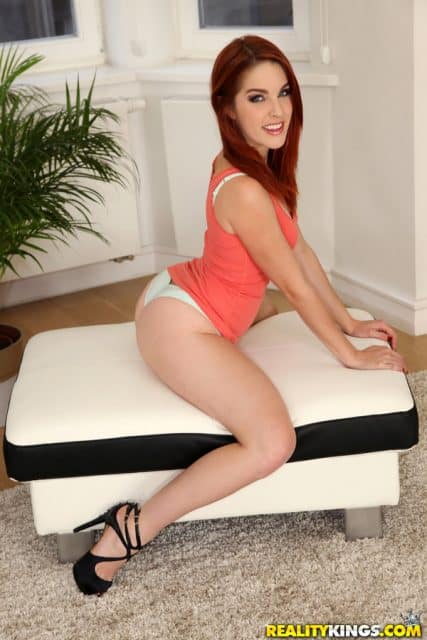 Amarna Miller at Reality Kings
Amarna Miller has often advocated how her Fine Arts degree has helped her to produce and perform high quality pornographic productions. As Amarna mentioned within her May 2016 Sex And Art With Amarna Miller interview with L Isaac Simon for badoink.io;
"I never ever had any conflicts mixing the artistic techniques that my degree taught me with pornography. In fact, my final project in Fine Arts was about showing how you can merge cinematography, pornography and art in the same piece. I'm very tired of everyone telling me that porn is not cinema, that porn is not art… please, stop labelling everything! Porn can be as good and as bad as we want it to be, but of course a good video needs time, technique and patience, and most of the companies nowadays are looking for doing easy, fast and as cheap as possible videos so they can earn profits quickly. Fortunately, since some years ago there have been companies shooting good quality scenes, closer to cinema that to mainstream porn. You should check the work of Four Chambers, they are amazing and the best example of this".
Consequently, from 2012 onwards Amarna began to feature within many Omnia-X and Abbywinters.com pornographic productions including Girl Sex (2012), Girls Enticing Girls (2013) and Hot Girls Together (2014). Amarna also  filmed for Private Entertainment and has been featured within Private Specials 76: Take The Mike (2013), Private Specials 93: Lolitas In Barcelona (2014) Private Specials 95: Lick My Ice-cream, Bitch (2014), Private Specials 98: VIP Fuck Club (2014) and Private Gold 193: London Love Affairs (2015). Amarna Miller loves collaborating with Private Entertainment and enthused within her Adult DVD Talk interview how;
"To shoot with Private was a dream that become true. They are one of the giants in this industry, and their quality is amazing. I admire their films and the labour they did shooting sex scenes in normal, complex movies with a huge argument. Currently there's nothing like that. I did my first scene with them about one year and a half ago. It's a threesome with Eris Maximo and David el Moreno and despite it was a really hard shoot (about 14 hours!) the results are great and we had a really good chemistry. It really surprised me that they chose my image to be the cover of the DVD, because there were really famous performers on the film, like Anissa Kate or Erica Fontes!".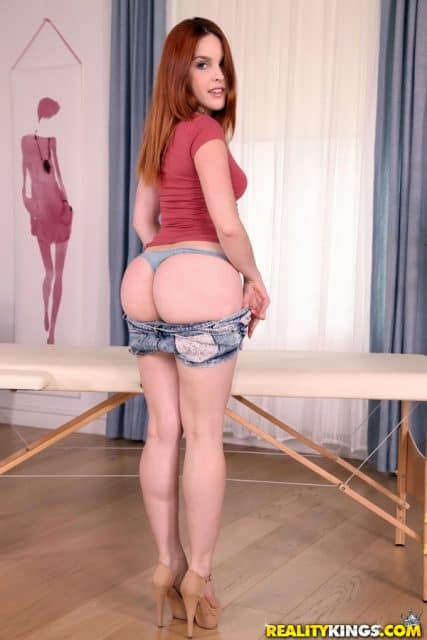 Amarna Miller at Reality Kings
During this time Amarna Miller also featured within a wealth of American-produced DVD titles such as Baron's Whores (2014) for Wicked Pictures alongside Dani Daniels, Tiffany Doll and Valentina Nappi which was nominated for "Best Foreign Feature Release" at the 2016 AVN and XBIZ Awards, the DDF Productions DVD title Sauna Sex (2014), the Kelly Madison Productions DVD feature release Wanderlust (2015), XConfessions 1-3 (2014) for Lust Films, Every Last Drop 32 (2014) for Bang Bros, Waltz With Me (2014) for Girlfriends Films with Alexis Brill and Taylor Sands that won "Best Foreign Non-Feature Release"  and "Best Director: Foreign Non-Feature Release" at the 2016 AVN Awards, Debauchery Mansion (2015) for Video Marc Dorcel that was also nominated for "Best Foreign Feature Release" at both the 2016 AVN and XBIZ Awards and Fit (2015) for Joy Bear Pictures that was nominated for "Foreign Feature Release of the Year" at the 2016 XBIZ Awards. Amarna Miller proclaimed her love of the United States and these American production companies during her recent XCritic interview and eagerly explained that;
"The first time I came to live in the US was during my university years. I won an scholarship to study in the Santa Fe university of art and design so I moved to New Mexico for one year until I finished my semesters. When I went back to Europe I could only think in coming to the US again!…Last January I finally decided to cross the ocean again to try to work in LA. It was a big adventure and I was pretty scared, but I found my agent and I got lots of bookings so when I had to return to Spain in April, I was sure I was going to come back soon…And that's what I did! With the excuse to participate in the Burning Man Festival, I arrived for the last time in August of last year, and since then I've been living in LA.  I love this country and I'm very happy to finally be able to stay!".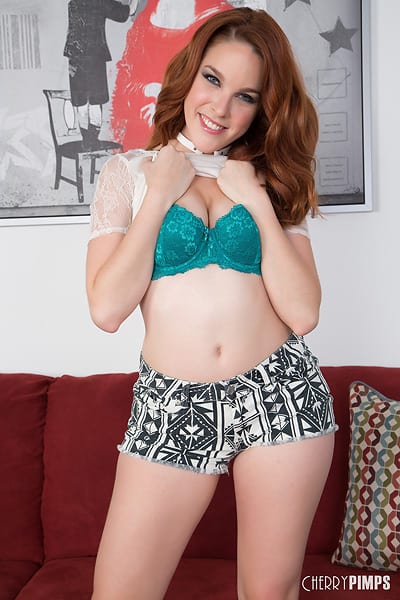 Armana Miller at Cherry Pimps
In recent years Amarna Miller has continued to film for a wealth of European and American pornographic production companies. Fans of Amarna will not want to miss out on viewing her multitude of raunchy online sex scenes for fakehub.com in 2014, with male porn star Owen Gray for manyvids.com in September 2015 and March 2016, for teensloveblackcocks.com in May 2015, for TugPass.com in February 2016, for the Reality Kings porn site eurosexparties.com throughout 2015, for purexxx.com throughout 2015 and 2016, and for the Mofos website publicpickups.com in February 2015. Amarna has also starred in Pour Toi Mon Amour 4 in January 2015 and Vox 2 in December 2015 that were both filmed for sexart.com. You can also check out Amarna in a series of sizzling Blacked.com sex scenes with Flash Brown in February and with Rob Piper and Gwen Stark in November 2015. Amarna Miller has also shot multiple instalments for x-art.com including Strawberry Morning (2014) and Couple Fantasies (2016). Most recently, Amarna Miller has starred in a show-stopping group sex scene with Anna Polina, Josh and Max Casanova for the Wicked Pictures production Luxure: Wives To Share (2016) that was nominated for "Best Sex Scene In A Foreign Shot Production" at the 2017 AVN Awards.
In addition to her performing and producing skills, Amarna Miller is also a talented webcam model who has performed a variety of public and private live chat sessions throughout the course of her adult film career. When asked to name her best webcamming story to date, Amarna Miller revealed within her XCritic interview how;
"Once you're an established performer it's an awesome way to keep a close relationship with your followers while having some stable money coming every month…My best cam story? A couple of weeks ago the internet connection of my house was SUPER slow because of a storm so my FPS rate was very, very low. It felt like performing in stop-motion. At some point we stopped doing dirty stuff and we were just talking to the camera, in a sort of improvised podcast. People loved it and they kept tipping us even if they couldn't see anything. In the end that developed into a paid AMA (Ask me anything) and it was very fun".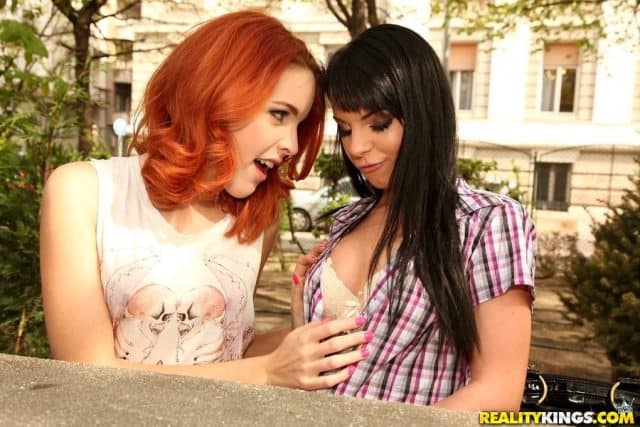 Amarna Miller and Jessica Swan in Just A Taste – Reality Kings
Amarna Miller : Fetish Lifestyle Market
Amarna Miller has developed a loyal fan following within the fetish lifestyle market due to her wealth of fiery web content that she has filmed for the popular fetish porn site Kink.com. Amarna Miller made her Kink.com debut in March 2015 with a hardcore BDSM sex scene for their The Upper Floor web series titled Two Slutty Slaves Service Cock. Amarna Miller has since featured within 12 saucy sex scenes for Kink.com's various Device Bondage, Whipped Ass, The Training of O, Hogtied, Electro Sluts, Fucking Machines, The Upper Floor and TS Pussy Hunters online franchises. Fans eager to discover Amarna Miller's kinkier side will not want to miss out on viewing her April 2015 TS Pussy Hunters sex scene with TS Foxxy, her December 2016 military-themed TS Pussy Hunters sex scene with Isabella Sorrenti, her November 2015 The Upper Floor three-way sex scene with Veruca James and Bill Bailey titled Anal Slave On Top and her November 2016 The Upper Floor three-way sex scene with Chanel Preston and Mickey Mod titled Evil Hot Step-Mother & Spoiled Brat Get Anal Punishment.


Over the years Amarna Miller has continued to star in a range of fetish lifestyle content for the pornographic production company FM Concepts such as Duct Tape Challenge (2016), Elle Alexandra Bondage Club (2016) and Warning: Costumes May Attract Ropes And Gags (2016) among many others. Amarna Miller has also featured within the femdom pegging feature release Lesbian Strap-On Bosses (2016) for Sweetheart Video with Sovereign Syre, the kinky DVD title Rocco's Perfect Slaves 6 (2015) alongside fellow fetish porn star Bonnie Rotten and Slutty Girls Love Rocco 8 (2015) for Evil Angel that was nominated for "Gonzo Release of the Year" at the 2016 XBIZ Awards.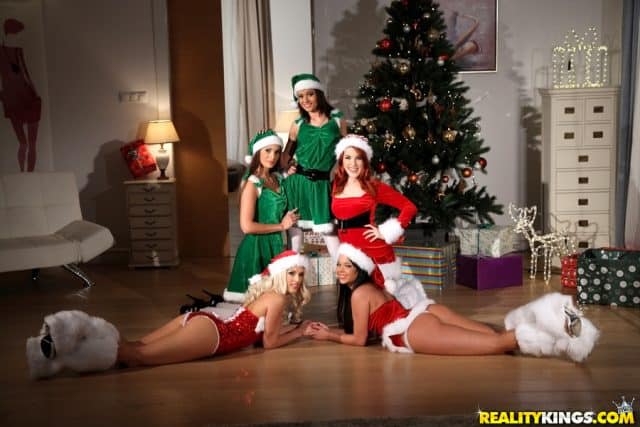 Amarna Miller, Blanche Bradburry, Renato and Tricia Teen in Dirty Little Santas
Ever eager to explore her sexual boundaries, Amarna Miller has also filmed with TS stars River Stark and Freya Wynn for the trans-friendly porn site TGirls.Porn in 2016 and starred in Mona Wales' Grooby Productions directorial debut Real Fucking Girls for which her saucy session with Jane Starr was nominated for "Best Transsexual Sex Scene" at the 2017 AVN Awards. In fact, Amarna's transsexual sex scenes have proved so popular that she was nominated for "Best Female Performer" at the 2017 Transgender Erotica Awards. Upon being asked to reveal her personal sexual fantasies and favourite fetishes during her recent XCritic interview, Amarna Miller conveyed that;
"This is going to sound cheesy as fuck but my favourite thing in sex are kisses. A long, deep, intense kiss can make my panties wet faster than any crazy double penetration…I'm really into BDSM so I suppose that can be "the craziest" thing? I really don't like to use that kind of adjectives because I feel I'm stigmatizing parts of my sexuality that are as normal and natural as the others. I don't think that being suspended by ropes is crazier than fucking someone in a normal, heteronormative way. But answering your question: I really like electrical play, shibari, chocking, gagging…and I've a lot of fetishes, like lycra swimsuits, military outfits, cotton panties, high heels or schoolgirl costumes".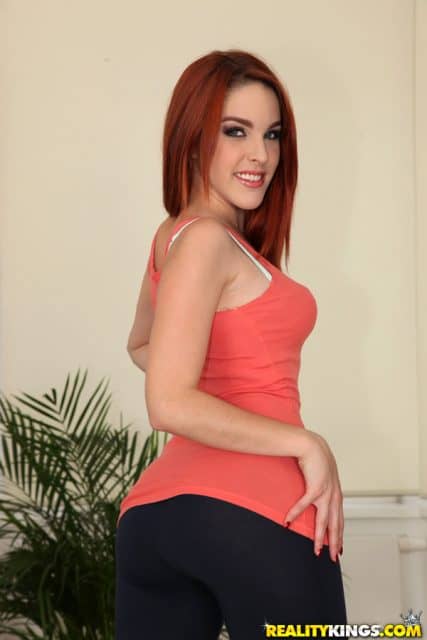 Amarna Miller at Reality Kings
Amarna Miller : Mainstream Media Projects
In addition to her impressive portfolio of adult film projects Amarna Miller has performed within several mainstream media productions such as the short films Lacrimarum by Nico Bertrand and The Immaculate Heart by Vex Ashley. Charismatic cutie Amarna Miller has also appeared on the Spanish television programs Al rincón de pensar on Antena 3, Late Motiv on Movistar+ and as a guest on the independent European radio program Carne Cruda. Exotic European porn star Amarna Miller has also posed for the popular magazines Primera Línea and Bad Skin, and even posed as the Virgin Mary on the cover of Mongolia magazine in March 2016! On several occasions Amarna has been featured within the cover magazine Interviú in 2014 and 2016.
An accomplished photographer and author in her own right, Amarna Miller published her own poetry and photography book, Manual de psiconáutica, in 2015 with publisher Lapus Calami, has written the prologue of Alejandro Ruiz Morillas' book @Alicia_hot in November 2015 and wrote the prologue for Risto Mejide's creative work X in April 2016. Amarna Miller discussed how Manual de psiconáutica came to life during her Bastards of Young interview;
"My publisher contacted me at the beginning of last year with a proposition: to do a compilation of the best articles of my website and publish them as a book. Even if the project sounded amazing, I rejected it. I didn't want to publish again things that were already on the internet and available for everyone to read. But in exchange, I proposed him another idea… What if we publish a tiny book with a selection of the best pictures and poetries I've write lately? He said yes and that's how "Manual de psiconáutica" was born. I love to read and I've been writing since I can remember. Photography entered in my life later, when I was studying my degree in Fine Arts, but soon became a very important part of my daily life. I always have with me a couple of cameras (A disposable one, and a Polaroid.) to capture the best moments of my life. It's kind of a photographic journal".
Amarna Miller is also extremely active via social media and commented within her August 2015 Fleshbot interview that;
"I really enjoy direct interaction with my fans. I think it's the best way to know what they want and what they expect from me. It's always nice to get feedback! Besides, I personally find it very interesting to be able to talk directly with the people I follow, so why wouldn't I do it myself?".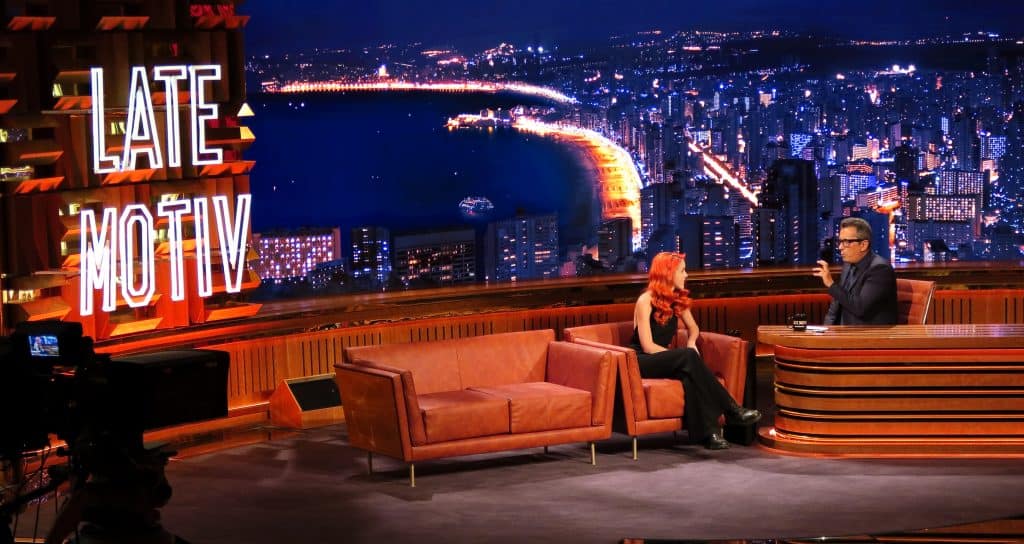 Amarna Miller on Late Motiv with Buenafuente – Image Sourced from Wikimedia, Attribution : Malopez 21
Amarna Miller : Adult Film Awards & Future Plans
A prolific porn star with a raw sexuality and natural charisma, it is no surprise that Amarna Miller has amassed a wealth of adult film award nominations throughout her porn star career. Some of  Amarna Miller's most impressive adult film award wins and notable nominations have been listed below;
2014: Ninfa Awards winner "Best Actress of the Year"
2015: Ninfa Awards winner "Best Personal Website"
2015: Ninfa Awards nominee "Best Spanish Actress"
2016: Ninfa Awards winner "Best Personal Website"
2016: AVN Awards nominee "Female Foreign Performer of the Year"
2016: Spank Bank Awards nominee "Ravishing Redhead of the Year"
2016: Spank Bank Awards nominee "Imported Temptress of the Year"
2016: Spank Bank Awards nominee "Spanking Slut of the Year"
2017: AVN Awards nominee "Female Foreign Performer of the Year"
2017: AVN Awards nominee "Best Sex Scene In A Foreign Shot Production" Luxure: Wives to Share (with Anna Polina, Josh and Max Casanova)
2017: AVN Awards nominee "Best Transsexual Sex Scene" Real Fucking Girls (with Jane Starr)
2017: Transgender Erotica Awards winner "Best Female Performer"
2018: AVN Awards nominee "Female Foreign Performer of the Year"
Amarna Miller has always been thrilled to be nominated for these coveted adult film awards and enthused within her Bastards of Young interview that;
"Yeah, the nomination to the AVN's last year was an incredible step in my international career. Being recognized by the most important awards in the industry (Something like the Oscars of porn.) was a shock, and also a huge surprise. My new projects are focused in improving my website and submit my work as a director to more festivals. I'm proud to say that huge distributors such as TrenchcoatX and Lust films are already selling my movies! Also, outside of porn I'm planning in publishing my second book at the beginning of next year, I'll also have my first solo exhibition as an artist and next month I'll be shooting my first conventional movie, "Contigo no, bicho". I'm also working hard in improving my public speech as I'll be doing a few inspirational talks about feminism during this year in Spain".
When she isn't filming her latest DVD feature releases or producing exclusive new web content for her solo website, Amarna Miller loves exploring nature and indulging her creative side by photographing and filming her international travels. Amarna Miller eagerly expressed within her Adult DVD Talk interview that;
"I studied Fine Arts and I enjoy art in all its forms, specially photography and video. I take a lot of pictures when I'm travelling and I always upload them on my blog. I can focus in this area of my personality thanks to my website, as I'm always taking pictures of the shoots thinking "By this way people can see how my life looks like"! I like antique things, specially dolls. I started to learn how to restore them when I was 14 and my collection is enormous. I know this is a little weird but I usually go to auction houses to see face to face the old furniture and objects. I enjoy to go to museums but I usually don't have time to do it! Every day I save one two hours for doing exercise, read and meditate. It calms my mind and allows me to confront my day in a happy, positive way. I also love to have outdoor experiences, from walking though the forest to taking pictures of wild animals. I was recently in Australia and it was probably one of the best experiences in my life: so many nature and wilderness everywhere! I do scuba diving and I want to learn how to climb".
When asked about her future plans during her December 2015 La Monda Magazine interview, Amarna Miller hinted at the possibility of directing her own adult film projects in the near future, suggesting that;
"It's been a couple of years since I don't direct, 'cause I haven't got the time, but in the future, when I'm back behind of the camera, I want to lay out a more artistic view that mixes cinematography and pornography. I'd like to take concepts and blend them… Artistic expression lets our your inner self out, your hidden self, sides that don't usually come up".
You can keep yourself updated on the latest pornographic productions and mainstream media projects starring the sizzling Spanish senorita Amarna Miller by visiting her official social networking channels today. Use the links provided below to ensure you don't miss one second from her spectacular porn star career!
Amarna Miller : Social Networks
Official Website : Amarnamiller.com
Twitter : @AmarnaMiller
Tumblr : amarnamiller.tumblr.com
Instagram : @amarnamiller
Camsoda : amarnamiller
Kink Profile : Armana Miller BDSM & Fetish Content
Marc Dorcel : Amarna Miller's European Movies
Mile High Media : Amarna Miller's Mile High Media Movies
Naughty America : Amarna Miller at Naughty America
Reality Kings : Amarna Miller at Reality Kings
Cherry Pimps : Amarna Miller at Cherry Pimps
TGirls.Porn Profile : Amarna-Miller at TGirls Porn
YouTube Channel : amarnamiller
IMDB Profile : Amarna Miller Filmography