Alura Jenson Biography
Official Website : Alurajensonxxx.com   Twitter : @AluraJenson   Brazzers : Alura Jenson Sex Scenes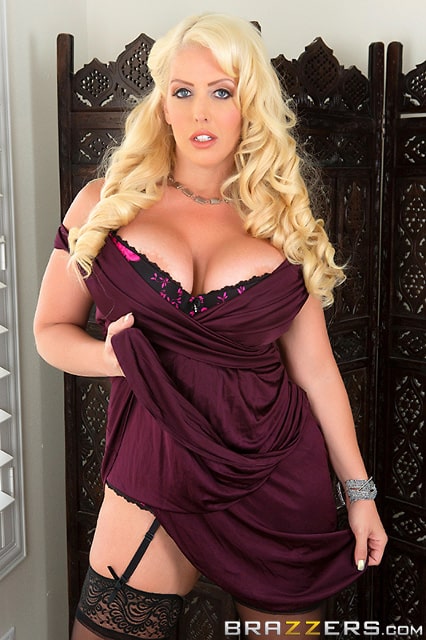 Alura Jenson at Brazzers
Alura Jenson – Personal Info
Name : Alura Jenson
Alias : Alura 'TNT' Jenson
Date of Birth: May 31st
Home Town :  Florence (Italy) / Philadelphia, Pennsylvania (US)
Measurements : 34G – 30 – 45
Height : 5'8 (1.73m)
Hair Colour : Blonde
Eye Colour : Blue
Shoe Size : Women's 8.5 (US)
Years Active : 2011 – present
Number of Scenes : 160+
Busty blonde bombshell Alura Jenson is one of the most popular big bust and MILF performers in the adult industry. A multi-talented porn star, feature dancer, glamour model and radio talk show hostess, Alura has been thrilling mainstream porn and fetish fans alike since 2012 with her signature blend of kinky content, raw sexual charisma and captivating curves. It's no wonder why she won "Favorite BBW Porn Star (Fan Award)" at the 2019 AVN Awards!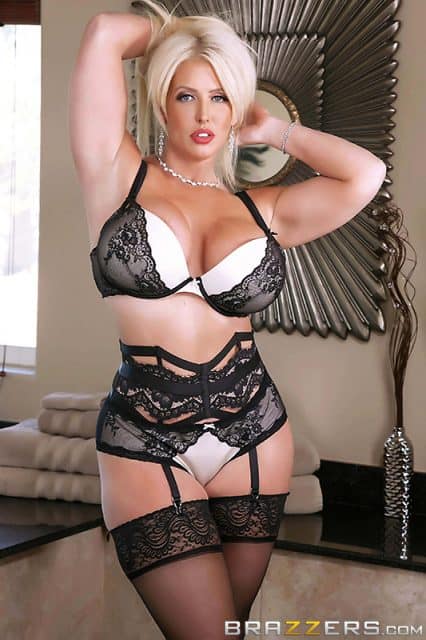 Alura Jenson at Brazzers
Born in Florence, Italy, Alura Jenson's parents served in the US military and were stationed overseas when she was born. Alura moved to the United States with her family a few years later and settled in a small township in Camden, New Jersey, located near Philadelphia, Pennsylvania. Alura Jenson was raised in a very religious, conservative household and mentioned in her June 2015 Adult DVD Talk interview that;
"I was born in Philadelphia to a very large, very traditional Catholic Italian family. I am considered the black sheep which works out for me because not only am I the black sheep, I said 'screw it, I might as well be all out.' And that gave me the courage to embark on many new travels which makes me happy today. I grew up in South Jersey, went to Catholic school, had a really intense advanced education. Bible and spiritual beliefs and discrimination, very closed minded ideas which I do not practice today".
Despite her stunning figure and sultry stage presence, Alura Jenson has revealed within previous interviews that she was very introverted and self-conscious during her childhood years. As Alura herself revealed during her October 2015 Fleshbot interview;
"In high school, I was an abnormally introverted girl. My books were my friends. Academia, my lover. I wasn't allowed to socialize, I wasn't allowed to date. Nonetheless, I found a way to fall in love. My first true love, as a fourteen year old freshman, was a scholar. He was an honors student, a senior. Exceptional, in every possible way, this man was the first to share intercourse with me".
After graduating from high school Alura Jenson decided to follow in her parents' footsteps and she enlisted in the US Armed Forces. For the next decade Alura worked as a physical rehabilitation specialist for the US Navy and Army. Alura Jenson was sexually adventurous throughout her military career and highlighted in her June 2015 Adult DVD Talk interview how;
"I joined the military while I was still in high school. I left on the night of my high school graduation. I have never seen my high school diploma. I earned it, I just have never seen it… (laughs) I had my first gang bang in my private life when I was just out of boot camp. I arrived at my duty station and people were welcoming me to the area. My colleagues happened to be at the same bar because back then the legal drinking age was 18. It didn't change until October of '95. So there were 5 of my colleagues and myself. I had another female friend but she opted out at the last minute, so I took on all five of them! It was great! (laughs)".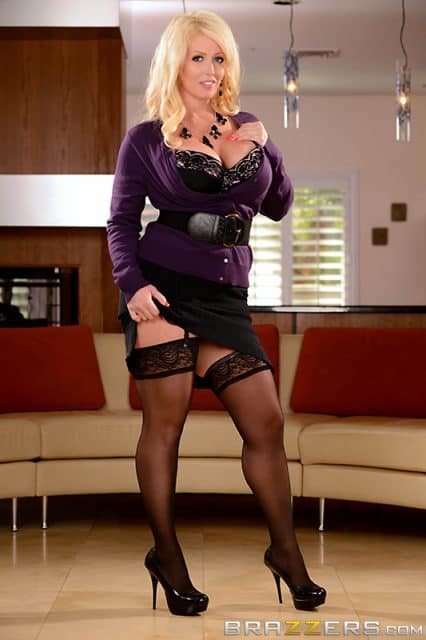 Alura Jenson at Brazzers
It was during her military service that Alura Jenson met her husband with whom she has had two children. Talking about her children's reactions to her adult film industry career in her June 2015 Adult DVD Talk interview, Alura Jenson explained how;
"They're proud of me. It's awesome. They're older, my son just graduated from high school last week and he's joining the army. And I have a 16 year old. I joined the industry when they were teenage boys and all of their friends knew so there was no point in me lying about it. I figured I would teach them to accept what I was doing as perfectly natural. I treat it like a job and I don't make a fool of myself…I'm pretty damn proud of myself! I just turned 38 years old and I think I look damn good for my age. And, you are the first to publically know, I am going to be a grandmother! My daughter is 20 and will be 21 soon and is expecting her first child".
Following the birth of her children, Alura Jenson decided to commit herself to a strict bodybuilding regime in order to lose her pregnancy weight. In fact, Alura has since attained a degree in Exercise Kinesiology and Dietetics with a minor in Business Management as well as becoming licensed as a fitness instructor. After losing her pregnancy weight and winning a battle with cancer, Alura Jenson decided to pursue a career as a model, noting in her November 2015 Sexcraftboobs interview that;
"I first decided to model after being in remission from my second bout with cancer. My hair never quite grew back right, I was 100 pounds overweight from a collapsed thyroid. My husband, at the time, was a wonderful man who suggested I accept an offer from a photographer in Denver. The photos were so pretty, I took a liking to modelling, even though my education and teaching career were developing".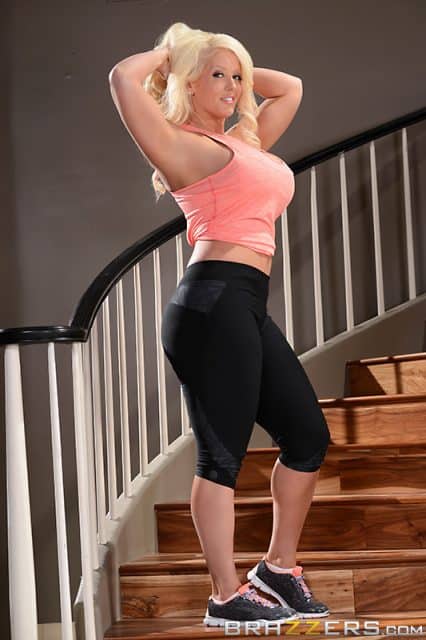 Alura Jenson at Brazzers
During this time that Alura Jenson began to be contacted by talent scouts in Las Vegas who were keen to book her as a feature dancer. Eager to explore her passion for performing, in 2010 Alura filed for divorce, attained an honourable discharge from the military and relocated to Las Vegas, Nevada, in order to pursue a career as a stripper at the illustrious Palomino Club. Living and working in Sin City enabled Alura to broaden her sexual horizons and paved the way for her to pursue a career in the adult film industry. Talking about this turning point in her life during her June 2015 Adult DVD Talk interview, Alura Jenson divulged that;
"I grew into being honest with myself when I started dancing. I had a moment of clarity that the feeling of turning guys and women on and getting people to step outside of what they were feeling at the moment is a powerful, powerful feeling. To me, to see women get worked up by squirming or twitching their feet or guys to get an erection—BAM—that was all I needed. I started having sex with most of my customers…
And this continued for 8 years! And people would shell out thousands of dollars to get a private dance with me because they knew that the moment they got an erection, it was on. I can't count the number of orgasms I had at that club. It became a sex addiction…I would fuck them right there in the club. I had no shame, of course I wasn't going to make it obvious. I would sometimes even keep my costume on and slide my g-string inside to hide penetration. Or I would use my tits to jack them off, whatever I was feeling. I've gotten fucked up the ass, I've eaten pussy, I did all that shit. The behaviour became a danger so I decided to do porn because it was safer. (laughs)".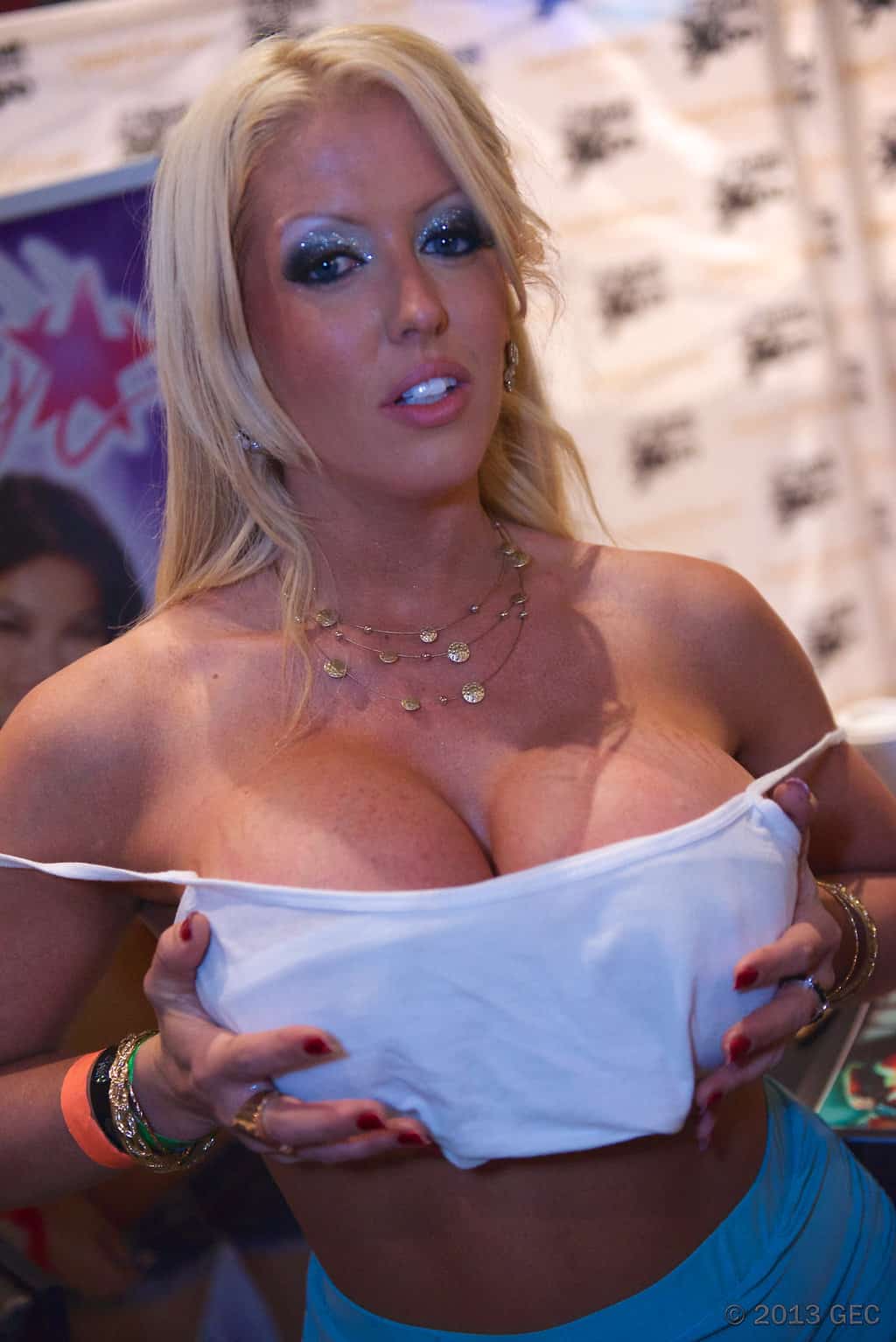 Image Sourced from Wikimedia
Alura Jenson : Adult Film Career
Alura Jenson began working in the adult film industry in December 2011 when she shot her first ever hardcore sex scenes for the popular porn site Mofos. Despite her confident stage persona, Alura Jenson has revealed within her June 2015 Adult DVD Talk interview that she was incredibly nervous whilst shooting her adult film industry debut;
"I was scared to death. The only reason why was because I was so insecure of my appearance being so different than anyone else I had ever seen on camera. Clearly, I had children, I was 34… I had life on my body. I've got a scar across my stomach, I'm sure you've seen it. I'm not ashamed of it but I have it. I'm a thick individual and that made me feel because I'm not perfect, that people would laugh at me. It took me years to be ok with myself. Still, to this day, I still get nervous".
Following her successful adult film industry debut, Alura Jenson quickly began to garner a devoted fan base due to her raw sexual charisma, fun-loving personality and captivating curves. In fact, Alura's amazing 34G bust earned her starring roles in the big bust themed Devil's Film DVD series Big Titty MILFs 18 (2012), Gazongas 5 and 12 (2012-2014), Big Breasts Are Best 9 (2014) and Big Titty Mommas 4 (2014).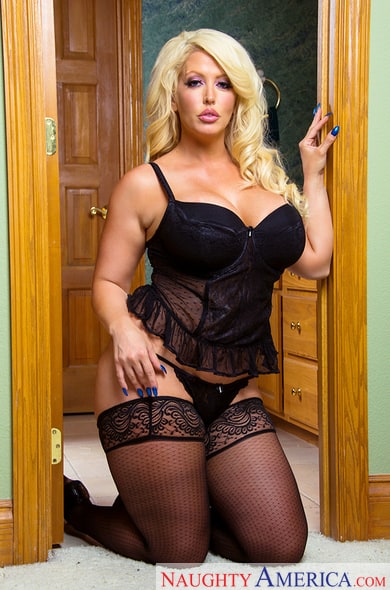 Alura 'TNT' Jenson at Naughty America
Fans of Alura Jenson's fantastic figure will also love viewing in saucy scenes in Face Sitting Bubble Butts (2014) for CX WOW Studios starring Kleio Valentien, Rachele Richey, Eliza Allure and Venus Lux, the Evil Angel DVDs Femdom Ass Worship 21 and 24 (2013-2014) featuring Julie Cash, Randi Wright, A.J. Applegate and Raven Bay, as well as Asspirations (2015) starring Brooklyn Chase, Kelly Divine and Nikki Benz that was nominated for "Vignette Release of the Year" at the 2016 XBIZ Awards and "Best Anal Movie" at the 2016 AVN Awards. When she was asked about her alluring assets in her June 2015 Adult DVD Talk interview, Alura Jenson commented that;
"I got my first set just when I left the military as the final middle finger in the air to them. To me, the double D's were a terrific F U as a parting gift. Then a couple years after that, I was a dancer in North Las Vegas. Some Arab prince guy came into the club at 6pm in the afternoon and he handed me $1000 just to sit down with him. He bought a pack of Marlboro Reds and a bottle of champagne, the best bottle in the house, and told me 'I would like to see your boobs.' Just as a matter of fact so I took my top down and he said, 'Those are hideous. Those are ugly.' They weren't bad! They weren't awful! They just looked natural! So I got home and I got a phone call at 6 in the morning saying some man had completely paid for my breast surgery, to get large implants, and would I accept it. I said, 'Fuck yeah I will!' (laughs) And I never saw him again. It was so awesome!".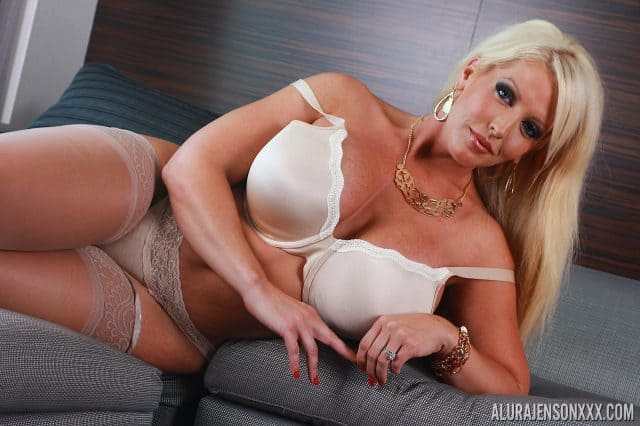 Alura at Alurajensonxxx.com
Alura Jenson has received a wealth of impressive adult entertainment accolades throughout her prolific porn star career. In fact, as of June 2014, Alura was ranked #128 on the FreeOnes Global Porn Star Ranking which placed her in the Top 1% of all female porn stars! Alura has since been nominated for the coveted title of "Hottest MILF (Fan Award)" at the 2015 AVN Awards. Alura loves interacting with her fans via social media and has often attributed her adult film industry successes to the ongoing support of her global fan base. As Alura Jenson sincerely expressed in her October 2015 Fleshbot interview;
"My fans are my pulse, an indication of my life force in the industry. I gauge my day to day life by the beat of their satisfaction. My social media, Twitter, Instagram, Periscope, Dreamlover, etc, is my daily method of tending my professional health. I need to know, daily, how to keep the anatomy of my success healthy. I talk to my fans. I listen to them. I engage the public's conversation and I determine the ways I move forward based upon their desires. Like a good woman does for her man, my purpose is to give my fans what they need. Time, attention, affection, and love. In many ways, I nurture a healthy intensity to satisfy those who enjoy my work…I truly love you all. At the age of 34, I finally became an honest woman. My fans gave me a venue through which my inner self could finally shine. I love my fans and will always work hard to give them the time, attention, and satisfaction they crave!".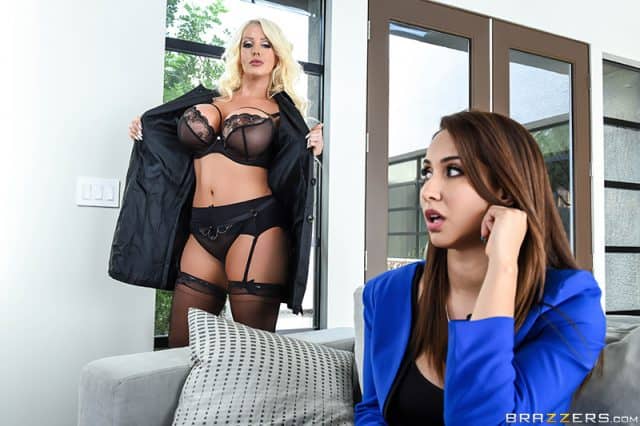 Alura Jenson and Isis Love – Brazzers Network
Alura Jenson : Professional Dominatrix & Fetish Performer
In addition to her mainstream porn  productions, Alura Jenson has amassed a devoted fan following within the fetish lifestyle market due to her compelling collection of femdom DVDs, BDSM content and fetish web clips. Among some of Alura's hottest fetish porn productions include Pegging 9: A Strap-On Love Story (2014) for Devil's Film, Strapped On Blondes (2015) for Femdom Empire and the Severe Sex DVD titles Perversion and Punishment (2015) and Kinky Fantasy (2016) within which Alura Jenson appeared alongside seasoned kinksters Aiden Starr, Casey Calvert, Siri, Kiki D'Aire, Kira Noir, Charlotte Cross and Ela Darling.


Many of Alura Jenson's fan-favorite fetish scenes have been those which she filmed for the fetish lifestyle network Kink.com. Alura Jenson made her official Kink.com debut in July 2014 via a thrilling Sexual Ransom BDSM three-way with Bill Bailey and Mellanie Monroe that was filmed for Kink.com's Sex & Submission web series. In the months that followed Alura starred in some amazing Busty Anal femdom scenes with Mellanie Monroe which were uploaded via Everything Butt in July 2014, a raunchy Hardcore Gangbang housewife fantasy shoot with John Strong, Owen Gray, Tommy Pistol, Mr. Pete and Karlo Karrera in October 2014, as well as some fantastic MILF Wars scenes with Syren De Mer and solo-sex toy shoots that were uploaded via Kink.com's Fucking Machines web series in December 2014.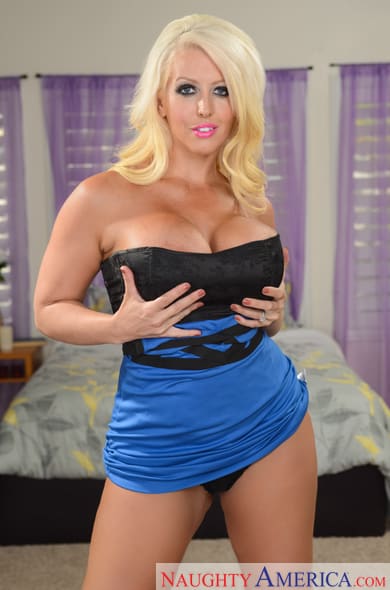 Alura Jenson at Naughty America
In recent years Alura Jenson has filmed a MILF Teacher femdom fantasy role-play with Casey Calvert and Aspen Ora that was promoted via Everything Butt in May 2016, several raunchy role-plays with Venus Lux for TS Pussy Hunters in November 2014 and August 2015, alongside a brilliant Beautiful Whores BDSM three-way with Janice Griffith and Mr. Pete which was unveiled via Sex & Submission in July 2016. Alura Jenson has loved shooting for Kink.com and enthusiastically stated in her October 2015 Fleshbot interview that;
"Kink is the author of my sexual bible. Every idea, every remote thought, every single twitch I've ever had, there's a place for it with them. My scenes with Kink are the deepest, darkest, most secretive sexual calamites that a human body can offer. Kink, like Naughty America, celebrates body types of all kinds. From the moment I was booked for my first scene with them, I was a lifetime fan. Kink handed me the remote to a tank of sexual energy and told me to bulldoze any sexual apprehensions with it. My most cherished scenes with them are ALL of them. Alternative lifestyles have a voice! YES! I LOVE bisexual men, women, and ts scenes. Not industry acceptable? So the fuck what.  Two girls can fuck on camera and it's cool but if two guys do it, it's wrong? Dude. That makes zero sense to me. Kink offers me the chance to experience what other companies don't offer, the whispered sex scenes that people want when no one else is watching. Yeah. Give me, THAT! Sex is sex. The plumbing doesn't matter to me. A clean test is a clean test and a green light for me to get down like Charlie Brown! ".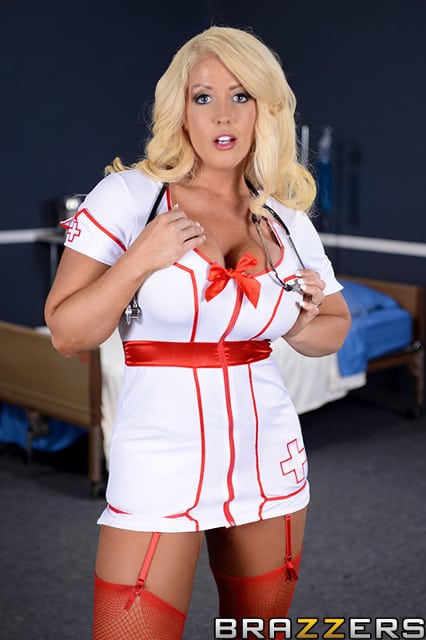 Alura Jenson at Brazzers
Throughout her adult film career Alura Jenson has collaborated with male, female and transgender performers in such best-selling DVD series as Tricked By A Tranny 2 (2012) and Tranny Assault (2014) for Venus Girls Productions, Pornstars Love Trannies 5 and 6 (2015) for Pornstar Platinum  and SM Perverts 3 (2016) for Evil Angel. Performing in these popular porn productions has enabled Alura to collaborate with leading TS stars Natassia Dreams, Venus Lux, Carmen Moore, Tiffany Starr, Jasmine Jewels, Foxxy, Carmen Moore, Jessy Dubai, Morgan Bailey, Jamie French, River Stark and Stefani Special. Alura Jenson loves performing with these alluring TS stars and ardently conveyed in her June 2015 Adult DVD Talk interview how;
"My ultimate fantasy is to be the Grand Priestess of a mass bisexual orgy. I would like for people to be open for girls to be with guys, guys being with girls, girls that are TS, guys that are TS and I'm the ringleader of all of it. To me, that's so fucking exciting…
There's a huge stigma in the industry amongst my colleagues about working with crossover performers. That includes TS workers, doing IR, or doing gay or bisexual scenes. I don't discriminate, I'll fuck anything! If it's safe, if he has a current test and he's not an asshole, then why not? Sex is supposed to be fun. No matter what, to work with a female in the industry, the talent has to have a current test. And the HIV cases that have popped up in the last few years have happened BEFORE someone wanted to shoot. So the system works. I don't know why everyone is so up in arms and having a pissing contest because some guy had a gay solo show or something. It's stupid. They say sex is supposed to be only one way which is what I don't believe. Sex is for individual tastes. If someone wants to do something different, then right on! I work with everyone. All races, all body shapes, all ages, over 18, and all sexual orientations. I like sex. It's fun and if they're healthy and they can prove it and it's legal, I'll do it".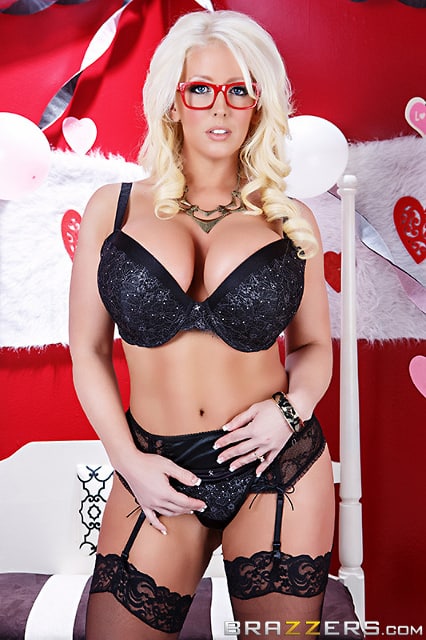 Alura Jenson at Brazzers
Alura Jenson : Official Website, Webcam Model & Radio Talk Show Host
A landmark moment in Alura Jenson's adult film career came in October 2014 when she launched her official website, Alurajensonxxx.com, in collaboration with Pornstar Platinum. Alura Jenson enjoys shooting all manner of seductive photo sets, live cam shows and hardcore collaborations for her website and she conveyed via an October 2014 AVN press release that;
"I'm very happy with how the site came out and the guys at Pornstar Platinum has [sic] been amazing to work with…I waited a long time to release my site, because I wanted to have the best site out there, and now I do. My goal is to provide my fans with new content each week and keep them happy".
What's more, Alura Jenson has been showcased within multiple Pornstar Platinum DVD series such as Couples Seek Third 2-6 (2014-2017), Monster Cock For Her Little Box 5-6 (2015-2016) and Mom Has A Huge Rack 3-5 (2015) starring magnificent MILF stars Ariella Ferrera, Nina Elle, Veronica Avluv and Erica Lauren. Alura Jenson has remained incredibly grateful to Pornstar Platinum for their ongoing support and guidance, eagerly expressing in her October 2015 Fleshbot interview;
"Pornstar Platinum- where do I start? This network was the cherry on the top of making my dreams come true. With everlasting patience, the professional excellence of this team is only surpassed by their personal relationships with their clients. The first year of my website's publication has seen ups and downs, at only my hand. Pornstar Platinum has worked with me, taught me how to deliver superior satisfaction, without suffocating my own ability to function".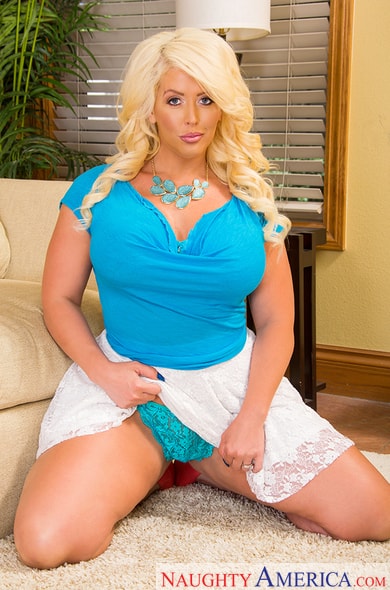 Alura 'TNT' Jenson at Naughty America
Alongside her raunchy web clips and DVD feature release performances, Alura Jenson is an incredibly talented webcam model who hosts regular intimate live chat sessions with her loyal fan following via Cherry Pimps, MyFreeCams, CamModels and her official solo website. Alura Jenson is a natural born webcam model who revealed in her July 2014 YNOT interview that;
"There's a fascinating story. No one ever taught me how to webcam. No one…I approach webcamming like producing and performing a live TV show. I use it as an opportunity to talk to my fans, my audience. I offer my audience members, new and revisiting, a judgment-free venue to chitchat, ask questions, laugh and enjoy the deepest corners of their sexuality…You'd be shocked by the number of men, women and transgenders who only want encouragement and directions to feel good in their own skin. I adore them, and I show them how to make the most of their excitement. I also offer how-tos for the curious and the struggling…My webcam audience wants to be distracted. Their needs psychologically, emotionally and physically bring them to my chat room. Very rarely is their primary purpose to 'get off'…I know this, and I approach my show with this attitude. The sexual release is the result of their comfortable and light-hearted journey. They know I understand them, and I celebrate their ideas with them…Eye contact is paramount for this to occur. I speak to my audience as I would my friends and family — with sincerity, kindness and compassion…I joke with my fans; I tell stories of my real-life experiences. We share time together in conversation and laughter. I illustrate my commonality to give them a sense that being sexually comfortable is normal".
A multi-talented porn star, feature dancer and webcam model, Alura Jenson is also a highly accomplished radio talk show host who has appeared on multiple episodes of various Demon Seed Radio Network programs. Is there anything Alura can't do? As matters stand, Alura has appeared on an episode of Industry XXX Radio in November 2016 with Harley Fire, Las Vegas Leader, Jasmeen Lefleur, Julie Rocket and Frank Fetish as well as appearing on an episode of The Totally Inappropriate Radio Show alongside Kimber Haven, Raven Roxx and Lexis Steel in May 2017. Kimber praised Alura Jenson's appearance on The Totally Inappropriate Radio Show in a May 2017 AVN press release, stating that;
"This week is going to be amazing—Alura is a huge star and quite a firecracker…She's definitely going to give us a run for our money, and we've been excited for weeks that she's our guest".
Much to the joy of her international fan following, Alura Jenson continues to shoot all manner of exclusive content for her official website as well as appearing in the popular Naughty America DVD titles Tonight's Girlfriend 60 (2017), My First Sex Teacher 52 (2017) and Seduced By A Cougar 47 (2017) alongside her fellow MILF superstars Julia Ann, Jewels Jade, Richelle Ryan, Ariella Ferrera and Sasha Sean. What's more, fans of Alura's kinky content will love viewing her recent raunchy releases My Stepson's Big Cock (2017) for Pornstar Platinum and MILF Fantasies (2017) for Jules Jordan Video featuring Olivia Austin, Cherie DeVille and Raven Hart.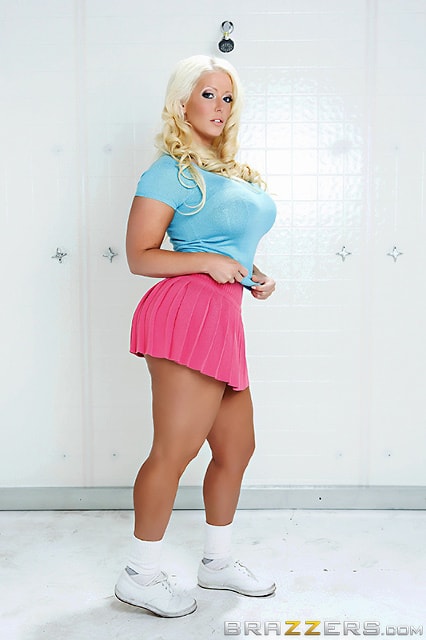 Alura Jenson at Brazzers
What does the future hold for Alura Jenson? Well, when Alura was asked about her future plans during her November 2015 Sexcraftboobs interview she divulged that;
"I just want to be happy in my own skin. Eventually, I'd like to expand website's audience enough to make it a full time business. I'm so worn out being pulled into so many directions, I'd like to shoot for my website and be done at the end of my day… I am working nearly round the clock to take things to the next level. Very soon, I will be reaching new goals by adding a PG rated website dedicated to glamour shots. Additionally, I am actively pursuing exposure in magazine all around the world!".
Want to stay connected with your favourite busty blonde bombshell Alura Jenson? Then please feel free to use the links provided below to visit all of Alura's official social networking channels online today!
Alura Jenson – Social Networks
Official Website : Alurajensonxxx.com
Twitter : @AluraJenson
Instagram : @alurajenson
Kink Profile : Alura Jenson BDSM, Femdom & Fetish Content
Brazzers : Alura Jenson at Brazzers


Cherry Pimps : Alura Jenson at Cherry Pimps
Devil's Film : Alura Jenson at Devil's Film
Evil Angel : Alura Jenson at Evil Angel
Girlfriends Films : Alura Jenson at Girlfriends Films
Naughty America : Alura 'TNT' Jenson at Naughty America
IMDB Profile : Alura Jenson Filmography